What are the Best Subwoofers in the World?
What are the Best Subwoofers in the World?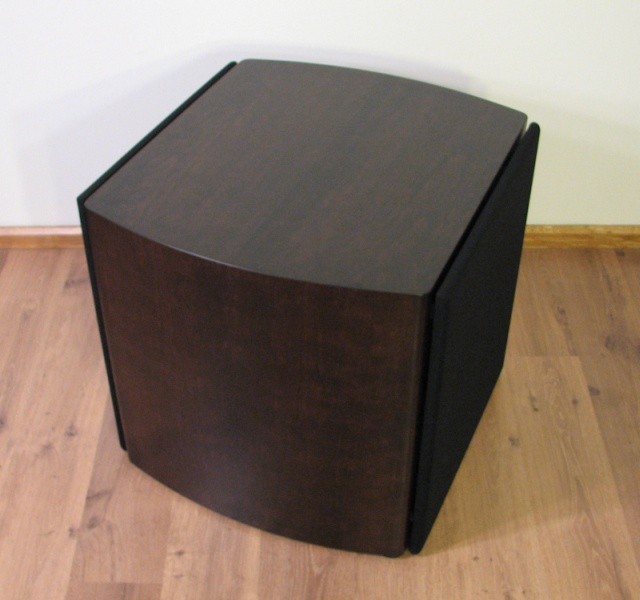 The Funk 18.2 subwoofer.
Depending on how you look at it, the subwoofer is arguably the most important speaker in a multi-channel audio system. In addition to reproducing grin-inducing deep bass effects from the LFE channel on DVD and Blu-ray discs, a subwoofer also takes the burden of reproducing low frequencies off your other speakers via bass management, improving overall system dynamics. Given the impact a subwoofer has on a system, the question of what's the best subwoofer naturally pops up on our forums from time to time. As with the question of "what are the best loudspeakers in the world?", there's not a real answer to the question. People place varying levels of importance on factors like output capability, aesthetics, and customer support, which in turn allows for a wide variety of opinions. Keeping this in mind, we've come up with a list of our favorites for a few particular categories based on our direct product experience and analysis.


Best Compact / WAF Friendly Subwoofer: JL Fathom F113
MSRP: $4,300 | more info
Generally speaking, compact subwoofers tend to be a sacrifice thanks to Hoffman's Iron Law, which effectively states that you can't have deep bass extension, high efficiency, and small size all in one design. To put it another way, you need a lot of power to get significant deep bass from a compact enclosure. Enter the JL Fathom F113. Measuring a diminutive 16.5"W x 19.625"H x 19.25"D (including the grill, feet, and amp), the F113 boasts a long-throw 13.5" driver backed by 2,500W worth of amplification, allowing it to beat Hoffman with brute force. Unfortunately, there's one little drawback: price. With an MSRP of $4,300, the F113 doesn't qualify as a bang for the buck champion. If the JL's steep price is a concern, you might also consider our runner up in this category, the SVS SB13-Ultra. While the SVS gives up some ultra-deep bass output to the high-powered F113, the SB13-Ultra is roughly comparable above 25Hz, and will only set you back $1,599.  Best of all, you can get two SB13-Ultra's for less than the price of one F113 and reap the benefits of smoother, more consistent bass across a wider listening area that dual sub setups offer.
The JL Fathom F113
Best Ported Subwoofer: RBH SX-1212P/R
MSRP: $5,300 | More Info

Our choice of the RBH SX-1212P/R is pretty easy to qualify: of all the subwoofers tested at Audioholics, this monster leads the pack from 12.5Hz up to 40Hz, and manages to deliver a blistering 120dB of output from 40Hz on up in our CEA2010 burst tests (reported at 2 meters, RMS). Now to be fair, there are other subwoofers that can approach this level of output for much less cost. However, the SX-1212P/R has two other important tricks up its sleeve. First and foremost is the footprint; measuring 17.75"W x 21"D, the RBH doesn't take up much more floor space than the aforementioned JL F113. The second trick is a curved black oak cabinet which gives the SX-1212P/R a more graceful appearance than a simple box finished in truck-bed liner. In person, the SX-1212P/R delivers quite a punch and looks ready to rumble with its dual 12" woofers, but the form factor makes it less physically imposing than subs like the SVS PB13-Ultra which is a big plus.
The RBH SX-1212P/R
Best Sealed Subwoofer: Funk Audio 18.2
MSRP: $9,460 - $12,100 | More Info
Dual long-throw 18" drivers? Check. 4.8kW on tap with an optional upgrade to 9.6kW of amplification? Yes, please. Add in a beautifully crafted cabinet, and you've got yourself the Funk Audio 18.2. Just what is this beast capable of? How does 130+dB at 2 meters, ground plane sound?  To put that in perspective, the 18.2 can rival the commercial horn loaded subwoofers used in your local Cineplex in terms of raw output. That's not too shabby from a subwoofer that measures 21"W x 22"H x 24"D. As you might expect, this level of hardware and performance doesn't come cheap. The base 18.2 will run you a whopping $9,460, with the "Level 2" amplification upgrade bumping the price up to $12,100. Still, if we ever hit the lottery…
Budget Subwoofers
While the above subwoofers are among the finest in the world, we understand that most folks don't have $5,000 - $10,000 lying around to purchase a subwoofer. What happens if you have less to spend, say under $1,000? Usually aesthetics is the first thing to go: there won't be any curved cabinets or gloss black finishes here. Still, if you're hungry for performance, there are a few solid choices out there.


Best <$1,000 Compact Subwoofer: Power Sound Audio XS15se
MSRP: $799 | More Info

To put it simply, the measured performance of the XS15se from Power Sound Audio belies its modest price tag. In terms of raw output, it can hang with competitors like the ~$1,600 SVS SB13-Ultra and the Martin Logan Dynamo 1500X. That's an impressive feat for a subwoofer that sells for $799, shipped to your door. Of course, there is a tradeoff: the XS15se's satin black finish isn't going to be mistaken for high end furniture. On the upside, with dimensions of 18"D x 17"W x 19.5"H, the XS15se isn't a massive eye sore, and can be hidden without too much difficulty. We've also noted that the folks at Power Sound Audio offer top tier customer support. If you've ever browsed PSA's website, you'll have noticed a "Chat now" window which allows you to speak with none other than the company's founder, Tom Vodhanel. We're not sure if he's a robot, but as far as we can tell, he's almost always available to help customers get everything up and running, which is a pretty cool perk, as is PSA's risk free 30 day trial.
The Power Sound Audio XS15se


Best <$1,000 Ported Subwoofer: Hsu VTF-15H Mk2
MSRP: $899 | More Info

Technically the Hsu VTF-15H Mk2 isn't shipping just yet. Nonetheless, with a more robust driver and amplification than its predecessor, Hsu's flagship ported subwoofer is poised to redefine value in the $1,000 price class. Per Hsu's internal measurements, the VTF-15H Mk2 will meet our Bassaholic Extreme certification, and will even have sufficient output to challenge subwoofers like the vaunted Rythmik FV15HP and SVS PB13-Ultra. Given how Hsu subwoofers have performed on our test bench in the past, we're inclined to believe Hsu's figures, although we still can't wait to get this puppy in for review.
The Hsu Research VTF-15H Mk2
Best Entry Level Subwoofers: SVS PB-1000 & SB-1000
MSRP: $499 | More Info

OK, let's say you're not a bass-head, but you'd still like a high quality subwoofer without paying for output you'll never use; SVS' PB-1000 and SB-1000 might be right up your alley. The PB-1000 is medium-sized ported design boasting a 10" woofer and 300W Sledge amplifier, while the pint-sized SB-1000 utilizes a 12" driver in a 13" cube sealed cabinet, also backed by a 300W Sledge amp. What's so special about these subs? Unlike most low end subwoofers, the PB-1000 is capable of delivering credible performance down to 17Hz. Even the SB-1000 is rated down to 24Hz, which is more than you'll get from most micro-subs. Add in SVS' legendary customer support and a risk free 45 day trial, and you'll find it's hard to go wrong here.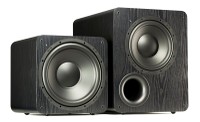 The SVS PB-1000 and SB-1000.
Conclusion
Judging by the list above, it's fair to say that this is a great time to be a bassaholic. Even if you can't quite afford our cost-no-object picks, there are quite a few capable performers out there at attainable prices. Still, as mentioned before, what's "best" still depends on your priorities. Some folks might find a subwoofer like the RBH SX-1212P/R to be the perfect complement to their system, while others might prefer a more compact subwoofer like the JL F113. If none of the subs on our list meet your needs, also note there are incredibly great alternatives from the likes of XTZ Audio, Paradigm, MartinLogan, Rythmik, Velodyne and Revel (to name a few) that likely will.  Download our subwoofer measurement spreedsheet in the PDF below or check back at our subwoofer room size rating protocol periodically to see how your favorite stacks up to the competition.   Make sure to let us know what subwoofer you think is king of the hill on our forums!
Confused about what AV Gear to buy or how to set it up? Join our Exclusive Audioholics E-Book Membership Program!