HSU VTF-15H Subwoofer Review
HSU VTF-15H Subwoofer Review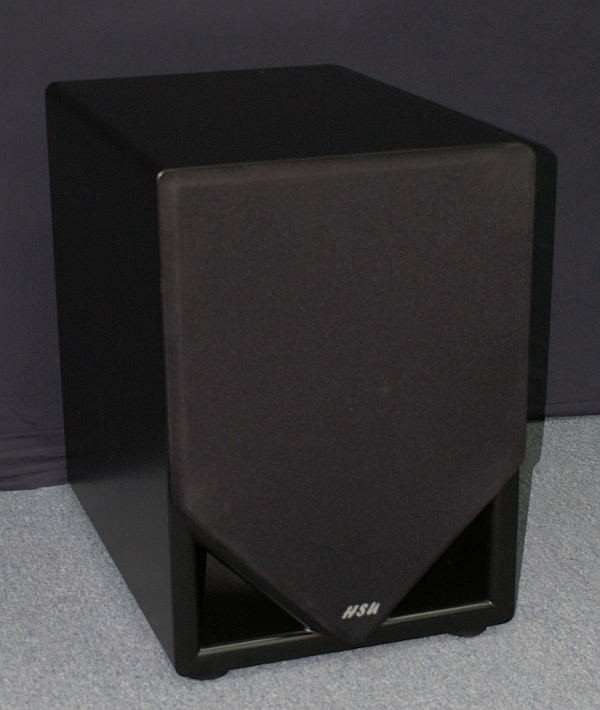 350 watt "BASH" design amplifier (High efficiency & Low weight)
15" Paper Cone woofer with inverted Dust dome and foam edge
Flush-mount amp configuration
Computer Assisted Design enclosure
Cloth grill with pin-mount retention
Standard IEC detachable power cord
Cloth grill with pin-mount retention
Built in crossover with Bypass switch
Tunable porting modes
Zero or 180 degree phase switch
Crossover infinitely variable from 30 – 90 Hz
22 Hz mode Vented, 16 Hz mode sealed (Claimed not measured)
Size: 25" high x 18" wide x 26" deep.
Weight: 123 pounds
Pros
Smart Styling and manageable size
Very Inexpensive for performance capabilities
Reasonable high outputs without high power
Interesting port design making maximum use of internal volume
"Q" control for fine tuning bottom end of woofer
Narrow cabinet profile containing most volume in the cabinet depth
7 year warranty on woofer, 2 years on amplifier
30 day satisfaction guarantee
Cons
Big and heavy – not easily moved by a single person (123 pounds)
Mediocre Volume Control on Amplifier (No detents or easily repeatable settings)
No remote control
Plastic 5-way binding posts give amplifier a cheap appearance
Relatively low RMS power output capabilities (350 Watt "Continuous") limits low frequency extension
HSU VTF-15H Introduction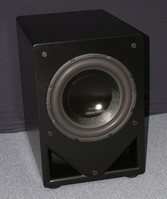 The Hsu VTF-15H is a self-powered front-loaded vented subwoofer featuring a 15" long throw driver and 350 watt amplifier with controls to allow tweaking of the low pass crossover as well as the bottom end of the subwoofer to optimally match it to your room and listening preferences. Weighing in at 123lbs and costing $879 for the black finish, it was hands down, the "BEST BUY" of the group of subs we compared.  It's no lightweight, and requires a lot of depth if you orient the box with the normal orientation of woofer/ports facing forward. (Almost 30 inches if you plan on actually plugging some cables into the back-plate amplifier.) Considering the small amp employed to power the Hsu, the output with music was truly impressive.  I listened and tested the sub as supplied, that is with both ports open.  It has strong bottom end down to about 30 Hz, very low for music, not quite the equal of either the Rythmik FV15HP or SVS PB12-Plus DSP subwoofers previously reviewed, but still quite impressive as long as you were not expecting high output bottom end down to 20 Hz.  I found for 99% of the music I listen to, a cutoff of 30 Hz is more than adequate.  It is when you start to get into movie sound effects or recorded pipe organ tones that a cutoff of 30 Hz becomes a weakness.  The amplifier claims to have a peak short term power output capacity of 1400 watts.  That sounds like an awful lot of power for an amp that does not need a heatsink and only requires  430 watts input power.  While I did not get inside the box to verify this, based on my listening alone, I would have to guess that any 1400 watt "peak" is quite short in duration relative to a full 10 cycle burst at 30 Hz (333 milliseconds).  When you examine the peak to RMS ratio for subwoofer content, it is generally higher than what is common for full range music.  In short, you are limited MORE by the peak output of the amp, than you are by the continuous power capability of the amplifier.

See also:
Confused about what AV Gear to buy or how to set it up? Join our Exclusive Audioholics E-Book Membership Program!
Recent Forum Posts:
meheather33 posts on February 28, 2013 00:45
Help!!! I am trying to decide between hsu-vtf-15, svs pb16 ulta and martin logan descent. They will be going with my ml vistas,stage and vignettes. Any suggestions?
ooobbbccc posts on February 26, 2013 09:02
gene posts on February 25, 2013 14:51
kmpurc56, post: 944810
From a layman's perspective, the biggest problem I have is how the measurement data is not the same for each review. If you look at all your reviews together post CEA, the presentation of data varies. The data Gene provides shows a significant more screen shots of test results than than others. The data presented in other reviews will vary as well. I have enough of a background that all testing criteria be exactly the same for all subwoofers for evaluation purposes. I should see the exact number and types of screen shots of your test measurements in each subwoofer review. I also wish that explanations be in such way that I don't understand a review for a SVS subwoofer that indicates that a dbspl range of higher htz 95/93 db to lower htz 87/85 db is rated for big rooms and plenty of low output would not be more limited than this review which seems to indicate output range from dbspl 100db to 95/93 db is limited.

I know price point is a real factor, but I believe a range should be developed for example $500 to $1000 grouping. It is hard to translate the term this product compares to other products at much higher price points then see above issue. I did some research since I have a background in noise exposure and found a 90 db level at below 80 htz is still restricted by OSHA. A 4 hour exposure limit is required. Even at this limitation, continual exposure will result in hearing loss. It seems to me that a flatter range with a lower db output in the higher range and higher output in the lower range would be better. One consistency I do see is not matter what the sub is (brand and expense), there is always a substantial drop near, at or below 20 htz. Since we feel more than hear below 20 htz, I have read were the vibration is observed by the listener at lower db rates anyway. Between 30 and 80 htz is where a more continual output will occur, higher db exposure at 100 or more db will potentially cause more hearing loss issue. A logical view might be that performing numerous evaluations over hears might negatively effect listening part of reviews.
You're obviously new to the site and not aware of the following:
Powered Subwoofer Testing: Outline and Procedures Overview — Reviews and News from Audioholics
Audioholics Subwoofer Room Size Rating Protocol — Reviews and News from Audioholics
Audioholics Subwoofer Measurement Data Compilation & Report — Reviews and News from Audioholics
(this link not only teaches you how we measure and what it means, but it also has a PDF with all data tabulated in a very consistent manner).
I challenge you to find another A/V magazine that even remotely does this, and at this level of completeness and accuracy.
zhimbo posts on February 25, 2013 14:41
ooobbbccc posts on February 25, 2013 01:34
Why left out the Bassaholics rating again? Is this "Medium" or "Large"?
Post Reply