Powered Subwoofer Testing: Outline and Procedures Overview
Powered Subwoofer Testing: Outline and Procedures Overview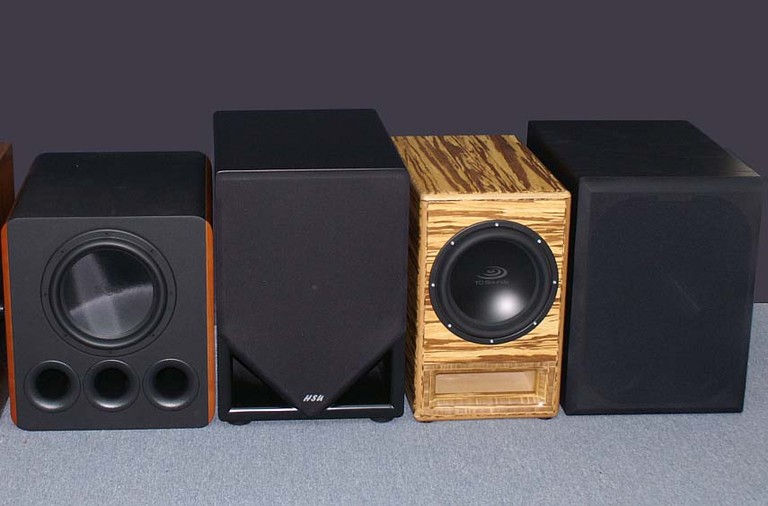 subwoofers
Audioholics is gearing up to do a slew of subwoofer measurements and comprehensive test reports.  We have brought on board a new subwoofer tester named Josh Ricci whom also runs a website called Data-Bass.com where he tabulates all of his measured subwoofer data for easy dissemination.
This article takes a quick look at the equipment and software used, the various measurements recorded and the purpose of the particular measurements used for our subwoofer evaluations.  The goal here is not to get too technically deep into the physics or science behind acoustics and electronic measurement techniques as they relate to measurements of devices operating in the bass frequency range, otherwise known as subwoofers. That is well covered in various articles on this site and papers widely available for consumption with a search of the internet and their inclusion would make this article and associated testing procedures an overly lengthy and tedious read. Instead, the results will be condensed and summarized in a consistent and efficient manner for each product tested.
How We Measure and Review Subwoofers
Equipment Utilized for Powered Subwoofer Testing
Digital Audio Workstation (DAW) desktop with Windows XP professional operating system
PreSonus FireBox Firewire soundcard interface and microphone preamp
A matched set of Earthworks M30 measurement microphones #1764 & 1766. #1764 is the microphone used for the tests. Earthwork's 100mph rated windscreens are used.
2 ND-9 SPL Calibrators switchable to 94dB or 114dB 1kHz output. (A pair is used for redundancy and to ensure consistency.)
Galaxy Audio CM-140 SPL meter
The AC line that the powered subs are plugged into is 120v with a 20amp breaker which typically measures a little higher than 120v with an AC meter.
A 100' 10/3 SO/J cable distributes the AC out to the subwoofer placement area.


Additional Equipment Utilized for Passive, KIT, or DIY Subwoofer Tests
A Behringer DCX2496 digital loudspeaker management system is used for fine level control, DSP, EQ and HPF functions.
A Symetrix 551e 5 band overlapping parametric equalizer with high and low pass filters is used for signal shaping abilities below 20Hz if needed.
A 240v AC line on a 50A breaker, which usually reads slightly over 240v with an AC meter, is used to provide amplifier power.
A 50' 8/4 cable distributes the AC out to the amplifier.
Software Utilized
ARTA, STEPS, LIMP, HOLM Impulse, REWv5, NCH tone generator, CEA-2010 running under IGOR Pro, R-PlusD, Spectrum Labs
Signal Chain
The Firebox interface is within +/-0.5dB from 10-20kHz. The M30 microphones are calibrated within +/-0.5dB 10-20kHz. The DCX2496 is within +/-0.5dB from 7-19kHz. The KPA-2400 is within +/-0.8dB 10-22kHz. With compensation applied the total signal chain should be within +/-0.5dB 10-19kHz. This is certainly adequate for reasonable measurement accuracy in the primary range of interest for subwoofers, 10-250Hz.
CEA2010 Calibration Procedure
1. Open the the CEA2010 experiment inside of the Igor Pro software.
2. Connect the microphone to the interface / soundcard. In our case this is an Earthwork's M30 #1764 and a Presonus Firebox pre-amp.
3. Set the input sensitivity trim of the microphone input channel on the preamp. I suggest setting it at the minimum since CEA2010 testing produces very high output levels and you want as much headroom from input clipping as possible.
4. Hook up the loopback channel to the pre-amp. Set your output levels as high as they will go and check to make sure that the loopback is not overloading the input. Reduce the input gain until the input is not overloading.
5. Connect the SPL calibrator to the microphone. Insure that it has a fresh battery before starting. We are using an ND9 calibrator with a spare for redundancy and backup purposes.
6. Set the calibrator to the desired range, usually a 94dB or 114dB 1khz tone. Since CEA2010 usually involves the very loudest sounds that a subwoofer can emit I prefer to use the higher range 114dB signal to calibrate to, since this is closer to the spl levels that will be produced in most cases.
7. Set the CEA2010 program to produce a 1kHz burst test signal ,corresponding with the calibrator output signal and run the test. Depending on what range you have the SPL calibrator set to, it should produce an SPL reading of either 97dB with a 94dB calibrator signal, or 117dB for a 114dB calibrator signal. The readings are 3dB higher because CEA2010 records the peak value of the signal not the RMS value that the calibrator is producing.
8. Adjust the RMS counts per pascal value in the calibration window and repeat the burst test until the program is calibrated and shows the correct SPL value that corresponds with the calibrator output. Again this is 117 for a 114dB calibrator signal or 97 for a 94dB calibrator signal. If you wish, average a few bursts for the calibration. If your calibrator has selectable ranges try switching between them and ensure that the CEA2010 program gives back a correct reading at each range. It should be within 0.1dB or so at each calibrator output level.
9.  The CEA2010 program is now calibrated and ready for testing of subwoofers. From this point forward do not touch the input trim of the microphone channel or it will invalidate your calibration.
Confused about what AV Gear to buy or how to set it up? Join our Exclusive Audioholics E-Book Membership Program!
Recent Forum Posts:
gene posts on June 25, 2014 20:24
OQeHTWrRGdA
its phillip posts on July 21, 2011 17:46
Yeah, there's a compact, plus, and ex. I'm hoping he's testing the ex
shadyJ posts on July 21, 2011 17:03
Which Outlaw sub are you testing? There are three LFM-1 subs. I would also be interested in knowing if you intend to test them with their normal orientation, driver and ports facing downward, or will the driver and ports be facing the mic. Hopefully you guys can do both, I would love to see the difference in the measurements.
its phillip posts on July 21, 2011 13:50
That would probably be a smart investment
Ricci posts on July 21, 2011 13:02
Looks like a busy August for me. Its a good cross section of subwoofer types too. There is sealed, passive radiator, vented and also a known performer represented. I just hope the weather cools down a little. We have had a brutal heat wave in the Ohio valley. 95-100 everyday and high humidity with little wind at all. Heat index of 114 today. Might have to invest in a campers gazebo.
Post Reply