Pioneer SP-PK52FS 5.1 Floorstanding Speaker System Review
Pioneer SP-PK52FS 5.1 Floorstanding Speaker System Review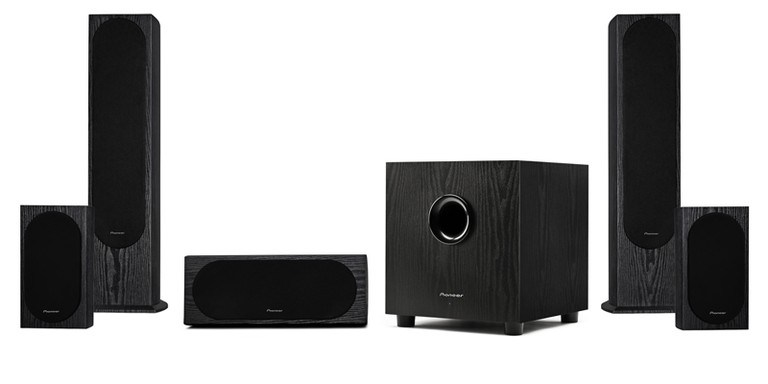 Product Name: SP-PK52FS 5.1 Speaker System
Manufacturer: Pioneer
Performance Rating:
Value Rating:
Review Date: February 26, 2013 22:00
MSRP: $ 549 (entire 5.1 system)
SP-FS52 Tower (MSRP: $129/ea)
2 ½ way ported speaker
Three 5 ¼ " Structured Surface Woofers
1" High Efficiency Soft Dome Tweeter
130 Watt Power Handling with Sophisticated 8-Element Crossover
Frequency Response: 40Hz to 20kHz
Sensitivity (2.83V): 87 dB
Impedance: 6 ohms
Xover Frequencies: 250Hz & 3kHz
Dimensions: 35.2" H x 8.8"W x 10.6" D
Weight: 25.8 lbs
SP-BS22-LR Bookshelf (MSRP: $129/pr)
2-way ported speaker
4" Structured Surface Woofer
1" High Efficiency Soft Dome Tweeter
Sophisticated 6-Element Crossover
80 Watt Power Handling
Frequency Response: 55Hz to 20kHz
Sensitivity (2.83V): 85 dB
Impedance: 6 ohms
Xover Frequency: 3kHz
Dimensions: 12.6" H x 7.1"W x 8.4" D
Weight: 9.1 lbs
SP-C22 Center (MSRP: $99/ea)

2-way ported speaker
Two 4" Structured Surface Woofers
1" High Efficiency Soft Dome Tweeter
Sophisticated 6-Element Crossover
90 Watt Power Handling
Frequency Response: 55Hz to 20kHz
Sensitivity (2.83V): 88 dB
Impedance: 6 ohms
Xover Frequency: 3kHz
Dimensions: 7.1" H x 18.1"W x 8.4" D
Weight: 13.4 lbs
SW-8MK2 Subwoofer (MSRP: $159)

8" bass driver in ported enclosure
100 watt amplifier (max power)
Frequency Response: 38Hz to 150Hz
Dimensions 14.2" H x 12.2"W x 12.2" D
Weight: 20.2 lbs
Pros
Unapproachable fidelity from competitors at this price point
Solid engineering and construction
Best bang for the buck you can get in a 5.1 system
Cons
Lacks high-end feel & pride of ownership factor
Pioneer SP-PK52FS Introduction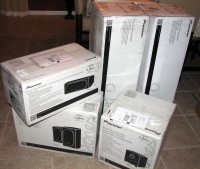 What would you say if we told you that a company historically known for their A/V electronics has redefined the loudspeaker market with their budget speaker line designed by industry veteran Andrew Jones?  Now take your amazement one step further when we tell you that for under $550 you get a pair of four driver 2 ½-way tower speakers (SP-FS52), a matching three driver MTM center channel (SP-C22) and pair of two-way bookshelf speakers (SP-BS22-LR) with an 8" 100-watt powered subwoofer (SW-8MK2).  While the model numbers of all of these products are a little ridiculous and difficult to remember, the performance and value certainly isn't.  In fact the outside markings of the boxes these speakers come wrapped in more product specs, (most of which I was able to validate in my measurements), than you will find on most high end loudspeaker manufacturers websites or literature.  How is it possible that Pioneer can offer such a low cost speaker line packed with so much solid engineering and performance?  Well, you're gonna have to read the review to find out.
About Andrew Jones
When I saw all the talk about Andrew Jones' Pioneer speakers on our forum, I must admit I was skeptical.  I didn't even know who this chap was, let alone why there was such a fuss about their Kmart-priced speaker system.  All of that quickly changed for me last year at CEDIA when I not only got a chance to demo the speakers first hand but also meet the very fellow that designed them.  I threw a few tech questions at Mr. Jones and was greeted not only with good humor but very accurate and well-stated responses.  I also learned that when Andrew worked for KEF he was introduced to Dr. Floyd Toole.  Through the Audio Engineering Society (AES), Andrew met an incredibly rich diversity of respected researchers that promoted great discussion and research ideas, and many of those people became good friends. Floyd was one of those, and it was Floyd that invited him to come to the USA and work at Infinity.  This guy really knows his stuff and I'm impressed enough to often solicit his peer review for our loudspeaker tech articles.  What I was even more impressed with was the demo of this very Pioneer speaker system.  Let's take a tour to see what's in these little gems.
Confused about what AV Gear to buy or how to set it up? Join our Exclusive Audioholics E-Book Membership Program!
Recent Forum Posts:
MLadia posts on February 09, 2021 13:18
shadyJ, post: 1306360, member: 20472
There would almost certainly be an improvement.

Ran into this old post. I eventually got an Infinity REFERENCE RC263.
shadyJ posts on March 21, 2019 18:35
MLadia, post: 1306353, member: 87319
Would it be an improvement to use another Floor-standing SP-FS552 as my center instead of the Pioneer SP-C22? Btw, I replaced the original Pioneer sub with 2 Dayton 1200s.
There would almost certainly be an improvement.
MLadia posts on March 21, 2019 18:02
Would it be an improvement to use another Floor-standing SP-FS552 as my center instead of the Pioneer SP-C22? Btw, I replaced the original Pioneer sub with 2 Dayton 1200s.
Dazz Wryght posts on March 20, 2018 14:45
Dazz Wryght, post: 1233567, member: 83977
I hope someone is still watching this thread,

I bought the Pioneer FS-52s, the SP-C22, and the SW-8MK2. I have yet to buy the SP-BS22-LR, I'm using some no name towers I had as surrounds for now.

My receiver is a Onkyo TX-NR646.

I set up the crossovers to 80Hz for all the Pioneers and 100Hz for the surrounds since the drivers are so small. I'm using the LFE for the SW-8MK2 set at 120Hz (max on my receiver). I've been consuming a mix of streaming video (Netflix, Hulu, etc.), streaming music (Spotify, Apple Music, etc.), and gaming on an XboxOne S. I've been happy with the sound in my semi-open 2600 cu-ft living room.

Recently, I found the AccuEQ mic for my TX-NR646. So I plugged it up to see what results it would produce. It got all my distances spot on. I've measured them myself previously. However, it crossover my towers at 50Hz, center at 70Hz, and surrounds at 90Hz. I immediately thought this was wrong and manually set everything back. Much reading had me convinced that 80Hz was the way to go.

After reading this article it seems that the towers are tuned to 50HZ with the center at 70Hz. So was AccuEQ correct? Should I give it a listen, or stick with 80Hz?
Update: I grabbed a pair of SP-BS22-LRs for $68 at Fry's. They are now in the rear position. I also ditched the SW8-MK2 for a pair of SVS SB12-NSDs.
Dazz Wryght posts on February 15, 2018 11:13
j_garcia, post: 1233598, member: 10856
My Pre uses a proprietary EQ and it does some things I don't agree with also, but the end result does seem to be that it does a decent job. So it isn't always perfect in terms of what our preferences might be or what we think we hear, but knowing what the system "thinks" is correct is a good starting point to tweak from.
I got the kids and the wife to be quiet for 10 mins while I ran AccuEQ. I put a camera tripod on my couch in the 'sweet spot' with the mic sitting at about ear level… ish. AccuEQ produced pretty much the same results I discarded previously. I then switched to 2.1 to listen to some music. I grabbed a handful of CDs to listen.
Jimi Hendrix's "Purple Haze" and "Foxy Lady" had a detail to them that I don't think I've ever noticed before. Sticking with this CD I played Jimi's "National Anthem" and WOW! I never noticed that there's a drummer playing rapid kicks and snare trills in the background.
I wasn't listening at a loud level. Sadly, my receiver only displays relative volume and not dB level. Turned up to about 40, which is where my family normally has it for family TV watching, I was impressed.
I then switched to movies and 5.1. I played the opening scene from "The Lion King" on Blu-Ray (DTS-MA), which was apropos being I just saw the play at the Fox, Atlanta with the misses. There was so much more immersion in sound. Birds flying by head, and elephants making my bookshelf shake. I tested again with "Rio" on Blu-Ray. The opening scene had me forgetting I was at home and not at my local Regal RPX.
There's still more testing to do. All of my TV watching is on streaming services, then there's also video games to test.
So far so good,
Thanks again.
Post Reply