Fluance SX-HTB+ 5.0 Speaker System Review
Fluance SX-HTB+ 5.0 Speaker System Review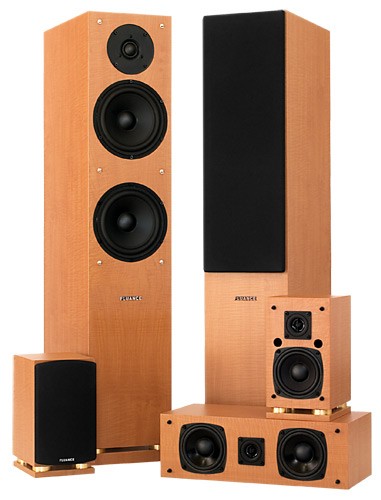 Fluance SX-HTB+ 5.0 Speaker System
Front Floorstanding Main Speakers
System Type: 2 Way - 3 Driver Floorstanding Main Speakers
Woofer\Midrange: Dual 6.5 inch Poly-coated Drivers with Butyl Rubber Surrounds
Tweeter: 1 inch Neodymium Balanced Silk Dome Ferrofluid Cooled For Longer Life
Power Handling: 50 - 160 Watts
Frequency Response: 49 - 20KHz
Sensitivity: 89dB
Crossover Frequency: 3500 Hz PCB Mounted Circuitry
Impedance: 8 Ohms
Enclosure: Bass Reflex Design Internally Braced
Dimensions: 38.8 x 7.8 x 13.0 inches (H x W x D)
Weight: 33.45 lbs
Center Channel Speaker
System Type: 2 Way - 3 Driver Center Channel
Woofer\Midrange: Dual 4.0 inch Poly-coated Drivers
Tweeter: 1" Neodymium Balanced Dome Ferrofluid Cooled For Longer Life
Power Handling: 30 - 100 Watts
Frequency Response: 80 - 20KHz
Sensitivity: 86dB
Crossover Frequency: 8000 Hz PCB Mounted Circuitry
Impedance: 8 Ohms
Enclosure: Bass Reflex Design
Dimensions: 5.24 x 15.8 x 7.9 inches (H x W x D)
Weight: 9.0 lbs
Rear Surround Satellite Speakers
System Type: 2 Way - 2 Driver Surround Speakers (Wall Mountable)
Woofer\Midrange: 4.0 inch Driver
Tweeter: 1" Neodymium Balanced Dome Ferrofluid Cooled For Longer Life
Power Handling: 30 - 100 Watts
Frequency Response: 80 - 20KHz
Sensitivity: 86dB
Crossover Frequency: 8000 Hz PCB Mounted Circuitry
Impedance: 8 Ohms
Enclosure: Bass Reflex Design
Dimensions: 9.75 x 5.25 x 6.98 inches (H x W x D)
Weight: 5.1 lbs
Pros
Super inexpensive
Good looking
Honest specs
Lifetime parts & labor warranty
Cons
Weak midrange
Compressed highs
Muddy bass when used w/o subwoofer
Cardboard ports on center and surrounds
SX-HTB+ Packaging and Build Quality
For years we'd heard about Fluance speakers, but until we HEARD Fluance speakers we didn't understood what all the hubbub was about. Fluance has been know for offering what appears to be an insanely low-priced surround loudspeaker solution (or stereo depending upon your needs) for what many manufacturers charge for a single refurbished speaker. While it  wouldn't be fair to  compare the Fluance SX-HTB+ speakers to a $1000 surround sound speaker system, or put them up against the likes of any of the full-priced models we've reviewed, it's amazing just how much you can expect for $300 as you will discover while reading this review. What's even more amazing is that Fluance speakers come with a lifetime manufacturers warranty for parts & labor.
Packaging and Build Quality

Whenever we order from an ID (Internet Direct) manufacturer, one thing we look for is the quality of the packaging. Will it arrive safely and without any bumps or damage to the loudspeakers? With the typical difficulty of returning online orders, it's important to know if you will receive everything with a high level of confidence that they will arrive safely. Well, in the case of the Fluance SX-HTB+ system, the entire 5.1 package comes double-boxed. Double boxing not only protects the shells of the inner products from being physically damaged, it also ensures that there is a layer of shock protection for inner components in the event of a rough transport experience. Inside the double boxed packaging, Fluance had utilized foam packing material that was over an inch thick - giving the contents the ability to take a severe beating without walking away any worse for the wear.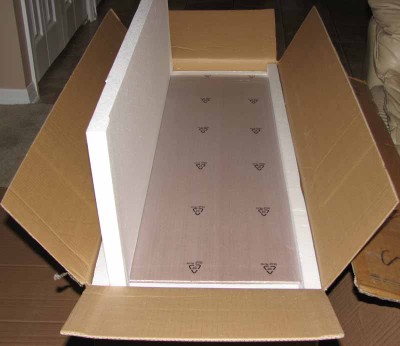 Opening up the SX-HTB+ front speakers, we immediately liked the beech vinyl veneer woodgrain finish, which presents a nice look that fits almost any décor. For some reason (perhaps cost related), Fluance doesn't offer its speakers in a variety of finishes (not even black for these) so you're going to have to decide on your speakers and then take whatever color is available - or vice versa. The finish was nice, as we mentioned, but one cost-cutting measure we immediately noticed was the way the MDF enclosure terminated to a very defined box on the rear of the tower (and the center and surrounds as well). Rather than a full veneer wrap that is more difficult and costly, Fluance uses an inset rear panel. Since the fronts face forward, this won't be very noticeable, but on the surrounds you may be able to see it if they are positioned on stands and set into the room.
The bottom of the tower speakers are neat in that they have a decorative bottom plate with brass floor spikes. We say "decorative" because they aren't truly outriggers, extending no more than the dimensions of the actual base of the floorstanding SX-HTB+ tower speaker. This bottom plate is also veneered to look exactly like the main speaker and it sits offset by a set of four brass colored discs.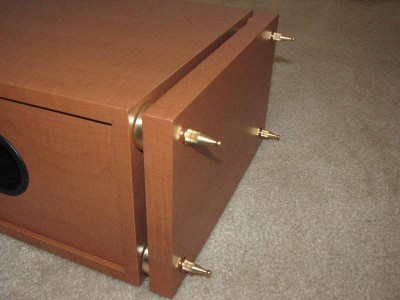 The speakers are all ported - the towers with a plastic cup, and the surrounds and center with a painted cardboard tube. It is this port, and the addition of the second woofer, that gives the SX-HTB+ its unusually low range. The dual 6-1/2" woofers are poly-coated with butyl rubber surrounds that should last a long time. They are shielded, though that is becoming less and less of a problem with new flat panel TVs. We hope the manufacturer drops the shielded magnets in future designs not only for a cost cutting measure but from a performance standpoint.  Why waste magnet power (especially for budget minded drivers like these) on an obsolete feature?  The 1" silk dome tweeter is of the neodymium variety and is Ferrofluid cooled but not heat sinked as we've seen on higher caliber designs.

Because we're a glutton for punishment, and insanely curious by nature, we next pulled out the crossover and peered inside the cabinet. You can see that they used air core inductors and electrolytic caps. The crossover looks like its a 2nd order HPF (high pass filter) on the tweeter and a 2nd order LPF (low pass filter) on the woofer. We were surprised to see air cores in a system costing less than a pair of Canadian speakers we previously reviewed that utilized only a cap and resistor as their crossover network - and this in a bookshelf speaker costing more than this whole 5.0 system. Fluance also braced the cabinet with additional MDF, and there is some dampening material, though minimal. We also verified that both drivers are active and the system is two-way, so the added woofer isn't separated from the enclosure and used as a (third-way) bass driver. All of the wiring looked to be about 14 gauge and more than sufficiently secured to the drivers and crossover.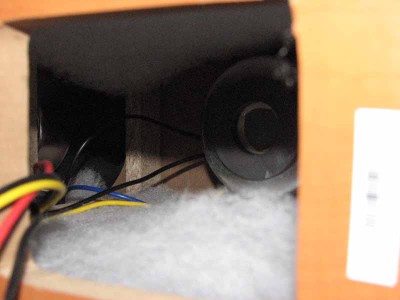 After checking out the towers we looked at the center and surrounds and found comparable build quality. One thing we noticed that was different was the makeup of the ports - which were cardboard tubes on all but the towers (and the surrounds' were tiny, almost unbelievably small and positioned to each side of the top of the 4-inch woofer). The included grills were basic but nice and they fit onto the plastic pegs which were affixed at four corners on the front of each speaker. We also felt that the slightly curved top of the grills was a nice touch to break up the rectangular face of each speaker. At the bottom, the Fluance logo was respectfully small.
I'd have to say that these speakers, while not built to a level commensurate with higher priced products, do take a well-balanced approach and seem to place the emphasis on the right places. Given a budget of $299, and we can assume that  only a portion of that is part of the build cost, there isn't a whole lot to work with. Fluance should be commended for putting together a decent speaker for the price that is capable of introducing surround sound to a whole generation of folks who would otherwise turn to multimedia systems or forgo surround altogether in favor of the whizzer cone wonders found in their flat panel display.
SX-HTB+ Listening Tests and Conclusion
It doesn't take long, when you bring up Fluance, to begin immediately to gather feedback from fans of the brand who will claim miraculous wonders in terms of its sound and quality compared to other speakers. Some of this is warranted, some... not so much. We had to laugh when we read this one post from a customer on Fluance's website:
"I purchased the SXHTB set-up about 10 months ago and could not be happier. I was very skeptical initially at the price, but after some research i decided to give it a chance. The sound quality is amazing for the price. I had a 12'' sub-woofer set up behind my big screen at first, but the fronts of this sound system produce enough base [sic] that i decided to pull out my sub-woofer."
First off, we don't know why anyone would want to "put away" a subwoofer, even if you have a loudspeaker that lays low. A subwoofer is uniquely designed to take some of the stress off of your main speakers in order to help them do a more efficient job of reproducing the sound they are most suited for. As you'll read in our Listening Tests section, the addition of a subwoofer helped the sound of the Fluance system significantly.
Listening Tests
We did our listening tests in two passes. First, we listened to the system as a subwoofer-less configuration with the towers receiving full range bass, then we went back and listened to it again using a 10-inch subwoofer and crossing the system over at 80Hz. After doing this back and forth for some time, we identified that the system sounded much better with the subwoofer. It alleviated a lot of the breakup from the towers attempting to reproduce frequencies they simply couldn't, and it gave the system an overall "tighter" feel. Each of the songs we listened to using both methods, but when writing about them I'm referring to the use of a sub. I also included some comments to distinguish the system's ability to function without a subwoofer for those who may not have access to anything but the 5.0 speakers. Both movies and music were used in the evaluation and overall, we feel this is a system that is better suited for non-critical movie listening rather than detailed music pieces - but again, for the price it remains impressive on both. With this testing we used a Sony STR-DE835 AV receiver and a Panasonic DMP-BD35 Blu-ray player.
Blu-ray: Transformers

In the beginning scene in the desert we braced for impact as the attack helicopter made its initial transformation. While the thump of the rotors was present and tactile, when the initial subsonic effect kicked in as the robot came to life, there wasn't anything at all - all of the sound below ~60Hz was more of less absent. This wasn't terribly surprising since the towers are only (loosely) spec'd down to 49 Hz. The budget woofers in this system simply don't have sufficient motor structure and throw to produce meaningful bass below 60Hz which is why utilizing a powered sub is really a necessity.  On this movie dialogue remained crisp and intelligible and the surround experience presented a very cohesive, timbre-matched sound that we felt enhanced the movie well beyond what we would have expected for a $299 system. It was also a really great experience hearing all of the explosions and ricochets fly around the room and fill the room with mayhem form the action sequences.
DTS: Eagles' Hell Freezes Over

I queued up several tracks with the SX-HTB+ speakers, beginning with the Eagles' Hell Freezes Over album that I have in DTS surround. I am immensely familiar with many of the tracks on this album, having heard it on literally countless systems. On the Fluance we queued up "New York Minute" and settled in to hear the opening low bass salvo. It came in spades, but we immediately noticed that it was a tad overbearing in the mid-bass and lacking in the truly subsonic areas - a reasonable loss considering the system is only spec'd to go down to around 49Hz. Strings sounded fairly realistic, except for a distinct lack of natural reverb decay and a sax that sounded a little buzzy. The top end of the Fluance speakers didn't seem to carry the "air" frequencies that I'm used to hearing on speakers priced considerably higher. Don Henley's voice was clean, with only a slightly upper mid range emphasis that might have been a result of either the drivers or the crossover components and settings. It was very pleasing overall and we had to keep reminding ourselves that this was a $299 5.0 system. "I Can't Tell You Why" was another track we enjoyed listening to. It gave us a different vocal sound and the distinct and simple drum sound provided a nice tactile snap from the SX-HTB+ front speakers. Backing vocals were pleasant and the subtle guitar line was able to poke through the mix as intended, providing a great staccato sound that laced itself throughout the track. "Seven Bridges Road" was another tracked that released the potential of this system and only the bass vocal was slightly diminished from what we were used to hearing. Overall, a great performance.
DTS: Seal IV


The next album we listened to was Seal's IV, which was available in DTS. This track gave us a lot more pop content, and a ton of bass that was both tactile and full. It was here that we really started to hear the failings of a two way system that plays so low. The SX-HTB+ system simply couldn't put out the bass while keeping its composure - and it wasn't terribly surprising given the constraints of the system. Songs like "Get It Together" drove the system a bit too low, with a bit more "boominess" than we'd like. Seals's vocal sounded good, but was again, like Henley's, but with that same mid-bass twinge that doesn't appear on speakers with more quality in the midrange. It also seemed to really be localized, coming out of the distinct speakers and not the center of the room. Lowering the center channel a bit alleviated this and brought back a fuller, more natural sound from the front of the room. "Love's Divine" filled the room with a nice bassy tone that marks the song as one I'll always use for testing low frequency. The kick and bass combo was also nice and thumpy. Overall, this was a very pleasing album to listen to, and the soundstage was much wider once we adjusted the levels a bit.
CD: Pink Floyd - Dark Side of the Moon


"Breathe" started off our listening session and we at once noticed the hi-hat had its signature distinct sound, while the rest of the instrumentation placed itself carefully around the front of the room. The guitar and the wide-panned drums really filled the listening space. Vocals also sounded pretty natural on this album and it was hard to move through the tracks or want to stop listening to the entire album. On "Money" the imaging was excellent, with the bass and lead vocals coming straight out of the center of the room. The stereo image was pristine and a nice crisp presentation of the sound effects really rounded out this track and had us coming back for more.
Conclusion
Over and over again we had to keep reminding ourselves that the entire Fluance SX-HTB+ system costs just $299. It's almost unbelievable given the satisfaction potential of a robust 5.0 system with floorstanding speakers. Given the length of time the manufacturer has been in business and their warranty (which we have no reason to doubt the effectiveness of), Fluance is a company that has taken "entry level" to a new definition. We were particularly satisfied with the soundstage of these speakers and the presentation you can expect for such a low cost of entry. We won't go so far as to say it performs at levels multiple times above its price point, but the Fluance does seem to spend the money on the areas that count. And since it's a standard system, you can update it anytime with more expensive products as you grow your system. For $299 (plus a little over $80 for shipping) we honestly can't see how you can possibly find a better deal.
Read Consumer Reviews on


About Fluance
Fluance is a Canadian based speaker company that produces high end home theater systems. Established in 1997 and based in Niagara Falls, Ontario, it markets to both the U.S. and Canada. A relatively new contender in the home theater business, Fluance prides itself on pushing cutting edge technology to its limits and using high grade parts in the construction of its speaker systems. All the while, Fluance encourages its customers to buy direct, which bypasses the middleman and allows the company to sell its products to consumers at prices well below those of its main competitors. Fluance Speakers can be purchased directly at www.Fluance.com

The Score Card
The scoring below is based on each piece of equipment doing the duty it is designed for. The numbers are weighed heavily with respect to the individual cost of each unit, thus giving a rating roughly equal to:
Performance × Price Factor/Value = Rating
Audioholics.com note: The ratings indicated below are based on subjective listening and objective testing of the product in question. The rating scale is based on performance/value ratio. If you notice better performing products in future reviews that have lower numbers in certain areas, be aware that the value factor is most likely the culprit. Other Audioholics reviewers may rate products solely based on performance, and each reviewer has his/her own system for ratings.
Audioholics Rating Scale
— Excellent
— Very Good
— Good
— Fair
— Poor
| Metric | Rating |
| --- | --- |
| Build Quality | |
| Appearance | |
| Treble Extension | |
| Treble Smoothness | |
| Midrange Accuracy | |
| Bass Extension | |
| Bass Accuracy | |
| Imaging | |
| Soundstage | |
| Dynamic Range | |
| Fit and Finish | |
| Performance | |
| Value | |