EMP Tek Impression Series E5TiR Floorstanding Loudspeaker Review
EMP Tek Impression Series E5TiR Floorstanding Loudspeaker Review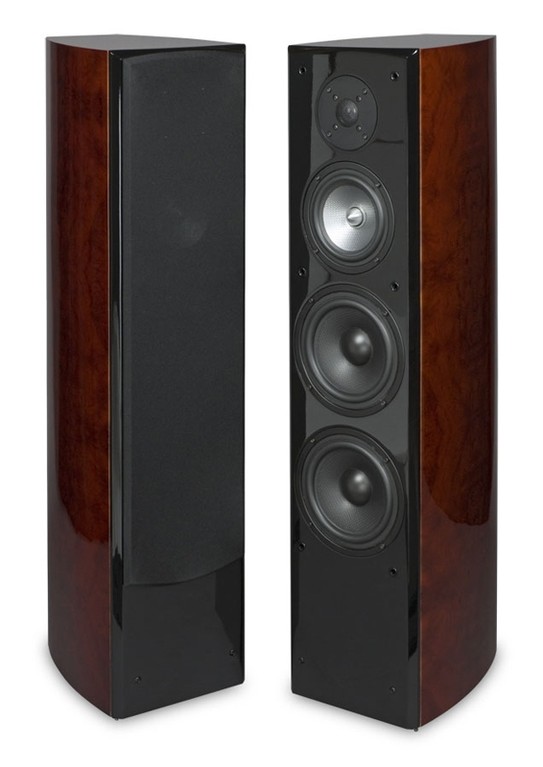 EMP Tek Impression Series E5TiR Floorstanding Loudspeaker
Dual 6½ " (203mm) Poly-matrix Woofers
5¼" (133mm) Aluminized Poly-matrix Woofer
1" (25mm) Fabric Dome Tweeter
Recommended Power 50-150 Watts
Impedance 6 Ohms
Frequency Response 50Hz-20kHz ±3dB
Crossover Frequency 120 Hz/ 3,000 Hz
Sensitivity 87dB ([email protected])
Dimensions 8½" W x 35½" H x 12¼" D (216mm W x 902mm H x 311mm D)
Weight 35 lbs. (15.88 kg.)
Available in High Gloss Red Burl or Black Wood
Pros
PRICE!!!!!!
Aesthetics
Performance
Cons
At this price point I'd be a fool to complain about much but…
Unstable (needs better footing options including something for hardwood/tile)
Dual pairs of binding posts invites damage
Height challenged
Introduction
By now, you've probably heard of the EMP Impression Series E5Ti speakers, they are the ones going for the incredibly low asking price of $500 a pair when on special sale. There must be something wrong with them, right? That's what our reviewer thought at first too. But after hearing the E5Ti speakers, his mind wasn't just changed, it was blown. The E5Ti's managed to produce a very natural soundstage with articulate midrange, and silky smooth highs. They played down low enough to mate well with a good musical sub such as their own ES10i. This is a tough combo to beat at such a modest asking price especially when factoring in their free 30 day home trial and shipping both ways.

Confused about what AV Gear to buy or how to set it up? Join our Exclusive Audioholics E-Book Membership Program!
Recent Forum Posts:
ArVee posts on December 05, 2009 01:58
EMP with Yamaha AV and Klipsch sprrounds
fightinkraut, post: 652319
I don't see quite the detailed specs on that receiver I'd like to confidently say one way or another, but it looks like it's putting out 85watts per channel, unfortunately with unknown distortion. Sort of a toss up for me, but I'd say you might have trouble powering them…mixing 6 and 8 ohms is no problem, but I'd like to see more info on the 6ohm power ratings from that yamaha before passing judgement.

Best I can say is if you have the owners manual and it states it handles a 6ohm load ok then hook them up and see how they sound to you! If you notice any clipping or distortion at the levels you'll be using them at then you'll likely want to look into selling the yamaha and purchasing a new receiver, perhaps a refurb from accessories4less for $300 or so.
Thanks fightinkraut, my 16kg of L and R will arrive on the weekend, says Fedex..I will hook up and see .. my first test is the first drum lead in and beginning of "Southbound Again" by Dire Straits - I find most system muddy up that roll intro and cant keep the bass and drums distinct..
gene posts on December 01, 2009 23:03
The importance of anechoic chambers for testing loudspeakers is highly over stated and lately used as a marketing ploy by many companies claiming their products are better for that very reason.

A good loudspeaker engineer knows how to properly measure their speakers without one.

That being said, I wish I had access to one as it would make measuring so much easier.

The best way to measure subs is still groundplane and on a pole assuming good weather conditions.

Even with anechoic chambers, manufacturers are at liberty to spec their speakers anyway they like. There is no set standard so don't let a smooth anechoic response fool you. At what power level did they take those measurements? What about distortion?

LMS does a horrible job measuring distortion and I almost never see loudspeaker companies disclose distortion with any other testing method.
Imitation posts on November 30, 2009 08:34
ozmedia, post: 652355
It's called RBH.

RBH uses EMP as their more entry level, on line brand. For tighter overall sound and incredible detail, check out the MC-6CT, sweeeeeet! And, cash permitting, you can look into the Signature or T-Series, dare to dream.

But you have one thing right, EMP is an astounding value for money and to thier improvement on it would cost you 3X more, and that's just for the MC's!

When Audioholics had the clone EMP 5.1 system of the RBH TK series on clearance for $200.00 (sorry, the EMP model #s slip my mind right now) I told friends in the US, who instantly bought a set. Needless to say they are all thrilled.

Glad you're happy, your ears will get used to the tonal changes from your last speakers and I find RBH's drivers do mellow and smooth out over a bit of time, I'll assume the same goes for thier EMP line too.
Yeah the only issue i've got with rbh is most of those designs are all box designs and not as waf friendly as these emp's. Wife wasn't excited at all about some of the "boxey" speakers I've thought sounded good. It's sad, but sometimes compromise is required.
ozmedia posts on November 29, 2009 23:38
I think all the comments simply display the fact that there is no regulation behind such specifications and different manufacturer's use different methods of measuring and estimating actual responses; the problem is that they are all compared by most consumer as equally tested.

For JL, you're right in that you didn't mention that most companies use an anechoic chamber, but the mere handful mentioned are a minisclue propotion to the hundreds of speaker brands on the market now (even though there are many others who properly measure responses too). I can't see companies using proper chamber measurements for low end products but perhaps in thier higher end models where the R&D costs are realistically recovered. I don't believe that an Energy product sold in a bog box store for 20 points margin (tops) is going to have such definitive testing.
WmAx posts on November 28, 2009 18:19
An anechoic chamber is able to do more thorough testing as compared to using time gated random noise/MLSS measurements. Things that are possible in an anechoic chamber that can not be done otherwise: (1) full-range frequency response, mid or far field, without splicing multiple measurements(which leads to errors). (2) Resonance/energy decay analysis of the speaker at mid and far field distances at frequencies under roughly 1,000 Hz.

-Chris
Post Reply