$2,500 Recommended 5.1 Surround Sound System
$2,500 Recommended 5.1 Surround Sound System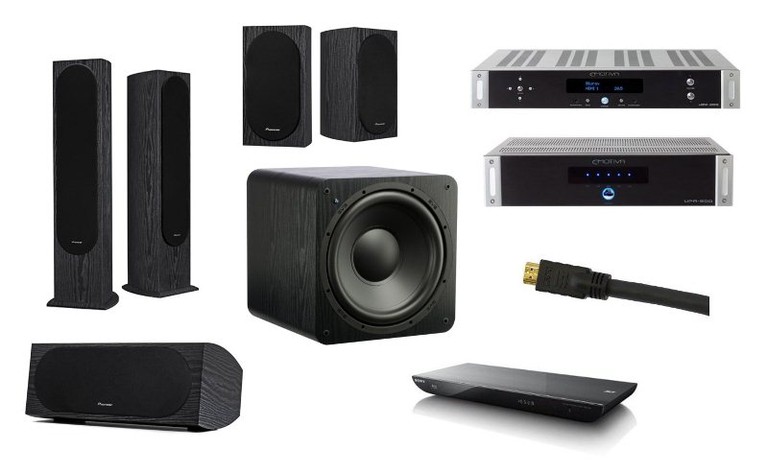 $2,500 Recommended 5.1 Surround Sound System
What was that? Did you say that you wanted a 5.1 surround sound system that could roll over and destroy most other systems that cost much more? A $2,500 budget you say, for everything, including a receiver, Blu-ray, power protection and cables? Well, conveniently enough we have put together our recommended $2,500 5.1 sound system, and we are pretty proud of the result. Toss in a TV for $1,000 and you have a complete new home theater system for $3,500 that is sure to redefine how you think of surround sound. Each product in this system represents a phenomenal performance vs ratio, and when combined provides an outstanding audio experience that will make your friends cube speakers look like little toys. If you have more funds available and want speakers with a premium finish, checkout our complete $6,500 recommended system.
Our goals were to:
Build a system that represents incredible price vs performance ratio
Choose equipment that is well built and will last a long time
Provide a system that is well balanced with no weakest-link
Speaker System
Front Left/Right: Pioneer SP-FS52 Floorstanding Speakers ($129/ea)
Pioneer's entry level home theater speakers break all the rules when it comes to value and performance. You may see publications throw around fancy buzz words or phrases like "raises the bar", "blows away the competition", "sets a new standard", or "redefines what a budget speaker can be." We don't use these phrases often, or lightly, but we thought of all of them when it came to reviewing the Pioneer SP-FS52 floorstanding speakers. They play loud and clean. The driver compliment is a single 1" soft dome tweeter and three 5 ¼" woofers.  The drivers and general build quality is equal to much more expensive speakers. The bass drivers sport vented pole pieces and the tweeter uses a beefy ferrite magnet, a real crossover network incorporates air core inductors and mylar capacitors.  These speakers employ gold 5-way binding posts, and a curved cabinet to diffuse back waves from the drivers. The finish is a standard black ash vinyl wrap with a detachable cloth plastic frame grill, so if you want a premium finish like Piano Black or Cherry checkout some of the alternatives below.  Just be prepared to spend a little more.
Alternative: HSU HB-1MK2

Center: Pioneer SC-C22 Center Speaker ($99/ea)
The SC-C22 center speaker perfectly matches the recommended SP-FS52 floorstanding speakers. It has the same design but a different driver compliment.  Two 4" woofers flank a 1" soft dome tweeter in a typical MTM design. The curved cabinet allows you to point the speaker up or down, so it fires directly at your listening position. Just make sure the speaker will fit above or below your TV, it is 18 1/8" W x 7 1/8" H x 8 7/16" D.
Alternative: HSU HC-1 MK2

Surround: Pioneer SB-BS22-LR Bookshelf Speaker ($129/pr)

The SB-BS22-LR bookshelf speakers can be used as either front speakers in a bookshelf system (replacing the SP-FS52 floorstanding speakers), or surround/rear speakers in a 5.1 or 7.1 system. The 1" tweeter and 4" driver are the same found in the center speaker, and the black ash finish and cloth grill are also of the same design. Our only complaint is that they lack the ability to be wall mounted, so you will need to set them on something.  Fortunately, all of our alternative surround speakers can be mounted and will work well with the rest of the Pioneer speakers.
Alternative: HSU HIW-1 In-wall                            

Subwoofer: SVS SB1000 Compact Sealed Subwoofer ($499/ea)

The biggest mistake we see people make when building a home theater system is to skimp on the subwoofer. Many people think that large floorstanding speakers will provide all the bass they need, or a subwoofer is only for the boom in action movies. In truth, a cheap subwoofer is often the Achilles heel of a good home theater system. Thanks to a 12" driver the SB1000 can play down to 24Hz so it will provide bone crushing bass and will show you why the subwoofer is such an important part of a home theater. You can also feel free to really crank your system without worrying about the sub because built-in Digital Signal Processing (DSP) will keep the sub from overexerting its self. Finally, the sub is small enough (only 13" on each side) it will fit anywhere. If you are looking for more power and don't mind a larger sub, the SVS PB1000 is the same price and will play louder and lower. For ultimate performance or larger listening areas we recommend two subwoofers.
Alternatives: SVS PB1000 | EMP ES1010i | Emotiva X-REF12
Electronics
Pre-amplifier/Processor: Emotiva UMC-200 7.1 Channel Processor ($599)

In most budget systems people will opt for a basic home theater receiver instead of a separate processor and amp combo. Using separates, as it is called, is typically reserved for high-end systems, but Emotiva has broken that trend. The Emotiva UMC-200 supports up to a 7.1 surround sound and 2 addition zones of audio. It has 4 HDMI inputs with 3D and CEC support and 1 ARC compatible HDMI output, 4 stereo, 2 Digital Coax, and 2 Optical inputs.  It also supports Emotiva's propriety EmoQ™ Gen 2 auto setup mic and 2 trigger outputs for easy integration with the recommended UPA-500 amp. For $599 the UMC-200 is a great piece of gear that can compete on build quality with units triple its price. If you want network features, like controlling the receiver from a smart phone/tablet or AirPlay support, check out the Yamaha and Denon receivers listed below.
Editorial Note: Don't worry if you are unsure of what exactly a separate processor and amp are, or how to hook them up. Basically, a receiver combines an amplifier, processor, and AM/FM tuner in one box. Separates just mean that the processor and radio tuner are in one box and the amplifier is in a separate box. Hooking them up is quite easy, just connect standard RCA cables from the processor to the amp. Still confused? Jump on our forums or ask for help on our Facebook page.
Alternative: Outlaw 975 Processor

Amplifier: Emotiva UPA-500 Five-Channel Amplifier ($399)

The UPA-500 is conservatively rated at 80 watts into 5 channels, which is plenty of power for this speaker system. Don't try to compare the UPA-500's 80wpc rating to the 100+ wpc rating found on most entry level receivers. Suffice it to say that this amp would absolutely destroy the amp section in any receiver remotely close to the $399 cost of the UPA-500, for a more complete explanation on wattage ratings check out our articles about amplifiers. If you want to step up to a 7 speaker system then we recommend getting the UPA-700 seven-channel amplifier instead. If you are looking to save some coin then take a look at some of the receivers in out alternate recommendations. Just remember, an amplifier never becomes outdated but receivers do.
Alternatives: Outlaw 7075 seven-channel amplifier | Emotiva XPA-5 five-channel amplifier

Blu-ray Player: Sony BDP-S590 ($149)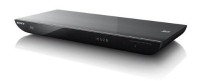 The Blu-ray Player in this system has a pretty easy job. All of the digital to analog conversion is done inside the processor so the Blu-ray player just needs to send a signal through HDMI to the processor. We recommend the Sony BDP-S590 because it supports 3D (a good feature if you ever plan on getting a 3D TV), has built-in WiFi, and supports SACD playback. The big push for us is SACD playback, a feature that most Blu-ray players lack. It also has a large number of Internet apps like Netflix and Pandora.
Alternatives: Samsung BD-E6500
Cables and Power Protection
Speaker Wire:
BJC

12 AWG Belden 5000UE ($.54 per foot)

All of our recommended cables come from Blue Jeans Cable for a few specific reasons. First or foremost, Blue Jeans offers high quality cables at a low price. Second, you can order speaker wire per foot instead of in pre-cut lengths, and can specify if you want bare wire, spade lugs, or banana plugs. Third, you can save on shipping costs by ordering from the same place. For a typical system you will need at least 100 feet of speaker wire.

Alternative: Emotiva X SS
Analog Interconnects:
BJC

LC-1 Multi-Channel Audio Cables ($84)

Blue Jeans makes a set of cables that is specifically designed to connect a processor to an amp. Simply select if you have a 5, 6, or 7 channel system (this is a 5 channel system) and what length of wire you want. Each cable is color coded to keep hookup simple.

Alternative: Emotiva X RCA
Subwoofer Interconnect:

BJC

LC-1 Subwoofer Cable ($24)

This is the same cable as we recommended above, but can be ordered independently at any length you want in order to connect your subwoofer(s). If you plan on purchasing two subwoofers then you will also need two subwoofer cables and a Y-adapter (1M/2F).
Alternative: Emotiva X RCA
HDMI Cable: BJC Series-FE Belden Bonded-Pair HDMI Cable ($20)

Just like the other cables we recommend from Blue Jeans, the Series-FE HDMI cable provides great performance vs price. When we say performance we mean the cable is well constructed and will stand up to being pulled on and tugged. HDMI cables come pre-terminated so make sure to order long enough cables for each of your HD devices to go to the processor and then one to go out to the TV. We see a lot of people under estimate the length of HDMI cable they will need to reach their TV. We recommend 6'-8' if the TV is on a stand and 10'-12' if the TV is wall mounted and the equipment is directly below it.
Alternative:  Emotiva X HDMI
Power Protection: Panamax PM8-AV-PRO ($169)
The PM8-AV-PRO is a bargain because it essentially gets you the same protection and filtering as the $299 MR4300. It monitors incoming voltage and will shut off if voltage is too high or too low. It also has two isolated banks to filter out any EM or RF interference present in your system. Remember to run your coax cable through the power center or your system is still open to surges coming through the coax line and then to your cable or satellite box. You can rest easy knowing your equipment is protected with the PM8-AV-Pro.
Alternatives: APC P8V | Panamax PM8-AV
System Breakdown & Conclusion
Category

Product

Price

Front Speakers
Pioneer SP-FS52
2 x $129
Center Speaker
Pioneer SC-C22
$99
Surround Speakers
Pioneer SB-BS22
$129
Subwoofer
SVS SB-1000
$499
Pre-amp
Emotiva UMC-200
$599
Amp
Emotiva UPA-5000
$399
Blu-ray Player
Sony BDP-S590
$149
Speaker Wire

BJC

12 AWG Belden 5000UE
$54
Audio Interconnects

BJC

LC-1 Multi-Channel
$84
Subwoofer Cable

BJC LC-1

$24
HDMI Cables

BJC Series-FE

2 x $20
Power Center
Panamax M8-AV-PRO
$169


 Total
$2503
There you have it, a complete 5.1 system that will provide some seriously good sound. If any of the products we recommended don't fit your fancy then check out the alternatives, we put just as much effort into choosing those as we do choosing the main recommendations. If you want to bring the price down the best place to do it would be with a receiver instead of the Emotiva combo. Your other, and better option, is to wait until some of the products go on sale. We quoted MSRP for all of the products, so expect to get the system for even less than our estimate (even with taxes and shipping, we'd suspect). Another place to cut some costs would be to order all of your cables from Monoprice. If you decide to go with any of the recommended or alternative product in this system please let us know what you think in the comments below.
Confused about what AV Gear to buy or how to set it up? Join our Exclusive Audioholics E-Book Membership Program!
Recent Forum Posts:
Ivan S posts on July 31, 2013 05:37
Hi everyone!

I bought the Pioneer 5.0 set around two months ago before returning a pair of Sony ss-f7000 which made my teeth grind (for some reason) and the lower frequencies sounded boomy as hell. So far I think the Pioneers are better as they play details I didn't hear before in albums I have heard for years (and they don't make me feel as if I am having a heart attack).

I started with a cheap $260 sony receiver and then moved to the onkyo 616 which I'll be returning in the following days as I bought the Emotiva separates recommended in this article. If I am lucky the Emotiva separates will arrive at least one day before I have to return the Onkyo receiver so I can do a (totally subjective and not sophisticated) listening comparison between the two. Maybe I can give you my impressions later.

I started with a Polk PSW10 sub, but later moved to a Bic F1 that I returned last week as it was very good for movies but inefficient for music (I think it added some distortion to above the 80 hz, sounded 'one-dimensional', and didn't enhance the bass guitar as much as I was expecting). I may not be buying the recommended SVS as I am planning to buy the SVS SB12-NSD instead as the difference in price is not that much. I'll use my system for (rock, metal, jazz, classical) music 70%, movies 30% so that's why I am opting for a sealed sub instead (correct me if I am making a bad decision, please).

So, here are my questions:
Have you heard/measured the ss-f6000 or ss-f7000?
I've found reviews saying that the f6000 have 'an excellent 90-20kHz' frequency response, though no charts as the ones you post in your reviews. I've heard them in a friend's house and they do sound very different from the f7000: no boominess, and the snare and cymbals were very detailed, even more than the pioneers. I haven't had the time to do a thorough audition though, and the audio sources and rooms were different (small apt. with hard floor using a BD-player with CDs for the Pioneers, medium sized apartment with carpet and 96khz 'upscaled' FLAC files for the f6000), but there's something I still don't like about the Sonys: I think they emphasize the snare and cymbals and some section of the lower frequencies just to grab your attention disregarding other details. I may be wrong.

What could be a good step-up from the Pioneers given that one already owns the SB12-NSD and the Emotiva separates?
I know this might happen in 15 years or more but I keep thinking that a lot of people (subjectively, with no audition, as Gene said) complained that the Pioneers were overkill for the electronics.

Thanks a lot for your time!
norml4721 posts on December 27, 2012 13:49
The $2500 5.1 system

Hi Guys/Girls :

The pioneer system is an O.K. entry level system for someone who knows very little about audio equipment. The electronics(Emotiva processor and amp.) Would typically be used with much, much better speakers.

I would go by this or rule of thumb 25% to 30% for electrononics and 70 to 75% for speakers. And the 20 to 25% would include cables etc. If you do not have to finance used would be the way to go. There are some incredible deals on line for used equipment. You can find a great Pioneer Elite, Denon, etc etc. receiver for about $400 to $500 used and I am not talking entry level. Seperate electronics are normaly chosen after your 3rd or 4th upgrade.

Then you have about $2000 plus for a great 5.1 speaker system. Do you know what you can get on Ebay or Audiogon for that kind of money. The list is long and the quality is like comparing a Ford Focus to a Mercedes Benz.

I picked up a used Focal( JMLabs) 5.1 speaker system. (A high end French speaker company) for about 35% of its original cost on line. I am not saying anything bad about Pioneer but usually you buy speakers from a speaker company and electronics from an electronics company. There are some exceptions pioneer does make some excellent higher end speakers.

THere are also many audio video forums where you can find help in selecting equipment. Some sites that sell new equipment tend to promote. But most of
forums are very helpful and many of the members are helpful to newbies.

Go to a higher end store just to listen to some quality speakers to know what they sound like then spend time asking questions. Size of your room. Do you listen to more music or movies. Etc Etc.

I am getting long winded. Any way you get the idea.

Good Luck,

Norm L
africord posts on December 16, 2012 17:37
gene, post: 932876
nope the Boston Acoustics line is a very good one and prettier than the Pioneers.
Thanks, Gene. I'm still curious about the other question in my post: Would you build this out differently if you were spending the same amount on a 2.0 or 2.1 system that you would eventually fill in with the center and surrounds with an additional investment of some amount?
cantonguy posts on December 16, 2012 14:27
With that kind of budget you need to spend more on speakers and less on pre/pro, blu ray and especially f'ing cables. Taking that money you just blew on cables and putting it toward a higher quality speaker will make a bigger sound quality difference.
I want to add that I do appreciate these articles, even though I may not agree with you. If you didn't write them at all…we wouldn't have anything to argue about. So for that, I say thanks.
agarwalro posts on December 15, 2012 00:11
utopianemo, post: 933466
The article implies that Audioholics reviewed the Pioneer floorstanders. Is a review forthcoming?
Yup, also one for the UMC-200 and the Oppo BD player .
Post Reply