Emotiva UMC-200 7.1 Surround Sound Processor Preview

Emotiva UMC-200 7.1 Surround Sound Processor
Summary
4 HDMI Inputs

all inputs HDMI 1.4 compliant, with 3D and CEC support

1 HDMI Output

HDMI 1.4 compliant, with ARC support

Analog Inputs

4 stereo pairs and one 7.1 channel unbalanced;direct

Digital Inputs

S/PDIF, Coax, and 2 Toslink Optical

USB Input

Accepts Emotiva Bluetooth dongle only

Analog Outputs

1 7.1 channel (unbalanced), 1 subwoofer (balanced), 1 stereo pair (unbalanced), and 2 stereo pairs (Zone 2 and Zone 3).

Antenna Inputs

1 AM and 1 FM

1 Trigger Input

2 Trigger Outputs

1 IR Input

1 IR Output

Remote Control

Full function infrared remote control with CEC sub panel

Display (on-screen)

Full color OSD over live video

Display (front panel)

Two line alphanumeric High visibility blue VFD (dimmable)
Size:
unboxed: 17" W x 14" D x 3-1/4" H


boxed:

21" W x 18" D x 7.5" H

Weight:

10 lbs (16 lbs boxed)
Executive Overview
Budget processors are not something we get to talk about much in the world of audio. Frankly, they rarely exist. So when we get to report on two being released in the same week...well, our heads are spinning. The Outlaw Audio offering targeted consumers on a budget with legacy gear. Emotiva has often set their aim on consumers who want high-end gear at reasonable prices. Sound similar? Does to us too. It'll be interesting to see how these two budget processors compare.
The Emotiva UMC-200 is a 7.1 channel processor with four HDMI inputs and one output with ARC (Audio Return Channel). It has two coaxial and two optical digital audio inputs and four pairs of RCA style analogue audio inputs. It has RCA style connection for your external amplifier for all 7.1 channels plus an additional XLR output for your subwoofer. There are also a pair of RCA outputs labeled "Mix" for combining surround sound into stereo. Zone 2 and Zone 3 RCA outputs are also available. We're surprised the lack of RS-232 support with the mulizone capabilities (but you can always upgrade to a higher level product for that). Lastly, there are inputs for terrestrial AM/FM radio and the front has a 3.5mm headphone jack.
For legacy gear, Emotvia has included 7.1 channel analogue audio inputs. There is a USB input on the back but it only accepts the Emotiva Bluetooth dongle (a trade-off there, but one that would have certainly raised the price). There is one 12 volt trigger input and two outputs as well as a single IR input and output. Not included is any sort of analogue input or output. This means the UMC-200 supports only HDMI, a factor ruling this product out for those that still have gear with analogue connections.
The Emotiva UMC-200 supports 3D and has Xpressview switching for fast transitions between HDMI sources. It supports HDMI Pass-through allowing video and audio to be sent while in standby. All current surround sound formats are supported (including Dolby Digital ProLogic IIz) except for the new DTS Neo:X. The UMC-200 has flexible quadruple bass management with 12dB or 24dB per octave crossover filters configurable in 5Hz steps below 80Hz and 10Hz above 80Hz.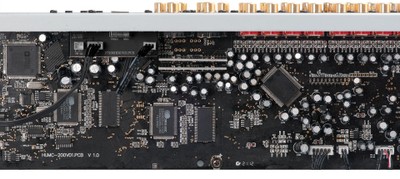 Emotiva has included their Advanced Emo-Q Gen2 automatic multi-channel room correction and loudspeaker setup with a microphone. For those who are into manual calibration and tweaking, Emotiva has included eleven user-programmable, fully parametric, equalizers per channel. There is also storage for three different configurations for power users. You get a full color onscreen display over live video as well as the two line LED screen on the front of the unit. The UMC-200 is 17" wide by 14" deep by only 3-1/4" tall and weighs 10 pounds.
Conclusion
The obvious question is: What do you need in a processor? If you are looking for automatic room correction with tons of user control with a focus on high-quality audio, the Emotiva UMC-200 will be for you. But if you need legacy video inputs, you're going to want to look elsewhere. With a $699 list price but a $599 street price (since it is sold direct, we doubt the $699 price will ever be seen), the price is certainly right. Multizone support and HDMI overlay OSD makes the UMC-200 not only competitive with other budget processors, but some with vastly greater price tags. We're very interested to see how the UMC-200 performs on our test bench.
For more information, please visit www.emotiva.com.

Unless otherwise indicated, this is a preview article for the featured product. A formal review may or may not follow in the future.
Confused about what AV Gear to buy or how to set it up? Join our Exclusive Audioholics E-Book Membership Program!
Recent Forum Posts:
j_garcia posts on December 30, 2012 19:25
gene, post: 937822
the bands are adjustable and I'm able to go down to 20Hz for the subwoofer channel on my unit.
I only checked the primary channels, I didn't check the sub channel, and I guess that is just where the lowest adjustment was set for that channel.
DaleAV posts on December 29, 2012 16:14
DaleAV, post: 936593
The precise reason I offered another one.
Just for clarification, when it came to triggering or sequencing devices, I was looking at the difference between the 'choice' of a plastic power strip with multiple outlets, vs. a full encased steel unit with a single 5A power outlet.
And we should all have choices, and more than one if possible.
STRONGBADF1 posts on December 29, 2012 13:59
STRONGBADF1, post: 937910
God to hear. Thanks, Gene.
*Good
No religious posts.
gene posts on December 29, 2012 12:37
My review of the UMC-200 is completed. Just waiting on the peer review. It should post late next week!
STRONGBADF1 posts on December 28, 2012 16:26
gene, post: 937822
the bands are adjustable and I'm able to go down to 20Hz for the subwoofer channel on my unit.
God to hear. Thanks, Gene.
Post Reply