Amazon Exclusive $1,500 5.2.4 Channel Recommended Home Theater System
Amazon Exclusive $1,500 5.2.4 Channel Recommended Home Theater System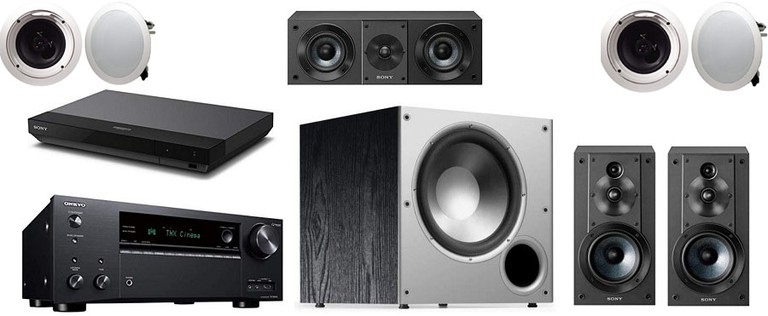 $1500 5.2.4 Home Theater System
There are a lot of ways to spend $1,500 in the audio world. For the "cost is no object" crowd, $1,500 wouldn't be an unreasonable sum to pay for speaker cables. For others, it's the cost of a nice set of bookshelf speakers. We recently demonstrated how you could put together a 5.1 system HTIB killer for only $750. With just a little more budget, you can take things up a notch, most notably with better bass response, nicer aesthetics and most importantly, upgradeability to immersive surround sound.
Disclaimer: For your convenience, we chose products available either direct from the manufacturer or through our Amazon affiliate page. As an Amazon Associate, Audioholics.com benefits from qualifying purchases so we appreciate you using our links. The products we select have either reviewed favorably on Audioholics in the past, or we've had direct experiences with.
$1500 Amazon Exclusive 5.2.4 Immersive Audio Home Theater System YouTube Discussion

Loudspeakers
Sony Core SSCS5 Bookshelf speakers for Front and Surrounds

MSRP: $149/pair  x 2 | Buy Now

Because of the price point vs performance, we'll be using the Sony Core SSCS5 for both our front and surround speakers. For $149/pair you get a solidly built three-way design speaker. Most three-ways have woofer, midrange, and tweeter drivers,  the SSCS5 has a 5-inch foamed mica-reinforced woofer, 1-inch dome tweeter, and a 0.75-inch dome "super" tweeter. Technically it's more like a two-way design, with a super-tweeter that extends the high-frequency response up to 50KHz.  Although humans can't hear that high, the theory is the extended frequency response makes what we can hear sound more linear. The consumer and press reviews of these speakers are unanimously positive. If you keep a good eye out on Amazon they sometimes go on sale for as little as $75/pair new or renewed. That's an unbelievable deal but even at $150/pr, few if any speakers can compete with these.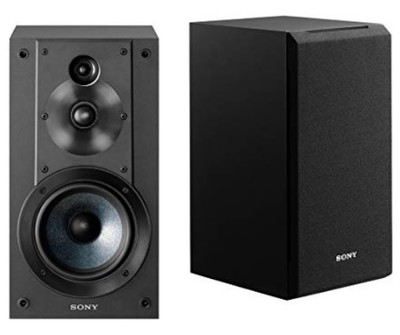 These speakers are ported which has it's pros and cons, which we talk about in our article Sealed vs Ported Loudspeakers: Which is Better?  If you're placing them near a wall or into a cabinet, we recommend stuffing the ports with a sock to reduce boominess.

The advantages of lower distortion are seen in the SSCS5 with the multitude of listening tests. The SSCS5 also comes with heavy-duty speaker wire connectors for its price point. The matte black vinyl-wrapped cabinet does look a bit on the cheap side, but we're going for killer sound for the price here over aesthetics.
Sony SSCS8 Center Channel Speaker

MSRP: $149 | Buy Now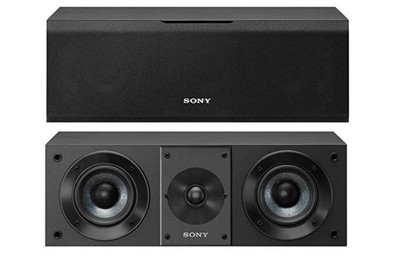 Keeping with the Sony S series we decided on the SSCS8 for our center channel. The SSCS8 comes with dual 4" foamed-mica cellular reinforced woofers and a 1" polyester main tweeter. The 145W maximum input powered SSCS8 does exactly what a center channel speaker should do: deliver clear precise sound geared toward human speech.  Dual 4" drivers in an MTM configuration will ensure good dynamic range and vocal clarity while the highly rated tweeter keeps the precision needed for a center channel.
Sony swept our speaker selection at $450 for all 5 speakers; all of which are designed to work together seamlessly from the manufacturer. 
Polk PSW-10 Subwoofer x 2

MSRP: $100 each | Buy Now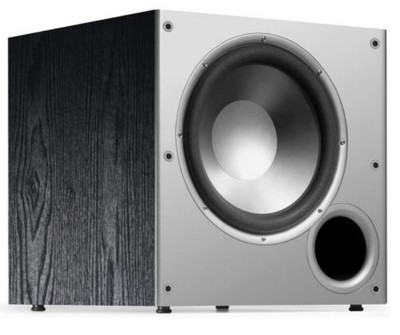 It's hard to find a better value to performance subwoofer than the Polk Audio PSW-10 subwoofer.  At $100, this 10 inch ported sub comes with a built in 100 watt amp (50 watts continuous) and features continuously variable 80 to 160 Hz crossover and 40 to 160 Hz ( 3dB) frequency response. The PSW-10 also comes with speaker and line level inputs as well as speaker level outputs on the back, and a Phase Toggle Switch for a multiple subwoofers
With a company like Polk you know you're getting the research and experience to back the low price point. For instance, each speaker is minutely tuned for low frequencies with minimal distortion and internally braced and damped to reduce internal standing waves and other performance-robbing resonances. Polk's state-of-the-art Klippel distortion analyzer optimizes the woofer's motor structure, voice coil alignment and suspension for smooth, unimpeded movement over a broad spectrum of the lower frequencies to ensure efficient performance even at extreme listening levels.
Note: It's been reported that the Polk PSW-10 experiences chuffing noises during high output. If you have a larger room, you would be advised to spend a little more on this Monoprice 12" subwoofer. It's larger driver and more powerful amp will fill your room with cleaner bass. It's definitely worth the upgrade.
Want more bass? Then upgrade to a pair Klipsh R-12SWi 400 watt 12" subwoofers ($298/ea) to shake down your house and piss off your neighbors. It's well worth the upgrade if you're serious about bass.
Ready for Atmos?
Immersive Audio is a must have for today's modern home theater system. So you're ready to take the plunge into Atmos/DTS:X? You'll need a pair of in-ceiling speakers with wide dispersion and the Klipsch R-1650-C In-Ceiling Speakers will do the job nicely. 
Klipsch R-1650-C In-Ceiling Speakers x 2

MSRP: $45/each x 4 | Buy Now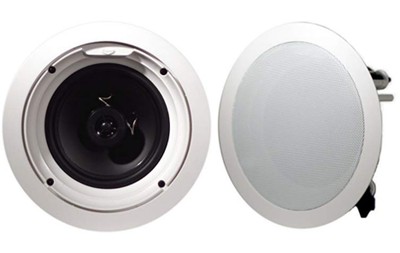 The R-1650-C employs a 6.5-inch polymer-cone woofer and a large motor structure for high sensitivity. A coaxially mounted 1-inch polymer-dome tweeter distributes smooth, clear highs over a wide area.  With superb sound, an easy mounting system, and paintable aluminum grill, the R-1650-C is a no brainer at $45/each. In order to get the most dynamic range out of these speakers, we recommend crossing them over at 90-100Hz and sending the bass below that to the dedicated subwoofer channel.
A/V Receiver
Onkyo TX-NR797 9.2 Channel IMAX-Enhanced A/V Receiver
MSRP: $549 | Buy Now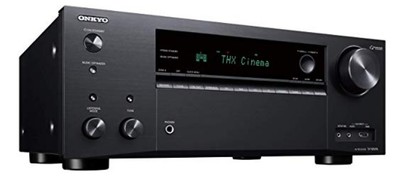 When it comes to budget receivers, Onkyo usually leads the pack in most features per dollar. The new TX-NR797 is no exception. At 100 W/Ch (8 Ohms, 20 Hz–20 kHz, 0.08% THD, 2 Channels Driven, FTC), this model offers 9 internal channels of amplification to run your current 5.2.4 immersive surround sound system with Dolby Atmos to DTS:X. If you can't run any height channels right away, you'll will be able to virtualize them with a future firmware update for Dolby Atmos Height Virtualizer and DTS Virtual:X. In addition, the TX-NR797 comes with the ability to decode IMAX Enhanced 2 content as the filmmakers intended. All of your 4K video needs are met as the HDMI switching support 4K/60p and HDR (HDR10, HLG, Dolby Vision, BT.2020). Onkyo sweetens the deal with their AccuEQ Advance 9-point calibration and AccuReflex room correction system.
Alternative: Pioneer VSX-LX104 - $499 (limited to 5.2.2 or 7CH)
UHD Blu-ray Player:
Sony UBP700 4K Ultra HD Blu-Ray Player

MSRP: $128 | Buy Now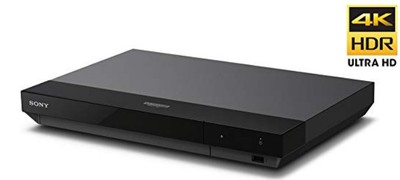 For our 5.2.4 home theater system at this price, we're not including a display. We're assuming you already have one matched to your listening area, but we did include a highly rated and affordable Ultra HD Blu-ray player for the latest in 4K playback. This player meets all of your high definition needs with support for HDR10 and Dolby Vision. The UBP-X700 supports a range of music formats, from AAC and PCM audio to 11.2 MHz DSD (SACD). It even does the most popular streaming Apps such as Netflix in 4K making the need for a separate streaming device somewhat obsolete.
Accessory Equipment
Note: It used to be Monoprice was the place to go for budget speaker wire, but as with many products these days it's hard to compete with Amazon. With Monoprice jumping from $13 to over $21 for 50 ft of 14 gauge speaker wire we had to look elsewhere. Enter KabelDirekt through Amazon. For $18 you get 50' of 99.9% oxygen free copper speaker cable.
It's hard to believe that APC can pack so much into their APC P11VNT3 Surge Protector AND give you a top notch warranty to boot.  Normally we would be skeptical, but APC has been around for a long time producing quality surge protectors. The P11VNT3 comes with a 3020 joule surge protector power strip, 11 total power surge protector outlets with sliding safety shutters, 6 outlets are block-spaced for larger adapters, telephone, network (Cat-5 Ethernet Port) and co-axial protection against power surges along data lines, an 8' cord with 180 degree rotation and right-angle plug. But the best part is the lifetime warranty and $100,000 equipment protection policy which provides peace of mind even for our budget system.
Summary
The home theater system we recommend here is a bit over the $1,500 budget if you go with 4 height channels but right under budget if you only go with only 2 height channels.
Placement Tip for Height Channels: 4 height channels should be placed +- 20-40 deg in front and behind the listening area at about the same distance apart as your main speakers. If you only run 2 height channels, place them midway into the room.
| | | |
| --- | --- | --- |
| Front and Suround Speakers | Sony Core SSCS5 Bookshelf speakers | $149/pr x 2 |
| Center Channel | Sony SSCS8 Center | $149 |
| Height Channel | Klipsch R-1650-C | $45 x 4 |
| Subwoofer | Polk PSW-10 Subwoofer | $100 x 2 |
| A/V Receiver | Onkyo TX-NR797 | $549 |
| Blu-ray Player | Sony UBP-X700 | $128 |
| Cables  | Amazon | $20 |
| Surge Protector | APC P11VNT3 | $34 |
| | Total | $1,568 |
OK so we went a little over budget again, but come on man, you're getting a 9CH dual subwoofer immersive surround system at a ridiculously low cost.  If you really look, you can find lower prices than what we've listed for some of the components, especially the Sony SSCS5 speakers. You could also just delete the UDH Blu-ray player in favor of streaming from your favorite streaming device (ie. AppleTV, Firestick, Roku, etc). 
If you're currently unable to run height channels, doing a base 5.2 or 7.2 system will still sound awesome. However, definitely consider adding 2 or 4 discrete height channels in the future. The Klipsch R-1650-C In-Ceiling Atmos height channels are good and inexpensive and will allow you to expand to a full 5.2.4 system. Don't forget the importance of setting bass management and calibrating your system. The only things you need now are a movie and some popcorn. Enjoy!
Confused about what AV Gear to buy or how to set it up? Join our Exclusive Audioholics E-Book Membership Program!
Recent Forum Posts:
dammad posts on December 27, 2019 04:44
dammad, post: 1358283, member: 42370

first of all excuse writing . I purchased 4 bookshelfs and center channel and plan to connect to the denon 3808ci to enjoy the sound . i have so many questions but leave that for later thank you godspeed
dammad posts on December 27, 2019 04:37
gene, post: 1349397, member: 4348
Guys,

We put together this entire 5.2.4 home theater system using products exclusively available on Amazon.

Forget that HTiB system from your local big box and check out our Audioholics Amazon exclusive $1,500 5.2.4 recommended home theater system featuring components from Sony, Polk and Onkyo. We built a setup on a shoestring budget that will provide much better than HTiB performance, features immersive surround. Some of these deals are limited time so act quickly. Sony Core is one helluva speaker for the money, and check out the other products that allow for this very unique, high value, high performance system to be had for such low cost.

32214



Read:

Amazon Exclusive $1500 5.2.4 Home Theater System





Disclaimer:

For your convenience, we chose products available either direct from the manufacturer or through our Amazon affiliate page. As an Amazon Associate, Audioholics.com benefits from qualifying purchases so we appreciate you using our links. The products we select have either reviewed favorably on Audioholics in the past, or we've had direct experiences with.



revrob57 posts on November 12, 2019 15:24
I haven't bought electronics from A4L only speakers and they have all been new. In fact I been really please with my speaker purchases from them.
slipperybidness posts on November 12, 2019 11:50
gene, post: 1349461, member: 4348
Yea, but we try to promote new, not reconditioned gear.

I'm sure you are aware, but A4L indeed has quite a bit of new gear too. Granted, it is a majority of B-stock or refurbs.
But, likely an A4L list will be obsolete sooner than an Amazon list.
felipe posts on November 12, 2019 11:28
I can't speak for AVRs being sold on A4L, but I purchased my Pioneer Speakers from A4L, and for being a refurbished product, they looked new and perform flawlessly.
Post Reply