$750 Recommended 5.1 Surround System That Destroys a HTIB & Soundbar
$750 Recommended 5.1 Surround System That Destroys a HTIB & Soundbar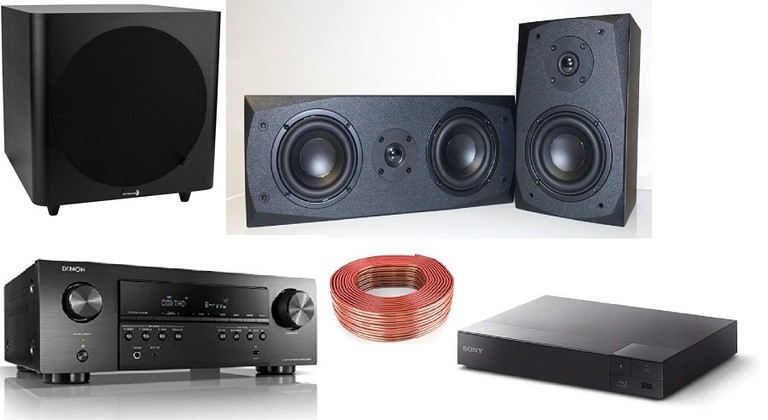 $750 5.1 Recommended Home Theater System
One of the most common questions asked of me is how to set up a home theater system on a budget. Many people just getting into home theater systems will go to a retail store and see a home theater in a box or soundbar for $500 or less and wonder why they are still not satisfied with their system.  Considering that audiophiles are often targeted by exotic cable companies with speaker cables costs more than $500/pair, the task of coming up with a budget system while being taken seriously is a bit daunting.
Disclaimer: For your convenience, we chose products available either direct from the manufacturer or through our Amazon affiliate page. As an Amazon Associate, Audioholics.com benefits from qualifying purchases so we appreciate you using our links. The products we select have either reviewed favorably on Audioholics in the past, or we've had direct experiences with.
$750 5.1 Recommended System YouTube Discussion

The Goal: Come up with the most inexpensive 5.1 home theater system worthy for an Audioholic on a budget.
AV Receiver: Denon 5.2 Channel AVR-S540BT Receiver

Although released in 2018, the Denon 5.2 Channel AVR-S540BT is still one of the best 5.2 receivers you can get for the price.  For around $250 you get a 5.2 receiver with the ability to deliver 70 watts (8 ohms, 20 Hz-20 kHz, 0.08% THD, 2-channels Driven, FTC) Although we'll be setting this system up as a 5.1 channel home theater system, the receiver gives you the option of adding a second subwoofer in the future, which we always like the ability to do.
The 5.2 channel AVR-S540BT doesn't include Dolby Atmos or DTS:X, but remember, we're trying to keep the budget to a minimum! It does have the ability to decode DTS-HD Master Audio and Dolby TrueHD. The amplifier has 5 HDMI inputs which are 4K ready. HDCP2.2 and HDR10 passthrough are both supported by the receiver. Although this level receiver does not come with Audessey room correction, it does come with the Denon setup assistant which we really liked for newbies for ease of setup.
We also liked the Alexa voice control feature which will allow you to connect your new system with your Amazon Alexa to control certain features of your system. The AVR-S540BT also comes with HEOS multiroom abilities to connect your smartphone to HEOS enables speakers around your home.
With the CEDIA installers show just a few months away, most major manufacturers will be coming out with new models so you might be able to find a better receiver for about the same amount of money. For this editorial, however, I had to go with what was available to me at the time.
Speakers:  Dayton Audio MK402 Bookshelf Speakers and MK442 Center Speaker

The MK402 is a 2-way ported design with a 4" midbass driver and .75" soft dome tweeter and sells for a meager $69/pair. The MK442 which we will use as a center channel steps it up with an additional 4" driver in an MTM driver topology along with a more sophisticated crossover network and sells for only $50 each. 
When Audioholics reviewed these Dayton Audio speakers in May 2018 reviewer James Larson stated:
"I think the MK442s are one of the best value for affordable high-fidelity speakers on the market right now."
That's big praise from a guy who does benchmark tests on everything from $50/ to $50,000/pair speakers and rarely gives glowing reviews regardless of price.
Although we did find that the speakers ran a bit unnaturally bright in the treble area, you can correct this with the Denon Setup Assistant. In addition, Dayton Audio did a crossover upgrade as a result of our review so the 402X addresses the brightness issue and that's the model we linked up to buy from Amazon. The build quality is good for a speaker of its pricing; the woofer and tweeter are not bottom-of-the-barrel parts, and they have actual crossover circuits, unlike many sub-$100 speakers that only use a capacitor on the tweeter and even some premium brands that simply cut cost. This is even more true of the MK442 crossover which has to be the most substantial crossover circuit on any speaker anywhere near the same cost.
Upgrade Note: For $30 more than the price listed in our setup you could put three MK442s in the front of your home theater system, using one as a center channel in a horizontal position and the other two in a vertical orientation for your main front left and right speakers. In this respect, for around $60 more than what we have listed, you can use the MK442s for ALL five of your surround speakers ($200 for 5 MK442's) and have a killer speaker setup that is completely timbre matched and has more output capability. Find a way to make this happen and thank us later!
Subwoofer:  Dayton Audio SUB-1000 10-Inch 100-Watt Powered Subwoofer

Dayton Audio swept the field in our speaker category for our budget system. For under $120 you get Dayton Audio's SUB-1000 active subwoofer speaker which features a 100-watt internal amplifier and heavy-duty high-excursion 10" driver. The downward-firing flared port design helps to provide clean, powerful bass and reduced noise. At 40 lb the SUB-1000 is an incredibly well-built subwoofer for the price. In fact, we're not sure you could build a better subwoofer yourself for less money if you purchased the parts separately! 
Blu-ray Player: Sony 4K Upscaling 3D Streaming Blu-ray Disc Player - BDPS6700

For our 5.1 home theater system, we're not including a display. We're assuming you already have one matched to your listening area, but we did include a highly rated and affordable Blu-ray player with 4K upscaling built-in. The S6700 is compatible with DTS, DTS-HD Master Audio, Dolby Digital, and Dolby TrueHD formats. Again, no DTS:X or Dolby Atmos, but that's not what we're shooting for here. What you will get is a solid Blu-ray player that will bring out the best for both your sound and sights in your home theater.
The Blu-ray player comes with a bunch of additional features and apps that you probably already have on your TV, but it's good to know they are there if you need them.
Upgrade Option: If you want native 4k, spend the extra $33 and get the Sony UBP-X700 UHD Blu-ray player. This is money well spent if you plan on watching 4K HDR content IF your display device supports it.
Accessory Equipment

Note:
It used to be Monoprice was the place to go for budget speaker wire, but as with many products these days it's hard to compete with Amazon. With Monoprice jumping from $13 to over $21 for 50 ft of 14 gauge speaker wire we had to look elsewhere. Enter KabelDirekt through Amazon. For $18 you get 50' of 99.9% oxygen free copper speaker cable.
It's hard to believe that APC can pack so much into their APC P11VNT3 Surge Protector AND give you a top notch warranty to boot.  Normally we would be skeptical, but APC has been around for a long time producing quality surge protectors. The P11VNT3 comes with a 3020 joule surge protector power strip, 11 total power surge protector outlets with sliding safety shutters, 6 outlets are block-spaced for larger adapters, telephone, network (Cat-5 Ethernet Port) and co-axial protection against power surges along data lines, an 8' cord with 180 degree rotation and right-angle plug. But the best part is the lifetime warranty and $100,000 equipment protection policy which provides peace of mind even for our budget system.
Conclusion
Price Breakdown

A/V Receiver
Denon 5.2 Channel AVR-S540BT
$250
Loudspeakers
Dayton Audio MK402 Bookshelf (x2)
and MK442 Center Channel
$188
Subwoofer
Dayton SAudio SUB-1000
$120
Blu-ray Player
Sony BDP-S6700
$125
Speaker Cables

KabelDirekt AWG 14 Speaker Wire - 50ft

$18

Subwoofer Cable
AmazonBasics 8' RCA Audio Subwoofer Cable
$8
HDMI Cable
Amazon Basics 6' HDMI Cable
$18
Surge Protector
APC P11VNT3 11-Outlet Surge Protector
$34
Total
 
 $761
For $761 you get a 5.1 system that would crush the sound of any home theater in a box or soundbar, especially for music. Even during the writing of this article the prices of the components listed dramatically changed on Amazon. You might be able to find some of these products at better prices on sale. Our recommendation would be to add the $60 and replace the Dayton Audio MK402 bookshelf speakers with the MK442s all around. Your budget is still at a reasonable level, and you'll get five of the best speakers for the price that we have seen. Will you get the same sound as our Audioholics Showcase Home Theater? Definitely not. But you will get a chance to delve into the world of audiophiles and get your feet wet with individual components hand-picked for the value and quality Audioholics is known for.
Think you can do better? Add your thoughts in the comments section below.
Confused about what AV Gear to buy or how to set it up? Join our Exclusive Audioholics E-Book Membership Program!
Recent Forum Posts:
Kingnoob posts on January 21, 2021 01:17
Rene Sonse posts on January 03, 2021 17:09
I'll be getting a Yamaha RM-V6A based on seeing your recent review. Also from another of your reviews, I want to know if I can use Dayton Audio 5 MK443's + 2 MK 402's with it (along with Klipsche R-12 sub) or are they under specced? Btw, how do I buy from you??
Sleqzypig posts on October 31, 2019 18:24
That does like a decent little budget setup. We got to ween the idiots off soundbars with articles like this. You can't help everyone though as some people get scared off by the thought that they still have to hook up big ugly speakers lol.
shadyJ posts on September 16, 2019 17:14
Verdinut, post: 1339891, member: 80194
These MK442 MTM speakers can be considered as 6 ohm speakers. As for the impedance dip to 4 ohms at 4 kHz with the sharp phase angle, we shouldn't have to worry as at such high frequencies, there is not much power demand to expect anyway. Right?
I think it is fair to say that, yes.
KEW posts on September 16, 2019 17:11
James_G, post: 1332023, member: 89373
Hi, I'm a home theater newbie with a tight budget and signed up on this forum to ask questions. I found this article and loved the idea so I am actually starting to piece this system together starting with the AVR that I got for $230. I just noticed the MK402 and MK442 speakers are 4ohm while the Denon AVR-S540BT is minimum 6ohm. I'm concerned about the mismatch and am wondering if you have information that wasn't published regarding using 4ohm speakers with a higher ohm AVR. Was this an oversight? Do you recommend anything else on a tight budget that will sound as good or better in the 6-8ohm range? Am I worrying about nothing? I just don't want to purchase something that will fry my brand new AVR or speakers after a few months. Please help! Thanks!
As has been said, as long as you do not push them, you should be fine!
Nonetheless, you do make a good point (good catch) and I know I'd be willing to spend a few more bucks for the peace of mind it would give me!
It seems you are committed to the Denon AVR-S540BT at this point, but for others in this situation, I would suggest they go to Accessories4Less -
https://www.accessories4less.com/make-a-store/category/avreceiver/home-audio/receivers-amps/home-theater-receivers/1.html
and look for an AVR with a 4 Ohm rating (use the Specifications tab). Right now, they have a Denon AVR-S640H that fits the bill for $230, a Denon AVR-S730H that fits the bill for $250, and a Denon AVR-S930H for $270. Note that the 730 and 930 are 7 channel amps which means they have a more capable power supply than the 640 (usually, the power supply is the weak link when having difficulty driving 4 ohm speakers).
Recognize that these are reconditioned units, but the reconditioning is done under the manufacturer's direction (Denon provides the one year warranty on these units). That is not the same as Joe Blow buying an inventory of returned phones and seeing how much he can flip them for (without a formal test/repair process)! In my experience (over 12 units) A4L units were as new - worst case - a scuff where another unit was sitting on top of it, but nothing you could see without actually doing an inspection. There have been a couple of incidents on the forum of people getting defective units, but they are rare and no one has complained that A4L did not resolve the problem in a fair manner!
HTH!
PS- I like A4L because they have information like teh specifications readily available and very good prices. However, once you identify some candidates it is always a good idea to check pricing on-line for those models. Every now and then, you may come across a special or something like an "open box return" with fulfillment by Amazon which will have the full 3 year warranty for the same price or $10 more! It never hurts to check!
Post Reply