$1,000 5.1 Channel Recommended Home Theater System
$1,000 5.1 Channel Recommended Home Theater System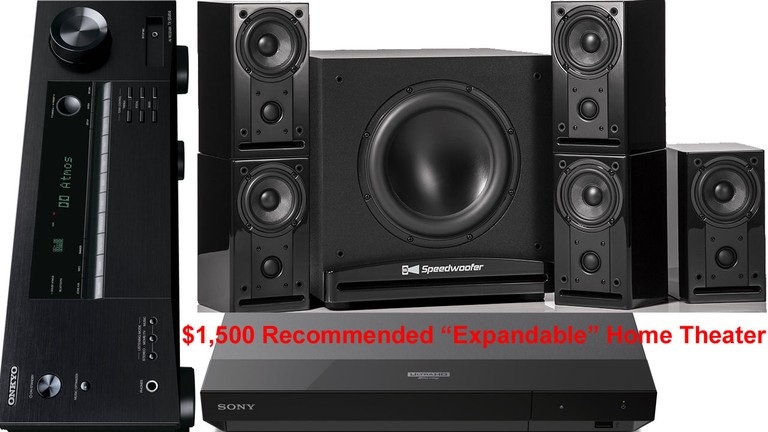 There are a lot of ways to spend $1,000 in the audio world. For the "cost is no object" crowd, $1,000 wouldn't be an unreasonable sum to pay for speaker cables. For others, it's the cost of a nice set of bookshelf speakers. But $1,000 for a full 5.1 channel home theater system? That's crazy talk. Sure, you could pick up a home-theater-in-a-box (HTIB) from a local retailer, and you'd technically have 5.1 channels of audio. But what if you'd like 5.1 channels of good sound on a shoestring budget; is it possible? In a word: absolutely.
Loudspeakers: Pioneer SP-PK52FS Towers, SP-C22, SP-BS22-LR
MSRP: $489 | Pioneer SP-PK52FS Review
Loudspeakers are generally regarded as the most important pieces of any A/V system. In short, speakers are the voice of the system as they convert an electrical signal into sound waves; more than any other component they determine the sound quality. Of course, if you've ever looked at the loudspeakers in a HTIB system, you'll find that's usually where the deepest cuts are made in order to make the budget. Pioneer's loudspeakers designed by Andrew Jones are a totally different animal. Yes, they are budget speakers, and from an aesthetic standpoint, they're not likely to wow your friends. On the other hand, you'd be hard pressed to find better sounding speakers for twice the price. You can find the Pioneer SP-PK52FS speakers on sale as low as $489 from time to time on Amazon.
If you've read that last line and winced, we'd caution you not to underestimate what Pioneer has accomplished here. In our full review, we directly compared the SP-FS52 towers against the ~$800 EMPTek E55Ti's seen in our $5,000 recommended theater system. Suffice it to say, it was far from a blowout. Yes, the EMPs are more accurate in the midrange, and with substantially more cone area to work with, there's not much question that they can play louder with a bigger and more natural soundstage while maintaining their composure. However, the fact that a pair of speakers selling for less than $250/pair can sit at the same table with the high value EMPs is a testament in itself.
Subwoofer:  Fluance DB12 $300 12" Ported Subwoofer
MSRP: $300 (Free Shipping)
The DB12 is an unusually compact subwoofer for a ported 12" design. Its polite size and refined finish allow it to fit in very aesthetically demanding situations. Its reasonable weight of 37 lbs. make it less of a chore to move around to find optimal placement as well. The DB12 sports a gloss-black front baffle and three choices of wood veneers for the rest of the cabinet, but instead of a single port, the DB12 has two ports, thereby doubling the potential output capability of the port tuning frequencies.
While the DB12 has the pricing of an entry-level subwoofer, it has some features that aren't normally seen in its price-bracket. The inclusion of not only speaker-level inputs but also speaker-level outputs are a type of connectivity that is often only seen on high-end subs intended for two-channel systems. Line-level outputs also go above and beyond the call of duty for this price point and allow the user to easily daisy-chain other subs in a multi-sub system. The gloss-black front baffle and wood veneers are also an uncommon feature found in a $300 subwoofer. If you desire a sub with more output and extension for just a little more money, check out the RSL Speedwoofer 10S.
Alternative Subwoofer:

RSL Speedwoofer 10S
MSRP: $399 (Free Shipping) RSL Speedwoofer 10S Review


A/V Receiver:  Pioneer VSX-531 5.1-Channel AV Receiver with Built-in Bluetooth
MSRP: $250
$250 is the entry level price point for A/V receivers from major brands like Pioneer and Denon. You're not going to find multiple HDMI outputs or decoders for Dolby Atmos or DTS:X, but this is a 5.1 system here so let's be realistic. However, Pioneer's VSX-531 does offer everything you need to get started with a basic surround system, including 5.1 channels of audio, with 80W of power per channel (20Hz-20kHz, 0.08% THD, 8 ohms) a preamp out, and 4K video upscaling for your new TV with ultra HD (4K/60p/4:4:4) pass-through and HDCP 2.2 compatibility with the latest displays and video formats.  Then there's the pièce de résistance: Pioneer's MCACC auto-setup and calibration system, which makes getting everything up and running a snap.
Alternative: Denon AVR-S530BT

Blu-ray Player: Sony BDP-S6700

MSRP: $99
Dolby TrueHD and DTS-HD, full HD 3D,
and over 300 streaming options including Netflix, YouTube, and Hulu Plus. It also gives you more streaming options than our Pioneer receiver since it comes with wi-fi it can stream 24 bit audio formats from AAC to FLAC and with LDAC Bluetooth it has three times the bandwidth of regular Bluetooth streaming.
Cables: Monoprice: ~$25.50
When you're on an extra-tight budget, there's one place to turn for cables: Monoprice. We're not aware of anyone offering cables for less. More importantly, while the products they offer aren't anything flashy, the quality is sufficient to get the job done. So what does $25.50 get you?
         50' 14AWG Spool: $13.26
         1 - 3' HDMI Cable: $2.57 + 1 - 10' HDMI Cable: $5.15
         10' Subwoofer Cable: $4.49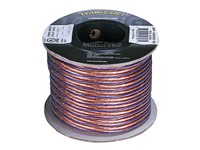 Surge Protection: APC P7V

MSRP: $25
The APC P7V is a fairly basic device. It offers 840 joules of surge protection for 7 outlets, as well as a modicum of EMI/RFI noise rejection. In the event of a catastrophic surge, the P7V will disconnect your equipment from the line, keeping it safe from further surges. Considering the modest price tag, we consider it cheap insurance to keep your equipment reasonably safe. Take our word for it when we say it's never fun to see your system fry.
Summary
| | | |
| --- | --- | --- |
| Loudspeakers | Pioneer SP-PK52FS | $489 |
| Subwoofer | Fluance DB12 | $300 |
| A/V Receiver | Pioneer VSX-531 | $250 |
| Blu-ray Player | Sony BDP-S6700 | $99 |
| Cables | Monoprice | $25.50    |
| Surge Protector   | APC P7V | $25 |
| Total |   |  $1,188.50 |

Yes, technically we blew our $1,000 budget by $188.50.Of course we'd expect with a bit of shopping around, you can also find lower prices than what we've listed for some of the components. The Pioneer speakers are often on sale significantly below retail on Amazon.com and if you were on a super tight budget you can get the entire Pioneer 5.1 package with their subwoofer for $649 which gets you to $1048.50.   One other way to trim the budget would be to substitute a second pair of Pioneer SP-BS22-LR bookshelf speakers for the SP-52FS towers, and end up pretty close to our $1000 price mark. In any case, you'll end up with a system that punches well above its weight. The only things you need now are a movie and some popcorn. Enjoy!
Confused about what AV Gear to buy or how to set it up? Join our Exclusive Audioholics E-Book Membership Program!
See also:
Recent Forum Posts:
Rodrigo Sarmiento posts on July 15, 2017 08:26
Thank you for the information, it has been really helpful for me to make a decision to buy my first 5.1 HT system. However, if you update the information please do it right because the receiver previously posted was the vsx-524 which indeed has the MCACC technology, this one (vsx-531) doesn't, would the vsx-532 work? it does have the MCACC feature. Also please update the date.
BoredSysAdmin posts on May 12, 2016 07:30
shawnlim, post: 1137323, member: 79183
I believe there are newer versions of speakers available in the market now with much better performance, and probably, a more cheaper build..?
You may believe in unicorns and bigfoot for all I care. AJ who designed these speakers already left Pio a while ago and joined Elac. Elac does indeed make solid and affordable speakers, but in in same price point than these Pioneers.
Go back and study carefully what @rojo said above…
tyhjaarpa posts on May 12, 2016 07:30
shawnlim, post: 1137323, member: 79183
I believe there are newer versions of speakers available in the market now with much better performance, and probably, a more cheaper build..?
In 2 years of time nothing too big has changed in speaker design. Its the electronics that change more in short timeline, like new features coming every year..
shawnlim posts on May 12, 2016 07:16
I believe there are newer versions of speakers available in the market now with much better performance, and probably, a more cheaper build..?
rojo posts on May 11, 2016 11:18
Topken, post: 1137194, member: 46234
Now that its a couple of years later this needs some revision.
Fine. 5x WaveCrest HVL-1, a Dayton SUB-1500, and a cheap refurb AVR from Accessories4Less. There, that's sorted.
Post Reply