2011 $1000 Recommended 5.1 System
2011 $1000 Recommended 5.1 System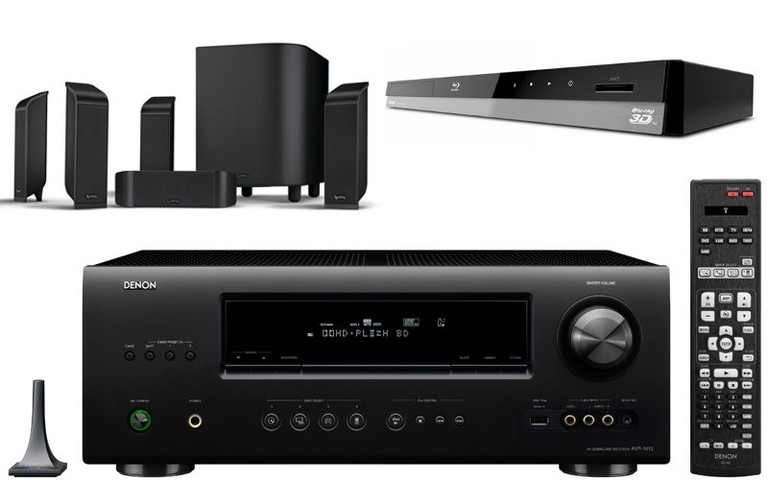 Our $1k Recommended System
To put together a $1,000 system for a new user can be a bit daunting. It is reasonable to assume that most people have some sort of DVD or Blu-ray player already. Many have a receiver or something similar at their disposal. To be fair, what we'll do is only assume that you have a display (since that'd be most of the budget anyhow). We won't assume you have a DVD player or Blu-ray or a receiver or even a stereo pair of speakers.
A system of this price is going to require some cost cutting measures. What will have to suffer the most is the speakers. While satellite speakers work well in small spaces, in larger rooms they may strain. The subwoofer, in particular, will have a hard time in anything larger than a bedroom. Still, this is a good beginner system and something that you can live with for a while before passing it down to a friend or child.
Receiver: Denon AVR-1612 ($349.99)

The Denon AVR-1612 is one of the newer receivers in the Denon lineup. This means it has all of the latest features including HDMI 1.4a with Audio Return Channel and 3D support. It has five channels of equal power amplification rated at 75 watts. The AVR-1612 has a limited number of inputs (four HDMI and three composite) but it should be enough for the newbie user. The front mounted USB port is Made for iPhone certified though the receiver isn't networked (not surprising at this price point). The big draw is the Audyssey MultEQ room correction and auto-setup which will make things easier for the neophyte and help fix the problems with your room and speakers. There is no video upconversion so you'll want to keep everything in the HDMI domain if possible. The GUI over HDMI will make things a bit easier.
Blu-ray Player: Toshiba BDX4200 ($119)


There really is no reason in this day and age to be looking at DVD players. Blu-ray is pretty much here to stay - and finally at very reasonable prices. While we'd love to recommend something with some decent upconversion, that isn't why we chose the Toshiba BDX4200. With a complete lack of networking on the Denon, we wanted a way of getting some of those cool streaming features into this recommendation. The Toshiba BDX4200 has access to Netflix, CinemaNow, VUDU, Pandora, and even Internet radio, making this a very attractive choice for the money. The Toshiba is WiFi "ready", meaning you can add the BDX2500 Wireless LAN Adapter for an additional ~$50 or so.

Speakers: Infinity TSS-1200 5.1 Home Theater Speaker System ($500)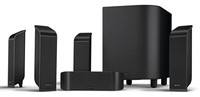 The Infinity TSS-1200 speaker system is really a no-brainer as it, at one time, retailed for nearly $1,400. At $500, it is a great deal. Small, wall mountable, with included stands... it should fit most everywhere. With a system response down to 30Hz, you can't really ask for more at this price. All the drivers are magnetically shielded for use with legacy CRT displays, the wall brackets are included (rare at this price point) and the speakers are around 13" tall. The sub is a hefty 44lbs and features a 12" driver - far larger than anything else in its price range. The sub is a bit large at 18.5" tall and deep, but it should be okay in most situations.

Alternates
Are the Infinity speakers too big for you? Check out the Boston Acoustics SoundWare XS 5.1 Package (review) for the same price ($499.99). The satellites are tiny and are designed to be mounted (brackets are included) in the corners of rooms if needed. They come in white and black, the 8" sub's largest dimension is 14.25", and the satellites are about 4" square.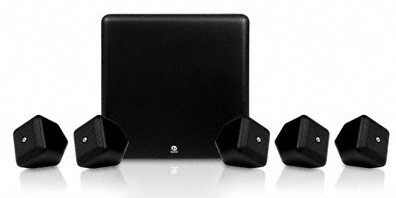 You can save a little money on the receiver if you go with the Yamaha RX-V471 for $329.95. While you don't get the Audyssey MultEQ, you do get Yamaha's proprietary YPAO room correction. The GUI (graphical user interface) works over HDMI and it has four HDMI inputs as well as a front mounted USB port, which makes this a similar choice to the Denon though the Yamaha does have two component video inputs and one out. Again, video upconversion is not supported. The RX-V471 sports 105 watts per channel.


If you already have a Blu-ray/DVD player, consider upgrading your receiver choice to the Yamaha RX-A800 Surround Receiver (for $479). Featuring 6in/2out HDMI 1.4a connections, seven channels of amplification, and 95 watts per channel, you are getting a lot more receiver for your money. Two zones of audio is supported as are presence channels. If you have legacy gear, there are 7.1 channel analogue inputs as well as 7.2 channel pre-outs for integrating external amplification. Video upconversion ensures a true one-cable connection regardless of your gear.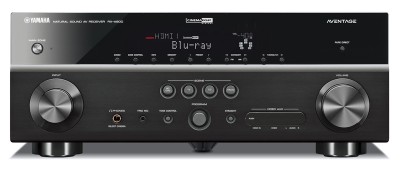 If you already have a receiver that you are happy with, you could upgrade your Blu-ray to the Oppo BDP-93 Universal Network 3D Blu-ray player for $499 (review). With SACD, DVD-A, and 3D on board as well as Netflix and Blockbuster streaming, it is the last Blu-ray player you'll ever need. Add to that cutting edge Qdeo by Marvell video scaling for making your DVDs look as good as they can, you really don't have to think much about this one. If you have the cash, you probably already own it.


There are a few other speaker options you might consider if you have a bit more in your budget including the Klipsch HD Theater 600 speakers ($600), JBL CS480 ($750), and the Boston Acoustics A 2310HTS speaker package ($900 - more information). The first two are just other satellite systems though the Boston system features slightly larger speakers. If you aren't willing to bump up to the EMP Impression E5Ti 501 Tower System ($1350 - review) however, we'd suggest saving for some EMP E5Ti Tower Speakers for the mains ($500 a pair - review) and moving some of the other speakers around. If you can't stretch your budget much and have a larger room, the Klipsch speakers might be best as they are likely to perform better in a larger room.

You could also save for a better subwoofer (the $200 Velodyne VX-11 or the $300 Velodyne Impact-10 (video review) come to mind). Keep an eye on the Chrysalis brand subs. They are made by Velodyne and the company has decided to take the entire Velodyne line online which might mean they will phase out Chrysalis. This could mean some great deals on subs that are identical to Velodyne subs in all but the name.

Summary
As you might expect, it depends on what you have and what you want to spend. For $1,000 you are going to have a hard time finding anything but small, satellite speakers. Receivers will have HDMI and 3D but not much else. With the Toshiba Blu-ray player you can add streaming to the mix but the quality of the DVD and Blu-ray playback may suffer. For the money, however, you can get a very nice setup that will make you the envy of many of your friends. If you have some of the equipment already, there are plenty of alternates to spend your money on.
Equipment Type

Name

MSRP

Receiver

Denon AVR-1612

$350

Source

Toshiba BDX4200

$120

Speakers

Infinity TSS-1200 speaker system

$500

Misc

Wires and such

$30

 

Total

$1000

Alternates

Speaker

Boston Acoustics SoundWare XS 5.1 Package

$500

Receiver

Yamaha RX-V471

$330

Receiver

Yamaha RX-A800 Surround Receiver

$480

Source

Oppo BDP-93 Universal Network 3D Blu-ray player

$500

Speaker Package

Klipsch HD Theater 600

$600

Speaker Package

JBL CS480

$750

Speaker Package

Boston Acoustics A 2310HTS

$900

Speaker Package

E5Ti 501 Tower System

$1350

Tower Speaker Pair

EMP E5Ti Tower Speakers

$500

Subwoofer

Velodyne VX-11

$200

Subwoofer

Velodyne Impact-10

 

$300
Confused about what AV Gear to buy or how to set it up? Join our Exclusive Audioholics E-Book Membership Program!