Velodyne Terminates Reps & Becomes an Internet Direct Subwoofer Company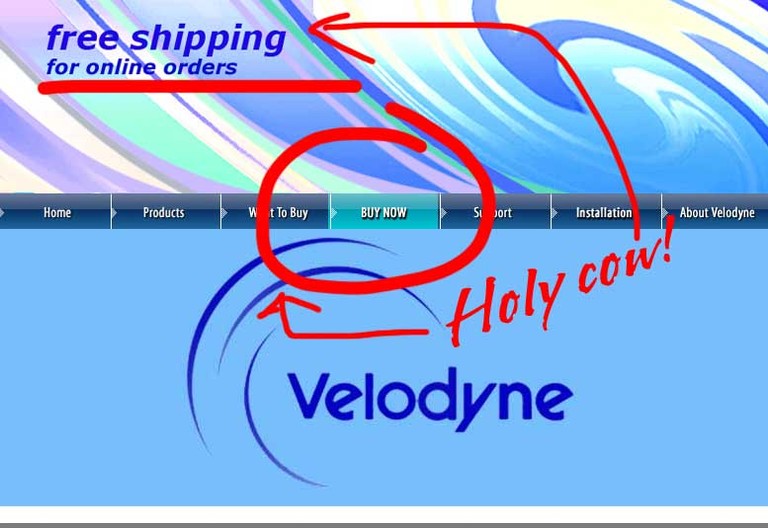 Velodyne Goes Internet Direct - fires ALL reps
We went online today and, lo and behold, Velodyne has turned into an online subwoofer company. After investigating, and hearing back from a rep, Velodyne is terminating its entire network of manufacturer reps, and selling direct to consumer. This was... surprising to say the least, and we're interested to see where it takes the company in terms of new products and their existing lines. Everything seems to be on the table, though we'll certainly keep an eye on this as things progress. On July 25 all of Velodyne's sales reps were given notice that their relationship with Velodyne (some of which spanned more than 25 years) would be terminated in just three days. At the same time, Velodyne launched its online website and began selling its products. SO far all of the following lines are (apparently) available for purchase, some of which have, to-date, never seen the light of the Internet:
Digital Drive Plus

DEQ-R Series (some models listed as out of stock)
DLS-R Series (some models listed as out of stock)
Impact Series (some models listed as out of stock)
MicroVee (listed as out of stock)
MiniVee Series
Optimum Series (some models listed as out of stock)
WiConnect

David Hall, the newly active CEO, was quoted as saying "After careful evaluation of how we get our products to our customers, we determined that we can be more effective in serving the stereo enthusiast by offering products directly from Velodyne."
This is a profound change for a company that told us not too long ago that they had zero interest in selling their products online. In fact, the company seemed proud of its dealer network and their placement in brick and mortar stores (the latter of which we are guessing they aren't trying to take away just yet). David Hall cited Asia manufacturing and the Internet medium as core reasons why Velodyne made the change. His hope is that Velodyne can "reinvent itself as again the most cutting edge and exciting audio company."
Here is the core quote from the statement emailed to its reps:
"Our decisions are not made lightly and we are making every effort to balance business priorities with the respectful treatment of our representatives who have made numerous contributions to Velodyne over the years," Hall says in the letter. "Due to our new road map and after much consideration, we are terminating our relationship with all of our representatives."
We feel that Velodyne has made a very dramatic and exciting move. Whether it is going to be good or bad for them depends on how well they can convince consumers that they are competitive in the Internet-Direct market - and whether or not they can drive enough traffic to their store through advertising and marketing. Velodyne has always been considered an installer-only and brick-and-mortar brand. To take on the value-oriented ID market will take some bold steps.
UPDATE - Here is an informal statement from a Velodyne spokesman regarding the change:
Velodyne is still maintaining its relationships with dealers, retailers and distributors. The only thing going away is independent sales reps. Dealers and resellers will still have access to dealer pricing and will be able to receive that pricing via the web upon checkout. A big part of this change is to make purchasing Velodyne products easier for all customers.
The spokesman also said that part of this was to address unauthorized Internet sales which harm the company's business partners, but I'm not sure how selling online directly will address that unless the company maintains MAP. On top of that, they'd need to aggressively pursue anyone else selling online - a move they could have made before terminating their manufacturer's reps. That would make competing with Internet-direct companies very difficult unless the company releases some new lines, priced specifically to compete in this market. One thing is for certain - this will be a VERY interesting year for Velodyne, and what happens next, and how quickly it happens, will reveal very quickly whether or not this was the best decision, or worst mistake, in the company's 28 year history.
Sound off - what do you think? Comment in our forums below.
For more information, visit: Velodyne Online
Sputter posts on August 09, 2011 17:58
They are still a B&M brand. This thread is misleading.

A quote from Rob Morse (product support rep)

"There seems to be confusion about the term independent sales reps. These are not dealers, but rather marketing companies that covered a region of the country as a go between the dealers and the manufacturer. These marketing companies were what was let go. All of Velodyne's dealers are now able to purchase direct instead of through these third party companies."
highfigh posts on August 08, 2011 21:38
This is something that happens in many industries but canning the whole front office is a bit less common. Usually, a manufacturer will sign on a rep firm so they don't need to hire their own people and because the rep firm has an established reputation for success. Once the brand is established, some manufacturers will stop using the rep firm and go direct. It seems short-sighted in some ways but they don't need to worry about sharing one rep firm with several speaker manufacturers, either. If the manufacturer used distributors, they may stop their relationship because some distributors may not be as strong with A/V as they are with some of the other lines they sell, like white goods (appliances). Either way, it's usually a matter of having better control over who sells their products and who's accountable for their success or failure.
picture_shooter posts on August 08, 2011 19:38
I use to own the VRP12 when it 1st came out. Not a bad sub at all, but the VX11 which I own now do sound mighty nice for the price I paid for them.
picture_shooter posts on August 08, 2011 19:36
I do not think this will hurt Velodyne in anyway.
sholling posts on August 06, 2011 12:13
bikdav, post: 823789
Do you mean a VX12 with a 12 inch driver _ like the VRP 1200 Velodyne sold at Circuit City? If so, they had better get moving. It wasn't an audiophile's dream, but the VRP 1200 did a very good job for what it was. I liked it.
Yes, I owned a VX10 several years ago and for a small cheap (~$200) low-powered sub it was surprisingly musical. I just think the days of $200 100w 10" subwoofers are over. There are too many competing 12" products with better specs that will lure away 1st time buyers.
Post Reply