2011 $3500 Recommended Home Theater System
2011 $3500 Recommended Home Theater System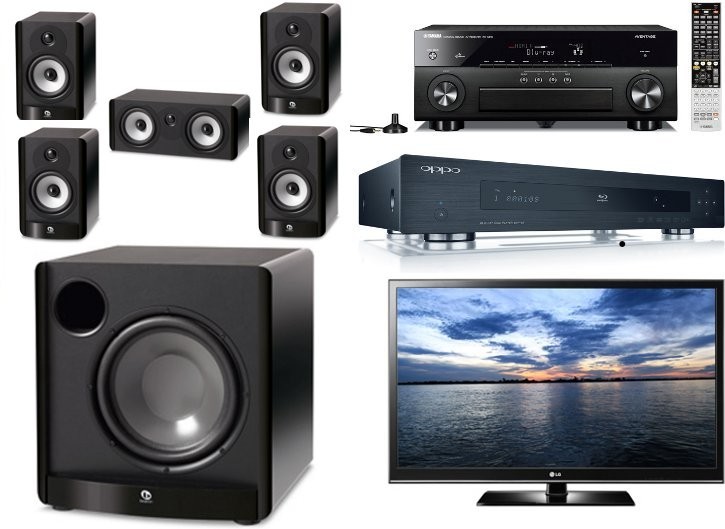 2011 $3500 Recommended System
You may look at the budget for this home theater and think, "Man, that's a chunk of change." It isn't. Not really. If you look around your living room right now, you probably have close to $3500 sunk into chairs alone, much less rugs, tables, lamps, funny little figurines and the rest. In fact, in order to change up our selection we had to assume you already had seating (or it'd be the $1K recommendations with a sofa added). 
The chances are also likely that you have some of this stuff already. You probably aren't going to be starting from scratch. That means, you can either ignore the parts of the recommended system you already have or take a gander at some of our alternates to make up the difference. Don't worry, either way we'll help you spend your hard-earned money. When you bump up your AV budget from $1000 to $3500, you have a lot more options. In fact, at these price points, every dollar makes a difference. But we can't be sure what you'll be starting with, so we wanted to cover you for all contingencies. Our suggested system is 5.1 but can be easily modified to 7.1 or 7.2 with some of our alternates.
Display: LG 50PW350 50" 3D Plasma ($800)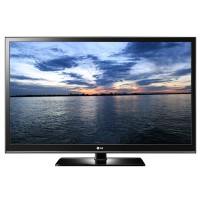 The biggest unknown is the display. With our research, we found that plasmas are still a pretty good deal. You don't have to deal with the flickering of LCDs and the better performing, LED backlighting with local dimming is well out of this price range. While we have budgeted $800 for a display, we believe most people will want to shop for themselves. One thing we will warn is to not be impressed by what you see in the store. The store environment is much different from what you have at home. Do your research and don't be enticed by a super-thin profile or intense brightness. Black level performance and the ability to calibrate a display accurately are much more important. Also, pay attention to where you will place your display. If you plan on wall mounting it, make sure the inputs on the display will accommodate (which means if you plan on flush mounting, make sure the inputs aren't sticking straight out the back with no room for clearance).
For our recommended display, we went with the LG 50PW350, a 50" plasma with all the trimmings. Boasting 3D, it is 1080p, DLNA-certified, and ENERGY STAR rated. At $795, the LG 50PW350 will convert your 2D sources to 3D (which actually looks cool, but you probably won't want to use it too often) and it includes a WiFi adapter for easy networking. But if you really want a big screen, you could spend $100 less and get the Optoma HD66 front projector (review). In this way, you can get a HUGE picture (up to 301" in theory) for not a lot of money. The leftover $100 can go toward an Elite Screens M92UWH 92" screen or a projector mount.
If you already have a good enough HDTV, then use this portion of the budget to either upgrade to our alternative speaker recommendations and/or add a second subwoofer.  Remember it's usually better to upgrade to bigger, more efficient speakers in a product series than to just add more amplification.  A second sub is a must for those wanting smooth bass response across a wider listening area.
Receiver: Yamaha RX-A810 ($800)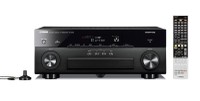 The heart and soul of the modern home theater is the AV receiver. This is not a place to skimp, and we didn't. At $800, the Yamaha RX-A810 is a steal. It has seven channels of amplification with 100 watts of power per channel. With 8 HDMI 1.4a inputs and two outputs, it supports 3D, Audio Return Channel, and just about everything else on the planet. Networking is included with DLNA 1.5 and Windows 7 certification for local streaming and Rhapsody, Pandora, and Napster on board. There are pre-outs for adding an amp later, but no analogue inputs for integrating legacy gear. Two zones of audio is supported and the RX-A810 has nine pairs of speaker terminals for easy switching between configurations.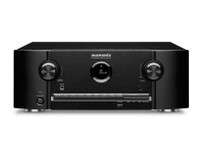 If you have legacy gear and really want Audyssey, you might consider the Marantz SR5006. While it doesn't have pre-outs for adding an amp, (other than for Zone 2 or to power front height/width channels) it does have 100 watts per channel with seven channels of amplification. Audyssey MultEQ XT is on board as is Apple's AirPlay (as well as most of the same streaming features as the Yamaha). You lose two HDMI inputs (six in) and one of the HDMI outputs but 3D and Audio Return Channel are both supported. Either receiver would be a good choice but while the Marantz wins in the looks category, we still think the pre-outs on the Yamaha give it the slight edge.
Source: Oppo BDP-93 ($500)


Oh, wait? You needed an explanation? We thought that was enough. Okay, when Oppo released the BDP-93, it pretty much tipped the Blu-ray market on its head. While others had released universal players for well over $2000, the BDP-93 had all those features, plus more, for just $500. While it is getting a bit long in the tooth, the BDP-93 still has a very impressive feature set with Netflix and Blockbuster on Demand streaming, DVD-A and SACD playback, 3D, and Qdeo by Marvell upscaling. Between the streaming on the receiver and the streaming on the Oppo, you pretty much have access to everything out there.
Speakers: Boston Acoustics A 25/ASW 650 Speakers ($1350)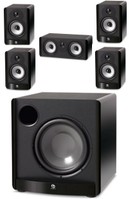 Speakers are very subjective. If you have a brand you love, you should look for set that fits within the budget. For our money, not a lot beats the Boston Acoustics A Series speakers (more info). We built this speaker system around two things - bass and the center channel. The A Series from Boston has two subs in the line. Being Audioholics, we opted for the larger ASW 650 ($500) featuring a front mounted 10" driver and port for easy placement and extension down to 28 Hz (probably lower in-room), there is lot to like. Plus it will match the high gloss finish of the A 225C Center Chanel ($250). This speaker features a high-contrast finish, 1" soft dome tweeter, and two 5.25" ceramic/glass fiber polymer woofers. We mated these with the A 25 bookshelf speakers ($150/each) because they feature the same sized drivers (and they fit in the budget). Overall, this is a very nice speaker system that should give you plenty of enjoyment plus room to grow.
Alternates
Here's where you can have some fun. While we already made a few suggestions above, there is lots more you can do. If you have speakers or a display or a source, you may take advantage of some of the improvements and additions we list below. We didn't budget for any sorts of room treatments, though, at this level, you should at least be thinking about it. Check out some of the products available and maybe put them on your Christmas/birthday wish lists. While you are at it, check out Acoustics section for more ideas.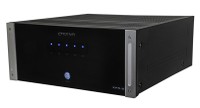 If you decided to go with the Yamaha RX-A810, or you have a receiver with pre-outs, you probably are thinking you would add an amp at some point. Some of our favorite amps to recommend come from Emotiva. When you combine top level performance with bargain basement prices, it's hard NOT to recommend them. For those on a budget, their UPA-2 stereo amplifier (review) is on sale for a buck under $300. With it, you can power your front two speakers (or a second zone) at 125 watts each. It has a compact size, so you don't have to worry about fitting another box the size of a receiver in your rack. If you want more power, don't mind another huge (and heavy) box, and want to power all your speakers, the XPA-5 5-channel amplifier (review) will put out 200 watts into 8 ohms for just $900. That's an unbelievable price to performance ratio for a five channel amp. 
If you are a real audiophile, you might be interested in bumping up from the Oppo BDP-93 to the BDP-95. The BDP-95 (review) has all the features of the 93 but makes serious improvements on the audio side:
| | |
| --- | --- |
| BDP-95 | BDP-93 |
| ESS Sabre32 Reference DAC for the 7.1ch analog output | Cirrus CS4382A DAC for the 7.1ch analog output |
| A second ESS Sabre32 Reference DAC for the stereo analog output | No dedicated stereo output (The 7.1ch output can be set to stereo mode) |
| Fully balanced XLR output for stereo | No XLR balanced output |
| Linear power supply with Rotel-made toroidal transformer for the audio section | Switching power supply |
| Higher grade op-amps and passive electronic components | Regular audio grade op-amps and passive electronic components |
| Bigger and heavier chassis | |
| A lot more engineering hours put into the design | |
This is a player for those worried about the ultimate fidelity in playback. While it is reasonably priced for the performance, many users aren't going to be interested in doubling the price of their source ($999 for the BDP-95) for better electronics and XLR outputs that they don't know what to do with. If that sounds like you, stick with the BDP-93 and save the extra $500 to spend on something else.

Like more speakers. If you want a 7.1 system you can add an additional pair of A 25s for $300. You could also take a look at some of the other A Series speakers including the A 360 ($400/each) towers. These feature dual 6.5" woofers and a 3.5" midrange. This means you'll probably want to pair them with either then A 23 bookshelf speakers ($140/each) or A 26 bookshelf speakers ($200/each) for rears as the A 23s have a 3.5" woofer and the A 26s have a 6.5" woofer. Better, we think, that you keep the system the same but bump up to the A 250 towers ($300/each) since it features the same 5.25" woofer as the A 25 bookshelfs and the A 225C center. If you are not interested in larger front speakers but want more bass, you can add another ASW 650 sub (for $500) or one or more of Emotiva's Ultra Sub 12's for just $429 (or $400 each when you buy two or more). Lastly, you can step up to the big boys with the Velodyne DEQ-15R sub (review) for some serious bass.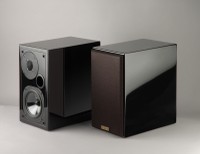 If you, or more likely your spouse, don't like something about the Boston offerings, you can change it out for the Usher Audio SW-520 bookshelf speakers (review). These speakers are classified as bookshelves but they are very small at 7.09" x 10.43" x 11.81". You could get four of them for the mains ($958), the Usher Audio S-525 center ($379) and one of the subs above for a full 5.1 system. It will cost you a bit more than then EMP speakers which is why it didn't make the main list. Recently, Usher released their SW-520 bass module for use with the S-520 speaker to flesh out the bottom end. We've found that these speakers do have problems in larger rooms but as long as you pair them with a decent sub in a medium sized room or smaller, you should be okay. And they sound great.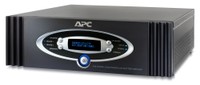 The last accessory that could have made the list (and should be there in some form) is protection. With all this new gear, just plugging it into the wall and hoping there won't be a surge or problem is a bit risky. Investing in something like the APC AV H10 Power Conditioner (review) can quell any fears you have about protecting your gear and can also make fixing hums and buzzes a snap. If you decide on a projector, some sort of battery backup is pretty much mandatory. The APC AV S10 is a great choice and quite a deal at just $500. 
Conclusion
Is this a definitive list? Are you kidding? There are as many ways to build a $3500 home theater system as there are people. We focused mostly on the main gear with this recommended system assuming that things like chairs and cabinets would already be available. We also didn't budget much for wires or other accessories though they'll obviously be necessary. We assume that you'll have one or more of these components in place and will use the extra budget freed up for accessories and maybe one or more of our alternates. Building the perfect system is a very personal thing, but we think our list is a great place to start.
Equipment Type

Name

MSRP

Display

LG 50PW350 50-Inch 1080p 3D Plasma TV

$800

Receiver

RX-A810 Surround Receiver

$800

Source

Oppo BDP-93

$500

Speakers

Boston A 25/ASW 650 System


$1350

Wires and Such

 

$50

 

Total

 $3500

Alternates

Display

Optoma HD66

$699

Screen

Elite Screens M92UWH 92" screen

$160

Receiver

Marantz SR5006 Surround Receiver

$800

Amp

XPA-5

$899

Amp

UPA-2

$299

Source

Oppo BDP-95

$999

Speakers

Boston Acoustics A 360

$400

Speakers

Boston Acoustics A 26

$200

 Speakers

Boston Acoustics A 23

$140


Speakers

Boston Acoustics A 250

$300

Speakers

Usher Audio S-520 (4)

$958

Speakers

Usher Audio SW-520 Bass Modules

$899

Speakers

Usher Audio S-525

$379

Subwoofer

EMP Impression ES10i Subwoofer

$349

Subwoofer

Emotiva Ultra 12

$429

Subwoofer

Velodyne DEQ-15R Subwoofer

$899

Accessory

APC AV H10BLK 1kVA H Type Power Conditioner

$175

Accessory

APC AV S10BLK Battery Backup 1000 VA

$499
Confused about what AV Gear to buy or how to set it up? Join our Exclusive Audioholics E-Book Membership Program!
Recent Forum Posts:
AcuDefTechGuy posts on September 20, 2011 13:52
ned posts on September 19, 2011 19:43
This is a great recommendation at this price range.
GranteedEV posts on September 19, 2011 18:09
Cruise Missile, post: 831628
This was a recent discussion topic with the wife. I noticed as we've moved up river with our theater we listen at or near-to reference level with movies. I also noticed I have stopped hanging on to the remote in preperation of a quick volume change.
Yep, the less distortion cues in our system, the louder we feel we can listen and the result tends to be startling dynamics despite relaxed tonality. And room acoustics are a big factor in that as well. The more reflection information (especially dissimilar) our brain has to process at a time along with the direct info, Floyd Toole's research tells us that this is perceived as "higher SPL" but the problem is that it doesn't scale with lower volumes in a dynamic soundtrack. Low level information is lost because you listen too quietly, and the reflections associated with it are near or below audibility.
I think this is true to an extant, that badly distorted loudness can sound obnoxious while a clean sound is much more tolerable at loud volumes.
Bad distortion we can recognize, but how easily can we recognize a 6.5" mid sensitivity woofer straining at 90db @ 100hz where a pair of 8" high sensitivity woofers may be crusiing along?
The thing to realize is the dynamic range of the movie, not the average listening volume. Movies (and classical music) are unpredictable and can go anywhere from quiet, to everyday levels, to loud. The average listening volume might sound great, but then a dynamic score comes in and we feel a need to turn it down…
shadyJ posts on September 19, 2011 18:09
I think this is true to an extant, that badly distorted loudness can sound obnoxious while a clean sound is much more tolerable at loud volumes. However, at a certain point anything is too much, no matter what the reference level junkies say, loud noise is loud noise, and will become painful and irritating at loud enough levels and for long enough time lengths. I could also see reference level listening is also potentially damaging if the movie is non-stop peak-amplitude mayhem. Occasionally though, I do like to push my system to zero for the right movie, but I don't leave it at zero for the entire length. I fear for my house when my subs are punching that hard.
Cruise Missile posts on September 19, 2011 17:52
shadyJ, post: 831609
I'm sure they get louder than most people would ever listen, we must remember very few listen to their movies at reference.
This was a recent discussion topic with the wife. I noticed as we've moved up river with our theater we listen at or near-to reference level with movies. I also noticed I have stopped hanging on to the remote in preperation of a quick volume change.
A clock radio is downright painful at 70 DB, that's why no one ever turns them up.
I'll crank a system built with quality speakers and plenty of amplifier headroom in a heartbeat.
I believe this is why most listen at lower levels, not the other way around.
Post Reply