Oppo BDP-93 Networking Universal Blu-ray Player First Look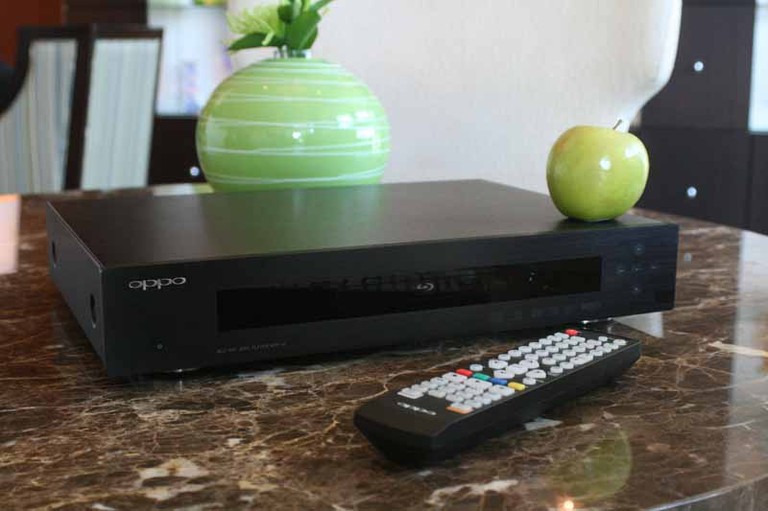 Oppo BDP-93 Universal Blu-ray Player
Summary
Blu-ray 3D support
Netflix streaming

CinemaNow

Wireless-N networking
Dual HDMI outputs
Marvell KYOTO G2 chipset with Qdeo video processig
eSATA port
Two USB ports
Power Supply: ~ 100V - 240V, 50/60Hz AC
Power Consumption: 35W (0.5W Standby)
Dimensions: 430mm x 311mm x 79mm, 16-7/8 x 12-1/4 x 3-1/8 inches
Mass: 4.9kg / 10.8 lbs
Executive Overview
Just when you thought there wasn't a better Universal Blu-ray player on the market for under $500 than the legendary BDP-83 Universal Blu-ray Player, Oppo proves you wrong by unveiling a new successor model: the BDP-93.  Carrying the same retail price ($499), Oppo's BDP-93 has upped the bar by adding new networking/streaming features, increased performance and improved build quality. 
The Oppo BDP-93 will do virtually everything the BDP-83 BD player did, plus have some major feature upgrades as listed below:
Blu-ray 3D support
Netflix streaming support
CinemaNow support
Additional network streaming features will be announced once partners certify the player. Oppo has divulged several of their potential partners to us and users should not be disappointed.

Wireless-N networking
Dual HDMI outputs.  The two HDMI ports can be configured to support separate video and audio paths, or to support two displays at the same time.
Marvell KYOTO G2 chipset with Qdeo video processig(though prototypes were also built with the ABT2015)

 eSATA port in addition to two USB ports
The new player is beautiful, with a brushed aluminum face plate and flush buttons. The tray even retracts so tightly into the front that it is virtually hidden when closed (note photos below). The connections on the back should look familiar, though Oppo has added a second HDMI that works off the circuitry powering the component video output - and it functions much in the same way, when it's not being used as a dedicated audio output or mirrored HDMI out. This is an attractive player.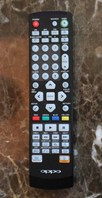 Qdeo by Marvell - The BDP-93 incorporates Marvell's Kyoto-G2 video processor with the second generation Qdeo™ technology. Qdeo video processing is said to deliver a truly immersive viewing experience by rendering quiet natural video free of noise and artifacts for all types of content. For high-quality Blu-ray content, the BDP-93 will faithfully reproduce the source material; for DVD, the up-converted picture quality bridges the visual gap from your current DVD library to Blu-ray discs; for network streaming and user-encoded content at a variety of formats and quality, the BDP-93 offers enhancement options including video noise reduction, compression artifact reduction, intelligent color, contrast, detail and edge enhancements.
Physically, the Oppo BDP-93 is nearly identical to the BDP-83, with the same width and height, but about 1/2 less depth. It's also got a little more heft to it. This player is brand new and, as such, there is little information that is known about it. Given that, we were very fortunate  to be able to have a non-formal interview with Oppo over breakfast this morning to acquire some more information.
What Network functionality will be supported (IE. Pandora, Netflix, AppleTV, etc)?
The new player has Netflix and CinemaNow and more partners are being brought on board as we speak. [Oppo] cannot formally announce content partners until certifications are done.  Based on customers inquires about networking features, Netflix has been the #1 request. Pandora is also in high demand. Apple TV is, of course, kind of exclusive so we will not be able to support it.
How do the dual HDMI outputs work?
The second HDMI output is, in functionality, very similar to how the component video output (still present) worked in the Oppo BDP-83. The difference is that you can use one HDMI for audio and one for video. You can also have dual outputs in parallel, and also you can specify a resolution for one of the outputs, which will engage the video processing on that output while leaving the other to output the native resolution of the disc. It's incredibly flexible and the component video output can still mirror the HDMI output when resolution is set to 1080i or lower.
We noticed the lack of dedicated stereo outputs now - why is that?
Oppo realized that the intent of the player didn't warrant the use of a dedicated stereo output anymore. For now, users can use the built-in bass management to fold the 7.1 analogue audio signal down to stereo for use in a Zone 2 setting, for example.
Do you have in mind a higher-end player like the BDP-83SE once this model ships?
Yes. We are working on a higher-end model that will, unlike the BDP-83SE, be built from the ground up for a higher quality analogue audio level of performance among other improvements and upgrades. This product isn't yet scheduled for release, so it will be after the BDP-93 is well on the market.

Some common complaints about the BDP-83 were that the transport was "a bit flimsy and noisy".  Have you made any updated/improvements to the transport mechanism on the BDP-93?
Regarding transport rigidity and mechanical noise reduction, yes there are significant upgrades.  The transport is a custom-built loader made by Tohei Group of Japan (http://www.tohei-hq.co.jp/cgi-bin/en/index.cgi).  The laser pickup is still Sony.  During the development of the transport we worked closely with Tohei to control and isolate the vibration caused by the high rotation speed and heavy motor parts of the Sony laser pickup.
Will the BD-93 offer HDBaseT support?
The new player will not support HDBaseT.  Since most of the users will connect to a display or AVR nearby, we do not want to include the cost of HDBaseT in every unit.  Installers who need to run long cables already have solutions for HDMI over fiber or Cat5.
Oppo BPD-93 Now Shipping!
Oppo has officially released the BDP-93 for sale just in time for the New Year. This looks to be another winner and a product that is sure to keep Oppo in the lead with respect to dominating the price/performance zone for Blu-ray players.  We wonder how long it will take for some so called "high end" manufacturers to simply shoe-horn this product into their own chassis (think Lexicon BDP-30) with an enormous upcharge.  We look forward to doing a full review of the new Oppo BDP-93 shortly as we are confident it will be a worthy successor to the venerable BDP-83. 
For more information, check out http://oppodigital.com/.

Confused about what AV Gear to buy or how to set it up? Join our Exclusive Audioholics E-Book Membership Program!
Recent Forum Posts:
k_lewis posts on May 12, 2011 16:41
Just purchased a BDP-93 Nuforce Edition, I'm hoping it will serve well as a CD transport and save me some space in the equipment rack. All I have right now is a Pioneer Elite BD player and it is ok for movies but horrid for CD or HD audio. Anyone who presently owns a 93NE, let me know your impressions on audio quality as well as typical DVD/BD playback. Any tips / suggestions on optimal settings and connections for audio vs video is appreciated. My current processor is an Integra 80.1.
ErnieM posts on March 29, 2011 16:39
shipping time

I just got the green light from my domestic financial advisor (wife) to order the 93.

What have been the lead times for shipping if one orders directly from Oppo? Or from other sources (although all other things considered I'd prefer to order direct).
westcott posts on March 23, 2011 13:51
westcott posts on March 23, 2011 13:49
I would like to learn more about Marvell's Kyoto-G2 video processor with the second generation Qdeo™ technology.

How does it compare to the older Anchor Bay video processor and the Realta HQV?
zildjian posts on February 11, 2011 12:06
Post Reply