Lexicon BD-30 Blu-ray Player (Oppo BDP-83 Clone) Review
Lexicon BD-30 Blu-ray Player (Oppo BDP-83 Clone) Review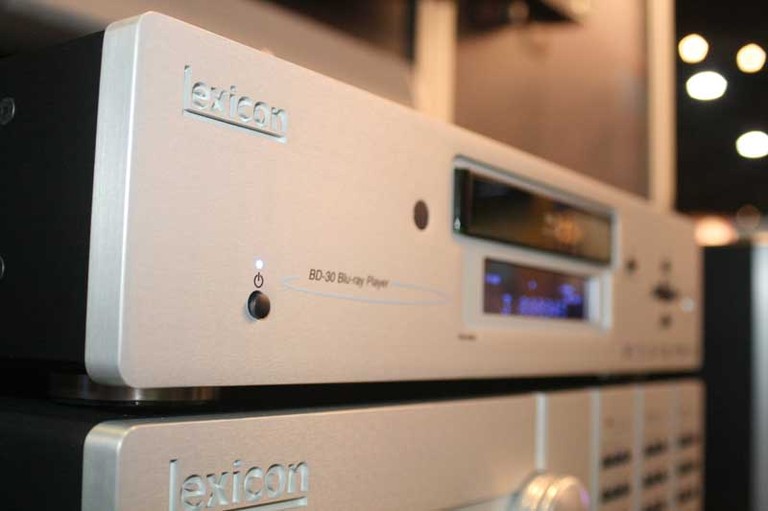 Lexicon BD-30 BD Player
Analog Audio: 7.1ch or 5.1ch, stereo

Digital Audio: Coaxial, Optical
HDMI Audio: Stereo, up to 7.1ch high-resolution PCM, up to 5.1ch DSD, bitstream or LPCM conversion of Dolby Digital, Dolby Digital Plus, Dolby TrueHD, DTS, DTS-HD High Resolution Audio, and DTS-HD Master Audio.

Analog Video: Composite, Component Video (Y/Pb/Pr, 480i/480p, 720p/1080i available for non-restricted content only)

Digital Video: HDMI with HDCP (NTSC: 480i/480p/720p/1080i/1080p/1080p24, PAL 576i/576p/720p/1080i/1080p/1080p24)

BD Profile: BD-ROM Version 2 Profile 2 (also compatible with Profile 1 Version 1.0 and 1.1)

Internal Storage: 1GB

Disc Types: BD-Video, DVD-Video, AVCHD, DVD-Audio, SACD, CD, HDCD, Kodak Picture CD, CD-R/RW, DVD&plsmn;R/RW, DVD&plsmn;R DL, BD-R/RE

Frequency: 20Hz - 20kHz (&plsmn;0.4dB)

Signal-to-Noise Ratio: >110dB (A-weighted)

THD+N: THD+N: <0.002% (1kHz at 0dBFS, 20kHz LPF)

Power Consumption: 35W (0.5W Standby)

Dimensions: 438mm × 329mm × 89mm (17¼ × 12 15/16 × 3½ inches)

Weight: 7.4kg / 16.3lbs
Pros
One of the best Blu-ray players we've tested
Cons
It's an Oppo BDP-83 with a $3000 premium
Questionable value to THX certification
It's an Oppo BDP-83. Normally we'd launch into a statement like this with more tact. We may, for example, wax eloquent about the Lexicon BD-30's beautiful chassis or it's billet aluminum front face. We could tell you about the heft of the unit, or the fact that comes double boxed with enough padding to warrant throwing it off the FedEx or UPS truck while it's still moving. While all of that is true, the Lexicon BD-30 is still an Oppo BDP-83 Blu-ray Player. And what's more, it's not just using the same parts - they actually stuck the player inside - chassis and all. This would be OK, were it not for the $3000 premium and THX certification. As Sherlock Holmes would say: The game is afoot!
In this article we prove this by showing objective measurements, pictures and even responses from THX. Lexicon has since then discontinued this player and in fact no longer "makes" Blu-ray players. In fact, THX ALSO stopped certifying Blu-ray player analog outputs. Read on.
THX, Lexicon Official Response Regarding BD Player Certification
THX's Official Response

"The major focus of the THX Certified Blu-ray Disc Player certification is on video performance. THX engineers conduct in-depth analysis of image quality and signal processing to ensure Blu-ray disc players present accurate color, contrast, and black/white levels without softening the picture or producing digital artifacts. The testing is rigorous, precise and few players can meet our specification. Generally, we believe that the Blu-ray player will be connected via HDMI to an AV Receiver and Display in the home theater chain, eliminating the need to use analog interconnects."
On January 19th, 2010, THX sent us a second follow up email asking that we mention the fact that the BD-30 is capable of outputting PCM over HDMI which allows the new high definition audio formats to be reproduced on Lexicon rigs at the correct THX levels with preserved headroom.
Our rebuttal:
Thanks for responding to our article.  Perhaps if THX discloses more testing metrics, consumers can better understand the value in your certification.  We conducted rigorously testing of the stock Oppo BDP-83 and it passed all of our video tests with flying colors.  Since the Lexicon = Oppo player from our observation, we can conclude that Oppo did a great job with their stock player and although they didn't pay a licensing fee to THX, it's essentially a THX player.  Ordinarily we'd agree the focus should be placed on HDMI audio and video pass through with Blu-ray players.  However, to our knowledge, Lexicon doesn't currently ship a processor that decodes Dolby TrueHD and DTS HD formats.  Thus a consumer purchasing an entire THX certified Lexicon rig is forced to use the BD-30's analog outputs to decode these high definition audio formats in their native form.  Since the BD-30 doesn't meet the critical 80Hz crossover point and slopes mandated by THX, the consumer is essentially not achieving that THX experience in their homes that they are paying for.  In our opinion, this should be cause for concern.
Alternatively, a fellow Lexicon owner on AVS Forum pointed out that the end user can in fact have the BD-30 player do the transcoding and pass the multi channel PCM data out of the HDMI output where the processor can do the bass management and D/A conversion.  Assuming THX still tests the bass management circuitry of A/V processors and receivers that they certify, this can be a viable option to consider, though perhaps not as seamless as the actual A/V processor doing the decoding.  To our knowledge, no Lexicon processor supports 192 kHz / 24 bit audio so for those instances, the user may still wish to consider using the analog connections to achieve the highest possible resolution.
Oppo Official Response

January 19th, 2010
We received an email from Oppo stating they did work directly with THX during the certification process for the Lexicon BD-30.  They allowed us to publish the following statement.
"Oppo worked directly with THX to improve video performance during the testing of the Lexicon player and the benefits trickled down to the Oppo platform as well.  We also worked directly with Lexicon engineers for various issues they discovered during their internal tests."

In light of this fact we are pleased to see there was direct involvement from all three parties to produce such a wonderfully performing platform.  We do however hope the analog bass management issues we discovered on the Lexicon player will be addressed by Lexicon engineers to better support their customers using legacy analog THX equipment that doesn't have bass management facilities.
Lexicon's Response
Lexicon had a call scheduled with us for 2PM on Friday the 15th of January, but decided that a written response would be more suited to our readers and will be sending us something soon which we will post here. They have been very courteous to-date and emphasized their emphasis on the CE Channel, which we certainly understand.
Where Did the THX Certification Go?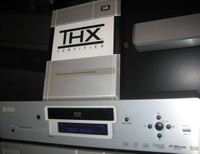 One final observation. When this products was announced and displayed at last year's 2009 CEDIA Expo in Atlanta, Georgia, there was a lot of hoopla about it being the world's first THX-certified Blu-ray player. There were dozens of websites which posted the release. Here are just a few, not including our own:
What is a mystery to us now, is that suddenly we can find no mention of THX certification on Lexicon's own website. The original press release seems unavailable and the specs, description and product page are bereft of any mention of THX. There is even a (date-less) press release on the BD-30 which speaks nary a word of the THX certification. The THX website still has a brief mention of the original 2009 CEDIA THX announcement on the bottom its CEDIA page, but the link, which is supposed to go to a page offering more info, instead goes to a release on Panasonic Viera HDTVs. THX certification on this Lexicon product, for all intents and purposes, appears (we do not know this as fact) to be scrubbed. Whether this is a result of our investigative review or not, we're not certain, but it does seem to indicate that at least something is going on. We're hoping an official statement on this will be made at some point. The product appears to be selling as THX-certified. This is backed up at least historically in marketing literature and press releases to this effect. If this is no longer the case then consumers and CE installers need to be informed so they can have clarification in order to make appropriate purchase decisions.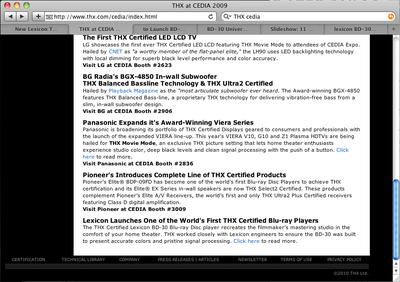 THX certainly seemed to think the Lexicon was THX certified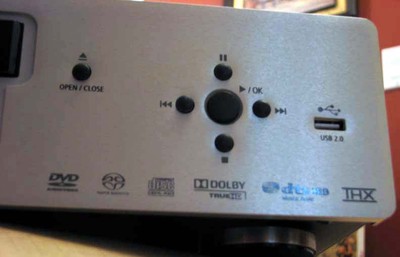 Our review sample certainly had the appearance of possessing a THX certification
Oppo on the Inside, Lexicon on the Outside
It's an Oppo BDP-83. Normally we'd launch into a statement like this with more tact. We may, for example, wax eloquent about the Lexicon BD-30's beautiful chassis or it's billet aluminum front face. We could tell you about the heft of the unit, or the fact that comes double boxed with enough padding to warrant throwing it off the FedEx or UPS truck while it's still moving. While all of that is true, the Lexicon BD-30 is still an Oppo BDP-83 Blu-ray Player. And what's more, it's not just using the same parts - they actually stuck the player inside - chassis and all. This would be OK, were it not for the $3000 premium over the Oppo and THX certification. As Sherlock Holmes would say: The game is afoot!
We first had an inkling that the Lexicon BD-30 was in fact an Oppo clone when we saw it at the 2009 CEDIA Expo in Atlanta. Looking at the player, its button layout and, most importantly, its rear panel, showed us that this product had the exact same layout as the Oppo BDP-83 Blu-ray player. What we didn't know, was how much technology they borrowed or how they repackaged the technology. According to the reps at the show, Lexicon had merely taken components of that player and tweaked them to make it their own - adding technology and making improvements to what was a good basic building block.
What a load of hogwash. When we received the player the first thing we did was open it up to get a look at the inside. Imagine my surprise when I found that not only did the Lexicon share the same boards and transport as the Oppo - it was in fact AN OPPO BDP-83 PLAYER, CHASSIS AND ALL, SHOVED INSIDE AN ALUMINUM LEXICON WRAPPER. As far as we could determine, Lexicon didn't change a single thing in terms of the hardware. Heck, they didn't even lift the boards out of the chassis, opting instead to cut out the bottom of their own chassis to accommodate the venting locations, and putting a darker blue filter over the Oppo's VFD display to give it a slightly deeper hue.
Don't take our word for it, however, check out these pics (click on them for larger images):
Lexicon BD-30 on the left, and the Oppo BDP-83 on the right.
Notice the identical extrusions on the bottom and the venting of both players. The reason they are identical is because the entire BDP-83 chassis is sitting INSIDE the Lexicon BD-30 player. Even the mechanical dampening is the same, as are all wiring and capacitor values and tolerances. Lexicon merely took off the backside so it could fit the connectors flush to its own back plate, and placed a billet aluminum faceplate that sits over the existing Oppo button and VFD hardware.
Lexicon BD-30 on the left, and the Oppo BDP-83 on the right. Same transport, same caps, same anti-vibration material, same CHASSIS
Wanting to do due diligence, Gene DellaSala made me take apart the Lexicon BD-30 after the fact (for the third time) to verify the cap rating, since we noticed a color discrepancy on the two players with a series of three caps on the power supply board. After taking a close look, we verified that both sets of caps are indeed 2200uF 16V caps with a rating of 40-105 degrees C. We have no reason to believe the discrepancy isn't simply due to the fact that my Oppo BDP-83 player, being from an earlier run, used capacitors from a different batch or manufacturer, but at the same specs and rating as those used by current models.
Lexicon BD-30 on the left, and the Oppo BDP-83 on the right. Not a single improvement to the power supply could be found
Lexicon BD-30 on the left, and the Oppo BDP-83 on the right. The more you look, the more amazing it becomes. This is a $3000 chassis.
And the back of the player, of course, sports exactly the same connections on both players, since Lexicon simply used the Oppo's back panel as a template and manufactured its own to meet the height requirements of fitting the Oppo inside.

Lexicon BD-30 connections
Oppo BDP-83 connections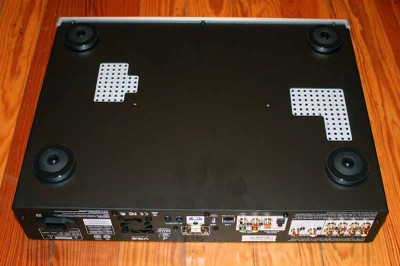 The belly of the Lexicon BD-30
Possibly the funniest shot was the one we took of the bottom of the Lexicon BD-30 Blu-ray player. Here you can see that they literally cut out the aluminum bottom to make space for the vent holes of the Oppo's chassis. If you didn't "get" that Lexicon actually put a full Oppo BDP-83 INSIDE of a chassis, slapped a label on it and is shipping it for $3000 more, this photo should help. Of course, they did add a Lexicon splash screen to the menu system (which, by the way, is identical to the Oppo except that some items are reordered) and a billet aluminum faceplate is certainly nice.
So where is our review of the Lexicon BD-30, you ask? It's right here in our review of the Oppo BDP-83 Blu-ray player. We see no reason to waste the time or energy in reviewing the Lexicon when they clearly just put an Oppo BDP-83 into a new case. What did, however, run a series of benchmark tests on the Lexicon player to see if it measured identically to the Oppo BDP-83. As you will see, the results are quite astounding and speak volumes about THX and their certification requirements. 
Measurements and Analysis

Tested by: Gene DellaSala
Using the Audio Precision APx585 8 Channel HDMI Audio Analyzer, we measured the analog outputs of the Lexicon BDP-83, oops we mean the BD-30 in the same manner we tested the Oppo BDP-83 using the identical 0dBFS 192kHz 6-channel Dolby TrueHD test signals.  Our detailed analog audio test report of the BDP-83 and BPD-83SE was already published herein and we pulled some of the measurement graphs to place them side by side with the Lexicon BD-30 so the results can be more easily compared.
Bass Management
One of the staples behind THX certification has always been to maintain an 80Hz crossover point on all THX certified electronics.  As we measured prior, the Oppo BDP-83 did not meet this requirement which wasn't really a huge deal since it wasn't THX certified.  We were interested however in measuring the Lexicon BD-30 which was THX certified to see if Lexicon fixed this design deficiency and if THX even tested for it.
 Bass Management Frequency Response
Oppo BDP 83 (left graph) and Lexicon BD-30 (right graph) 
| | | | | |
| --- | --- | --- | --- | --- |
|   |  LPF |   | HPF |   |
| | fc | Slope | fc | Slope |
| Oppo BDP-83 | 143 Hz | 18 dB/ Oct | 90 Hz | 13 dB / Oct |
| Lexicon BD-30 | 140 Hz | 18 dB / Oct | 88 Hz | 14 dB / Oct |
| THX Spec | 80 Hz | 24 dB / Oct | 80 Hz | 12 dB / Oct |
Bass Management Tabulated Test Results
An ideal THX certified product should exhibit a -3dB rolloff at 80Hz with a 12dB/octave slope for the High Pass Filter (HPF) and a -6dB rolloff at 80Hz with a 24dB/octave slope on the Low Pass Filter (LPF).  As you can see, neither the Oppo NOR the Lexicon players meet this requirement and they actually measure identically to each other. The slight tabulated variance is a function of cursor interpretation error on the graphs combined with measurement variances caused by component tolerances.  Based on our findings we can unofficially (but in practicality) state that the Oppo BDP-83 is (or might as well be) THX certified despite the bass management doesn't meet their 80Hz 12 dB/octave HPF and 24dB/octave LPF requirements.
Frequency Response
We previously measured a 2.5dB bump above 20kHz on the Oppo BDP-83 when running all channels full range and using a 192kHz Dolby TrueHD test signal.  We were curious to see if the Lexicon exhibited similar peculiar behavior.
Analog Fullrange Frequency Response
Oppo BDP 83 (left graph) and Lexicon BD-30 (right graph)
As you can, see both players exhibit the same frequency peaking above 20 kHz.  Incidentally, both players also produce a full range signal via the subwoofer output channel which Oppo deliberately did to accommodate users playing Chesky 6.0 DVD-Audio discs that require a full range subwoofer channel.  Although THX doesn't disclose the type of testing they do, we have a hard time believing the frequency response non-linearity we measured above 20kHz would fit within their acceptable performance window.
Distortion (THD + N)
Distortion (THD + N) vs Frequency
Oppo BDP 83 (left graph) and Lexicon BD-30 (right graph)
Both players exhibited virtually identical and excellent distortion measurements for the main channels. When I originally bench tested the Lexicon BD-30, I restricted my tests to the two main channels plus the subwoofer to quickly identify if there were any differences.  There of course weren't any so we wrapped up this article indicating that both players appeared to be identical in terms of audio performance.
On January 17th, 2010, a contributing editor of Widescreen Review named Amir correctly pointed out I should check all of the channels to ensure there were no differences.  Since I only tested 6 channels in the Oppo, I repeated my test of the Lexicon with the six same channels.  To my surprise I found the subwoofer channel went into gross distortion on the Lexicon BD-30.  It took me several hours to realize this was a result of setting any channels but the main front channels to "small".  Apparently there is a bass management recombination issue with the Lexicon that doesn't exist with the Oppo since the Oppo receives numerous firmware updates to address such issues.  To our knowledge,  Lexicon has yet to offer any firmware updates for their player to address such issues.  Thus at this time I must correct our previous statement that both players are identical and now state that the Oppo actually fairs better than the Lexicon when using the analog audio outputs and bass management facilities under the current firmware Lexicon supports their BD-30 player.
If THX tested the analog outputs this would have never been the case hence why its our opinion that the THX certification should also support their certified legacy devices and connection methods.
Update Regarding 0dBFS
2/11/2010
We have recently discovered that not all BD players handle 0dBFS in a similar matter.  We've found that when testing at 0dBFS levels, the summed subwoofer output of some players exceeds 0dBFS and thus causes the distortion problem we've previously documented.  It is unclear if this is a real world test scenario so going forward we will be testing at -20dBFS based on Dolby Labs recommendation.
For more information, check out our article:  0dBFS & Bass Management of DVD / Blu-ray Players
Conclusion
We live in a world where everyone is building products with other peoples parts.  For most companies it's simply not cost effective to produce their own DVD / BD players.  Lexicon isn't the only brand doing this and you would be surprised at just how many others are.  Lexicon was smart in choosing the Oppo BDP-83 design for their player since it's currently the best Universal BD player on the market in its price class. It's also a proven design that plays every current format being produced on digital recording media.  Where they went wrong, however, was when they simply lifted the Oppo BDP-83 player and threw it into their own chassis without making any performance enhancing modifications - despite claims to have done just that.  Sadly they paid for THX certification and THX happily took their money to allow Lexicon to slap their badge on the front panel - apparently without actually testing to see if it met the core requirements of which we would suppose any THX Blu-ray player would have to adhere. If THX is doing this with Blu-ray players, it makes you wonder what they are doing with A/V receivers and other THX certified products. Has the THX badge, for select existing clients, simply degraded into a marketable commodity with no real backing or validity?
It is our opinion that Lexicon released this player as a high margin product to offer their custom installers and dealers a complete Lexicon solution to sell to the end user. Given Lexicon's high end heritage for producing some of the most innovative products in the industry, we are a bit surprised by the apparent lack of innovation on their part to at least attempt to improve upon the hardware that they purchased/licensed. What they've done doesn't seem to even begin to justify the exorbitant price markup.  The end user (those end-users not getting this product as part of a Lexicon custom install package, that is) must ultimately determine if it's worth an extra $3000 to pay for an Oppo in a Lexicon casing to match the aesthetics and brand appeal for the rest of the Lexicon equipment in their rack.
Closing Thoughts
We fully disclosed our findings to Lexicon prior to publishing this article and they still maintain their player has audio and video enhancements over the stock BDP-83.  We find this rather insulting given the insurmountable evidence we presented here that indicates otherwise.  We also emailed THX our findings and our response is posted on the prior page of this review. So far, there is not much to change our conclusion. This situation saddens us as it alienates us from two major companies in this industry that we otherwise have great admiration towards.  At the same time, it may also give reservations to other manufacturers on the fence about sending us products for review - knowing our reputation for digging deeper and reporting the facts like no other publication either has the backbone or technical expertise to do.  In the end the consumer wins by having the tools at their disposal to make educated buying decisions, assuming of course this type of reporting doesn't inhibit our ability to get product review samples from manufacturers. 
We commend Lexicon for giving us this opportunity to review the BD-30 BD player and hope to continue reviewing their products regardless of our findings in this particular instance.  In the meantime, we suggest that Lexicon asks for a certification refund from THX and instead have us do their testing going forward with new Blu-ray players.  Hmm, maybe they can even place our logo on their faceplate. Now that would be cool!

The Score Card
The scoring below is based on each piece of equipment doing the duty it is designed for. The numbers are weighed heavily with respect to the individual cost of each unit, thus giving a rating roughly equal to:
Performance × Price Factor/Value = Rating
Audioholics.com note: The ratings indicated below are based on subjective listening and objective testing of the product in question. The rating scale is based on performance/value ratio. If you notice better performing products in future reviews that have lower numbers in certain areas, be aware that the value factor is most likely the culprit. Other Audioholics reviewers may rate products solely based on performance, and each reviewer has his/her own system for ratings.
Audioholics Rating Scale
— Excellent
— Very Good
— Good
— Fair
— Poor
| Metric | Rating |
| --- | --- |
| High Definition Video Performance | |
| Standard Definition Video Performance | |
| High Definition Audio Performance | |
| Analogue Audio Performance | |
| Bass Management | |
| Deinterlacing & Scaling | |
| Build Quality | |
| Ergonomics & Usability | |
| Ease of Setup | |
| Features | |
| Remote Control | |
| Fit and Finish | |
| Performance | |
| Value | |