Optoma HD66 DLP 3D Projector Review
Optoma HD66 DLP 3D Projector Review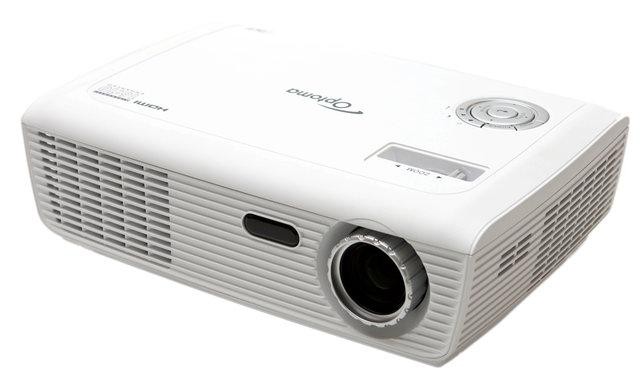 Optoma HD66 angled
Single 0.65" DMD DLP Technology by T.I.
Resolution HD (1280x720)
Brightness (Typical) 2500 ANSI Lumens
Contrast Ratio 4000:1 (Full On/Full Off)
Lamp Life and Type 4000/3000 Hours (STD/Bright) 185W P-VIP
Throw Ratio 1.55 to 1.7 (Distance/Width)
Projection Distance 3.28' to 32.8' (1.0 to 10m)
Image Size (Diagonal) 27.2" to 301" (0.69 to 7.65m)
Offset 112% Displayable Colors 1.07 Billion
Uniformity 85%
Audio 2-Watt Speaker
Remote Control IR Remote
Computer Compatibility UXGA, WXGA, SXGA+, SXGA, XGA,SVGA, VGA Resized, VESA, PC and Mac Compatible
Video Compatibility NTSC, PAL, SECAM, SDTV (480i), EDTV(480p), HDTV (720p, 1080i/p)
3D Compatibility 120Hz Frame Sequential 3D for Resolutions Up to 720p, 60Hz Field Sequential 3D for Resolutions Up to 480i
Projection Lens F=2.41-2.55, f="21.8-24mm," 1.1x Manual Zoom and Focus

User Controls Complete On-Screen Menu Adjustments in 23 Languages
I/O Connectors HDMI, VGA-In, S-Video, Composite Video, Stereo Audio-In and RS-232
Security Kensington Lock Port, Security Bar and Keypad Lock
Projection Method Front, Rear, Ceiling Mount, Table Top
Weight 5.1 lbs (2.31kg)
Dimensions (W x H x D) 11.28" x 3.98" x 7.6" (287 x 101 x 193 mm)
Noise Level (STD/Bright) 28dB/30dB
Keystone Correction ±40° Vertical
Horizontal Scan Rate 15.3 - 91.1 KHz
Vertical Refresh Rate 24 - 120 Hz
Operating Temperature 41 to 104°F (5 to 40°C), 85% Max Humidity
Power Supply AC Input 100-240V, 50-60Hz, Auto-Switching
Power Consumption 255 Watts (Bright), 207 Watts (STD), <1 Watt (Standby)
Standard Accessories AC Power Cord, Composite Cable, VGA to Component Cable, Remote Control, Batteries for Remote, Lens Cap, Multilingual CD-ROM User's Manual, Quick Start Card and Warranty Card
Optional Accessories HDMI cable, Ceiling Mount, S-Video Cable, Composite Video Cable, RS-232 Cable and Panoview Series Screens
Warranty 1 Year Limited Parts and Labor, 90 Days on Lamp
Pros
Price
Great plug and play performance
3D Ready
Cons
Auto-source sometimes doesn't give enough time for HDCP
No component input or breakout box
No backlight on remote
Needs user adjustment to look good
Introduction
The Optoma HD66 is a 3D ready projector for those that are into 3D gaming. While Blu-ray and broadcast 3D are not supported, gaming is another story. And for $700, the HD66 is a 720p projector that has tons of setup features, a full suite of calibration controls, great color, and decent black levels. You may have to fiddle with it a bit to get the most out of it, but for a dedicated Audioholic, this is a great entry-level projector.

Confused about what AV Gear to buy or how to set it up? Join our Exclusive Audioholics E-Book Membership Program!
Recent Forum Posts:
TRoher posts on July 08, 2010 15:31
Projectors & 3D

The BD - 3D specs that were published earlier this year changed the playing field, and the industry is still playing catch up. The HD66 was released prior to the BD specs, so it does not meet those requirements. The HD66's 3D capability claim was based on its 120 Hz refresh rate and ability to handle the 3D signals used at that time and the use of active glasses.
BMXTRIX posts on July 08, 2010 11:12
The whole world of BD-3D is not getting properly addressed by projector manufacturers and it's extremely frustrating to see ANY projectors badged as '3D' when the format that is garnering the most attention right now is the new BD-3D specification.

I do know that LG was showing off all of their 3D capable projectors at Infocomm hooked up to their 3D Blu-ray players at the show. I mean, EVERY projector which could do it was running Blu-ray, not the nVidia card and a PC. It was extremely cool to see them using sub $1,000 projectors with Blu-ray without any hiccups.

There are some great 720p projectors out there and the HD66 is a solid entry level projector, but I wouldn't buy it for the 3D aspect unless I was sticking with the nVidia card solution.

It sure would be nice to see some reviewers with nVidia cards, and some 3D BD players start to test and try out the new 3D projectors.
Clint DeBoer posts on July 08, 2010 10:04
These projectors are EXTREMELY finicky with how they do 3D. I had an Acer in for review several weeks back and it never truly worked correctly. I would have very little confidence in the HD66 working with any 3D BD player apart from its specific design parameters.
LXIX posts on July 07, 2010 13:54
In your review you go to great lengths to mention the fact that you can only use this projector with a PC for 3D.

Are you aware of the fact that the Panasonic BDT300 and BDT350 3D BD players can output their BD signal over HDMI in a checkerboard pattern? I am fairly certain that this will allow this projector to display a 3D image from a new format 3D BD disc.

I am guessing you would need to have a pair of 3D glasses with DLP link as well.

Your thoughts?
krzywica posts on July 07, 2010 11:00
Cool….this would be a nice starting point for me…
Post Reply