Oppo DV-970HD DVD Player Review
Oppo DV-970HD DVD Player Review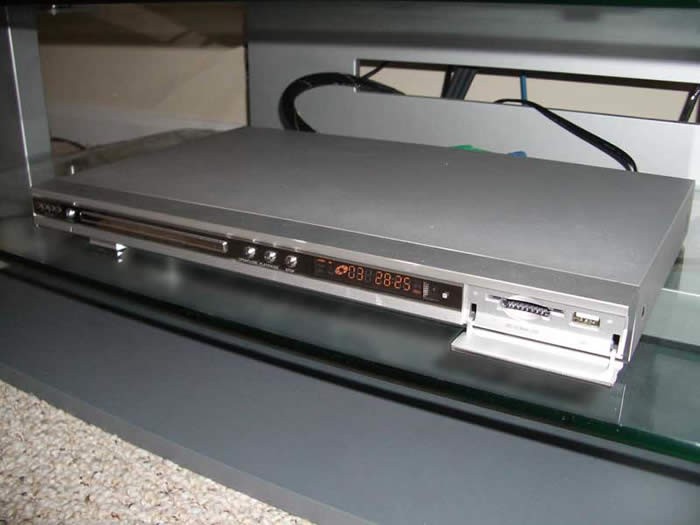 Oppo DV-970HD angled
Product Name: DV-970HD DVD Player
Manufacturer: Oppo
Performance Rating:
Value Rating:
Review Date: July 12, 2006 20:00
MSRP: $ 149
Disc Types:




DVD-Video, DVD-Audio, Super Audio CD (SACD), Certified DivX, Xvid, Audio CD, HDCD, Kodak Picture CD
DivX (DivX Certified Home Theater Profile Parameters, V2.2. Covers DivX 3.11 – 5.1)
CD-R/RW, DVD±R/RW, DVD+R DL

Output:

Analog Audio: Stereo, 5.1ch
Digital Audio: Coaxial, Optical, HDMI
Analog Video: Composite, S-Video (Y/C)
Component Video**: Y/Pb/Pr, NTSC 480i/480p/720p/1080i, PAL 576i/576p/720p/1080i
Digital Video: HDMI with HDCP (NTSC 480i/480p/720p/1080i, PAL 576i/576p/720p/1080i)
** Component output for CSS-encrypted DVD discs is limited to 480i/480p only.

Firmware Updates: Upgradeable via CD-ROM

Video Characteristics:

Composite Video Amplitude: 1.0Vp-p (75O)
S-Video Amplitude: Y: 1.0Vp-p (75O), C: 0.286Vp-p (75O)
Component Video: Y: 1.0Vp-p (75O), Pb/Pr: 0.7Vp-p (75O)
HDMI: HDMI Specifications 1.1, CEA-861-B

Audio Characteristics:

Frequency: 20Hz – 20kHz (±1dB)
Signal-to-Noise Ratio: >100dB
Total Harmonic Distortion: < 0.01%

General Specification:

Power Supply: ~ 100V – 240V, 50/60Hz AC
Power Consumption: 14W
Dimensions: 16.5 x 10 x 1.625 inches (420mm x 255mm x 41mm)
Weight: 4.85 lbs (2.2kg)



Pros
Excellent value for universal upconverting player
HDMI 1.1 allows passing everything (including PCM-converted SACD) via HDMI audio
Nice small form factor
Component video good to 480p/576 output (720p/1080i on non copyrighted/CSS discs)
Flash memory and USB support
Cons
Cumbersome and lacking bass management and distance delay options for DVD-Audio & SACD
HDMI audio sounds somewhat compressed and narrows soundstage
Disc navigation, menu and setup functionality impossible without remote
Comparison of the DV-970HD and OPDV971H
Oppo has seemingly cornered the market on buzz, becoming the "Apple Computer" of rumor and forum discussion. Following the success of their flagship (and still shipping) OPDV971H upconverting DVD player, they naturally felt inclined to release a new upconverting DVD player that also handles SACD – for $50 less. Now, before you fall off your chair and pull out your credit card, realize that this is a different player. Instead of the Faroudja video processing, this new player utilizes a different chipset and scores slightly lower in our video performance testing. However, for those using 42" or smaller screens or for anyone looking for a bargain upconverting player, it's going to be hard to turn away the additional features provided by the DV-970HD. The new DVD player also offers USB audio capability as well as the ability to read flash memory cards. Both players sport the latest generation Oppo remote control and the reflective mirror-face of the original player has been replaced by a brushed aluminum finish with mirror trim.
Comparison of the Two Players
To illustrate the above differences we have prepared a brief table outlining the differences between the two DVD players:
Feature

OPDV971H

DV-970HD

SACD

No

Yes

DVD-Audio

Yes (analogue)

Yes (analogue/HDMI)

Digital Video Output

DVI

HDMI

HDCP-compliant

No

Yes

Component Output

480i/576i

480i/480p/576i/576p*

Chipset (deinterlacing/scaling)

Faroudja/Genesis

FLI2310

MediaTek

1392

Cross color separation

Yes

No

Noise reduction

Yes

No

2:2 pull-down

Yes

No

3:2 film pull-down

Yes

Yes

Finish

Mirror front

Brushed aluminum with mirror trim

USB & 4-in-1 memory card reader

No

Yes

Included cable

DVI/DVI-HDMI (6')

HDMI (6')

Audio output

Analogue/SPDIF

Analogue/SPDIF/HDMI
*will do 720p/1080i on non-CSS-encrypted discs
Oppo Build Quality, Set Up, Remote & Measurements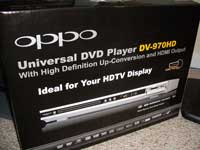 As expected, the new Oppo player came very well packed, with a black protective cloth over the player and plenty of foam padding. The package includes the player, User Manual, remote, batteries, stereo audio & composite video cables, power cord and HDMI cable. A handy Advanced Setup Guide which was co-developed by Oppo Digital and Audioholics can be downloaded from Oppo's website.
The physical units look remarkably similar - at least at first glance. A closer examination shows that, while they share the same general shape and tray layout, the DV-970HD has a more integrated, refined look to it. All three DVD navigational controls are now round buttons located to the immediate right of the tray. The readout is amber and there is a manual door located at the right of the unit which houses a USB connection and 4-in-1 flash memory card reader. The rear inputs are identical to the OPDV971H except the DVI-D connection has been replaced by an HDCP-compliant HDMI output connector.

Either the Power, Open/Close, or Play/Pause buttons will wake the unit from Standby mode and if you power down the unit while the tray is open it will retract the tray into the player, protecting the disc and transport. This is a big improvement over the OPDV971H and is the behavior we expect to see from all DVD players.
Internal Components
There's not much to say about the build quality of a budget universal player with a low profile. There's only so much room in the box and you have to fit in a modest power supply, transport, video and audio board. The new DV-970HD utilizes a MediaTek 1392(E) chip which handles deinterlacing, scaling and video processing for the player. This time around, video processing is applied to both the component and HDMI inputs, though the component video outputs will only do HD 720p/1080i upconversion for content which is not CSS-encrypted (i.e. home movies.) The transport is the same think plastic drive system we saw before on the OPDV971H, and though it appears rather cheap, it has yet to break on us.
The DV-970HD (left) layout differs quite a bit from the OPDV971H (right)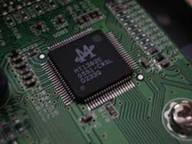 The new player has a single board for inputs, audio and video (both analogue and digital) processing. The power supply board was placed on the right as opposed to the left as in the OPDV971H. Gone is the distinct digital video board with Faroudja processing and you can note the new memory card reader at the front right of the unit. The MT1392E chip is a third-generation product containing the company's MDDi (Media Direct De-Interlacing) technology. It integrates six advanced 12-bit, 108MHz video DACs and also supports playback of DivX Pro MPEG-4 video.
Player Set-Up & General Use
You can refer to our review of the Oppo OPDV971H player for a more in-depth look at the menu system and setup features. Rather than rehash what we've already covered I wanted to establish that the menu systems are identical and then follow up with the SACD and DVD-Audio setup menu features. The options available for DVD-Audio include setting the player for audio or video mode (to determine which portion of a hybrid DVD-Audio/Video disc will be played. SACD options include setting the priority of disc playback for those discs which have both multi-channel, high-resolution stereo, and/or CD tracks on the disc.
During the course of testing the player, I brought it from my testing location to Reference System 1. Mistakenly I had forgotten to bring along the remote control. Without it, we quickly found that beyond pressing Play and Eject, the Oppo was severely crippled. Fortunately, we had a Logitech Harmony remote control nearby and were able to program it online with the player 舗 s functions. This simple experience taught me that it 舗 s not a bad idea to add navigation controls and a Menu button on the front of a player.
Analogue Bass Management and Distance Delay for SACD/DVD-Audio
Both SACD and DVD-Audio utilize the rather meager bass management and distance delay settings of the DV-970HD. Front, Center, and Rear speakers can be set to "Large" or "Small" (Center and Surrounds can be set to "Off" of course). The Subwoofer output can be set to "On" or "Off". Channel Delay can be configured in 4-inch increments. Unfortunately, setting delays is restrictive and involves a bit of math. To set the delay, simply subtract the distance of the various speakers (in inches) from the Main speaker distance relative to the listening position - the result is the amount of distance delay compensation that needs to be added to the Surrounds, Sub and/or Center Channel. You cannot configure the rear speakers or center channel as being farther away from the listening position than the Mains, however as there is no way to "add" delay to the main speakers and the system is not setup to work in absolute distance units. Overall, this makes the delay settings rather cumbersome (and useless for certain room configurations). Note the following supported and unsupported configurations:
Because of this, our prediction is that many entry level users using the analogue multi-channel outputs will get frustrated and not correctly configure their systems. Channel trim settings are possible for each of the 6 channels in +/-0.5dB increments.
Remote Control

The remote is nearly identical to the new remote which ships with the OPDV971H DVD player. I reviewed it in our earlier Oppo Addendum article, so I won't go into much detail here, except to say I was greatly impressed that they went through the trouble of releasing an updated remote at all - especially given everything else that's packed into this player.
The new remote replaces/renames a few buttons, but nothing that would receive frequent use:
| | |
| --- | --- |
| OPDV971H | DV-970HD |
| EQ | Memory |
| Key (flat) | DVD/Card |
| Key (sharp) | Info |
| SF | PSM |
| PSM | Audio Only |
| DVI | HDMI |
Video and Audio Measurements & Testing
It was paramount that we compare and contrast the difference $50 makes in terms of the OPDV971H vs. the DV-970HD player. Right now, everyone is falling over themselves to get their hands on this new upconverting universal DVD player which seems to have broken all current price barriers. We used the Westinghouse LVM-42w2 display which was calibrated as close as possible to ISF reference standards. For the test and evaluation of the DV-970HD we used selections from Avia Pro and the Silicon Optix HQV Technology benchmark DVD test discs in addition to various test clips from popular movies.
All final test scores were derived using the Oppo DV-970HD 舗 s HDMI output in 720p mode unless otherwise specified.
Audioholics/HQV Bench Testing Summary of Test Results
Perfect Score is 130
Oppo DV-970HD Benchmark total score: 53/130 (This is an acceptable player, just watch out for some jaggies on larger sized screens)
Test

Max
Points

Results
720p

Pass/Fail

Color Bar

10

10

Pass

Jaggies #1

5

3

Pass

Jaggies #2

5

0

Fail

Flag

10

0

Fail

Detail

10

10

Pass

Noise

10

0

Fail

Motion adaptive Noise Reduction

10

0

Fail

Film Detail

10

10

Pass

Cadence 2:2 Video

5

0

Fail

Cadence 2:2:2:4 DV Cam

5

0

Fail

Cadence 2:3:3:2 DV Cam

5

0

Fail

Cadence 3:2:3:2:2 Vari-speed

5

0

Fail

Cadence 5:5 Animation

5

0

Fail

Cadence 6:4 Animation

5

0

Fail

Cadence 8:7 animation

5

0

Fail

Cadence 24fps film

5

5

Pass

Scrolling Horizontal

10

5

Pass

Scrolling Rolling

10

10

Pass

Total Points

130

53



All tests were done with the HDMI outputs at 720p. Any failed tests were checked in 480p as well.

DV-970HD Comments & Conclusion
For the full list of features and testing, please see our DVD Player Features and Benchmark Comparisons Chart . This player certainly doesn't perform as well as Oppo's prior model (and this was expected) however it's not so bad that we can't recommend it as a decent "one size fits all" player for the money. The HQV tests are all unflagged and present some pretty tricky test material for any player to pass. The DV-970HD does well where it counts: 2:3 pulldown and basic deinterlacing. It wasn't so hot at jaggie reduction, though it did attempt to reduce the effects of deinterlacing artifacts. While it failed the jaggie and flag tests, it wasn't due to lack of any jaggie reduction, but simply because the implemented solution didn't quite smooth out the results so much as it reduced the blockiness to a smaller scale.
Layer changes were still pretty speedy, so nothing changed from the original player in that department. This player takes an astounding 22 seconds from power on until a loaded disc shows up on the monitor. It's still about 10-11 seconds from power up until you can get the tray to open for insertion of a new DVD. After the disc was inserted, it took another 12 seconds before it brought up the first video track (which, if you add it together gets you to your ~22 seconds cycle time any way you slice it). The player does feel a bit sluggish for start-up routines, but I found the remote control to be much more responsive and skipping through tracks was a breeze.
Moving Zone Plate tests were a mixed bag. Aside from flashing, the 2-3 test held together pretty well, though the 2-2 tests fell apart pretty quickly. Looking at the Rainbow Dither pattern in motion we found that the bit depth seemed to plummet, leaving gradients a bit blocky, contoured and rough-looking. The player successfully passed blacker-than-black and whiter-than-white and it also showed no chroma upscale errors, something that rarely shows up these days. Pixel cropping was amazing - there really isn't any, save a single pixel from the right side. If you notice pixel cropping on this player, double check your display settings.
Viewing Evaluation
After reading the benchmark test results you'll see that the DV-970HD is a decent player. While not garnering a tremendously high score, it is still a compelling universal player in this price class and passes the critical 2:3 pull down tests with flying colors. Flagship universal players will likely do better, but they also cost a considerable amount of money.
Viewing evaluations are always subjective, but they are a great opportunity to see the practical demonstration of the above test results. In selecting movies for our demo we chose some reference DVDs as well as some content with less than stellar source material.
DVD: Aeon Flux
Aeon Flux was a movie I had been very excited about. When I finally caught it On DVD (no, I rarely go to movies anymore) I was pleased by the rendition 舑 especially considering I never really thought the author of the original MTV series had a cohesive storyline in his mind anyway 舰 The DVD is filled with a variance of scenery, including bright, colorful acts as well as darker, more shadowy sequences. Overall I found it to be a well-rounded disc with which to test out the video capabilities of the new Oppo DV-970HD player.
In particular I was drawn to the adequate detail shown in the close-up faces of the main characters. Shadow detail seemed to be present 舑 at least in sufficient detail as to let me see that the DV-970HD didn 舗 t appear to be crushing anything it shouldn't.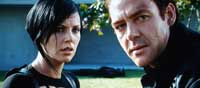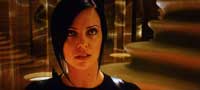 Listening Evaluation - Discerning Differences Between Players and Outputs
The initial listening system was comprised of a Yamaha RX-V2600, the Oppo DV-970HD, a Denon DVD-5900 for reference comparison, and a pair of Status Acoustics Decimos. We also grabbed a pair of Sennheiser HD600 headphones so that we could make even more detailed evaluation and comparisons of the Oppo player's outputs. Our intent was to listen to and compare the HDMI audio and analogue outputs of the Oppo player against a known reference player and discern the quality of the DACs as well as the HDMI audio implementation. The results were different than we would have anticipated and I think we were able to successfully try several methods to determine the audible characteristics of the player.
We utilized this disc and the Status Acoustics Decimos to start our listening tests and comparisons. Primarily we stuck to a couple of tracks, the first of which was Track 1 - "What a Shame". Upon first listening, the HDMI outputs of the Oppo were utilized and compared to the analogue outputs of a DVD-5900. On this track, the Oppo's HDMI output seemed to come close, but sounded a bit more crisp (and slightly less refined) than the Denon player. Overall, the sound of the Oppo was very good and surprised us. This track, while detailed, simply didn't give us a tremendous audible difference between COAX digital and the analogue outputs of the reference player - at least not in the room we were utilizing for comparisons. We wanted to do a couple more tests, and then see if the lack of a difference was due to the listening system or the fact that the outputs were indeed similar in sonic quality.
Analogue vs. Analogue
Comparing the analogue outputs of the Oppo to the analogue outputs of the Denon DVD-5900 reference player we heard no discernable difference when listening via the Status Acoustics Decimos. Auditory memory also played a big role in the ambiguity of our testing since we only had one copy of a particular SACD under test and it took several seconds to transfer the disc to each player. It was becoming readily apparent that we needed a different and more consistent method of evaluation that would enable a bit more fidelity to be observed on all outputs.
Using Headphones to Discern Differences in Audio Outputs
We quickly decided that in order to get a better comparison of the audio outputs of the players, we'd need an "easier" solution. While our premier reference systems are certainly a valid way to discern audio differences we were, due to scheduling, set up with alternate speakers in a less-than perfect secondary room for these particular tests. This quickly caused us to reconsider our options (namely, move to a new room or figure out a better testing procedure). Fortunately, HeadRoom came to the rescue. Using a loaner pair of full size Sennheiser HD600 headphones we connected to the headphone output of the Yamaha RX-V2600 and continued our listening tests. This allowed us to be quite a bit more discerning and rule out any room interaction.
We switched to Track 5, "Yellow Car III" for a new round of listening from the Patricia Barber SACD. In comparing the HDMI outputs of the Oppo against the analogue outs of the Denon with the Sennheiser headphones, we found that the analogue outputs of the Denon sounded much better, with a wider soundstage and more detailed decays on the overhead symbols. The difference was NOT subtle. In comparing the Oppo's analogue outputs against its HDMI out, the results were nearly identical. Regarding the Oppo's HDMI audio, something was amiss. *See Editor's Note Below .

In queuing up Track 2 of this CD, "Jamaica, Jamaica", we realized an expansion of what we had previously heard. The soundstage pretty much doubled in width when switching from HDMI audio to analogue, making us wonder if the player has inherent issues with timing jitter which could interfere with the perceived soundstage. As this was a CD, we weren't dealing with an SACD-specific DSD-to-PCM conversion issue.
In order to establish whether the Oppo's HDMI output was at fault or if the problem was possibly HDMI 1.1-inherent, we quickly grabbed the flagship Denon DVD-5910CI and compared the same track using DLINK, optical, analogue and HDMI on our reference AVR-5805 receiver. Keep in mind that the source was CD, not high resolution audio, so our lower common denominator made it (we think) even easier to determine the cause of the major differences in quality (since digital PCM conversion wasn't taking place). After a thorough ands exhaustive round of continued testing, we determined that the differences amongst the Denon outputs were almost negligible. Bringing the Oppo player and connecting it to a different receiver (the Denon AVR-4306) eliminated the Yamaha from being responsible for the truncated HDMI audio.
In concluding our listening tests, we were extremely impressed with the ability to playback SACD over HDMI via PCM conversion. We were aware of some esoteric products having compatibility issues with the Oppo player and multi-channel SACD, but this was not a problem with either the Denon AVR-4306 or the Yamaha RX-V2600 receivers, regardless of video output mode. The bottom line with this player is that we recommend using the analogue audio outputs for best fidelity for DVD-A and SACD and the TOSLink or COAX digital outputs for PCM, DD and DTS, at least until the HDMI audio issue is resolved (we're not sure if this is something that can be fixed via firmware or not, but we'll be speaking with Oppo to see what is possible).
Important Correction: Editor's Note on Oppo HDMI Output
We spoke with Oppo about the HDMI issue and found that the factory default setting of the HDMI audio causes a much different sound stage than that of the S/PDIF output. This is because the default HDMI Audio source is set to "Multi-channel", which runs all audio through the Oppo's internal DSP. This means that the down-mix, speaker size, subwoofer setting, channel trim, channel delay and volume control settings are all applied to this HDMI audio. When playing a redbook CD, the output is no longer the original as recorded in the CD tracks. The reason that Oppo choose this default setting is because, as a consumer-grade product, they feel most of the users would be connecting the HDMI output directly to a display with speakers. This default setting makes it the most compatible and most likely to produce reasonable audio quality with a TV's speakers.

To determine if DSP may be corrupting your digital audio simply vary the volume control on the OPPO remote. If the volume changes, then you know the audio is being processed.

When the DV-970HD is configured to use "SPDIF" as its "HDMI Audio" source and "SPDIF Output" is set to "Raw", we found no significant difference in terms of audio quality or sound stage between the HDMI, S/PDIF or analogue outputs.

As of this firmware, when HDMI Audio is set to "SPDIF", there is no audio output over HDMI for SACD. In a future firmware release Oppo will automatically switch to Multi-Channel when an SACD is played. Right now, the optimal setting when HDMI output is connected to a receiver would be "HDMI Audio" set to "SPDIF" and "SPDIF Output" set to "Raw".
Conclusion
For $149, this is an incredible deal for a universal player. I am not aware of anything else on the market that hits this price point for the feature set that the Oppo delivers. The major drawback is deinterlacing ability and the disappointing HDMI audio performance. While SACD-over-HDMI is enticing, the best audio is still to be found via the player's S/DPIF or analogue outputs, regardless of format. We can recommend the Oppo DV-970HD without reservation given the price, just be an informed consumer and use the player accordingly for best performance.
The Score Card
The scoring below is based on each piece of equipment doing the duty it is designed for. The numbers are weighed heavily with respect to the individual cost of each unit, thus giving a rating roughly equal to:
Performance × Price Factor/Value = Rating
Audioholics.com note: The ratings indicated below are based on subjective listening and objective testing of the product in question. The rating scale is based on performance/value ratio. If you notice better performing products in future reviews that have lower numbers in certain areas, be aware that the value factor is most likely the culprit. Other Audioholics reviewers may rate products solely based on performance, and each reviewer has his/her own system for ratings.
Audioholics Rating Scale
— Excellent
— Very Good
— Good
— Fair
— Poor
| Metric | Rating |
| --- | --- |
| Standard Definition Video Performance | |
| High Definition Audio Performance | |
| Analogue Audio Performance | |
| Bass Management | |
| Build Quality | |
| Ergonomics & Usability | |
| Ease of Setup | |
| Features | |
| Remote Control | |
| Performance | |
| Value | |