Optoma HD20 DLP Projector Review
Optoma HD20 DLP Projector Review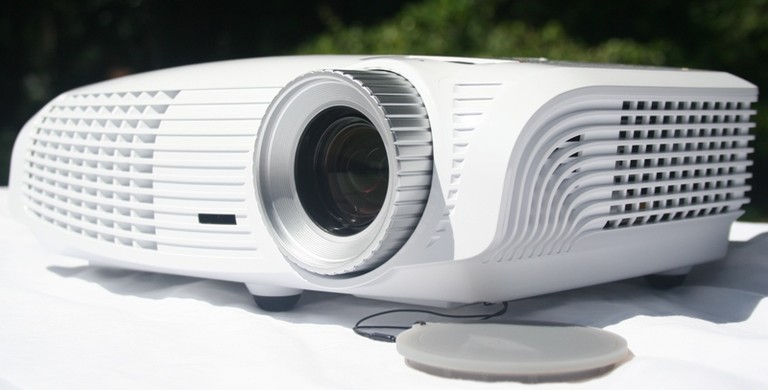 Optoma HD20 DLP Projector
Display Type Single 0.65" 1080p DMD DLP Technology by Texas Instruments
Resolution Native 1080p (1920 x 1080)
Brightness (Typical) 1700 ANSI Lumens
Contrast Ratio 4000:1 (Full On/Full Off)
Lamp Life and Type Estimated at 4000/3000 Hours (STD/Bright)
230W P-VIP Throw Ratio 1.5 to 1.8:1 (Distance/Width)
Projection Distance 4.92' to 32.8' (1.5 to 10m)
Image Size (Diagonal) 37.6" to 301.1" (0.95 to 7.64m)
Aspect Ratio 16:9 Native, 4:3 and LBX Compatible
Displayable Colors 1.07 Billion
Uniformity 70%
Remote Control Backlit Remote Control
User Controls Complete On-Screen Menu Adjustments in 21 Languages
Computer Compatibility HD, UXGA, WXGA, SXGA+, SXGA, XGA, SVGA, VGA Resized, VESA, PC and Macintosh Compatible
Video Compatibility NTSC, PAL, SECAM, SDTV (480i), EDTV (480p), HDTV (720p, 1080i/p)
Projection Lens F= 2.55-2.87, f= 22.4-26.8mm, 1.2x Manual Zoom and Focus
Horizontal Scan Rate 15.3 to 91.1 KHz
Vertical Refresh Rate 24 to 85 Hz
I/O Connectors Two HDMI, VGA-In, Component Video, Composite Video and +12V Trigger
Security Kensington® Lock Port, Security Bar and Keypad Lock
Projection Method Front, Rear, Ceiling Mount, Table Top
Offset 116%
Weight 6.4 lbs (2.9kg)
Dimensions (W x H x D) 12.76" x 3.82" x 9.21" (324 x 97 x 234 mm)
Noise Level (STD/Bright) 32dB/34dB
Keystone Correction ± 5° Vertical
Operating Temperature 41° to 95°F (5° to 35°C), 80% Max Humidity
Power Supply AC Input 100-240V, 50-60Hz, Auto-Switching
Power Consumption 308 Watts (Bright), 254 Watts (STD), <1 Watt (Standby)
Standard Accessories AC Power Cord, Composite Video Cable, Remote Control, Batteries for Remote, Lens Cap, User's Manual, Quick Start Card and Warranty Card
Optional Accessories Ceiling Mount, Component Cable, HDMI Cable, Composite Video Cable and Panoview™ Series Screens
Warranty One Year Limited Parts and Labor, 90 Days on Lamp
Pros
Price
Great plug and play performance
Noise reduction
Cons
Marginally adjustable
Poor jaggie reduction
Auto-source doesn't give enough time for HDCP
Blinding backlight on remote
Light leakage from front of unit
Loud fan
Introduction
Optoma has upped the bar with their release of the HD20. This sub $1k projector is full 1080p, has more than enough inputs for most applications, and gets you into a front projection system for an unbeatable price. Value shop for a power retractable screen and a mount and you're only out around $1700. I know lots of people that have paid that (and more) for a 50" flat panel. At this price, if it turns on it's pretty much a success. Well, I'll spare you the suspense - it turns on.

Confused about what AV Gear to buy or how to set it up? Join our Exclusive Audioholics E-Book Membership Program!
Recent Forum Posts:
notryt posts on October 14, 2010 18:16
lens shift

the normal offset is 7.8 hell 8"inches) tilt the projector slightly upward if you need to..usually have to with low ceiling and a ceiling mount.. the picture will start a foot or more below the ceiling. and get about a 3-5"" top and the keystone feature will fix the vertical.. only a little keystone correction goes a long way.I wouldn't suggest tilting it upward more than 6-8" .. I have not noticed any difference in the picture or any additional artifacts tilting it upward (6" on 100" diag. screen) … You only get a very dark gray at best…. so that's the trade-off with a darkchip 2 vs darkchip 3 projector.. compare the price difference and live with this shortcoming..
finishers posts on June 22, 2010 10:22
Black level on the HD20 is only middling, as the projector lacks an auto-iris and has a fairly bright lamp, black areas of an image can sometimes appear very dark grayish…….
tcarcio posts on March 21, 2010 12:02
Good review but I will say this, I have an Optoma and I agree on the performance aspects of the review but Optoma's customer service is one of the worst in the business, IMO. I consider that a dealbreaker but ofcourse others may not. Just my 2 cents.
KASR posts on March 21, 2010 00:32
Great review! I recently upgrade my home setup with a projector and screen - had the new setup for a little over a week now and I did discover one MAJOR flaw…could possible be considered a large drawback:

There really is no going back. I LOVE this screen size and the 1080p on this projector is nothing short of stunning. I'm sure that a trained video critic have and will touch points of where this projector falls short, but for me - I can't see em!

Movie are crisp and clear and I don't know why people say the HD20 is a noisy projector - I can barely hear the damn thing. Of course, the cool down process is a bit loud, but that's only when I'm finished using the theater room. I can hardly count that against it.

Anyone considering a projector setup - as a newly converted: I strongly recommend it. But make sure you get all the details lined out before you do it (room size, wall, screen, etc.) and you'll be well on your way to next level!
BMXTRIX posts on March 17, 2010 21:47
Post Reply