Emotiva UPA-2 Stereo Amplifier Review
Emotiva UPA-2 Stereo Amplifier Review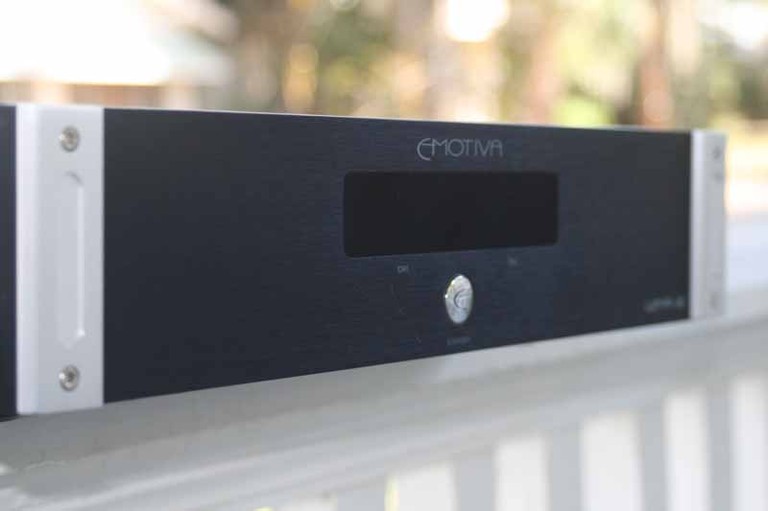 Emotiva UPA-2 amplifier
125 watts/channel (8-ohms)/ 185 watts/channel (4-ohms)
Frequency Response: +/- 0.1 db: 20 to 20Khz
Broadband Frequency Response: -3db 10hz - 150khz
Signal to Noise Ratio: (Un-weighted): >100db
Distortion (THD, 80Khz bandwidth): 0.007
Discrete, dual differential class AB amplifier topology with active current sources
Low noise toroidal power transformer
On Semiconductor output devices
Damping Factor: Approximately 200 into 8 ohms
Gain: 0-32db (adjustable)

Input Impedance: 47K ohm
External Trigger: 3-12 Volts DC (tip positive)
DC Offset: <1mV servo corrected
Crosstalk: >80db
Fully protected from all fault conditions
External trigger input/output (5-12 Volts DC - tip positive)
Preamp in/out loop for daisy chaining
Soft touch power switch
2RU chassis w/ solid milled aluminum faceplate
IEC power inlet, 120/230 VAC configurable
17" W x 3 7/8" H (3.46" without feet ) x 18" D
Weight: 30 lbs (13.6 kg)
Pros
Big amplification in a small package
External DC trigger input
Output level control
5-year warranty
Cons
Not bridgeable
Binding posts very close together
Emotiva UPA-2 Introduction
Emotiva is a name that is up-and-coming in the world of audio electronics. Manufacturing amplifiers and now loudspeakers, Emotiva is a brand that is moving beyond the fascination of the Internet Direct crowds and settling into the living rooms of mainstream consumers. These days manufacturers are adding more and more features into mid-fi and budget-level AV receivers. The trade-off, however, is usually in respect to amplifier power and quality. So what' a consumer to do if they want to achieve the maximum features with the maximum punch? Well one solution is to get a feature-rich A/V receiver and then mate it to a high quality two-channel amplifier. Best of both worlds? Absolutely, and for far less than buying a flagship AV receiver.

See also:
Confused about what AV Gear to buy or how to set it up? Join our Exclusive Audioholics E-Book Membership Program!
Recent Forum Posts:
sjcguy posts on August 30, 2010 11:50
it's $50 higher now
agarwalro, post: 554504
ATTN: Clint/ Admin:

In the summary section on the first page of the article, it's price is listed as $299. I believe this is incorrect.
Price went up to $349
bborzell posts on May 02, 2010 21:01
jinjuku, post: 555123
That is a great setup. Sucks the the B&K took a dive on you. Have you contacted B&K about refurbishing the amp? Surprised that the X-Overs in the speakers are still good.

Pay's to invest in quality.
Oddly enough, I was doing a Google search on B&K TX4430 amps to set a price for the amp and I came across this post (which was mine in the first place).
Thanks for the compliment. I've actually had some changes since that post.
The Rotel pre/pro has been replaced by an Emotiva UMC-1. In addition, I got the B&K ST14000 working again. I had forgotten that there are two fuses to check. It's been back in the rack for a month and running fine. It is powering two Emotiva ERD-1s for side surround. The Emotiva UPA-2 is driving two other ERD-1s for rear surround. The Energy Pros are now looking for new owners.
The NHT sup is retired having been replaced by a Rythmik F12.
When I get around to it (I say that a lot), I will list the Rotel RSP-1066, B&K TX4430, B&K ST1400, Rotel DVD-1040, B&K AVP-1000 and the Energy Pro 22s.
Opteron1944 posts on April 28, 2009 17:25
UPA-2 and 4 Ohm / Efficient Speakers

For the last 2 months, I have been enjoying the UPA-2 driving my Klipsch KG-4speakers.

As you may know, handling 4 ohm loads presents problems to many amps which, from an arithmetic standpoint, should be perfectly adequate. When the speakers are also highly efficient, as is the case here, the results can be messy. (While not quite as responsive as the Klipsch classic speakers, reading through Magnepan reviews shows that this issue is a live one.)

I find the UPA-2 does a wonderful job in presenting a faithful rendering of the timbres of all instruments as well as clearly presenting bass notes and a fine precision that helps following multiple musical threads, such as found in the Brandenburg Concerti recordings from Trevor Pinnock and The English Concert.

The human voice is also beautifully rendered: "Glitter and Be Gay" from the orginal cast album of "Candide" shows just how accurate the young Barbara Cook was in this notoriously difficult piece. At the same time, Robert Preston's performance of "When Movies Were Movies" from "Mack and Mabel" shines through the technically challenging recording.

I find that I have stopped listening to the equipment and have resumed listening to the music - my most important criterion for a piece of audio gear.

Emotiva provides a 30 day trial period and I would strongly encourage anyone curious about this amplifier to take advantage of the opportunity to hear what this unit can do in your system.

(I have no connection to Emotiva, other than being a satisfied customer.)

System:

Rotel 855 CD player
Oppo 970HD DVD player
NAD T-163 Pre/Pro
Emotiva UPA-2 - Klipsch KG-4 front speakers
Acurus Mondial 100 - Aculine surrounds and Athena C.5 center channel
Dali 1.5 Subwoofer
Harmon posts on April 27, 2009 12:29
Thanks for the review … was thinking about buying one even before, but why only subjective opinion in this review and no objective testing?
Audioholics posts on April 21, 2009 08:23
rnatalli, post: 555641
I believe there's another typo. The HK 157. I assume you meant 147.
154 actually.
Post Reply