The $12k Home Theater System
The $12k Home Theater System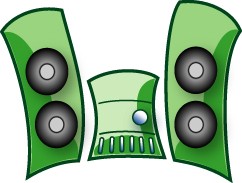 $12,000 Recommended Theater System
So, you are thinking about putting together a Home Theater system and have a $12,000 budget?  It's very easy to spend $12,000. All you have to do is buy a Flagship receiver or Processor / Amp combo for $4500, a set of mid to high end speakers for $3000-$4000, a high end DVD player for $1200, an HDTV Rear Projector for $3000 (or smaller Plasma for $4000), some cables, and you're done!
You now have a nice Home Theater in your living room that you and your friends can enjoy. They will be quite impressed with the sound of your system. Yep, it's just like every other cookie cutter system out there and everyone else has one! In fact, it's still fresh in your mind when you invited a bunch of people over for the unveiling of your New Home Theater system. You stood there proudly until a couple of them said, "Hey nice system. That big screen is just like the one we have in our living room. I guess we have a home theater too."
OK let's be honest, half of the fun is the WOW that we can generate with this hobby. If you are like 95% of the rest of us, you don't mind showing off a bit. How about we take that $12,000 and create a system with minimal compromises that will transform your living room into something more than a place to sit, listen, and watch Home Theater? How about we turn your living room into a Cinema with a huge WOW effect?
Our family and friends are excited about what they will see. Next, let's not disappoint them with a run of the mill 42" - 65" Rear Projector or Plasma. Our Cinema will have an 80" - 96" front projection system to provide that all important WOW effect! Not every Joe 6 pack is going to have one of these in his living room, either. Now, all we have to do is find high quality components that will fit in our budget. This Projector and Screen combination will rival and surpass many of the top of the line Rear Projectors and Plasma Displays. The compromise is that you need to maintain some level of light control, but this is minimal compared to the size of the image you will gain. To have a Cinema, you must have a large screen. The other thing to keep in mind is having a screen on your front wall will make your room feel more like a Cinema. Again, providing that all important WOW effect!
System Goals
Now we're inching into "high-end" audio (at least for those of us who don't think bending over to pick up a dropped $100 bill is a waste of time). Start to expect more - higher priced products, more complete systems with remote control, minimal acoustics packages, and even some furniture could start to creep in.

We'll utilize HD players whenever possible so that you can experience the best high definition source material on your system.
This system will excel at both audio and video.

This system yields ultimate flexibility and provides all the latest formats: Dolby Digital, Dolby Digital-EX, DTS, DTS-ES, Prologic IIx and may have the ability to decode DVD-A or SACD and display high-quality component video.
This system is assembled with reliable components all offering good warranty policies.
Following is our recommendation for an complete Home Theater system around $12,000
Confused about what AV Gear to buy or how to set it up? Join our Exclusive Audioholics E-Book Membership Program!