Epson PowerLite Pro Cinema 1080 Review
Epson PowerLite Pro Cinema 1080 Review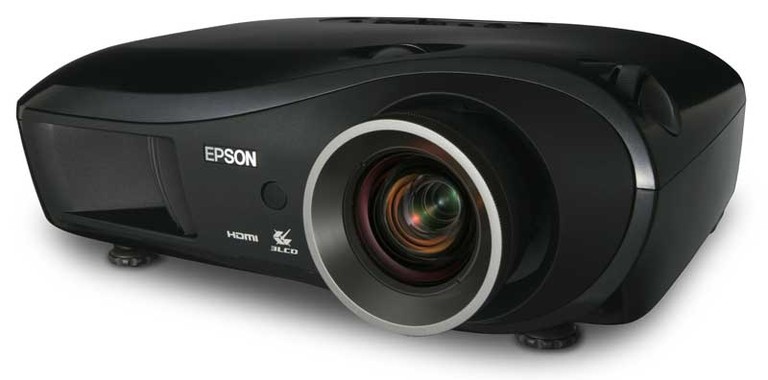 Epson PowerLite Pro Cinema 1080
Brightness: 1200 ANSI lumens (vivid mode)
Contrast: Up to 12,000:1 (full on/off)
Resolution: 1920 x 1080 native HD resolution
Aspect Ratio: Widescreen native 16:9 aspect ratio (4:3 resized)
LCD Panel: 3 x 0.74" Epson C2Fine VAN (Vertical Alignment Nematic) 3LCD ("D6")
Optical System: Dichroic mirror separation and prism combine method
Iris: Auto Iris optical system with AbsoluteBlack
Video Inputs: HDMI-HDCP (1.3), component, composite, S-video, SCART and PC/RGB (HD15)

Control: RS-232C, IR remote
Projection Lens: F/2.0 – 3.17, manual focus & zoom
Lens Shift: Vertical and horizontal (96% vertical, 47% horizontal)
Keystone Correction: +/- 15 degrees (vertical)

Lamp: 170 W UHE (Ultra-High Efficiency) E-TORL (Epson Twin Optimized Reflection) lamp
Power Supply: 100-120 volts, 2.7A
Power Consumption: 245W (high); 200W (low); 4W (standby)
Operating Temperature: 32 – 104 degrees F (0 – 40 degrees C); 20-80% humidity (no condensation)
Fan: 33dB operation (in low mode)
Remote Control: Backlit w/batteries included
Standard Accessories: Power cord, Wireless remote control unit, batteries for remote control

Warranty: 3 years parts & labor + 90 days lamp; 3 Years Epson Road Service Program; Epson PrivateLine Toll-Free Technical Phone Support

Dimensions: 15.6" x 4.8" x 12.2" in (396 x 124 x 310 mm)
Weight: 12.0 lbs (5.4 kg)
Pros
No screen door effect - period
Excellent contrast & color saturation
A plethora of calibration options
Good performance "out of the box"
Backlit remote
Native 1080p/24/60 support
HDMI 1.3
Cons
No automatic focus (manual only)
<12 fL output in Cinema Night mode
Odd/inaccurate resolution information in Info menu display
Introduction
1080p is here with a vengeance and Epson is leading the way with its new 1080p professional model with ISFccc and other installer-friendly functions. See how well this professional projector compares to other products available on the market. With the latest price reduction, this is one heck of a projector for well under $3k!

redsoxfax posts on October 10, 2007 18:40
Is it possible to zoom for a small display area?

The title perhaps should read The Wife Factor but here are my questions.

1) Can I zoom the image fairly small from 10-15'?
2) Is there a supplier that has developed whole wall surfaces for video projection?

Regarding the first question, does the manual focus on the projector give me enough control to crisply project a relatively small display area, say 46" or so?

To put this into context, I have spent time looking at the costs of hiding a tv behind a picture frame and mirror or painting canvas; a high quality installation can cost $15,000.

A custom light fixture with a $5,000 projector seems a much better approach to "not wanting to see the TV when not in use".

If I can zoom the image to a 46" rectangle, the search for suitable paint or wall paper to overcome the lack of a projection screen would begin.
Audioholics posts on October 08, 2007 17:13
Plus, Epson just demoed their new UB-series at our 2007 State of the CE Union event this weekend. With the new models coming in at under $5000 retail you can bet prices will drop continuously.
bigbangtheory posts on October 08, 2007 15:57
admin, post: 261037
With pricing under $5000 and Epson's proclivity for producing very high quality projectors with excellent features, detail and color, it's bound to be a serious contender in the market.
This is really starting to make me reconsider buying a TV, albeit a very high end one. The projector pricing is starting to come down into high-end tv range, and the thought of having a billy badass-sized screen make it even more alluring! And with the power of Santa growing stronger in the coming months, I would bet prices will drop considerably.
gilcanyon posts on May 16, 2007 15:15
Compare to Sanyo Z4

I guess we will have to wait for a scaling/"sharpness" comparison to the ultra sharp Sanyon Z4. The Epson sounds too good to be true. :o

Owners: More details on performance please.
dem beats posts on April 17, 2007 00:41
cleaner450, post: 263470
Here is a question ..primarly using it for 360 and HD DVD… How does the image overall compare to ..ummm lets say a 50 inch rear projection. besides the size; does it or could it look as good, clear and bright a rp TV.
Sorry if I am being very broad but you own it and I just want to get your thoughts on quality of picture compared to a rp. This will be set up in a very dark room…

thanks
I game and now am more into HT but games are what maed me want a big TV. I got a front projector. I will never ever ever o back to anything else for the main HT/"viewing room. I have aCRT for the news etc, but untill projectors cost more as a box that has a set screan I won't even think about the RP plasma LCD even DLP.
I hop emine never dies, if it did today it would be epson for sure and if they make a DLP in my price point that would be it. Hands down.
Post Reply
Confused about what AV Gear to buy or how to set it up? Join our Exclusive Audioholics E-Book Membership Program!