Carada Projector Screen Review
Carada Projector Screen Review
by
Clint DeBoer
—
February 23, 2005

Contributors: Ray Adkins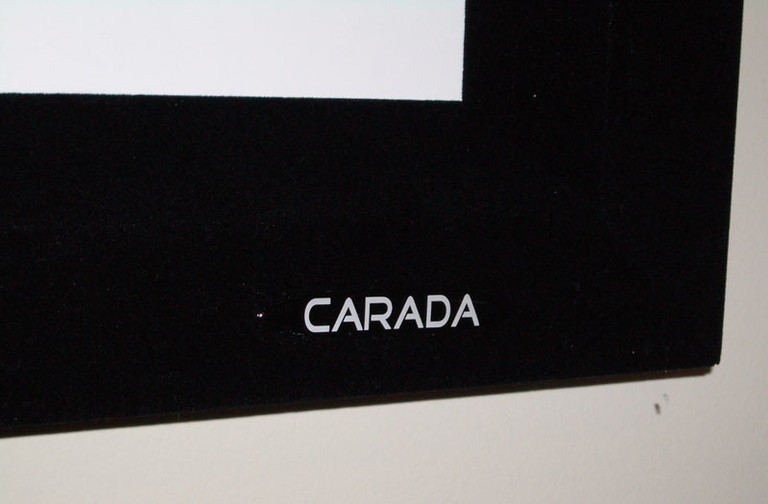 Carada Criterion Projector Screen
Frame: 3.25" x 1.5" 6063 T-5 Aluminum Frame

Bracing: 14 gauge plate steel
Tensioning System: Manual via snap system with 3M adhesive-reinforced screen borders
Screen Material: Classic Cinema White (1.0), Brilliant White (1.4), High Contrast Grey (0.8)

Over-spill Absorption: "Black Hole" velvet trim
Available Screen Ratios: 1.33:1, 1.78:1, 1.85:1, 2.05:1, 2.35:1
Outside Dimensions (as tested): 86.8" (W) x 51.7" (H)
Screen Dimensions (as tested): 80.2" (W) x 45.1" (H)
Pros
Rock solid tension with no visible inconsistencies in surface material
Steel corner bracing and well-constructed aluminum frame
Able to attain a very even grayscale uniformity and color balance
Cons
Bottom wall-bracket somewhat cumbersome for anchoring screen to wall
Introduction
The Carada Criterion projector screen offers a bargain alternative to the fixed screen wall systems offered by the name brand companies. The seamless Brilliant White screen material, with its 1.4 gain and thicker density, nearly mimics the performance of the popular Studiotek 130 screen, though further testing would be needed to see just how close it comes. I think that those looking to acquire the look of a professional installation on a budget would do well to consider Carada's new Criterion series screens - the pricing, performance and ease of use make it hard not to.

Confused about what AV Gear to buy or how to set it up? Join our Exclusive Audioholics E-Book Membership Program!
Recent Forum Posts:
mtrycrafts posts on November 16, 2017 18:02
Welcome to AH.

Well, the OP is no longer here. BMX has a good point, of course.
If you can have an in person look of the condition, $80 is not a lot to gamble with.
BMXTRIX posts on November 16, 2017 11:44
If the screen surface is unblemished, the quality of Carada screens is a good deal better than Silver Ticket or the Elite entry level screens can offer. The size sounds a bit small, but if your viewing from about 9' away, then it may be appropriate. I've sold used screens before and they can be tough to sell, so the price is reflective of the market, not of the quality of the screen.

You can't get replacement fabric anymore, so be sure to check it out first.
flavor30 posts on November 16, 2017 10:45
To the OP, I know this is a super-old thread, but it was the only one I could find regarding a used 92 inch Carada projector screen! I found one for $80. Is it a good deal? Or would it be better to get a new Silver Ticket or Elite from Amazon?
Grump posts on April 26, 2007 02:00
I have the PT-AE900U (wish I new the PT-AE100U was coming out) and I haven't ordered a screen yet. So you think the brilliant white would be the best option for me?

Grump


BMXTRIX posts on April 25, 2007 22:53
Grump, post: 265452
So you wouldn't recommend the high contrast grey? I thought that would be better to get deeper blacks. And these screens, I would have to put it together myself right, how easy is it to assemble?
Most people view front projection in a light controlled room, in those cases high contrast grey does nothing to help. If you have a new projector, then it is rarely necessary to go with grey screens. I have a grey screen with my fairly low contrast Panasonic PT-L300U and I have compared it to a white 1.1 gain screen - if I had my way (I don't) I would use a 1.4 gain screen instead of grey. I think brilliant white is appropriate for about 90% of installations… or more.
As for assembly, it takes about 2 hours to assemble and hang. Just go to the hardware store and pick up a stud finder and some EZ wall anchors.
I hung a 160" screen last Saturday and it took a little over 2 hours to do it myself. That's one big ol' screen I was hangin'!
Post Reply