Epson Home Cinema 1080 Projector Review
Epson Home Cinema 1080 Projector Review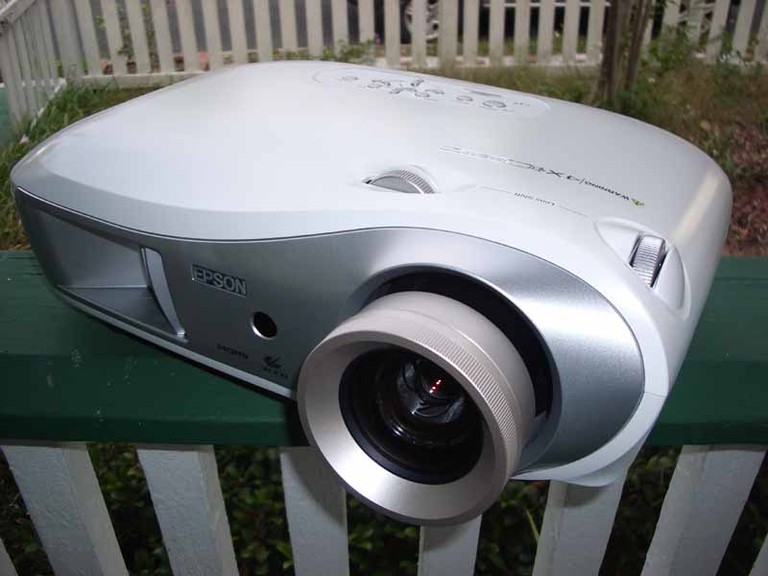 Epson Home Cinema 1080 projector
Brightness: 1200 ANSI lumens (vivid mode)
Contrast: Up to 12,000:1 (full on/off)
Resolution: 1920 x 1080 native HD resolution
Aspect Ratio: Widescreen native 16:9 aspect ratio (4:3 resized)
LCD Panel: 3 x 0.74" Epson C2Fine VAN (Vertical Alignment Nematic) 3LCD ("D6")
Optical System: Dichroic mirror separation and prism combine method
Iris: Auto Iris optical system with AbsoluteBlack
Video Inputs: HDMI-HDCP (1.3), component, composite, S-video, SCART and PC/RGB (HD15)

Control: RS-232C, IR remote
Projection Lens: F/2.0 – 3.17, manual focus & zoom
Lens Shift: Vertical and horizontal (96% vertical, 47% horizontal)
Keystone Correction: +/- 15 degrees (vertical)
Lamp: 170 W UHE (Ultra-High Efficiency) E-TORL (Epson Twin Optimized Reflection) lamp

Power Supply: 100-120 volts, 2.7A
Power Consumption: 245W (high); 200W (low); 4W (standby)
Operating Temperature: 32 – 104 degrees F (0 – 40 degrees C); 20-80% humidity (no condensation)
Fan: 33dB operation (in low mode)
Remote Control: Backlit w/batteries included
Standard Accessories: Power cord, Wireless remote control unit, batteries for remote control

Warranty: 2 years parts & labor + 90 days lamp; 2 year Epson Home Service Program; Epson PrivateLine Toll-Free Technical Phone Support (US & Canada only)

Dimensions: 15.6" x 4.8" x 12.2" in (396 x 124 x 310 mm)
Weight: 12 lbs (5.4 kg)
Pros
Um, 1080p for under $3k!
No screen door effect
Excellent contrast & color saturation
Excellent performance "out of the box"
Backlit remote
Native 1080p/24/60 support
HDMI 1.3
Cons
Didn't pass blacker than black
No automatic focus (manual only)
<12 fL output in Cinema Night mode
Odd/inaccurate resolution information in Info menu display
Introduction
The Epson PowerLite Home Cinema 1080 is virtually identical to the Pro Cinema 1080. If you are a consumer, BUY this projector as it has nearly all of the performance advantages and features of the Pro model with a lot of cost savings.

Confused about what AV Gear to buy or how to set it up? Join our Exclusive Audioholics E-Book Membership Program!
Recent Forum Posts:
Rob Babcock posts on May 14, 2007 17:21
From the scuttlebutt at AVS, it sounds like the Panny may be plagued with some of the QC problems that the A100X has. Personally I've freakin' had it with MIR, too. Panny is apparently taking well over 3 months to send the check in some cases! My experience with MIR is that they do everything they can to screw you out of the rebate (not just Panny, every company that uses them).

If you're counting on that $1,ooo you might be in trouble!
jcPanny posts on May 14, 2007 15:51
Technojay posts on May 11, 2007 16:28
It just requires the correct length of HDMI cable. So a rapid run may be an overkill.
bgrounds posts on May 07, 2007 11:04
Noise Level

Does it run quiet???
Rex posts on May 02, 2007 01:35
Clint DeBoer, post: 266626
Epson is one of the few companies that make the actual LCD panels - they are about as legit as it comes. Up until now they were a bit pricey and I don't think anyone expected them to come out with the first 1080p under $3k.

The LPX-510 Yamaha projector i love and own was/is essentially an Epson with improved optics and chassis.
I am in the market for a 1080p FP and it looks like we have a winner! Two questions: 1) Other than having better resolution, would you recommend this FP over your Yammie 510? 2)Would running the digital RapidRun cable be the right choice for connection? If I were to buy this FP, it would sit a little over 9 feet high on a small shelf I will build for it and slightly less than 19 feet from the screen. I am considering a 100 inch screen. I anticipate the top of the screen at about 7.5 feet off the floor. The room is 25 x 20 open beam gabled. It is all drywalled except for the ridge beam which is partially visible for decoration.
Does anyone know if the new in-wall Klipsch THX Ultra2 speakers can be used in ceiling?
Thanks
Rex
Post Reply