Panasonic PT-AX200U LCD Projector Review
Panasonic PT-AX200U LCD Projector Review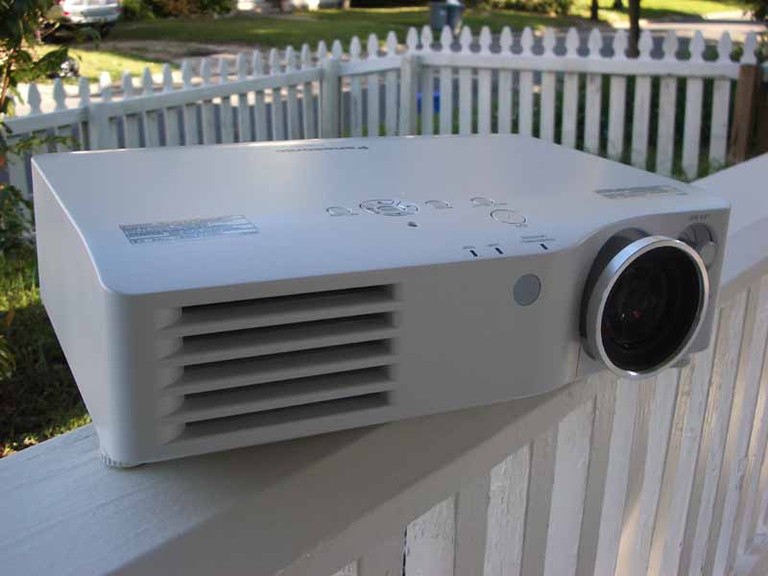 Panasonic PT-AX200U LCD Projector
Brightness: 2000 ANSI lumens (high power mode)
Contrast: Up to 6000:1 (full on/off)
Resolution: 1280 x 720 native HD resolution (1920 x 1080 maximum)
Aspect Ratio: Widescreen native 16:9 aspect ratio (4:3 compatible)
Supported Screen Size: 40-200 inches diagonal
LCD Panel: D-5; 3 x 0.7" polysilicon active matrix
Optical System: Dichroic mirror separation/prism synthesis system
Iris: Dynamic Iris optical system constantly adjusts the brightness and gamma characteristics in real time
Video Features: Dynamic Sharpness Control adjusts video signal waveforms based on the difference in brightness of adjacent pixels, Intelligent Light Harmonizer 2 dynamically varies gamma according to the ambient room light, Progressive Cinema Scan (3/2 pulldown) and HD IP, Cinema Color Management technology for faithful and accurate color representation, 10-bit full digital processing and 10-bit gamma correction, 7 picture modes for customizing color adjustments, Smooth Screen technology for smooth, film-like images
Scanning Formats: 480i/576i/1080i and 480p/576p/720p/1080p/24/60 (PAL equivalents supported)
Video Inputs: 2xHDMI-HDCP, component, composite, S-video, and PC/RGB (HD15)

Projection Lens: 2x optical zoom; f = 21.7 – 43.1 mm. F/1.9 – 3.1, manual focus & zoom
Lens Shift: Vertical and horizontal (65% vertical, 24% horizontal)
Keystone Correction: +/- 30 degrees (vertical)
Lamp: 220 W UHM lamp
Mounting: ceiling, desk, front/rear (menu configurable)
Power Supply: 100-240 volts, 50-60Hz
Power Consumption: 290 watts (maximum), 0.8 watts (standby mode with fan stopped)
Operating Temperature: 32 – 104 degrees F (0 – 40 degrees C); 20-80% humidity (no condensation)
Fan: Whisper quiet 26dB operation (in low mode)
Projection Method: Front/rear/ceiling mount/table-top

Uniformity Ratio: 85% (center-to-corner)

Remote Control: Learning remote; 7m range on axis, 3 VDC power supply, AAA x 3 batteries
Standard Accessories: Power cord, Wireless remote control unit, batteries for remote control (UM-3 x 2)
Optional Accessories: Serial adapter for RS-232 control
Dimensions: 15.5" x 4.4" x 11.8" in (395 x 112 x 300 mm)

Weight: 10.8 lbs (4.9 kg)
Pros
No screen door effect
Excellent contrast
Game mode for fast response and more visible shadow detail
Great "out of the box" colors
Backlit remote
Light Harmonizer 2 automatic picture adjustment
1080p/24/60 support
Cons
Potential HDCP compatibility issues
Non-standard power cable
No 12V trigger
Introduction
The budget-priced 720p PT-AX200U projector has several new features of Panasonic's incremental but impressive projector update – not the least of which involved a tantalizing gaming-centric mode which decreases lag and speeds up gameplay.

See also:
Confused about what AV Gear to buy or how to set it up? Join our Exclusive Audioholics E-Book Membership Program!
Recent Forum Posts:
TVJon posts on December 14, 2007 00:12
I have this PJ running in my almost-done media room. I like it a lot and have no issues with the machine. What I find most interesting (this is my first PJ) is how soft and low-resolution some of my old standard definition DVDs look on the "big screen." I suppose that's what you get when you're actually looking what amounts to seven pixels per inch on a screen that's 8-feet across.. assuming 640 pixels horizontal resolution. The other thing watching on the big screen does is make me follow the rack focuses and notice soft camera shots more than I ever did on television.

The price you pay for watching DVDs REALLY big… and why I want to see the difference HD really makes.

TVJon
RTPBob posts on November 29, 2007 18:05
Hdmi 1.?

Does anyone know which level of HDMI the AX200U supports? I've been reading about the advantages of 1.3 but haven't been able to track down what level this projector supports.

Thanks,
Bob
Allan Rast posts on November 10, 2007 22:12
majorloser, post: 327349
So I take it you don't have any HDCP issues with the Dish-HD HDMI signal? If not, this might end up becoming my "spare" projector.
I "found" the review of this projector and followed the links to this forum. I am thinking of getting this projector to replace a 1995 vintage Sharp LCD projector. I also wonder about others having the HDCP issues.
I'm thinking of also getting the Denon 3808CI receiver. I bought one of the Toshiba HD-A2 HD DVD players at Wal-Mart the day of the big sale.
Does this sound like a reasonable system to everyone? Thanks in advance for responses.
majorloser posts on November 07, 2007 15:36
TOADSKI, post: 326635
I bought this for my new dedicated theater, Dish HD is amazing I dont have a a HD DVD but but christmas is coming. i can watch this with lights on if needed.
the cons to me are the 120 ft power cord supplied with the machine I need a 1 ft cord. For once a company gives a really long cord and I dont need it.
It worked great right out of the box.
So I take it you don't have any HDCP issues with the Dish-HD HDMI signal? If not, this might end up becoming my "spare" projector.
Audioholics posts on November 07, 2007 09:24
I'd be interested to hear from even more people who own this projector and see what they think or if they encountered any difficulties.
Post Reply