Panasonic PT-AX200U First Look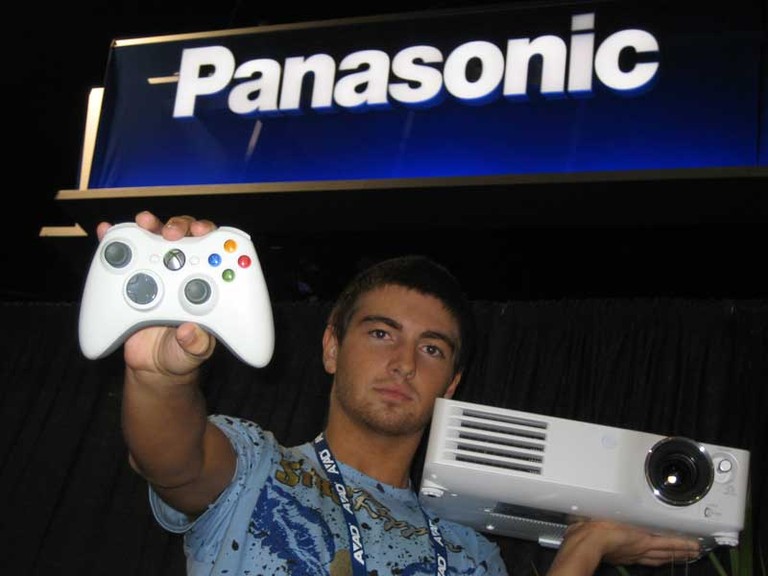 PT-AX200U - Tom Knows Panasonic
Summary
1,280 x 720 (720p) native resolution
220-W UHM lamp
2,000 lumens of brightness
6,000:1 contrast ratio
Two (2) HDMI ports
Two (2) HDMI 1.3a inputs

Gaming mode for 3x video refresh speed boost
Light Harmonizer 2 ambient light compensator
2x optical zoom
Horizontal and Vertical lens shift

Executive Overview
Panasonic unveiled its new PT-AX200U LCD 720p home theater projector which is designed to target gamers. Tom Taylor, or Tsquared as he's known in the Major League Gaming community, was on-hand to demonstrate just how the PT-AX200U aids in removing game lack associated with online play. The system boosts speed by 3x (though it wasn't expressed exactly how this functioned) in an effort to lower game lag - something Tom is very familiar with. According to him, the lag was all but gone and the system made gaming much more enjoyable. An Xbox 360 was on hand to allow attendees to play him head-to-head... Taylor was gracious and only made a partial fool out of us as he gave us tips to avoid having him walk up behind us, tap us on the shoulder, and frag us...
The PT-AX200U projector has a bright 220-W UHM lamp and optical unit that combine to generate 2,000-lumen brightness. That's BRIGHT and means that gamers don't have to be secluded in the dark when playing video games - especially with the new Game mode which raises the black level (something I now do manually or through presets in other projectors.) Panasonic's improved Light Harmonizer 2 image technology can also measure ambient light and adjust the image brightness by controlling not only the gamma curve, but also the iris setting, lamp power, and picture sharpness to maintain bright, crisp and vivid pictures under any lighting condition.
The PT-AX200U's new gaming mode improves signal processing for 1/3 response time, using the controller buttons. Gamers can also program and save up to eight settings for games or movies, making it easy to view the content as they wish. In addition, picture quality characteristics have been specifically tuned to reveal more image details that were previously not as visible in very dark or over-saturated areas that are prevalent in many games.
The PT-AX200U projector has a new Advanced Dynamic Sharpness Control intelligently determines image areas that need to be sharpened at varying degrees to deliver clear and natural-looking pictures. The refined Dynamic Iris adjusts the unit's optical iris, the UHM lamp and gamma curve 60 times per second to produce beautiful images with a 6,000:1 contrast ratio.
The PT-AX200U's Pure Color Filter uses optical adjustment to achieve accurate color reproduction, going a step further than conventional projectors that reproduce colors by adjusting the white balance. The color filter achieves a higher purity level of the three primary colors – red, green and blue – displays deeper, purer blacks, and significantly expands the color gamut. In addition, the new Smooth Screen technology uses crystal double refraction to arrange pixels on a screen with no gaps in between.
The new home theater projector's Cinema Color Management feature allows the users to control color correction of up to approximately 1,070,000,000 colors to create images to their liking. The users can now store up to eight adjustment settings into the memory with custom names.
With 2x optical zoom lens and lens shift, the new projector can cast a 100-inch image at a range of approximately three to six meters from the screen. The PT-AX200 also comes equipped with two HDMI inputs, eliminating the need for an HDMI switcher. Finally, the new model's remote control has powerful settings for different types of video such as television sports, home movies or commercial films.
The Panasonic PT-AX200U LCD home theater projector will be available in October at Panasonic authorized presentation systems dealers. Pricing is expected to be around $1599 - but I could not get an exact figure at the booth.
For more information  please visit www.panasonic.com/projectors.

Unless otherwise indicated, this is a preview article for the featured product. A formal review may or may not follow in the future.
TVJon posts on November 03, 2007 20:39
I'll still be interested in the review, but I've seen enough good ones to give it a shot. I figure seeing this PJ hanging in my unfinished media room will be good incentive to keep going. Kind of like a carrot on a stick.

For now, I'm watching dvds on a green/gray wall. Surprisingly, they look pretty good. On the plus side, I can experiment with screen size now before I make my choice. I have a feeling "as big as possible" will be my answer!

TVJon
Tarub posts on October 19, 2007 13:44
majorloser, post: 321024
And the verdict is……………
I'm think we will have a hung jury.
chrisw1 posts on October 18, 2007 18:31
majorloser posts on October 18, 2007 08:30
Clint DeBoer, post: 315829
The unit is in - starting the review now…
And the verdict is……………
Tarub posts on October 18, 2007 02:06
fountboy, post: 320993
What is the difference between the 100 and 200, they both have the same lumens and contrast.
From PC Review of the AX200::
_________________________-
The AX200U incorporates several improvements over the AX100U. One more HDMI input has been added to the connection panel, so the AX200 has two HDMI inputs in addition to the complement of traditional VGA, component, S-video, and composite video jacks. The auto iris has been redesigned for longer life and faster action. And the Light Harmonizer has been improved, and is being promoted as the Light Harmonizer 2. In the AX100, the Light Harmonizer adjusted gamma to compensate for changing ambient light conditions. In this system, not only is gamma adjusted when ambient light conditions change, but lamp output and sharpness settings are automatically adjusted as well.
In addition, the AX200 has a preprogrammed Game Mode, which adjusts gamma and brightness to open up shadow details in video games that would otherwise be too dark. So with the AX200U, it is easy to switch back and forth from the Cinema to Game Modes based on the material you are watching, without having to go into the menus to do brightness and gamma recalibrations. An additional feature of Game Mode is that it reduces buffer time to give the gamer an almost instantaneous video image and thus better control.
The price of 100 was $1999 when it first came out, the 200 is $1299.
Post Reply
Confused about what AV Gear to buy or how to set it up? Join our Exclusive Audioholics E-Book Membership Program!