Epson PowerLite Pro Cinema 810 HQV Projector Review
Epson PowerLite Pro Cinema 810 HQV Projector Review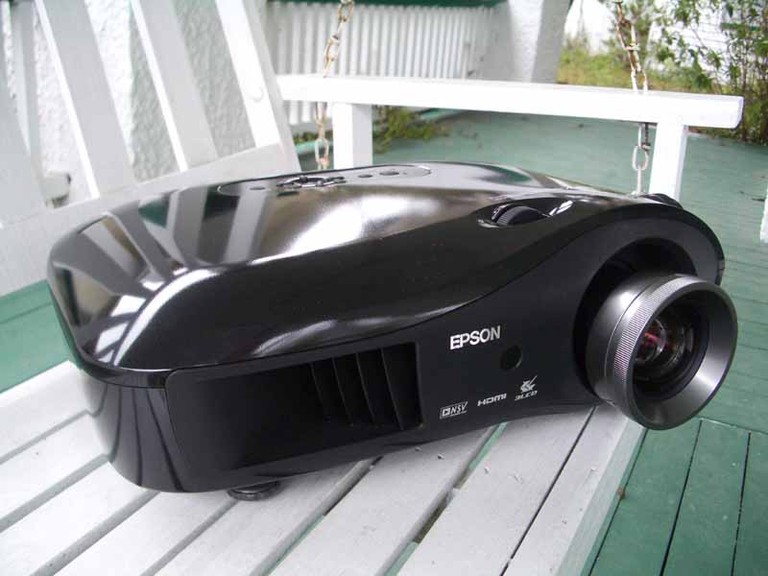 Epson PowerLite Pro Cinema 810 HQV
Brightness: 1600 ANSI lumens (vivid mode)
Contrast: Up to 10,000:1 (full on/off)
Resolution: 1280 x 720 native HD resolution (1920 x 1080 maximum)
Aspect Ratio: Widescreen native 16:9 aspect ratio (4:3 resized)
LCD Panel: D5; 3 x 0.7" MLA (Micro-Lens Array)
Optical System: Dichroic mirror separation and prism combine method
Iris: Auto Iris optical system
Video Inputs: HDMI-HDCP, component, composite, S-video, and PC/RGB (HD15)

Projection Lens: F/2.0 – 3.17, manual focus & zoom
Lens Shift: Vertical and horizontal (100% vertical, 50% horizontal)
Keystone Correction: +/- 15 degrees (vertical)
Lamp: 170 W UHE lamp
Power Supply: 100-120 volts, 2.7A
Power Consumption: 170 watts (maximum)
Operating Temperature: 32 – 104 degrees F (0 – 40 degrees C); 20-80% humidity (no condensation)
Fan: 33dB operation (in low mode)
Remote Control: Backlit w/batteries included
Standard Accessories: Power cord, Wireless remote control unit, batteries for remote control

Warranty: 2 years parts & labor + 90 days lamp

Dimensions: 16" x 4.9" x 12.2" in (406 x 124 x 310 mm)
Weight: 11.9 lbs (5.4 kg)

Video Processing: Silicon Optix TX3 Realta HQV 10-bit external processor, True 1080i to 1080p deinterlacing, SD/HD multi-directional diagonal filter, Dynamic noise reduction, 16- to 1024-tap adaptive scaling, Audio delay, Full geometry control
Video Inputs: HDMI-HDCP, DVI-D, component/RGB (BNC), component (YPbPr), S-video, composite (BNC), and Analogue PC/RGB (HD15)

Video Outputs: HDMI-HDCP, DVI-D and Analogue PC/RGB (HD15)

Audio Inputs: S/PDIF & toslink
Audio Outputs: S/PDIF & toslink
Control: RS-232, USB 2.0, Ethernet, IR remote
Scanning Formats: 480i/576i/1080i and 480p/576p/720p/1080p/24/60 (PAL and some future formats supported)
Remote: IR
Power Supply: 100-240 volts, 47-63Hz
Power Consumption: 300 watts (maximum)
Operating Temperature: 10 – 35 degrees C (storage: -20 to 60 degrees C); up to 80% humidity (no condensation)
Dimensions: 17.0" x 1.75" x 9.7" in (432 x 44 x 246 mm)
Weight: 7 lbs (3.2 kg)
Pros
No screen door effect at practical viewing distances
Excellent contrast & color saturation
A plethora of calibration options
Consumer adjustment of RGB gain, cut and gamma
Backlit remote
1080p/24/60 support (not native)
Cons
Premium price added for HQV processing
HQV TX3 lacks multiple HDMI inputs/switching
Requires some calibration out of the box
Non-standard power cable
Pricey for 720p, especially if you have good source components
Introduction
I like nice cars. Epson projectors remind me of a corvette - and that's a nice car. In addition to their good looks, Epson home theater projectors have several traits that are a cut above many competitors - like their ample zoom lenses, which don't appear to negatively affect image quality or picture sharpness. This combo, of course has some professional-grade video processing included which takes it far beyond the integrated video processing found in an entry-level projectors - though, of course, you pay a premium for the advantage.

nitingdalvi posts on November 17, 2007 21:01
Epson Powerlite Home Cinema 1080p- Curved screen

Hi y'all:
New to this site, so I hope someone can help me. I just had installed the Epson Powerlite Homecinema 1080p. I already had a curved, 4:3 ,100" diagonal screen that was installed some years ago. The installer told me that this projector would work best with a flat screen rather than a curved one. Is this true? Are there anysettings that would adjust for the fact that the screen is curved?

Also, how can I change the aspect ratio to 4:3. Is this done through the settings menu?

Does this projector have a keystone correction?

Thanks
Nitin
vcarangelo posts on May 29, 2007 19:41
I'm confused about your reviews on the Powerlite Pro 810 hqv and Powerlite 1080P projectors:
First, does using the HQV processor yield a 1080P pix on the 810 projector even though the projector isn't rated at 1080P?
Second, you gave the 810 HQV a score of 125 and an excellent rating, but the 1080P got a score of 85 and failed most all of the film detail tests. Does this mean that, although the 810 HQV can't display 1080P it delivers a far superior picture compared to the 1080P?
Conversely, although the 1080P can display 1080P natively, it's picture quality is far worse than the 810 HQV combo?
I'm new at this so please excuse how dumb it may sound!

Thanks
Audioholics posts on March 29, 2007 21:22
Oops… I literally had both units in at the same time and did the reviews back to back - sorry about that!
trivee posts on March 29, 2007 14:12
did i see a boo boo/

in the section about performance: Clint says "Shrek 2 looked amazing on the Pro Cinema 1080. Blacks were deep and had plenty of depth. Skin and clothing detail was exceptional, being 3D rendered with an absence of any noise or film deterioration."
I figure he meant the 810 but i guess i want to be sure!
Audioholics posts on March 29, 2007 09:18
It's the identical video processor, but you have different access controls, and of course a separate box that takes various inputs, etc. As far as performance potential it measured almost identically to the DVD-3930CI. The difference is that you cannot run your cable box through the HQV processor in your DVD player. See
this article
for more info on video processing.
Post Reply
Confused about what AV Gear to buy or how to set it up? Join our Exclusive Audioholics E-Book Membership Program!