The $3500 Balanced AV System
The $3500 Balanced AV System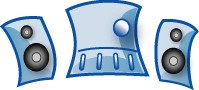 $3500 Balanced AV System
As was stated, this system can go a lot of ways. Pay special attention to the presented Alternative choices below each recommendation - this will be very important if you're looking for a new LCD panel or a plasma now that their prices have plummeted. 

With $3500 you are going to do very well. This is a system that will impress your friends and greatly lower any desire to visit the local cineplex for anything other than blockbuster events. Our goals in this system include quality products with good video and audio performance characteristics. At this budget you'll start looking at the current technologies and you'll want to keep an eye to the future as you plan your eventual upgrade path.

One thing to also realize is that this system can be easily upgraded. We try not to configure anything that cannot be swapped out for a future model with increased capability. This will allow you to begin a killer system that will only have the potential to get even better.

System Goals
This system offers an incredible value for your hard-earned money. It will look and sound great but it may not cater as much to the WAF - that's simply not our goal here, though we may develop future systems specifically for that purpose.

Whenever possible, upconverting HDMI DVD or Blu-ray players are typically utilized as well as devices meant to have extended useful life so this system will not go obsolete too quickly. With this system, we wanted to present products that had excellent audio as well as video performance and tried to ensure that as many audio and video formats as possible could be enjoyed.


This system yields ultimate flexibility and supports all the latest formats including: Dolby TrueHD, DTS MA, Dolby Digital-EX, DTS-ES, Pro Logic IIx and more


This system is assembled with reliable components all offering good warranty policies.

This system offer simplistic connection and includes a budget for the cables required for best connection.

Following is our recommendation for a system for ~$3,500
Confused about what AV Gear to buy or how to set it up? Join our Exclusive Audioholics E-Book Membership Program!