Amazon Recommended Audiophile 2-Channel System for Under $750
Amazon Recommended Audiophile 2-Channel System for Under $750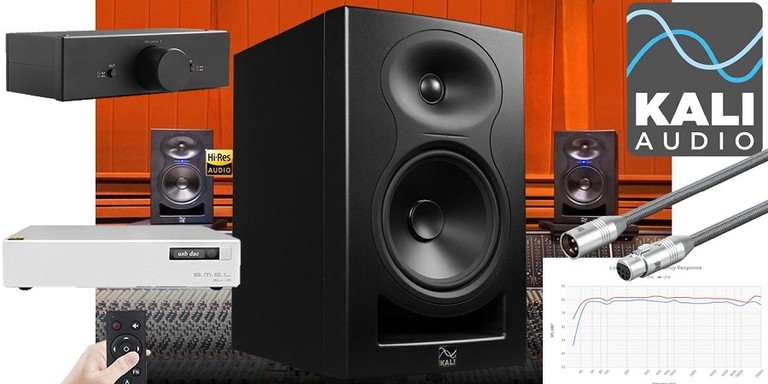 Too often we are faced with tough decisions predicated by an onslaught of unnecessarily numerous choices and little differentiation. Trying to find a pearl among oysters is difficult, and so is finding that rare high-value audio component. Today is a special period in the history of audio equipment as we now can produce at a commodity like level very high performing equipment. Yet finding really good speakers, DACs, and accessories at a good price can still be hard. There are a lot of choices and not all of them good. In this recommendation, Audioholics has pulled together some of the highest performance per dollar products in the industry to produce a two-channel system capable of top-notch audio reproduction, all for around seven hundred dollars.
Disclaimer: For your convenience, we chose products available either direct from the manufacturer or through our Amazon affiliate page. As an Amazon Associate, Audioholics.com benefits from qualifying purchases so we appreciate you using our links. The products we select have either reviewed favorably on Audioholics in the past, or we've had direct experiences with.
Amazon Exclusive $750 2CH Audiophile System YouTube Discussion

Loudspeakers: Kali Audio LP-6

The Kali Audio LP-6 is a 6" studio monitor with 40 watts per mid bass driver and 40 watts per tweeter. They utilize a waveguide loaded tweeter and the system was designed by highly experienced engineers who have built some of the best performing studio monitors in the industry. These speakers were designed to outperform the competition and wow do they ever. At just $149 each, there simply is not a better value on the market. These speakers will easily outperform any speaker in their price class and likely twice the price. These speakers can be listened to at between 2 and 2.5 meters while providing very loud listening levels and plenty of headroom. Easily hitting 105dB peaks at such listening distances with low distortion. They don't just play loud; they sound great too. Providing excellent measured performance and a smooth but revealing sound character. I honestly do not know of a better value on the market and I am astonished they can be produced so cheaply. I recommend buying them in white, they just look better.
DAC
The S.M.S.L. DAC is a great value. It is probably overkill for the LP-6 speaker, but as a true balanced DAC using the ESS Sabre 9038Q DAC chip, it seemed like a good option. I was shocked by the value this DAC offered. The DAC chip is as good as it gets, the analog stage uses high-quality parts and is a good design, and the overall package is well constructed. It is a USB DAC and can be used directly through your laptop or another computer, as well as with a tablet with the correct adapters. While past versions had questionable noise problems, the current 2nd generation offers excellent measured performance and great sound. This DAC can go head to head with products costing many times more than it's modest $249.99. In addition to being a good DAC, this happens to offer a built-in digital 32-bit volume control, which lets you use it to drive the LP-6's directly. While we will provide a better option for those that want an actual volume control, there is certainly nothing simpler than going from your laptop to a DAC to a speaker. Even if you decide to upgrade your speakers someday, keep the DAC, it's that good. 
Volume Control: Nobsound Passive Preamp

This basic passive preamp is nothing more than a balanced/single-ended volume control. Technically it has two inputs, a balanced and single-ended input, that can be selected separately, but that isn't the point. This is an inexpensive and high-quality volume control in the same vein as a studio monitor controller. It will add nearly no noise or distortion and has no meaningful impact on the bandwidth of the system. Yet it offers a physical volume control for those who don't want to use the DAC as their volume or who would like to use other sources such as a record player.
Cables: Furui XLR Cables
No system would be complete without accessories and we didn't want to leave you hanging. While the accessories we recommend will get you up and running, we admit their quality is best described as passable. First, you will need XLR balanced cables to go from the DAC to the volume control and from the volume control to the speakers. I am suggesting the Furui XLR cables, which have a fabric wrapped cable and a decent quality connector. I own some of these, along with various others, and the quality is more than acceptable. I've had no problems with them, and they appear well constructed. The core cable material appears to be of good quality. Still, don't expect these to compete with Mogami cables, at just $13.99 a pair, they are what they are. When ordering, be sure to get the lengths you need for your speaker placement. The XLR cables are like speaker cable, you need a sufficient length for your placement.
Speaker Stands: 21" White Stands for MartinLogan Motion 15 Speakers
As for speaker stands, we have thrown in a nice looking 21" speaker stand. While listed as being for the Martin Logan Motion 15 speakers, it is sufficiently sized for use with the LP-6. A pair of these run just $65.95. These stands are sturdy for the price and look nice. They won't compare with better stands costing many times more, but the fact that they are this nice for such a low price is impressive none the less. At just 21" tall, these might be a little short for some listening positions, so before ordering be sure that the speaker and stand combination matches your listening height. 
Source
BYO
At this point, I see no reason to add an expensive source to the mix. Everyone has a computer, laptop, smartphone, or tablet and all of these makes for potentially excellent sources. Certainly, you could add a dedicated source such as a raspberry pi-based audio streamer to the mix. I leave the source choice up to you. My goal in these choices was to provide a system that relies on what you likely already have where possible, without compromising the sound.
Summary
As with anything, audio faces diminishing returns in which ever-greater increases in performance cost exponentially more money. I wish I could give you a dollar amount and say that for X dollars you get 99% of the best out there. The reality is, no such dollar amount exists, I cannot quantify quality like that. What I can do is provide a recommended system that I am confident was not achievable just ten years ago. The sound quality from this system is extraordinary, especially when you consider the price. The combination of the Kali Audio LP-6, S.M.S.L SU-8 DAC, and appropriate accessories, combined with your existing computer and music of choice will lead to extremely satisfying sound. You will be hard-pressed to get better sound for less money and spending more will likely achieve less in many cases. This system is that good. The total price of this system, using the shorter XLR cables we noted, comes to $701 with free shipping from Amazon. Adding longer XLR cables for the mains would increase that price slightly. That is a lot of system for just about $700.      
To make things easier we've attached an AMAZON WISHLIST so you can get all these great products at the touch of a button. 
| | | |
| --- | --- | --- |
| Speakers | Kali LP-6 | $149 ea x 2 |
| DAC | S.M.S.L. SU-8 | $250 |
| Volume Control | Nobsound | $60 |
| Cables | Furui XLR's | $14 x 2 |
| Stands | Generic 21" White Stands | $65 |
| | Total | $701 |
Confused about what AV Gear to buy or how to set it up? Join our Exclusive Audioholics E-Book Membership Program!