APC AV C10 Home Theater Power Filter Review
APC AV C10 Home Theater Power Filter Review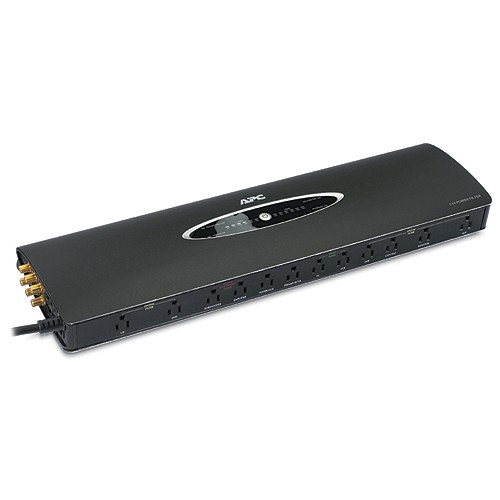 INPUT
Input Voltage Range for Operation (on utility): 92V - 140V
Nominal Voltage: 120 Vac
Allowable Input Frequency for Operation (on utility): 50-60 Hz
Rated Input Current: 15 Amps
Input Circuit Breaker Rating: 15 Amps
OUTPUT
Number of Outlets: 12 (all outlets are surge protected and filtered)
Outlet type: NEMA 5-15R
Rated Output Current: 15 Amps
SURGE PROTECTION & Filtering
Let-Through Voltage Rating: < 40 Volts
Data Line Protection Jacks (splitter): Single-line 2-wire phone line protection for phone, modem, or fax.
Coax: 5MHz-1GHz Three pairs
EMI/RFI Noise rejection (100 kHz to 10 mHz) 55 dB
MISCELLANEOUS
Total Surge Joules: 3400 Joules
DC Trigger: One 3.5mm mini-jack plug (5-30V)
Physical Dimensions (H x W x D): 22.7" x 6.5" x 2.2"
Unpackaged Weight: 6.71 lbs
Safety Agency Approvals: UL1449, UL 1363, UL + CSA FCC Part 68 & 15 Class B, CE
Pros
Excellent Filter and Surge Suppression
Major Agency Approvals (UL, CSA, Part 15 & 68)
Monitors Line Voltage, Wiring and Filter Conditioning Status
Cons
Not rack mountable
Useless wall bracket
Introduction
The APC AV C10 marks another well executed and no BS A/V power product from a company that is, in my experience, unparalleled in their collective knowledge of power protection and backup. With all of the major safety agency approvals (ie. UL, CSA, Part68, etc), 12 filtered and surge protected outlets, connections for cable TV, phone, ethernet and line voltage monitoring, the APC AV C10 is everything one could ask for in a power strip and more. I highly recommend this unit for anyone looking for a cost effective power filter solution with ample outlets and unparalleled reliability.

Confused about what AV Gear to buy or how to set it up? Join our Exclusive Audioholics E-Book Membership Program!
Recent Forum Posts:
Darkwing_duck posts on September 30, 2013 04:22
Anyone? Gene?
Darkwing_duck posts on September 28, 2013 03:29
Daisy chain this into a surge protector

I know this is a very old thread but I read this review and have a question - mainly for gene - would it be safe to daisy chain this power centre into another surge protector just for added protection? In the event of a surge the first surge protector would go saving the $200 power centre. I was thinking this because it would be a shame to lose a $200 power center from a surge when you can purchase a quality apc surge protector for a mere 50 bucks
Rickster71 posts on May 31, 2010 11:14
It's a "Garbage in - Garbage out" scenario and much depends on the quality of the generator output.
TotalComputerGU posts on May 30, 2010 16:14
Sorry, NOT the best …

This unit will NOT operate under generator power. So, if you have any kind of power outage/failures, this is NOT the unit for you. EVEN if you put it on the back side of an APC UPS-XS model, which the documentation says is no problem …. it will NOT power on. THe APC UPS is supposed to clean the power OUT of the box, then the AC10 should work … but this china junk just don't do the trick. If generator power is NEVER an option for you, then no problem …it's OK, but even in a brown out, or weak power, the AC10 shuts off even on the 2000W APC UPS-XS … so it's kinda POS from that standpoint … otherwise, it's fine.
scott911 posts on March 19, 2008 15:00
concerning my A/C brown outs - are you aware of a suitable device I can ADD to my APC C5?
Post Reply