Panamax M4300-PM Power Manager Review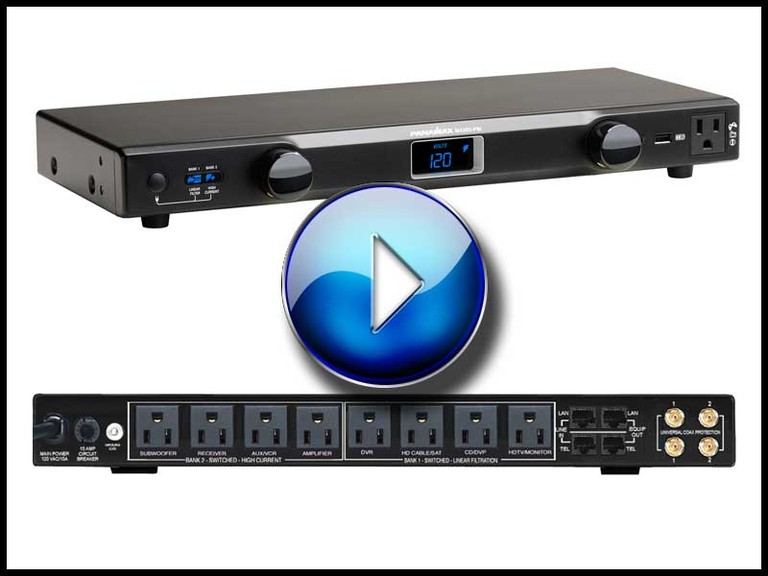 Panamax M4300-PM Power Manager
Summary
General
Weight 6.5 lbs.
Rack Ears Not included
Dimensions 17 in. W x 7.75 in. D x 1.75 in H, (2.125 in. Including feet)

AC Power
Under-voltage shutoff 90 VAC ± 2 VAC
UL1449 Suppression Rating 330V
Total Current Capacity 15 A
Thermal Fusing Yes
Protection Modes L-N, L-G, N-G
Power Cord 10 ft fixed
Peak Impulse Current 65,000 Amps
Over-voltage shutoff 142 VAC ± 5 VAC
Line Voltage 120V, 60Hz
Initial Clamping Level 200V
Energy Dissipation 1650 Joules
Catastrophic Surge Circuit Yes

EMI/RFI Noise Filtration
Bank 2, High Current Switched Outlets 49 db, 100 KHz − 2 MHz
Bank 1, Linear Filtration Switched Outlets 60 db, 100 KHz − 2 MHz

LAN Circuits
Wires Protected 8-Wires
Jacks RJ-45
Compatibility 10/100bT
Clamping Level 50V

USB Circuit
Power Delivery 5 x 100mA
Jacks USB

Telco Protection
Suppression Modes Metallic & Longitudinal
Lines Protected 2-Wire, Pins 4 & 5
Fuseless/Auto-resetting Yes
Connectors RJ-11
Clamping Level 260V
Capacitance 30pf (approx.)

Universal Coax Protection
Shielded Yes
Insertion Loss < 0.5 dB
HD 1080 i/p Ready Yes
Frequency Range 0 MHz - 2.2 GHz
Connections Female "F", Gold Plated
Clamping Level 75V
Bidirectional Yes
Executive Overview
Having a good power manager like the Panamax M4300-PM connecting your gear does several things. For one, it cleans up your equipment, giving you a single source to connect all of the AC power for your gear. More importantly, however, it gives you something between your expensive AV equipment and the wall, so that if you ever encounter lightning or any other power surge event, something other than that new LCD or plasma display can take the hit. Panamax has been around for a long time and they are offering some beautiful-looking products to deliver power protection as well as rudimentary filtering of AC line noise (like the kind caused by vacuum cleaners, florescent lighting and similar products). Its power cleaning and linear filtration eliminates common symptoms of contaminated power like pops, hisses, and hums and allows your A/V equipment to perform up to its full capability.
Panamax's patent pending AVM (automatic voltage monitoring) circuitry continuously monitors the incoming AC power and displays it on the digital front panel voltmeter. This is a blue LCD display that tells you instantly what the power is coming into your A/V equipment. In cases of serious undervoltage or overvoltage, a flashing red lightning bolt will be displayed in the voltmeter, and power to the connected equipment is automatically turned off in order to protect your gear. When voltage returns to a safe level, power to the equipment is automatically reconnected. The M4300-PM is designed to provide complete noise isolation between 2 isolated outlet banks. This includes 5 filtered outlets and 4 high current outlets (for amplifiers and subwoofers) so that any noise created by an A/V component cannot cause noise on equipment plugged into the other outlet bank. All of the outlets are controlled from the front panel's main power button.
The back of the unit, in addition to the 8 AC outlets, has provision for filtering Ethernet (RJ45) and phone line (RJ11) cables as well as two separate coaxial cable feeds. The coax cable protection has a bandwidth of 0-2.2GHz so it should be compatible with all current digital cable and satellite TV services as well as all over-the-air antenna inputs. 

There are a few convenience features, too like the fact that one of the switched filtered outlets is on the front, and is dubbed a "gaming" outlet so that you can easily plug in a console or other device directly without having to go around back. There's even a USB output there as well so you can charge up MP3 players, cell phones or other electronic devices directly from the front panel.
The Panamax is a beautiful unit and one that we'd recommend to those who have a focus on protection and who may be short on space. At just under $300, it's not the cheapest unit by far in this category, but with some advanced features like switchable front panel lights, an integrated USB charger and the dedicated front outlet, it certainly has some nice curb appeal. At just 1-3/4" in height, it's also compact enough to fit into just about any location.

Unless otherwise indicated, this is a preview article for the featured product. A formal review may or may not follow in the future.