Monster HTS 3500 Home Theater Reference Power Center
Monster HTS 3500 Home Theater Reference Power Center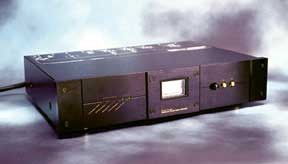 Monster Power HTS 3500
Monster Clean Power Stage 3 filters optimized for digital, high current audio, and video applications.
$100,000 Connected Equipment Warranty.
Protects coax lines used with cable TV, DBS, and DSS equipment from surge pulses.
Ultra-high 2775 joule rating provides full capacity surge protection.
12 volt trigger input for remote turn-on of switched outlets.
Pros
Excellent Build Quality
Superb Video Filtering
Clear and Logical Ergonomics
1300 joule power protection
Phone splitter with Gas Surge Arrestor for added satellite receiver or DIVX/DSS/WebTV dial-up protection
Cons
Not enough switched power outputs
Quirky blue light on analog display
Introduction
Having a home theater system is a prize possession for those who can afford such luxury. When one plunges thousands of dollars into such a system, it is wise for them to have ample protection from surges coming in from the AC power line. Money spent here will decrease the probability of replacing or repairing expensive damaged equipment caused by a faulty AC line.

Confused about what AV Gear to buy or how to set it up? Join our Exclusive Audioholics E-Book Membership Program!