Legacy Audio Calibre Bookshelf Loudspeaker Preview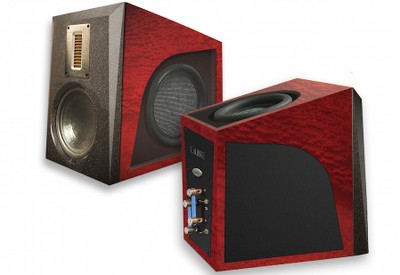 Summary
System type: 3-driver, 3-way
Tweeter: 4" AMT ribbon
Midrange: 7.5" titanium encrusted accordion edge with a 6lb. magnetic structure
Bass: 8" extended throw
Sub-Bass Radiator: two 8" mass loaded pneumatic
Low Frequency Alignment: 6th order mass loaded radiator
Frequency response: 38Hz-30kHz (+/-2dB)
Impedance: 4-ohm
Sensitivity: 92.5dB (2.83V/1m)
Recommended Amplification: 15-400W
Crossover (Hz): 200, 2.5k
Binding Posts: 2pr
Dimensions: 16.25"H x 10"W x 15.25"D
Weight: 50lbs. ea / 56lbs. shipped
Executive Overview
Legacy has been in business since 1983, bringing reference level performance to home theater and audiophile settings.  They bring this quality standard throughout their entire line of products from their $52,800/pr Legacy Helix floorstanding loudspeakers to the $1,795/pr Studio HD bookshelf loudspeakers.  They also used this reference quality manufacturing in their Wavelet Preamp, Wavelaunch Processor, and their Powerbloc2 stereo amplifier.  With this in mind and using this as a standard, Legacy has released the Calibre compact speaker.  Legacy's Chief Engineer, Bill Dudleston stated that his plan was to build the highest resolution compact speaker available.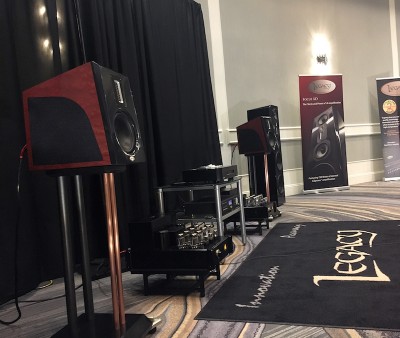 Though only a few inches larger than the Studio HD, the three-way Calibre uses Legacy's high power handling 4" AMT ribbon tweeter, the same one used in their more expensive models such as the V and the Signature SE floorstanding loudspeakers (versus the 1" AMT used in the Studio HD).  The Calibre also features a precision 7.5" custom titanium encrusted accordion edge mid-bass driver with a 6lb. magnetic structure built in Florence, Italy.  The 8" extended long throw bass driver possesses a full inch of displacement capability.  The speaker also has dual 8" mass loaded pneumatic radiators mounted on opposing sides of the cabinet.  These eliminate port noise and cancel resonances.  These speakers have 4-ohm impedance, a frequency response of 38Hz-30kHz, 92.5dB sensitivity, and two pairs of five-way binding posts to allow the Calibre to be bi-amped.  The low end extension and use of the two 8" radiators of these speakers should allow them to be used without the need of a subwoofer especially in a small listening room.  In a large room they may hold their own, but most likely would need the extra assistance of a subwoofer such as the Legacy Metro with a 12" driver and 15" down-firing radiator.   Though these loudspeakers have 4-ohm impedance, Bill Dudleston states that they are designed to sail along with 500w peak inputs with recommended amplification of 15-400W.
These compact loudspeakers are 16.25"H x 10"W x 15.25"D with sloping top surface that tapers toward the rear of the speaker.  The sides are flat and the front baffle has a slight angle similar to the sides of the Studio HD.  They are only several inches larger than their younger brother but are stouter at 50lbs each as compared to the 30lbs of the Studio HD.  The reason for the high density of these loudspeakers is the large drive motors, the 1.75" front baffle, and the dual 8" mass loaded radiators.  Along the lines of Legacy's other products, the Calibre loudspeakers are available in 11 finishes.  No matter which finish you choose, they always come with a Black Pearl front baffle which is different than their other bookshelf loudspeakers. The finishes available at the standard $5,500/pr price point are the Cherry, Black Oak, Medium Oak, and Walnut.  The price hikes up to $5,950/pr for the Rosewood, Black Pearl, Curly Maple, and Sapele Pommele Natural finish.  The last price bracket is $6,500/pr for the Bird's Eye Maple, Olive Ash Burl, and Sapele Pommele High Gloss finishes.  These finishes look outstanding in the company photos and I'm sure will look exquisite in person.  These remind me of some of the finishes available from Salk Sound and custom finishes from Philharmonic Audio both made to order by Jim Salk.
Conclusion
If you are looking for reference quality sound from a bookshelf loudspeaker and have the funds for it, then look no further than the Legacy Calibre loudspeakers.  In this case you'll get what you pay for: quality veneer finish, advanced internal components, superb cabinet build, and more importantly excellent sound quality.  Legacy has been manufacturing premium quality audio products for quite some time and the Calibre loudspeakers continue this tradition.  Let us know what you think about these speakers in the related forum thread below.
Confused about what AV Gear to buy or how to set it up? Join our Exclusive Audioholics E-Book Membership Program!
Recent Forum Posts:
gene posts on November 07, 2016 22:43
Making a debut this year at RMAF (Rocky Mountain Audio Fest) the premium audio company Legacy unveiled their Calibre loudspeakers. We are really excited about seeing this new line of speakers from Legacy which will begin shipping this month and we're hoping that it raises the bar for what a compact speaker can do. It's designed to meet the high performance standards of recording studios and bring a level of resolution to audiophiles in a compact design. Similar in size to Legacy's Studio HD (reviewed here on Audioholics by our own Marshall Guthrie) the Calibre loudspeakers are several inches deeper and taller. Check these babies out.





Read: Legacy Audio Calibre Loudspeaker Preview
Post Reply