Programmable Universal Remote Control Comparison
Programmable Universal Remote Control Comparison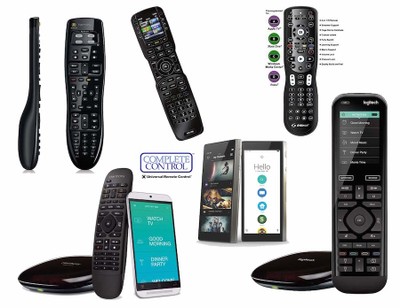 In today's age of technology, convenience and simplicity are top priorities.  There are numerous programmable remote controls available in today's market.  Many claim to be the end-all-be-all of universal remotes.  While many have a wide array of features and actually do a pretty decent job, there are units that go a step further for people who want one remote to truly be a multi-tasking device.  In this article we briefly look into a few of these jacks-of-all-trades and give them a rundown for your convenience.  Some are a little more expensive than others, but these are all still considered "budget" items.

Logitech Harmony 350
$39.99 | Buy Now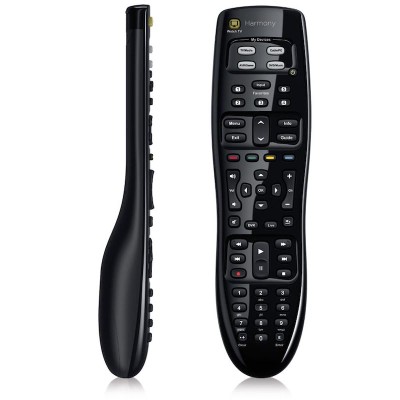 Many people are very familiar with Logitech universal remotes, since a lot of people consider them to be among the top products of this genre.  Accordingly, several of their products—both old and new—made it onto this list.  The Harmony 350 is the first Logitech item we'll look at.  Though considered one of the bottom end models, the Harmony 350 is no slouch.  It has the ability to program commands for eight different devices.  The glossy black, all-buttons remote can connect to the Internet via a supplied USB cable.  Simply hook up the remote to your Windows (XP, Vista, 7, 8 PC or Intel-based Mac OS X 10.6 or later) and go to setup.myharmony.com and download the commands for your devices.  Logitech's vast database contains codes for 225,000+ devices.  Once downloaded, you can program five one-touch buttons to quickly operate five different devices.  This device, like other Harmony remotes, can also operate Nintendo Wii, Xbox 360, and Xbox One. If you are looking for a nice universal remote and you are on a tight budget, this may be the device for you.
Logitech Harmony Companion
$149.99 | Buy Now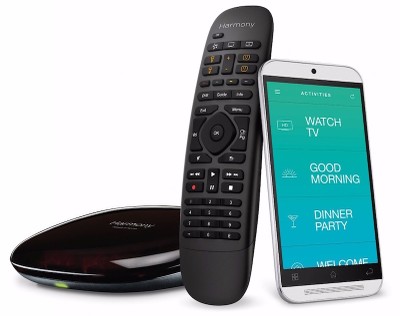 This mid-priced product comes with a Harmony Home Control remote, with a Home Control Hub that enables commands to be relayed from the remote at a much longer distance.  This remote has access to over 270,000 codes and can operate up to eight devices.  The hub can also receive commands from an iOS or Android device via the download of the free Harmony mobile app.  Once set up, this can be quite a comfort, especially if the actual remote gets misplaced.  Another major feature is that the device can also connect to the various automated systems for the home, such as Nest and smart home platforms such as SmartThings.  The Home Control Remote is also compatible with Apple TV, Roku, and Sonos.  Another added feature is that the Home Control remote can operate PS3 and PS4. 
For more information, visit Logitech's website.
Logitech Harmony Elite
$349.99 | Buy Now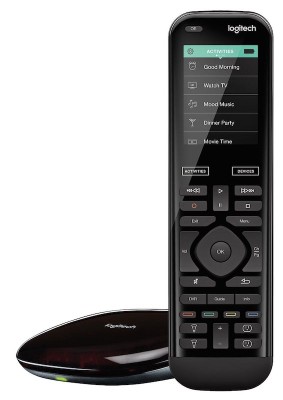 This remote is considered Logitech's most powerful and intuitive remote for home entertainment and control.  It has a lot of features similar to the Harmony Companion, but unlike the previously mentioned Harmony remotes, this remote has a rechargeable battery rather than conventional batteries.  A charging dock is included.  This device also comes with a 2.4" touchscreen that can receive commands by gestures to control the volume, make selections, and dim the lights when connected to a smart home system.  The remote also has vibration feedback so you can feel what you are doing.  This, according to Logitech, is so you can keep your eyes on the entertainment and not your remote.  Another step-up difference between this unit and the other two Harmony remotes is that it can control up to 15 devices.
Ray Super Remote
$249 | Buy Now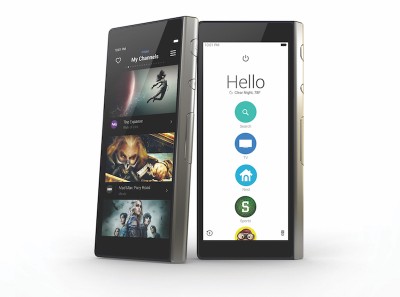 This remote, which looks very similar to an iPod touch, can also operate a number devices and has codes for 1200+ devices (although not as many as the Harmony remotes).  At $100 less than the Harmony Elite, it offers a 4.8" touchscreen, rechargeable battery, and also has Roku, Apple TV, Xbox, and Nest as standard apps preloaded in the device.  Another unique feature of the Ray Super remote is that when watching TV through your Cable or Satellite provider, you can add a list of channels or programs to a "Favorites" menu.  Once these channels and programs are added to the list, the Ray Super remote retains that information and also finds shows similar to the ones you have in your "Favorites".  This is similar to the "thumbs up" or "thumbs down" on Pandora.
URC MX-780
$195.95 (Amazon price) | Buy Now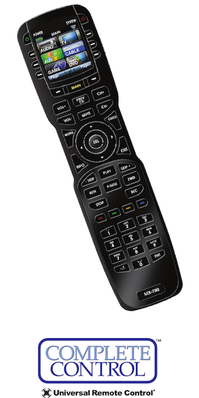 URC (Universal Remote Control) is a company that specializes in automation products for commercial or residential applications.  The MX-780, like most other URC products, requires professional installation through third-party retailers like Best Buy's Magnolia Home Theater and other local vendors. Similar to Control 4, Crestron, and Nest systems, URC has systems that control almost everything in your home or business.  They also have systems available for minor entertainment applications similar to Logitech Harmony systems. The URC MX-780 is a universal remote from URC's Complete Control system that was released last year.  The Complete Control systems are specialized for family room entertainment and Home Theater. It has a 1.5" touchscreen, which is smaller than the others, but it can control up to 48 devices and has four color-coded buttons for quick operation of four devices. URC also offers an incredibly powerful MRF-350 RF base station that extends the range up to 100ft, allowing you to control equipment hidden elsewhere in the home. For a remote geared towards whole-home automation, check out any of URC's Total Control offerings.
Inteset INT-422
$25.95 | Buy Now
For another truly affordable programmable remote, there is the Inteset INT-422.  Although it has fewer features than the Harmony 350, this remote is still pretty capable.  It comes with codes for Xbox One, Roku, Nvidia Shield and Media Center, and Apple TV. And, if you desire to do so, the codes can be changed .  You can apply self-adhesive button labels to replace the labels of the pre-programmed apps.  For $25.95 it's a competent remote, albeit with the ability to operate only four devices.  The color-coded buttons can be used to operate the Xbox color button commands.  They can also be used to for Netflix, Pandora, and Crackle apps for Roku.  For more information please visit Inteset's website.
Conclusion
There are many programmable universal remote controls available at a wide range of prices and capabilities.  We hope this short list of products sheds some light on the various products available your local electronics store or through an authorized vendor.  If you have or are looking for products such as these, please post your experiences and comments.
Confused about what AV Gear to buy or how to set it up? Join our Exclusive Audioholics E-Book Membership Program!
Recent Forum Posts:
3db posts on August 11, 2016 07:23
I'm on my third Logitech harmony remote,, the first one bit it during a flood, and the 2nd one had the "ok" button wear out after 5 years of heavy use. I now have two Harmony 650 (one per HT system) which can control 8 devices but also has the ability for creating over 10 separate macro activities. I found this model to be highly reliable, well balanced in the hand with a good button layout. There programming interface is very fast and intuitive. I swear by this model.
user38 posts on August 08, 2016 22:59
Well, I am a Logitech fanboy and the Harmony Elite is, hands down, the best universal remote I have ever owned. Having said that, it appears the Harmony Companion shares most of my favourite features of the Elite at less than half the price. Regardless, I am happy I spent the extra cash because the Elite has a nice hand feel. If your role in the household is to be captain of the television, you need a remote that feels nice to hold: for me that is the Harmony Elite.
bombadil posts on August 08, 2016 14:48
I like this web site, lots of good information, but frankly this "comparison" was nothing more than a commercial for all the various universal remotes. Was there one single bit of information that shed any light on how they performed? Were they tested at all, or was this just as it appears, a cut and paste list of what's out there? It takes a lot of time and effort to do a true objective and informative comparison test, you didn't come close.
Jottle posts on August 08, 2016 13:45
This is a helpful and important comparison. Even though I own the black sheep of the URC family (MX-810 Wizard Remote), it still does everything I need it to do without fail. My universal remote is easily my favorite piece of HT gear because it's the only one that actually makes using my components easier and more efficient. A good universal remote, which can be had for so little, can change the whole experience of getting to the media you want to hear/see.
DrGerm posts on August 08, 2016 13:39
I also pre-ordered a NEEO. I simply CAN'T wait to get it…

I've used 6 or 7 Logitech remotes. The 880, 900, and One. I highly recommend that if you get a Logitech Harmony, just get their cheap $35 or less remotes. Their high priced ones just aren't worth the money. I haven't used the newest generations, but definitely don't spend much on the older versions that require their crappy, outdated, cloud based software. I'm waiting for the day they close that down and then my remotes will be totally worthless.
Post Reply