2016 Yamaha RX-V81 Atmos/DTS:X A/V Receivers Preview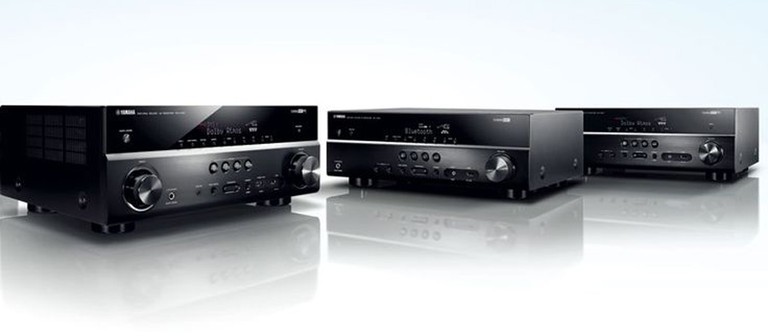 Yamaha RX-V81 Atmos AV Receivers
Summary
Yamaha RX-V481
80w x 5 channels
HDMI 4in/1out
(HxWxD) 6 3/8" x 17 1/8" x 12 7/8" (unboxed)
17.9 lbs. (unboxed)

Yamaha RX-V581
80w x 7 channels
HDMI 4in/1out
Dolby Atmos/ DTS:X
(HxWxD) 6 3/8" x 17 1/8" x 12 7/8" (unboxed)
17.9 lbs. (unboxed)
Yamaha RX-V681
90w x 7 channels
HDMI 6in/1out
Dolby Atmos/ DTS:X
(HxWxD) 6 3/4" x 17 1/8" x 14 7/8" (unboxed)
22.1 lbs. (unboxed)
Yamaha RX-V781
95w x 7 channels
HDMI 6in/2out
Dolby Atmos/ DTS:X
(HxWxD) 6 3/4" x 17 1/8" x 14 7/8" (unboxed)
23.4 lbs. (unboxed)
Executive Overview
Yamaha is about to release in the coming months some impressive AV receivers to go along with many of their other fine AVRs.  As with every other manufacturer, these receivers compete with many of the similar products available.  These receivers are the RX-V481, RX-V581, RX-V681, and the RX-V781 all of which feature  immersive surround sound (except the RX-481).  They incorporate the latest Wi-Fi audio application developed by Yamaha, MusicCast.  This is a free application that can be downloaded to your smartphone or tablet and uses your existing Wi-Fi network to stream music throughout your home.  This is similar to the Chromecast because one can use the same music streaming services.  The big difference is that one can play the same music in all rooms or different music in different rooms.  If one does not want a wireless hook-up, one can choose to have a wired network as well.  The only catch is that one would need MusicCast enabled audio equipment in the desired room, such as speakers, receivers, or sound-bars in order to experience the application fully.  Another Wi-Fi capability all of the featured receivers exhibit is Yamaha's AV controller application that allows a smartphone or tablet to become a remote control for their current products.  Each of the four receivers mentioned here all incorporate the Compressed Music Enhancer developed by Yamaha to restore compressed music to the way it was meant to be.
| | | | | |
| --- | --- | --- | --- | --- |
| Model | RX-V481 | RX-V581 | RX-V681 | RX-V781 |
| MSRP | $449.95 | $549.95 | $649.95 | $849.95 |
| Channels | 5.1 | 7.2 | 7.2 | 7.2 |
| Power,  2ch, 8ohm, 20Hz-20kHz | 80w, 0.09% THD | 80w, 0.09% THD | 90w, 0.06% THD | 95w, 0.06% THD |
| Dolby Atmos | No | Yes | Yes | Yes |
| DACs | 24 bit | 24bit | 24 bit | 24 bit |
| HDMI I/O | 4/1 | 4/1 | 6/1 | 6/2 |
| HDMI Ver. | 2.0 | 2.0 | 2.0 | 2.0 |
| HDCP | 2.2 | 2.2 | 2.2 | 2.2 |
| MHL HDMI Input | No | No | Front Panel | Front Panel |
| Digital In (Opt/Coax) | 1/2 | 1/2 | 2/2 | 2/2 |
| Phono In | No | No | Yes | Yes |
| Video Upconversion | 4K pass-through | 4K pass-through | To 4K | To 4K |
| Preouts | Subwoofer | Subwoofer (2 x mono) | Subwoofer  (2 x mono) | 7.2-ch |
| Powered Zone 2/3 | No/no | No/No | Yes/No | Yes/No |
| Zone 2/3 | No/No | No/No | Yes (pre-out)/No | Yes (pre-out)/No |
| Line Out | - | - | - | - |
| Zone 2 HDMI | - | - | - | - |
| Weight | 17.9 lbs. | 17.9 lbs. | 22.1 lbs. | 23.4 lbs. |
The Yamaha RX-V481
At $449.95, the RX-V481 with 80w per channel, is the least expensive of the bunch, but still boasts quite a bit of the staple Yamaha features found in the more expensive units.  With built-in Bluetooth and Wi-Fi technology, you can stream audio from a smartphone, tablet, or other capable device.  The main similar feature is the MusicCast capability.  MusicCast is developed by Yamaha as an advanced wireless multi-room audio feature.  This allows one to play different music in different rooms, but also the same music in all rooms if one chooses.  Like I mentioned earlier, the catch is there must be a MusicCast enabled device in the desired room.  Even though this receiver does not have Dolby Atmos or DTS:X, it still features Dolby TrueHD, DTS-HD lossless surround sound, Yamaha's discrete amp configuration, subwoofer trim, and YPAO beneficial for those with a modest 5.1 speaker set-up who still want to get a great cinema/music experience at home.  This receiver also features Yamaha's Virtual Presence technology that simulates the effect of having front "height" speakers without actually having "height" speakers connected.  Not to mention that this model also comes with 5-way binding post speaker hook-ups for easy connect banana plug speaker terminations.  An unusual feature that this receiver has, is the ability to bi-amp the front speakers for a 3.1 system, use the rear speakers as Zone B speakers or just use the receiver for a two-channel system.  That's pretty cool in our book.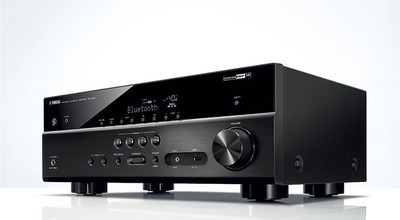 Yamaha RX-V481 AV Receiver
The Yamaha RX-V581
With the RX-V581 and only $100 more than the RX-V481, one can start to delve into many of the features offered from Yamaha.  This 80w 7.2 channel AVR with 5-way binding posts offers Dolby Atmos and DTS:X decoding.  The subwoofer trim technology that Yamaha incorporates in their modern receivers is probably more effective when used with two subwoofers rather than one to further enhance the sound imaging and smoothing that two subwoofers can provide.  This is also beneficial for those with basically "plug'n'play" subwoofers that do not have any bass management features on the amplifier section.  MusicCast is also available with this receiver as it is available with all the receivers in this series.  With the connections on the rear of this receiver, one can use a single rear "back" speaker for 6.2 playback, two speakers for true 7.2 playback, Zone B connection for two speakers in another room, front "height" speakers, or one can choose to Bi-Amp the front channel speakers if the speakers allow for this connection.  This receiver also features Yamaha's Virtual Presence and Virtual Surround Back speaker technology which allows one to use the system to reproduce the effect of "Height" speakers and surround "back" speakers even when there no actual speakers present.  This is possible only when the CINEMA DSP 3D function is chosen.  This is a nice feature for those who are not able to install rear "back" speakers or "height" speakers.  Though personally, I would opt to install actual speakers and not rely on a virtual reproduction of sound, but to each his own.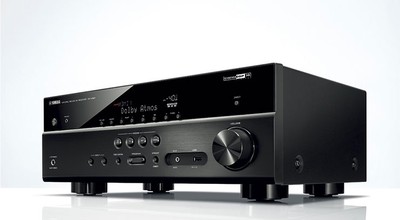 Yamaha RX-V581 AV Receiver
The Yamaha RX-V681
This model has a lot more in common with the next unit up the RX-V781, though it is $649.95 instead of $849.95.  Of all four of these receivers I believe the RX-V681 is the best buy especially for those that have a multi-media A/V room and a wide variety of HDMI sources since this receiver has 6 HDMI inputs.  Compared to the two receivers prior, this unit is a big step up especially in the features department.  The RX-V681 not only has all the capabilities of the younger siblings, the same look, though a little deeper, about 5 lbs. heavier, but now has Rhapsody music streaming and Sirius XM Internet Radio capability.  Not just featuring 4K pass-through for those with 4K monitors, but this receiver also has 4K upscaling, which converts images of low resolution to ultra HD resolution.  This receiver comes with a color GUI vs. the basic color OSD of the lesser models.  The Zone 2 feature is also available with this receiver.  The RX-V681 also features a Phono connection for those with a record player.  Another great feature is not really a networking frill but more of a internal processing plus, which is the 90w per channel at 0.06% THD to go along with Yamaha's already exceptional discrete amp configuration for superb audio quality. Granted it is not the >0.02% THD that I have seen available in other products, but this is still extremely good for what is still considered a budget receiver.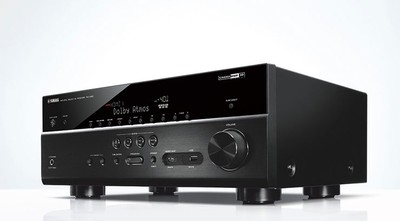 Yamaha RX-V681 AV Receiver
The Yamaha RX-V781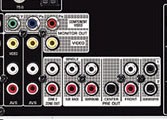 With 95w per channel also at 0.06% THD, the RX-V781 has a little more power for those that like to turn up the volume.  This receiver is the only one out of the four to have an Input knob.  Some other reasons for the price jump is the high-grade aluminum front panel, a second HDMI output (though with no ARC), and a more advanced YPAO featuring R.S.C (Reflected Sound Control).  According to Yamaha, in addition to their YPAO, R.S.C. corrects early reflections for studio-quality sound and provides DSP Effect Normalization, which varies their own CINEMA DSP parameters according to the reflected sounds.  A diagram illustrating this is found on their website.
Of course, the most important upgraded feature in our book for the RX-V781 is it's inclusion of 7.2 channel preouts.  It's rare these days to find an Atmos AVR that offers full preamp outputs on all of its channels for under $1k so we are pleased that Yamaha has done so with this model. For those contemplating on adding more power down the road, it's absolutely worth spending the extra $200 for this model to get this feature. In fact, to our knowledge this is the least expensive Atmos/DTS:X AV receiver that offers multi-channel preamp outputs doubling its application as a cost effective dedicated pre/pro alternative.  Kudos to Yamaha!
for more information see:  When to Add an Amp to an AV Receiver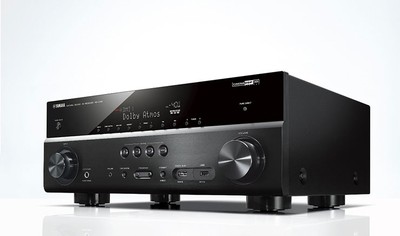 Yamaha RX-V781 AV Receiver
Conclusion
Since its inception in 1887 as a piano and reed organ manufacturer, Yamaha has been a huge contribution to the music world.  Heck, the logo shows it with its three tuning forks arranged in a crisscross pattern.  The company has become one of the if not the world's largest manufacturer of musical instruments.  Their digital pianos are some of the best.  It's only fitting that Yamaha utilizes its advancements with the low THD of these receivers along with the discrete amplification, 192kHz/24bit DACs, MusicCast, and the Compressed Music Enhancer.  The consumer, especially the music loving kind, can enjoy excellent reproduction of music material at a truly affordable price.  Yamaha's steps in providing a great home theater experience is also evident with incorporation of the advanced YPAO R.S.C. in the RX-V781, the decoding of the newest sound technology to really customize the sound field to a particular room to give one a great cinematic experience.  The only way to tell is, of course, have one in your room.  Let us know in our dedicated forum thread below which new Yamaha model you plan on buying and how it performs when you get it all set up.

Unless otherwise indicated, this is a preview article for the featured product. A formal review may or may not follow in the future.