PRO Audio Technology / Trinnov 23-Channel Dolby Atmos/DTS:X Demo Experience
PRO Audio Technology / Trinnov 23-Channel Dolby Atmos/DTS:X Demo Experience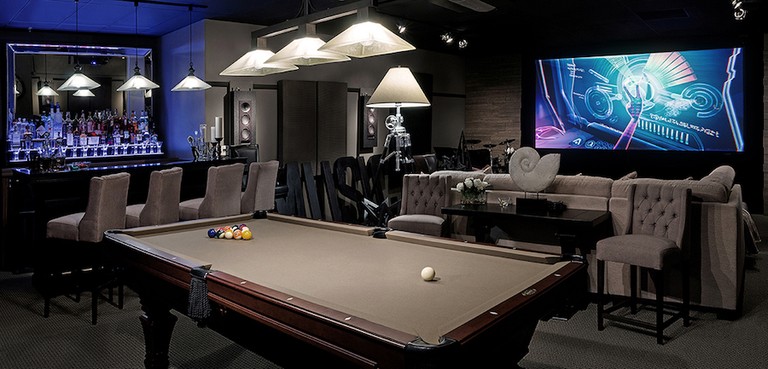 PRO Audio Technology or Professional Home Cinema LLC, was founded in 2004 through the collaboration of Paul Hales (creator of the Transcendence 8 floorstanding speakers) and Larry Reagan.  According to PRO, the principle of the company was and still is to combine audio engineering technology from consumer and professional audio fields to produce the most accurate, robust, and aurally-exciting audio products for installed residential systems available anywhere.  All this comes at a price, of course, but like a lot of high quality products, "You get what you pay for."  This system is definitely no exception.  In conglomeration with Trinnov Audio, a French manufacturer of high-end audio equipment, for this demo event, it was like the marriage of two of the most powerful figures in the known world of A/V.  This resulted in an experience unlike any other aside from the nearest Cineplex.  It was a revelation of what is possible in the home. 
At their office in Southern California, I was fortunate enough to experience this first hand.  PRO Audio was demonstrating their pre-installed custom sound system to give an all-encompassing audio experience of music and film material alike. Their systems start in the high teens, meaning >$15K for a pretty basic 5.2 channel system.  This includes amplifiers, loudspeakers, subwoofers, etc.  They have previously installed much larger systems up to roughly $500K, but the one at their facility represented what can be achieved in your own home specifically as a dedicated home theater.  This system cost roughly $100K with 14,850W of power.  They can also custom install audio throughout your home, office, etc. not under a high-pressure sales standpoint, but with the customer in mind.  According to Larry Reagan, PRO Audio strives to sell on a scientific standpoint by presenting customers what can be achieved with their various products depending on the customer's budget and what type of application they want to use the loudspeakers for.  The end result is customer satisfaction by giving them what they need rather than just selling them something.
High-End Modest Two-Channel Set-Up
PRO Audio's conference room displays an exemplary 2-channel system.  It's a prime example of what they can install in a non-home theater application.  There was a display in one corner of the room that exhibited a number of the loudspeakers that PRO produces.  This two-channel system contained one of their 8-channel amplifiers, a DMA 1508, which is a 1U rack space amp with up to 1500w of power.  It is 1.75"H x 19"W x 14.13"D, weighs in at only 8lbs. and has a standby power draw of only 0.5w.  This amp can be connected in a 5.2 channel system with a configuration of 2 x 300w (channels for two subs) + 6 x 100w for all other channels including the ability to bi-amp the center channel if need be.  It can also be configured in the following ways:  3 x 300w + 4 x 100w, 4 x 300w +2 x 100w, and 5 x 300w.  In this case, the DMA 1508 was configured in a two-channel configuration and powered by an OPPO HA-1 USB DAC headphone amp.  The HA-1 was processing streaming CD-resolution content from Tidal via USB from an attached laptop.  Larry was playing some smooth jazz.  Even a humble stereo set-up has been taken to the next level.  That's what PRO does.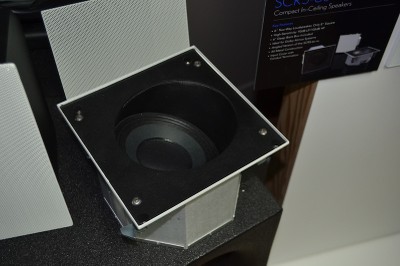 SCRS-6c-ica (in-ceiling angled)
The audio was pouring forth smooth as butter from a couple of newly-developed in-ceiling speakers that are now available for purchase, SCRS-6c-iw.  These are actually meant to be in-wall speakers (hence "iw") but as displayed at PRO, can also be used in-ceiling.  These speakers are a single 6" two-way loudspeaker with a compression tweeter (which is PRO's go-to style) mounted in the pole piece of the 6" driver.  This loudspeaker is set in an 8" fully enclosed cabinet.  It also presents high sensitivity 93dB LF/105 dB HF.  PRO Audio engineers their loudspeakers and subs to play at reference levels to appropriately integrate their products for various room sizes.  This means their products can reach a maximum output matching or above cinema specifications of 105dB.  The perforated metal grille comes in white, but can be painted. The SCRS-6c also comes in an angled version SCRS-6c-ica (in-ceiling angled), which is meant to be placed as height speakers or surround back speakers.  The main purpose for both of these speakers is to be utilized in a Dolby Atmos/DTS:X environment.  Of course, what you do with them is entirely up to you.  These loudspeakers produced a very realistic soundscape, even from just two speakers.  The individual sounds of the instruments came through with detail.  The high frequencies were not harsh-sounding at all.  Due to their high sensitivity, these small speakers played the music effortlessly with no hint of strain.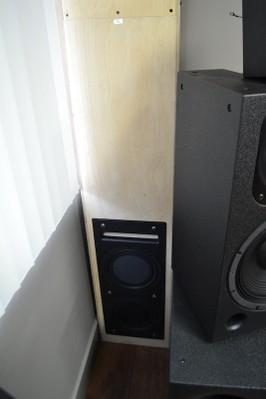 LFC-210im (invisible mount)
The bass was supplied by the newly available LFC-210im (invisible mount).  This is a dual long-throw carbon fiber 10" in-wall subwoofer that fits within a standard 2" x 4" architectural wall.  It is 84"H x 14"W x 3.9"D and comes with an optional low-profile paintable metal grille.  This sub has 93dB/1w sensitivity with a high output bass reflex design and a frequency range of 25Hz-125Hz.  The crossover is an 8th order design via DSP with a power handling of 500w and a maximum output of 114dB.  These two drivers have two voice coils per driver.  As with all of PRO's subs, which are not powered, these are produced to receive power via PRO's amplifiers to maintain product consistency.  To the touch, the two 10" drivers are stiff, due to the carbon fiber, so they play tight and controlled, but with great output.  This sub naturally blends with the two SCRS-6c-iw speakers for an exceptional audio experience.  Despite being able to play at reference levels, these products also provide a great low output listening experience because at these levels they just coast right along. 
You've enjoyed the prelim, now for the main event!