What Are Dolby Atmos-Enabled Speakers?
What Are Dolby Atmos-Enabled Speakers?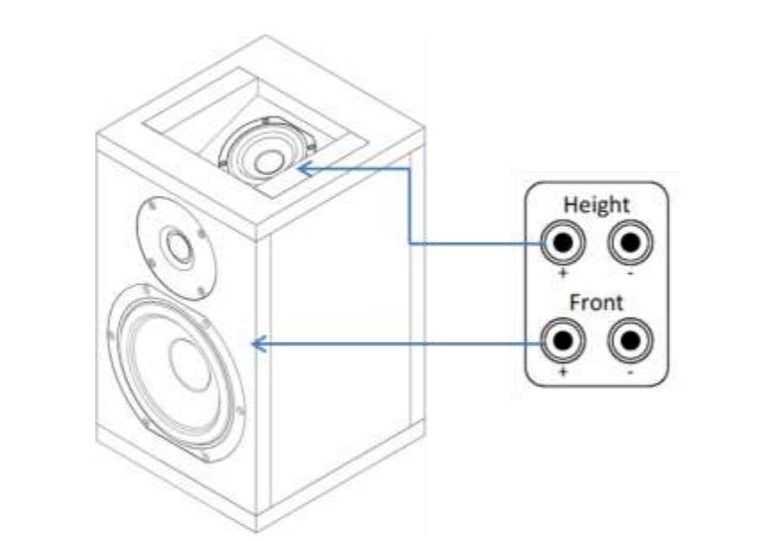 Dolby Atmos Elevation Speaker Diagram
Atmos, Dolby's next generation object-oriented audio format, is about to make its formal debut in the home theater market.  You currently have two options to take advantage of this technology, both of which involve adding more speakers to your current 5.1 or 7.1 speaker system via one of these two options. 
1.  In-ceiling or ceiling mounted speakers firing down at the listening area
2.  Atmos Up-firing Elevation speakers placed on top of your front/rear speakers to reflect sound off your ceiling
Editorial Note About Dolby Atmos
Dolby Atmos is a new technology developed by Dolby Laboratories that is said to add an unprecedented degree of realism to movie soundtracks. Dolby Atmos is an object based audio format that allows sound mixers to accurately define the specific location of an audio object in a 3 dimensional listening space. This represents a significant departure from the confines and limitations of channel based audio mixing and playback formats.  It creates the vertical sense of space and layer of sound above the listener that they claim is essential for a lifelike, believable sonic event.
For more information see:  Dolby Atmos For Home Theater Explained
This article focuses on option #2, the Dolby Atmos Elevation speaker and we attempt to get down into the details on how they work.  First, it's important to mention that option #2 is only viable if you have flat reflective ceilings (sheetrock or other hard smooth reflective surface) and your ceiling height is between 8 and 14 ft.  If you have higher vaulted ceilings and/or you have an acoustically treated room with absorption on your ceilings, or your unable to standmount your surround speakers, you will have to use option #1.
 Dolby Atmos Elevation Speaker Explained Part 1
Dolby Licensing Speaker Technology
This is the first instance we are aware of where Dolby is actually licensing speaker technology to loudspeaker manufacturers in the consumer marketplace.  Make no mistake, if you buy an Atmos Elevation speaker and it's marked as such, the loudspeaker manufacturer is paying a licensing fee to Dolby who holds the patent.  The Dolby licensing fee is only disclosed to manufacturers under NDA (Non Disclosure Agreement) and is not public knowledge.
This is the first instance we are aware of where Dolby is actually licensing speaker technology in the consumer marketplace.
See: Dolby Atmos Elevation Speaker Patent
That being said, it's important to note that if you install Atmos Elevation speakers today, they will likely NOT be compatible with future competing surround formats such as Auro 3D and DTS UHD.  In those cases you will likely have to install additional speakers since they will rely on alternative options. This is something to consider if you plan on upgrading your home theater system but want to accommodate the other formats as they work their way into AV receivers and processors.
Editorial Note on Dolby Atmos Elevation Speaker Patent
 Dolby has applied for at least six patents relating to the Atmos Elevation speaker technology though none of the patents have been  granted at the time this review has published.  There has been plenty of prior art for upward firing speakers which makes that portion of their patent rather weak but they do have a good case for getting the patent on the associated circuitry and firmware for Atmos.
Excerpt from up and coming interview with Auro 3D regarding Dolby Atmos Elevation Speakers:
Speakers systems developed to create the height dimension all around the listener by bouncing back the sound from the ceiling using psycho acoustic effects (notch filters) to trick our brain, are NOT the way to create a natural sound experience and as such NOT supported by the Auro-3D format.
Dolby Atmos Elevation Speaker - Courtesy of Dolby Labs

Shown above is a generic diagram of a typical Atmos-enabled (aka. Atmos Elevation speaker) proposed by Dolby. Here we have two initial concerns. First, the driver is recessed into the baffle, which will have issues with diffraction that need to be addressed.  Savvy speaker manufacturers will either use absorptive foam inserts or radiused/angled sidewalls to ameliorate the diffraction.  The foam also helps to narrow the high frequency beam.  It'll be interesting to see who does and who doesn't.  We know for sure that Atlantic Technology gets it as evident by the picture below.
Atlantic Technology 44-DA Atmos Speaker Module (MSRP: $499/pr)
Second, we wonder how the acoustical interference at the lower frequencies (100-1kHz) where sound is directional and the common frequencies between the Atmos driver and front firing drivers overlap will play out for critical listening and if this will change depending on how close the listener is to the Atmos speaker.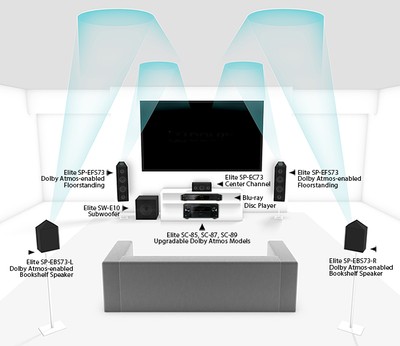 Dolby Atmos Diagram - Courtesy of Pioneer
As you can see in the diagram above of the Pioneer Atmos Elevation speakers, the sound is supposed to fire up at the ceiling and bounce back down towards the listening area.  The Pioneer approach integrates the Atmos driver into the cabinet and is sold as one unit.  The driver is actually flush mounted into a 20 degree angled baffle instead of recessed, which ameliorates our aforementioned concerns about diffraction.
In addition to integrated solutions, some manufacturers are offering Atmos speaker add-on modules to place on-top of your current front and/or rear speakers like this example below from Definitive Technology.  Please note we are huge fans of Definitive Technology speakers and only use this example because they are one of the few brands on the market with productized Atmos modules.  We are hopeful that they will expand their Atmos product line with higher end options like we've seen from some of their competitors.
Definitive Technology A60 Atmos Module (left pic); A60 Integrated with 8060-ST (right pic)
We suspect licensing the "Atmos Elevation" moniker plays some role in the final cost of these type of speakers.

Note this little add-on module (shown above) contains a single 3" paper treated woofer, but retails for a whopping $500/pr.  That's a bit spendy in our book, especially since there appears to be no special magic applied to the physical speaker to justify the price.  We suspect licensing the "Atmos Elevation" moniker plays some role in the final cost.  It's prudent to note that there will be higher end alternatives released by several manufacturers such as the recently announced 2-way coaxial solution from Atlantic Technology and the 4 x 2" Scan-Speak tweeter array from Triad.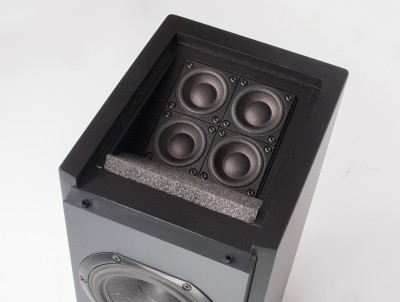 Triad Bronze LR-H Dolby Atmos Elevation Speaker (MSRP: $1000/ea)
The four 2" Atmos drivers of the new Triad LR-H Atmos Elevation speaker are designed to combine acoustically for tight dispersion and good power handling. They're made by Scan-Speak, whom make some of the best drivers in the world.  The tight pattern on the ceiling is said to yield a better effect, without the untidy effects of a wide-dispersion array.
Make Your Own Dolby Atmos Elevation Speaker?
Homemade Dolby Atmos Elevation Speaker using SVS Ultra Bookshelf as Front Firing and JBL Proiii for the Upfiring Array
Making your own Atmos speaker would certainly be a prudent solution while we await a common speaker layout that will work for ALL of the next generation surround formats.
You betcha!  Considering how most of the patent for the Dolby Atmos Elevation speaker resides on the electronics side of the AV receiver [IE. HRTF and High Pass Filter (HPF)]  we can't help but  wonder why some moderately tech savvy consumers simply wouldn't repurpose older bookshelf speakers they have lying around the house for the same function. Assuming you don't care about matching the form factor of your existing speakers, this seems like a more economical approach, and it will likely give you more dynamic headroom if you're actually using a quality two-way speaker versus the single 3" full range driver options currently offered by a couple of manufacturers. Please note based on the directivity requirements of Dolby, you will likely achieve better results employing a coaxial two-way speaker (like what Atlantic Tech is doing) or a single concentric two-way driver (like what Pioneer is doing).
Once you have your speaker selected, all you would have to do is angle it between 10 to 30 degrees (relative to the front firing drivers) as called out in the Dolby Atmos Elevation speaker patent.  You could do this with a simple rubber wedge or Auralex MoPADS that would also provide a bit of acoustical isolation between the speakers.  You would then set the HPF of the Atmos elevation channels to around 180Hz to reduce low frequency radiation or at the worst case you could employ an external HPF if your receiver doesn't have independent crossover settings. This would certainly be a prudent solution while we wait for Auro 3D and DTS UHD so the industry can finalize a common speaker layout that will work for all of the next generation surround formats.
Procedure For Making Your Own Atmos Elevation Speaker:
Select a smallish bookshelf speaker that can easily fit on top of your front and/or rear surround speakers (choose something with similar output and frequency response capabilities above 200Hz as your other surround channels if possible).

Place the speaker (with the front baffle firing up towards the ceiling) on top of your front and/or rear speakers at 20 degrees using a door stop or foam wedge.
Connect the top firing speaker to the Atmos channel of your AV Receiver.
Set your AV Receiver HPF bass management for the Atmos channels between 150-200Hz.

Level match and time align.

Caution: Don't place an Atmos logo on the speaker to avoid a potential patent infringement lawsuit :)
Alternatively if you desire a more elegant solution, you could even purchase a small speaker module that is mountable on a wall with a swivel tilt bracket like the Boston Acoustics Soundwave XS Satellite speaker system.  This allows you to customize the speaker angle to suite your installation needs.
Boston Acoustics Soundware Satellite Speaker Used for Atmos Height Channels
Confused about what AV Gear to buy or how to set it up? Join our Exclusive Audioholics E-Book Membership Program!
Recent Forum Posts:
jlanzy posts on December 01, 2014 20:31
mtbdudex, whoa, and here I feared that adding an 18" sealed jtr sub to my 15" sealed velo may be overkill in my 19x14x8 room…., it's not of course, like you when I got the denon 4520, I went the 11.2 route with dts neo and really like the overall soundfield for tv and movies. I plan on adding 4 in ceiling speakers for atmos, and auro3d with 4 heights and VOG. I want to stay with denon but current planned implementations for both hamstring one or the other, limit use of back surrounds, pirate preout sub2 for VOG, and exclude any use of wides during atmos/auro. I suspect these limited implementations will disappear as next generation of avr/pp become available and dts uhd is rolled out. I think even without movies encoded in either auro/atmos that the upmixer for both( I think atmos avrs/pp may upmix non atmos like auro does) would really add another engaging sound experience over our 11.x currently, and even more so for atmos/auro encoded soundtracks. But I won't be buying speakers, drilling holes in my ceilings, etc until I see that a single avr/pp can do all these without reloading speaker configurations and adding speaker selector switches and crippling other speaker configurations. I will add as many external amps as necessary for it all to work and without limiting each other in the process.
mtbdudex posts on November 26, 2014 00:40
In 2012 I got the Denon 4520 and went from 7.1 to 11.2, both front wides and front heights.
After comparing the 3 "expanded" formats then, PLIIz vs DSX vs NeoX I truly liked NeoX best for how it expanded the soundstage width wise and height wise.
Front view:

Rear view:


Now, since I'm at 11.2 I've studied going to 9.2.8, but there are no AVR's to handle that, and dataset gear is $$.
I'll keep watching to see what gear arrives 2015 end or 2016 early, till then 11.2 NeoX honestly does a great job.
For the mid ceiling speakers I'm looking at wide dispersion co-axials.



gene posts on October 31, 2014 15:41
This is Part 1 of our Dolby Atmos Elevation Speaker Explained Youtube Video.

I gives you the nuts and bolts of the speaker tech.

DuSVJgeA18s

Part 2 is coming in a week or so and it will give details about the Dolby Atmos Crossover. Stay tuned…
gene posts on September 12, 2014 22:41
Updates to our Atmos Elevation Speaker ArticleUpdate 9/12/14
:
Regarding Building your own Atmos Speakers:

Please note based on the directivity requirements of Dolby, you will likely achieve better results employing a coaxial two-way speaker (like what Atlantic Tech is doing) or a single concentric two-way driver (like what Pioneer is doing).


Regarding HRTF:
Recent feedback from our talks with Dolby at CEDIA suggests there is some element of the HRTF employed in Atmos Elevation speakers in the analog crossover. However, we don't suspect it matches the amplitude of the above graph especially since most of the Atmos Elevation speaker specs we've read indicate a frequency response of 150Hz to 18kHz +-3dB which
can't
be met with a swing of 12dB from the HRTF graph (+5dB at 7kHz and -7dB at 12kHz). We will know more as we get samples in our labs for testing.
ferty posts on September 11, 2014 05:54
good post….
Post Reply