Triad Speakers Bronze LR-H Dolby Atmos Speakers Preview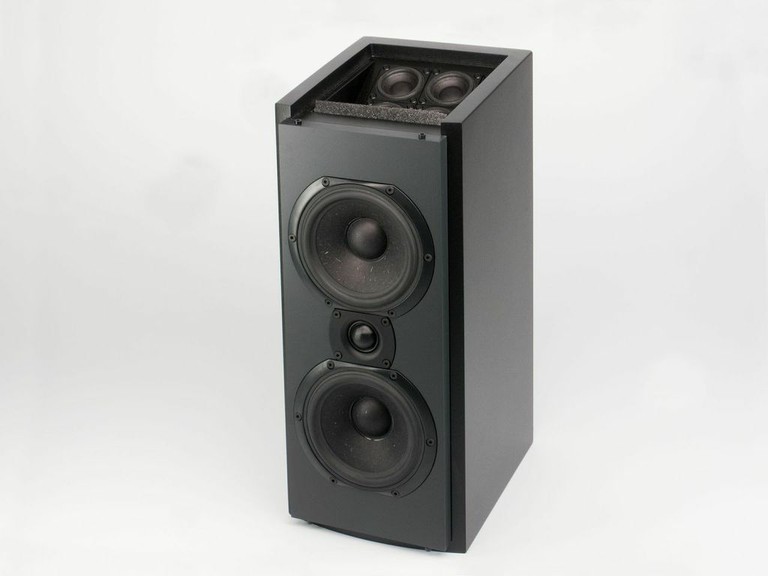 Triad Bronze LR-H
Summary
Dimensions (inches): 7-9/16 (w) x 19-1/2 (h) x 9-1/4 (d)
Frequency Range: 88 Hz - 20 kHz (+/-3dB)
Recommended Amp Power: 50-200 watts (range)
Nominal impedance: 4 Ohms
Sensitivity: 89 dB (2.83v, 1m)
Front Firing Drivers: Two 5.5-inch SB Acoustics drivers and one 1-inch SB Acoustics fabric dome neodymium tweeter
Top Firing Drivers: Four 2-inch full-range Scan-Speak neodymium drivers
$1,000 MSRP per speaker. Availability is slated for Q4 2014.
Executive Overview
With the announcement of Dolby Atmos for the home, we're seeing more and more manufacturers jumping to be the first to offer speakers and components that support this new format. While all receiver manufacturers have to do is add the Atmos processing and make some of the amps assignable for ceiling speakers, speaker manufacturers have a much harder job. If they already offer in-ceiling speakers they've got a portion of Atmos covered. The more exciting (to some) part are the Atmos Elevation speakers. These speakers combine a regular front-facing driver array with a top-mounted channel that is designed to bounce off the ceiling and act as a pseudo-ceiling speaker.
We have to admit that we didn't think we'd see the name Triad associated with Atmos quite so quickly since their product cycles move rather leisurely.
Triad has had a long relationship with custom installers and audiophiles that has given them quite the reputation as a quality speaker manufacturer.  They have a number of lines of speakers and all sort of speaker solutions including in-room, on-wall, and on-ceiling speakers. In in-room speakers, they have a Platinum, Gold, Silver, and Bronze line - the Bronze being the entry level. To this speaker, they've decided to add a top-mounted Atmos unit. While we couldn't find a price for the original Bronze LCRs (the speakers we believe these Atmos speakers are based off of), the Silver models are $850 each. The new Bronze LR-H Atmos speakers will cost $1000 each.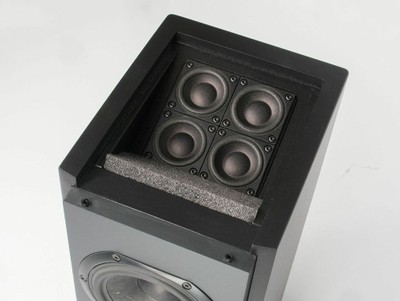 Triad Bronze LR-H Dolby Atmos Elevation Speaker (MSRP: $1000/ea)
Triad has stuck with their tried and true formula for the Bronze LCR with the LR-H. On the front are two 5.5" SB Acoustics drivers and one 1" SB Acoustics fabric dome neodymium tweeter in a D'Appolito configuration. The speakers come in a variety of finishes including custom paint if you so desire. While details of the angle of the Atmos drivers are limited, we do know that each Triad Bronze LR-H will have four, 2" full-range ScanSpeak neodymium drivers on the top. Scan-Speak make some of the best drivers in the world so don't scoff at this upon first inspection. The tight pattern on the ceiling is said to yield a better effect, without the untidiness of a wide-dispersion array.  The usage of four drivers for the Atmos module also greatly increases power handling which is a point of concern compared to the single 3" driver solutions we've seen from a few competitors.  We are curious how these will perform seeing how directional cues from Atmos HRTF from 7kHz and up would require adjacent driver spacing to be no greater than 1" (1/2 wavelength of 7kHz) to minimize driver to driver acoustical interference issues but theory vs reality often produce different results.
As Dolby has now specified that rear speakers are supposed to be at ear-level (rather than farther up on the wall as we were told before the days of Atmos), the Bronze LR-H speakers are sold individually and can be used as front Left and Right speakers are well as rear left and right speakers. The Triad Bronze LR-H speakers claim a frequency response down to only 88Hz (-3dB) which means you may have to raise the crossover point of your subwoofer to 90Hz for a more optimal blend. They are also a 4 ohm speaker indicating that they may require external amplification to play to their fullest.
Currently, the only place to see or hear these new Triad Bronze LR-H speakers is a CEDIA 2014 where they will be debuted. They are scheduled to ship in the fourth quarter 2014. As you would expect, the Triad Bronze LR-H is voice-matched with the rest of the Bronze line so that you can build a complete home theater with subs, surrounds, and even in-ceiling Bronze speakers.
For more information, please visit www.triadspeakers.com.

Confused about what AV Gear to buy or how to set it up? Join our Exclusive Audioholics E-Book Membership Program!
See also:
Recent Forum Posts:
nathan_h posts on April 06, 2016 12:10
I was tempted by these but decided to go with in-ceiling Triads instead. Probably a great option for those that cannot go with in ceiling speakers.
Post Reply