Ditch the Soundbar: 7 Great Compact Speaker Systems for Any Budget
Ditch the Soundbar: 7 Great Compact Speaker Systems for Any Budget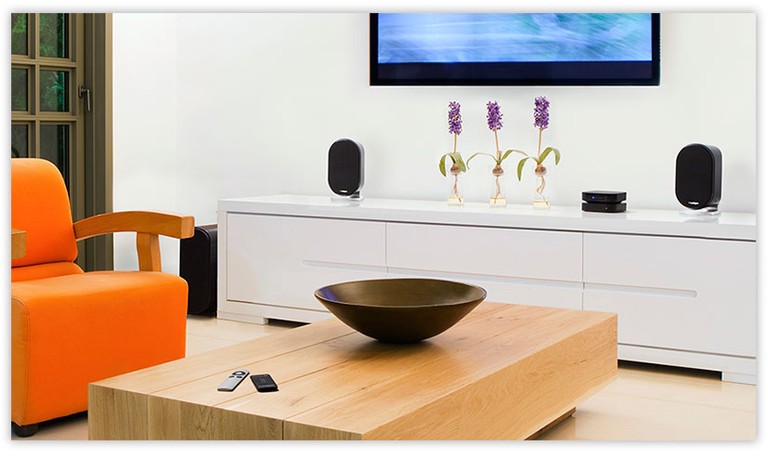 Who says a true 2.1 system has to be ugly?
We get it, large speakers that have all of the aesthetic value of a refrigerator aren't necessarily what every home theater enthusiast is looking for. To some folks, a small and attractive setup is much more palatable, especially if a spouse is in the picture. If this sounds like you, and you're looking for a system so easy to set up a caveman could do it (no offense to any cavemen reading this), we'd suggest reading our soundbar roundup to get an idea of some good solutions. On the other hand, if you're slightly more sophisticated, both in tastes and the ability to wire speakers to an amplifier, a separate speaker/receiver system could be put together inexpensively that will crush most similarly priced soundbars on the market. 
Of course, building a compact, clean looking system without making big sacrifices in performance can be a challenging task, especially when real world budgets are taken into consideration. We spent a lot of time going back and forth on what to recommend to people as soundbar alternatives. Every system recommended here (a total of 7) uses a particularly compact receiver/amp that should be easy to place in any room, and bookshelf speakers to save even more space. Some have a sub, others rely on bookshelf speakers with above par bass response. Somewhere in the mix, nearly anyone should be able to find a system they would be happy with. 
Bare Bones Two Channel Systems
Atlantic Technology AT-2 ($1,800) + Marantz PM6004 ($599) = $2399
If you're looking to build a system for a smaller space, say a bedroom or a den, the odds are good that a simple 2.0 (2 speakers, no sub) system would be perfectly adequate, and of course simple doesn't have to mean cheap. While there is no shortage of solid equipment to choose from in building such a setup, one performance standout is Atlantic Technology's AT-2 bookshelf speaker with H-PAS technology. Measuring in at 15-3/4"H x 8-7/8"W x 12-5/8"D with a high-gloss black finish, the AT-2 is capable of deliver solid performance down to 41Hz (-2dB), which is extremely impressive for the form factor. At $1,800/pr, the AT-2 is the most expensive speaker recommended in this article, but the bass response is also unparalleled by any of the other recommended speakers. Pair it with an attractive and pint-sized integrated amplifier like the Marantz PM6004, which is specified to deliver 45W into an 8 ohm load (20Hz-20kHz, 0.07% THD, both channels driven), and you've got a very capable compact system for less than $2,500.
We should note that this setup barely made it into the article. Some of the staff duly pointed out that anyone willing to spend $2,400 on a stereo system would be able to find space for a subwoofer, or at least a nice pair of towers. It's no secret that floorstanding speakers usually have much better bass response than bookshelf speakers, although the AT-2 question that notion. For people who are willing to accommodate tower speakers, a pair of slim towers like the Intimus 4T from Aperion Audio (more info) might be a better bet. For those who are willing to accommodate a sub, then one of the 2.1 systems listed later in this article would definitely yield better bang for your buck and better bass response. Still, the AT-2 and Marantz system eked its way into this lineup because not everyone who is serious about audio can accommodate a subwoofer or floorstanding speakers, and if that's you, then this is the system to get.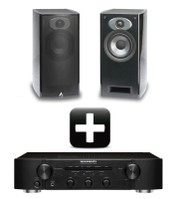 AT-2 + PM6004
Pioneer SP-BS22-LR ($130) + Dayton DTA-100a ($130) = $260
If $2,500 is a bit more than you happen to be looking to spend, that's not a problem. If you're willing to make a few sacrifices, it's even possible to build a credible two channel system for under $300. For $130, you can pick up a pair of Pioneer SP-BS22-LR's. Earlier this year, Gene reviewed a full 5.1 Pioneer setup, and we feel comfortable saying you'd be hard pressed to best these for the money spent. Couple the Pioneer's with a micro-amplifier like the Dayton DTA-100a, also priced at $130, and you've got yourself a system that would be nigh unbeatable in sound quality for the $260 investment. That the speakers and amplifier could practically fit in the palm of your hand is just the icing on the cake. So what's the downside? For starters, there's no remote, so you'll either be stuck manually adjusting volume or hope that your TV has a variable analog output to feed the Dayton amplifier. In addition, there won't be a boatload of low end bass extension given the compact size of the speakers, which are rated down to 55Hz (no tolerance provided). However, for an extra $150, you can always throw in the Pioneer matching SW-8mkii subwoofer to liven up the bottom end (at that point you might want to step into a receiver with a dedicated subwoofer output as well). Finally, Pioneer won't be winning any beauty contests with these speakers, but for the price we can't really complain about the looks.
SP-BP22-LR + DTA-100a

Advanced Two Channel Systems
EMPTek E41 ($299) + Denon DR-AN5 ($500) = $799
A basic, no frills two channel setup might be all some folks need, but let's face it, this is 2013. Some people may want more than just an analog input or three. Enter the Denon DR-AN5: measuring a Lilliputian 7-1/8"W x 3-9/16"H x 10-1/8"D, this unit packs 65W into 4 ohms (1kHz, 0.7% THD, 2 channels driven), built in WiFi, AirPlay support, an optical digital input, and a stereo pair of RCA inputs. Team the Denon up with a pair of good looking loudspeakers like the EMPTek E41, and you've got a compact, high tech, high fidelity two channel system for $800. Of note, a system based on the prior version of the E41 was reviewed and measured by Gene, receiving high marks. Like that system, the downsides of this setup are largely restricted to the limited output you could expect from such a compact speaker. Unfortunately, it's not easy to bend the laws of physics. If possible, we would highly recommending adding a subwoofer, either the EMP ES1010i or ES10i would do wonders to the low end performance of this system.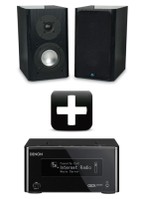 E41 + DR-AN5

Definitive Technology StudioMonitor 65 ($900) + Onkyo TX-8050 ($379) = $1279
So, what happens if you want to ameliorate those kinds of limitations, but you're not able to shell out $1,800 for a pair of Atlantic Technology AT-2's? One attractive alternative is the Definitive Technology StudioMonitor 65, priced at $900/pair. While pushing the limits of the "compact" category at 16-1/2"H x 7-7/8"W x 15-1/8"D, the SM 65 sports a 1" aluminum dome tweeter and a pair of 5.25" woofers pressure coupled to a 6"x12" passive radiator. Frequency response is rated down to a 30Hz, though no tolerance is provided, and we'd suspect the rating is quite optimistic. Fudged ratings aside, Clint DeBoer, Audioholics Managing Editor, was duly impressed with the low end (which is the main reason we are recommending them) as well as the overall system balance and build quality. To power these meaty bookshelf speakers, we'd recommend a modern take on the stereo receiver: the Onkyo TX-8050. Rated to deliver 80W RMS into 8 ohms (20Hz-20kHz, 0.08% THD, both channels driven), and equipped with a quartet of digital inputs (2 coaxial, 2 optical), a network port to allow for streaming from a multitude of internet radio providers, a USB input compatible with iDevices, as well as a subwoofer output, the Onkyo has practically everything a two channel user might need in an attractive form factor. While this setup isn't as compact as the EMP and Denon system recommended above, it's sure to belt out music louder and lower.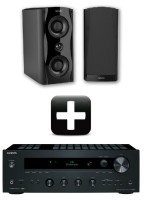 StudioMonitor 65 + TX-8050

The Uber Compact 2.1 System
Paradigm Millenia CT = $700
Unlike the other systems explored so far, the Paradigm Millenia CT is an all-in-one package, and practically a direct competitor to a soundbar. The system is composed of 5 main pieces: a small control module not much larger than a deck of cards, a pair of satellite speakers, a slim profile subwoofer, and a remote. Only marginally more complicated than a soundbar, setup is relatively straightforward: connect an optical cable from your TV to the control module, a cable from the control module to the subwoofer, and a pair of speaker cables from the subwoofer to the satellites (all cabling is included). That's it, and everything is labeled so setup is basically fool-proof.
In terms of the hardware provided, Paradigm doesn't appear to have cut any significant corners. The satellite speakers utilize a 1" aluminum dome tweeter and a 4" aluminum cone woofer in a compact and attractive sealed cabinet. The included subwoofer is crossed in at 150Hz, and features an 8" polymer woofer powered by an 80W RMS amplifier. While less than a cubic foot in total volume, the slim-profile sub manages to dig down to 32Hz (-2dB), which is rather impressive, particularly given the system price. However, one should take note that the fairly high crossover to the subwoofer does mean you'll need to take some care in placement lest you run into problems with localization; of course, this is an issue for most systems using such compact satellites. That detail aside, the Milllenia CT makes for a very capable, easy to set up, and easy on the eyes 2.1 system.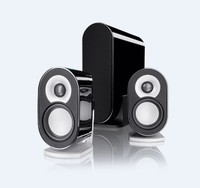 Millenia CT

On a side note, if you like the Millenia CT system but would rather go with a component setup, there are a plethora of small satellite speakers to choose from. Definitive Technology (ProCinema 800), MartinLogan (Motion 2 or Motion 4), Polk Audio (TL1, 2, or 3), Aperion Audio (Intimus 4B), and Boston Acoustics (A23 or A25), among many other manufacturers, sell small satellite speakers individually or in pairs. Prices vary from as little as $75/ea to around $249/ea. Partner a small speaker from any of those companies with the Denon DR-AN5 and one of the compact subwoofers mentioned in this article, and you would have a great sounding, compact stereo system.

Full Featured 2.1 Systems
NHT Absolute Zero ($440) + SVS SB12NSD ($680 Gloss Black) + Marantz NR1604 ($649) = $1769
Now we're getting into the big time: a modern, attractive, 2.1 system with a full-fledged, but still extra-slim, A/V receiver as the brains. Starting with the low end anchor of the system, we have the Bassaholic Certified Medium SB12-NSD, a 14" cube boasting a 12" woofer backed by a 400W amplifier. While small in stature, the SVS has proven itself to be a potent subwoofer, capable of digging deep and delivering considerable output that belies its dimensions. To cover the rest of the sonic spectrum in style, the NHT Absolute Zero seems to fit the bill nicely. Measuring in at a compact 9.75H x 5.63"W x 7.25" D and boasting a nice piano black finish, the NHT utilizes a 1" aluminum dome tweeter and 5.25" polypropylene cone in a sealed enclosure. Of minor note, the cabinet was designed to keep diffraction under control, resulting in the graceful curves on the front baffle, a fine example of form playing nicely with function. 
Turning to the brains of the system, we've got the Marantz NR1604, a slim-line 7.1 receiver, capable of delivering 50W RMS (20Hz-20kHz, 0.08%THD, 2ch driven), and equipped with Audyssey MultEQ, 7 HDMI inputs which are 4K and 3D compatible, a pair of digital inputs (one coaxial, one optical), networking features including Airplay, as well as a handful of legacy video and analog audio inputs. Best of all, the receiver is just a shade over 4" tall, letting it fit into spaces a full-sized receiver simply can't. And of course, given that the NR1604 is a multi-channel receiver, the option exists to upgrade to a complete surround system if desired.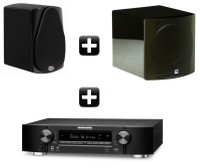 Absolute Zero + SB12NSD + NR1604
NHT SuperZero 2.1 ($200) + SVS SB1000 ($500) + Marantz NR1403 ($399) = $1099
So what about those with a bit less to spend? Fortunately, it's possible to downsize without making huge sacrifices in quality. For example, the drop from the Marantz NR1604 to the NR1403 shaves $250 from the system price but also nixes some the modern niceties like networking and 4K compatibility, but you're still left with a system that will have the same basic sound quality. If you're willing to sacrifice a little output on the subwoofer side of the equation in favor or saving $180 and some floor space, the drop from the gloss black SVS SB12-NSD to the SB1000 is a great call. Finally, substitute the $200/pr NHT SuperZero for the Absolute Zeroes, and you're left with a still very capable and compact 2.1 system at the $1,100 mark.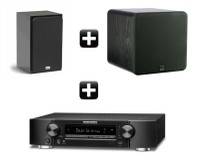 SuperZero + SB1000 + NR1403

Summary
If a large, imposing system isn't going to pass muster in your household, you're not totally out of luck. One of these 7 great sounding systems, ranging from $260 to $2,400, can likely fit into just about any décor without calling undue attention to themselves. Even better is that, for the most part, the speakers, receivers, and subs recommended here can be mixed and matched to build a system specifically for your needs. What works best for any given person will of course vary considerably; however, with four system styles to choose from, we expect folks looking for a high quality audio system that doesn't double as an eyesore should be able to walk away with a few ideas. 
Confused about what AV Gear to buy or how to set it up? Join our Exclusive Audioholics E-Book Membership Program!
Recent Forum Posts:
Mark of Cenla posts on January 09, 2016 17:56
To me, the best inexpensive system would be a Sherwood receiver and the Sony Core bookshelf speakers with whatever source. I have heard such a system for many hours with both music and DVD concerts and movies. Peace and goodwill.
tyhjaarpa posts on January 08, 2016 14:38
Topken, post: 1112313, member: 46234
That is partly why I would swap them for either the Elac Debut B5 or B6 bookshelf speakers.

I thought you were talking to me since you quoted my post which had suggestions in it.
Was referring to your pointment of switching based on 2 years old suggestion (OP). AA monitors how ever would be better option compared to Debut what I have read about them.
Topken posts on January 08, 2016 11:35
tyhjaarpa, post: 1112312, member: 70334
I never said that those elacs were 2 year old.. Was talking about OP.
That is partly why I would swap them for either the Elac Debut B5 or B6 bookshelf speakers.
I thought you were talking to me since you quoted my post which had suggestions in it.
tyhjaarpa posts on January 08, 2016 11:35
Topken posts on January 08, 2016 11:23
tyhjaarpa, post: 1112269, member: 70334
You will get MUCH better sound with 3 good speakers than with any soundbar, so there is nothing to worry about the sound quality. Optimal thing would be to get pair of stereo bookshelf speakers and matching center speaker. Of course it would work with matched 3 bookshelf speakers as well, but I would look for center channel instead if that is an option. You are better of starting your own topic for asking help to get more/better responses.


Those suggestions are 2 year old, so a lot has changed since then. But it will still give a good idea. For speakers I personally would look for these if you are in budget: http://philharmonicaudio.com/aa.html
The Elac Debut speakers are brand new for your info. The Pioneers speakers are the ones that are 2 years old.
http://www.cnet.com/products/elac-debut-b6/
Info on Andre Jones who did those Pioneer speakers leaving for elac Which happened last year
http://www.cnet.com/news/starting-over-legendary-designer-andrew-jones-set-to-launch-a-brand-new-speaker-line/
So yeah your info is wrong.
Post Reply