Denon Ceol Piccolo Mini Networking Receiver Preview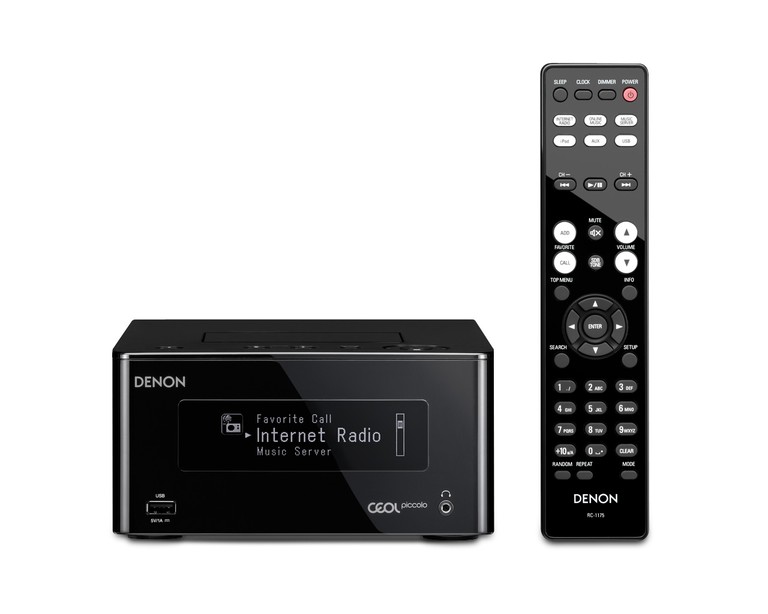 Denon Ceol Piccolo Mini Networking Receiver
Summary
Ceol Piccolo
Power: 65wpc x 2

Dimensions: 3.55"H x 7.09" W x 9.22" D
Inputs: Digital Optical, Analog, USB, 30pin iPod dock, RJ45

Network Features: Airplay, Spotify, Pandora, and SiruisXM
Built-in WiFi
Compatible with Denon Remote App

SC-N5 Ceol Picollo Speakers
Drivers: 4" woofer, 1" Tweeter
Finish: Glossy Black or Glossy White

My first feeling when I read about the new Denon Ceol Piccolo Desk Top System was apathy. But, when I kept on reading about everything it could do and started to think about all the places it would work great, that feeling soon turned to interest.
The Denon Ceol Piccolo is a small wireless network music player with two speaker outputs. When I say small, I mean small. It measures 3.55" H x 7.09" W x 9.22" D. This means that could fit almost anywhere, giving the system the ability to be placed on a kitchen counter, in the living room, or on a computer desk. It's also available in either glossy white or glassy black.
Unlike most shelf systems, it does not come with speakers. Denon offers a matching set of speakers for $149 that sport a 4" woofer and 1" tweeter. Although we are guessing that the matching speakers sound fine for $149, the ability to hook up different speakers is important to us.  If you don't like the Denon speakers, the built-in 65wpc amplifier should be able to power most bookshelf models without issue. You can also round out the system with a subwoofer by utilizing the RCA subwoofer output. The subwoofer output and powerful amp (especially considering the size of the unit) are really beneficial because they allow the consumer to completely customize the system to their needs.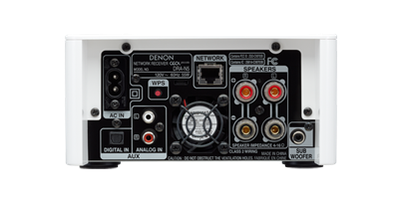 Ceol Piccolo Back View
Right now you might be thinking, "A small amplifier, that's really not that cool." If that's all it was, then it certainly wouldn't be very interesting. However, the Ceol Picollo has a lot of connectivity and control features that make it worth its $499 MSRP. First off, there are stereo audio, optical, and USB inputs on the unit. The stereo audio and optical could be used to hook up the audio output of a TV and use this system as an alternative to a soundbar or a 2.1 system based off a typical AV receiver. The USB input can be used to read files off of a flash drive, including 192 kHz/24 bit WAV and FLAC files. The ability to read HiRes files is a big bonus as many network receivers lack that ability. The USB port can also be used to hook up an iOS device. There is also a built in 30-pin dock for iOS devices, but the iPhone 5 will be limited to using the USB port. Finally, built in support for Airplay, Spotify, Pandora, and SiruisXM make the Ceol Piccolo a formidable network music player. A supplied IR remote or Denon Remote App can be used to control the system. The ability to control the system with an app and also stream music with Airplay make the system convenient enough to use that people are likely to use it all the time. I have seen many expensive audio systems that simply collect dust because they aren't convenient to use. The Ceol Piccolo shouldn't be one of them.
If you look at the Denon Ceol Piccolo as a whole you should be able to think of a lot of scenarios where it might be a perfect fit. Think of all the people rushing out and buying soundbars because they don't want to deal with a full AV receiver or surround sound. This provides an alternative that can have phenomenal sound quality when paired with a nice pair of speakers and sub. Or what about people purchasing iPod docks for few hundred dollars, and all the unit does is play an iOS device through built-in speakers. This would be a great alternative. I imagine this system being the perfect fit for an office, living room, den, or bedroom.
Conclusion
I hope I am not the only one who sees the potential for this unit. I think the ability to control it with the Denon app and stream Airplay really open up the possibilities. Are there other alternative options on the market that get you some or all of the functionality? Sure. But are there alternatives in this price range, with everything built-in, and in such a small form factor? Not that I am aware of.
For more information visit Denon

Unless otherwise indicated, this is a preview article for the featured product. A formal review may or may not follow in the future.