Aperion Audio Intimus 4T Hybrid SD 5.1 Speakers Review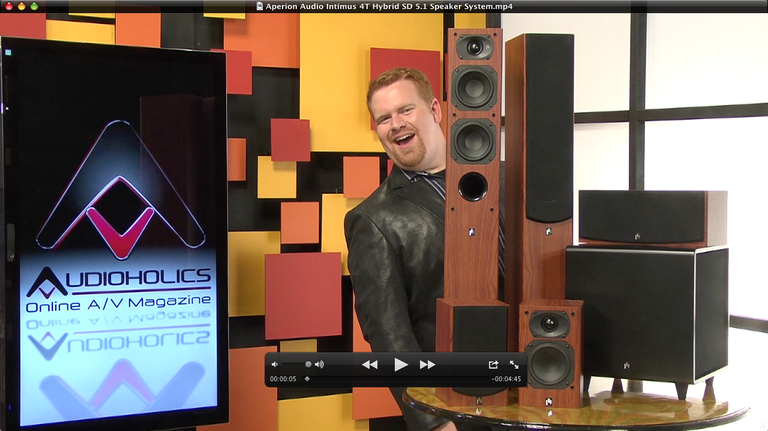 Aperion Audio Intimus 4T Hybrid SD 5.1 Speakers
Summary
Front Speakers: 2 x Intimus 4T Tower Speaker
Dimensions: 34" H x 5" W x 7.5" D (Base: 8.25" x 8")
Frequency Response: (+/- 3dB) 60Hz -20,000Hz
(+/- 6dB) 50Hz -22,000Hz
Sensitivity: 88 dB
Driver Configuration: 2-Way

Center Channel: Intimus 4C Center Channel Speaker
Dimensions: 5.33" H x 12.8" W x 5.5" D
Frequency Response: (+/- 3dB) 78-20,000 Hz -- (+/- 6dB) 72-22,000 Hz
Sensitivity: 86 dB
Driver Configuration: 2-Way

Surrounds: 2 x Intimus 4B Satellite Speaker
Dimensions: 8.75" H x 5.33" W x 5.5" D
Frequency Response: (+/- 3dB) 120-20,000 Hz
(+/- 6dB) 100-22,000 Hz
Sensitivity: 87 dB
Driver Configuration: 2-Way

Subwoofer: Bravus IIa 8D Powered Subwoofer
Dimensions: 13.5" H x 12" W x 12" D (with feet attached)
Frequency Response: -3dB, 33Hz - 200Hz -- -6dB, 30Hz - 180Hz
Sensitivity: N/A
Driver Configuration: Dual Drivers
Executive Overview
I'm 6' 5". So, I'm just not sure I'm the right guy to be photographed with these speakers. You see, this is the Aperion Audio Intimus 4T Speaker System. And while Aperion makes lots of, shall we say, "normal" sized speakers, the 4T system, is really designed for the person looking to get that great Aperion Audio sound, but with a much smaller footprint and a lower price point. You can, for example, get this entire 5.1 system, with the 4T towers, 4B bookshelf speakers, 4C center channel and Bravus IIA 8D subwoofer, for just $1,350. Shipped. That's not bad, and this is the kind of system that sounds much bigger than it is. And really... it better. It's perfect for those looking to place speakers in a way that doesn't take over a room. And, yes, I suppose they'd be great for short people... what?
Aperion Audio Intimus 4T Hybrid SD 5.1 Youtube Review
The speakers themselves are attractive, with a slightly rounded-over front edges and a near-1" thick front baffle that houses dual 4" woven-fiberglass mid-woofers and a 1" silk-dome tweeter that is a new design according to Aperion. They tout this as an "anti-resonant" cabinet and we have to say, given the construction level we saw in this cabinet when we opened it up, and the amount of dampening material, there isn't going to be ANY resonance. Aperion even wrapped the interior speaker cables nicely in foam to keep any vibrations from introducing artifacts into the signal. The 4T is ported on the front and that port is flared inside and out, something we've seen overlooked in speakers and subs costing four times as much as the 4T's. The finish on these speakers is decent, a simulated wood grain that's available in either Medium Cherry or Black Ash. One of those should blend into just about any décor. Aperion makes these and timbre-matched 4B bookshelf speakers with a single 4" mid-woofer and silk dome tweeter, and a 4C that is an MTM configuration with dual 4" drivers.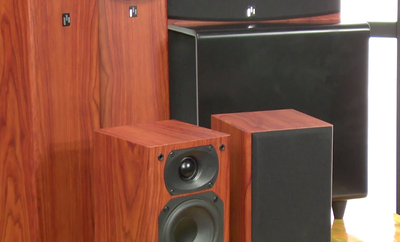 But the sound is what really matters. We know that, and we listened to a bunch of different kinds of music, starting off with just the 4T towers in a stereo configuration. What we found surprised us a bit, though that might be insulting to Aperion - they actually sounded really well-balanced. Without a sub. The mid-bass was punchy and accurate, though it didn't go very deep. So that presents a really GREAT foundation for a 5.1 speaker system. When choral harmonies came in during some of our test tracks, the results were full, but not "busy". Everything stayed in its proper place within the soundstage. Listening to "New York Minute" by Don Henley, we really loved the way his vocals were pristinely anchored in the middle and the 4Ts conveyed that gritty texture Henley is known for. The kick and bass play in lockstep for much of the song and it was great to hear a system that seemed to be well-tuned and not trying to accomplish too much. Next we added the Bravus IIA 8D and played some electronic music. Our go-to track is Yello's "Planet Dada" and the Aperion sub did it justice, producing the quickness required to render this track in the punchy manner it's known for. Then, to focus on the upper-mids and treble quality, we put in Lee Ritenour's "Bahia Funk" which is just a beautiful song, but on the Intimus 4T Hybrid SD system it really gave the silk dome teeters a workout all around. In Dolby Pro Logic IIx mode it really came alive and we were floored by just how clean this track sounded.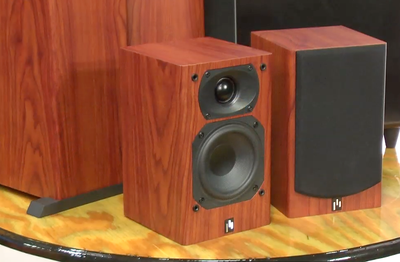 And then, we added in the center and surrounds. Movies were just as impressive as music and, while the Bravus IIA 8D isn't going to put out as much SPL as the bigger models, if you aren't trying to fill a really large room it will be sufficient. We found it delivered enough slam to keep us more than interested in whatever was happening on-screen. There's a lot of technology in the 8D - almost too much is going on with the mix of active and passive drivers. It does seem to work, and the remote control does well to allow you to store and tweak various modes for music and movies - a feature we really used a lot in our listening.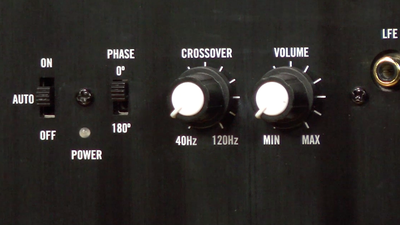 Aperion speakers are among the best bang for the buck in the industry. They have some really great products in a wide variety of styles and sizes to suit any need, and yet they continue to innovate their product line. We really like that. They also come with a five year warranty, free shipping and lifetime tech support. That's not bad. Not bad at all. If you're an absolute bass hog, maybe you can mix and match the system and upgrade the sub - either to a larger Aperion model or one from another company. In either case, Aperion's going to help you get the exact sound you want in your living space and the Intimus 4T Hybrid SD System is a great starter system.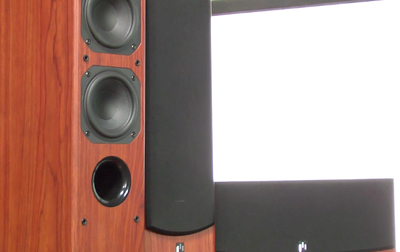 If you enjoyed this video please hit the 'Like' button in YouTube and subscribe to our channel. It will help fight global warming. We have no idea how, but we do know it can't hurt. Plus you'll get us to do even more video reviews. Also visit our Facebook page at Facebook.com/audioholics or Follow us at Twitter @AudioholicsLive... You won't regret it. Unless you don't like us and the earth is reduced to a smoldering ball of ash... I'm just saying.

Unless otherwise indicated, this is a preview article for the featured product. A formal review may or may not follow in the future.
Seth=L posts on February 01, 2015 10:31
Andrew Gash, and the interview stance.

Good looking speakers. I've never listened to any Aperion products, perhaps someday I will. These speakers have a very euro flare to them.
Post Reply
Confused about what AV Gear to buy or how to set it up? Join our Exclusive Audioholics E-Book Membership Program!