SVS SB12-NSD Subwoofer Review
SVS SB12-NSD Subwoofer Review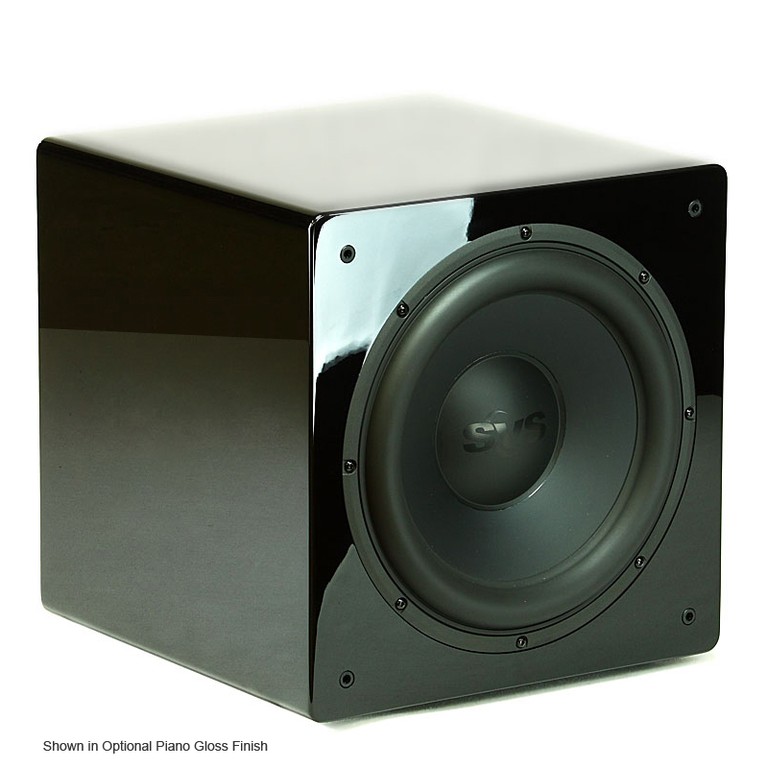 12" forward firing long throw "NSD" woofer
MDF enclosure
Curved non-resonant steel mesh grill
Amplifier: 400 watts rms (STA-400D Sledge/Class D)
Frequency Response: 23-270Hz +/-3dB (quasi-anechoic)
Finishes: Charcoal black textured vinyl or piano gloss black
Dimensions (H/W/D): 14.6" x 14.2" x 14.2"
Weight: 35 lbs.
Warranty: 5 years (Bumper to bumper)
Driver features
FEA optimized motor structure
Rubber long throw surround
Nomex linear roll spider
Aluminum cone with composite dust cap
Powder coated die-cast aluminum frame
Integrated tinsel leads
Dual shorting rings and pole piece extenders
Double stacked ferrite magnets
2" diameter voice coil with high temperature former materials
Vented pole piece
Bumped back plate
Amplifier: Inputs/Outputs/Controls
Gain control
Variable phase 0-180deg
Adjustable low pass filter with disable setting (30-150Hz/Disabled)
Stereo line-level RCA I/O connections
Unfiltered (for daisy-chain) and 80 Hz high pass filtered line level RCA outputs
Detachable power cord with main power switch and fuse
RoHS compliant, lead-free construction and world-wide safety certifications
Auto-On / On switch with "green" standby mode
Customized EQ and DSP limiter settings specifically for the SB12-NSD
Limiter LED
Pros
Diminutive form factor + light weight allows plenty of placement options
Impeccable design execution and optimization
Unflappable operation at the limit
Exceptional warranty term
Cons
Basic connections and controls only
Best suited to smaller spaces and/or moderate playback levels
Introduction
As the smallest subwoofer in the entire SVSound lineup and also the one requiring the least amount of cash outlay to own, one might reasonably expect that the SB12-NSD would exhibit a few tradeoffs in its performance. However after spending a few weeks getting intimately acquainted with the review unit provided by SVS, we found very little to gripe about and a whole lot to like. The SB12-NSD makes use of a proprietary 400w class D Sledge amplifier and 12" aluminum cone driver in a tiny sealed cabinet to produce satisfying and exceptionally well rounded bass reproduction, at reasonable cost and with very little floor space occupied in the process. At the end of our term with the SB12-NSD we came away impressed with the overall build quality, look and behavior of this small sealed unit. Highly Recommended.

See also:
Confused about what AV Gear to buy or how to set it up? Join our Exclusive Audioholics E-Book Membership Program!
TulsaSKD posts on September 24, 2012 15:40
Would anyone know how this sub compares to the Velodyne Optimum 10?
Clark123Le posts on September 04, 2012 03:08
It even out performs some vented designs w/re



jinjuku posts on September 03, 2012 17:45
Looks like a direct answer to Emotiva's 12" sealed sub.
Ricci posts on August 23, 2012 12:44
In a nutshell you add +9db to the outdoor 2 meter "rms" CEA-2010 measurements and compare with the (peak) SPL levels needed for the room ratings.

the CEA-2010 measurements presented here are taken at 2 meters outdoor groundplane and are "rms" not peak values. This is equivalent roughly to a 1 meter anechoic (free space) SPL measurement.

The indoor SPL levels are considered to be a corner loaded subwoofer which puts the sub in 1 meter 1/8th space which adds +18dB over a 1m anechoic (free space) measurement. We are considering the listening distance from the subwoofer as being roughly 4 meters in most cases which drops the spl by 12dB (18-12= +6dB at this point.) A peak SPL report of the same signal reported via an rms calculation method will produce about 3dB higher numbers. (Add 3+6= +9dB) So that is why we are adding 9dB to the reported CEA-2010 numbers to compare them with the indoor peak SPL numbers required.

Note that if a sub just barely misses in one frequency band by a single dB or less, for example falling short by 0.7dB at 31.5Hz only, we will go ahead and give it the benefit of the doubt as long as it meets the other criteria since it is a drastic 6dB drop back to the next smaller room size.
mpstein posts on August 23, 2012 11:58
Mike,
I'm sorry but now I'm a little confused on this issue as well.

From what I understand, the sb12 scored a raw score of 96.3db at 25hz. From there, are you adding in the +12db from putting it in the corner as well as adjusting it +6dB for the conversion?

Is its total score 102.3 or 104.3?

Thanks,
-Matt
Post Reply