Best $500/Pair Bookshelf Speaker for 2015
Best $500/Pair Bookshelf Speaker for 2015
by
Tarunvir Bains
—
February 09, 2015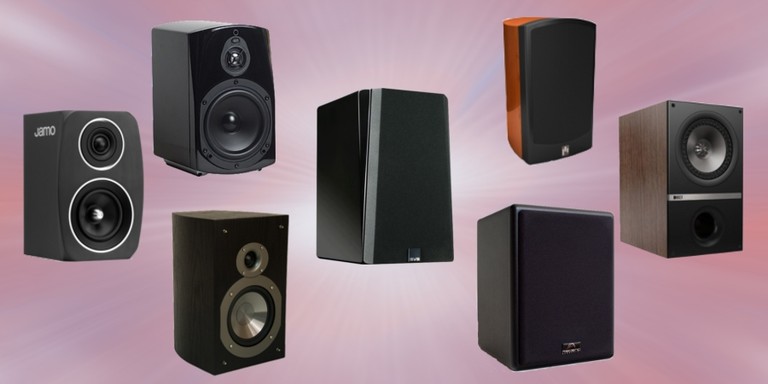 $500 bookshelf speaker comparison
Passive speakers will generally be the go-to choice for use with entry-level AV Receivers for use in a home theater or living room setup. We've put together a collection of some excellent bookshelf speakers for someone just looking to get the best performance within a budget of $500/pair! Each of these options should provide great sound reproduction, and their availability through different channels means at least a few of them can be for trial or audition. We're confident you will discover the right speaker for your room and your tastes!
Top $500/pr Bookshelf Speakers
These are the seven speakers which we have selected as being very strong options to consider with no particular order of preference.
Make/Model
KEF Q100
Ascend Acoustics
CBM-170 SE
Aperion Audio
Verus Forte Satellite
SVS
Prime Bookshelf
Phase Technology V62
Jamo C91
NHT Absolute Zero
MSRP
$550/pair
$348/pair + $32 Shipping
$449/pair + Free Shipping
$500/pair + Free Shipping
$508/pair
$500.00/pair
$438/pair + Free  Shipping
Sensitivity @ 2.83v @ 1m
86 dB
89 dB
85 dB
87 dB
88 dB
86 dB
86 dB
Nominal Impedance
8 ohms
8 ohms
6 ohms
8 ohms
8 ohms
6 ohms
8 ohms
Frequency Response
(+/- 3db)
49 Hz – 40 kHz
53 Hz – 20 kHz
80 Hz – 20 kHz
48 Hz – 25 kHz
45 Hz – 20 kHz
65 Hz – 24 kHz
71 Hz – 20 kHz
Tweeter
1" Aluminum Dome
1" Soft-Dome
Aperion ASR
1" Aluminum Dome
1" Soft-Dome
1" Silk-Dome
1" Aluminum Dome
Midwoofer
5.25" Aluminum Uni-Q
6.5" Polygel
4.25" Phase Sync
6.5" Polypropelyne
6.5" Titanium
4" Hybrid Composition
5.25" Polypropelene
Dimensions
11.8" x 7.1" x 10.7"
12" x 9" x 10"
9" x 5" x 5.7"
13.3" X 8" X 10.3"
13.25″ x 8.25″ x 9.53″
10.4 x 6.9 x 7.5
9.75" x 5.625" x 7.25"
Weight (each)
13 lbs
14 lbs
6.5 lbs
15.5 lbs
11 lbs
9 lbs
8 lbs
Warranty
5-Year
5-Year
10-Year
5-year
10-Year
5-Year
5-Year
Trial Period
-
30-Day + Customer Covers Return Shipping
60-Day + Free Return Shipping
45-day + Free Return Shipping
-
-
30-day + Free Return Shipping
Note about Price: It should be noted that MSRPs are just that – Manufacturer Suggested Retail Prices. You can expect your local dealers to work out healthy discounts on brick-and-mortar products like the KEF, Phase Technology, and Jamo. Likewise, every dealer will have a different approach to the trial/auditioning process.
KEF Q100
Utilizing the aluminum Uni-Q driver as its foundation, British Manufacturer KEF's entry-level bookshelf is a smash hit. What it may lack in overall dynamic capability, it compensates with its seductively detailed and balanced sound character, and its coaxial nature gives it a unique advantage in dispersion, especially when used as a surround speaker with atypical placement. The looks might not be anything to write home about, but anyone interested in sound quality should have these on their list. When mated to a subwoofer around 80 or 100 Hz, KEF's engineering-first, marketing-second approach really comes through as this a high performance speaker. It is best suited for a smaller-to-medium sized room.
Kef Q100 (left pic); Ascend CBM-170SE (right pic)

Ascend CBM-170 SE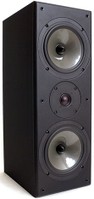 The CBM-170 SE is no newcomer to the market, but rather it's a speaker that has held a firm grip on its market share for over a decade now. As one of the larger speakers on the list, the CBM-170 will have a clear output advantage over the smaller alternatives. Having nothing to hide, Dave Fabrikant includes a detailed, high-resolution set of measurements on the company website needed to show that these speakers continue to be engineered to extremely high standards. But make no mistake, it's word-of-mouth reputation through which these garner most of their sales. The CBM-170 is the least expensive of the internet direct offerings, and also happens to be specified as the most sensitive speaker on our list.
Upgrade Path: CMT-340SE
CMT-340 SE Product Page
 If your budget can expand to about $600/pair ($568/pair + shipping), we highly recommend stepping up to the Ascend CMT-340SE speakers. The CMT-340 SE's sport dual 6.5" phase plug polygel midbass drivers in an MTM configuration with an upgrade 1" silk dome tweeter.  We are big fans of vertical MTM's for their ability to not only play louder but also to help control vertical dispersion and give more body to the critical midrange region by having twice the piston area to cover those frequencies.  The CMT-340 SE is certainly a top pick of ours in this price class and it should be for you too if you're serious about sound and can accommodate the larger footprint of such a speaker.
Aperion Verus Forte (left pic); SVS Prime  (right pic)
Aperion Audio Verus Forte Satellite
Verus Forte Satellite Product Page | Preview
Lost somewhere in the shuffle behind the excitement for the Verus Grand, the Verus Forte series might actually be Aperion Audio's highest-value offering. As with the KEF, these also utiilize a coaxial midwoofer/tweeter combination, but do so with a sleek form-factor. Coming from a company that emphasizes solid engineering principles, the Verus Forte is meant to be listened to, even though it's an absolutely tiny little speaker (the smallest on our list!). As is the limit of such a tiny speaker, the Verus Forte Satellite would best be suited to an apartment or bedroom setup, and should make an excellent surround too. Add in the most generous trial-period and warranty, and husbands everywhere might just be able to finally convince their significant others to finally take the step forward.
SVS Prime Bookshelf
Prime Bookshelf Product Page |  Review
Audioholics recently reviewed the Prime Bookshelf's sibling, the SVS Prime Towers, and found them to offer an exceptional value. The Bookshelf sports the same tweeter as the Tower mated to the same excellent midwoofer. Taking a chance on this speaker is already a safe a bet as any. Although perhaps not leading in any single category other than weight (which suggests an extremely sturdy cabinet construction), the Prime Bookshelf really is a jack of all trades with deep bass extension, great treble extension, good sensitivity, and a very nice in-home trial period.
Phase Tech V62 (left pic); Jamo C91 (right pic)
Phase Technology Phase Velocity V62
Phase Technology is a brand you often see loved, and carried by higher-end custom installers; and that's for good reason. Their V62 serves as the gateway drug for their upper echelon offerings with its resolving, dynamic presentation and solid pricing. As one of the larger speakers listed, the V62 is well-suited to a medium-to-larger sized room. Despite being on the bulkier side, its lower weight may make it a strong option for wall-mounting. If going by spec, it also edges out the SVS for the deepest bass extension. For a music-listening setup, you may not require a subwoofer at all!
Jamo C91
Danish manufacturer Jamo places an emphasis on balance, clarity, and build quality. That will be pretty obvious when you check out their new offering, the C91. Although the brand is owned by Klipsch, their sound character appeals to a rather different demographic, with less of a "showroom" sound and more of an organic presentation. As the second lightest and smallest speaker listed, this is another great option for smaller rooms, and should fit right in thanks to its Scandinavian visual sensibilities
NHT Absolute Zero Bookshelf Speaker

NHT Absolute Zero

NHT Speakers tend to measure with ruler-flat frequency response, and generally ruler-flat frequency responses tend to be preferred by unbiased listeners - so it comes with little surprise that NHT's medium-sized bookshelf sits comfortably on this list. The Absolute Zero has been around for a few years now and it's been a go-to recommendation by many on the forums not only as a compact stereo speaker, but also as an inexpensive potential surround for completely different brands of fronts in home theater setups – always a good sign. In the past NHT was distributed via dealer-networks, but these days they've adopted the internet direct model. That's the only real difference though as their engineering remains meticulous.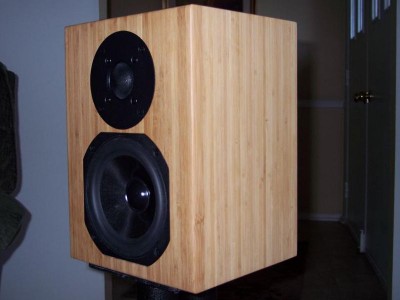 Continuum Bamboo Speaker Kit
The Honorable Mention - Continuum Bamboo Speaker Kit - $634/pair
Just missing the list is not a complete speaker, but rather a kit that exceeds the $500 price target- the Continuum monitor. The value and the performance is there in spades, but you will need to be able to read the crossover circuit and correctly, safely solder it together. Once assembled though, you'll find yourself realizing you came away with something that would compete in a much higher price bracket. The midwoofer is a unique 5.25" Aurum Cantus poly-cone unit that can provide bass extension down to 80hz in a sealed cabinet without losing much-if-anything in the resolution department. Add in a very high-performance, low FS Dayton Aluminum tweeter and you've got yourself some reference speakers with a crossover designed by Jeff Bagby, who has also been involved in some designs by forum-favorite Salk Sound!
Summary
As a prospective buyer you will need to figure out where you're willing to compromise, because bookshelf speakers will always have inherent limitations. If size isn't an issue, then the larger options will provide more output and extension. If awkward placement is a key consideration, the coaxial offerings may be a strong option thanks to their dispersion patterns. If you just want the best sound... well..  there's plenty of great sound to be had but it can't be stressed enough to simply audition until you find the speaker that works best for your favorite source material and your room. There are great options on the internet as well as in brick-and-mortar retail stores, so don't feel obligated to pick one over the other with the expectation of inherently better performance or value. And if you're willing to do some assembly and overshoot our budget, go for the gusto and build the Continuum. $500 for a pair of bookshelf speakers is actually a comfy budget and while you're making some sacrifices, they're the kind that enthusiasts might overstate.
Please comment in our related forum thread which of these speakers is your favorite or if you have another not mentioned in this article.
See also:
Confused about what AV Gear to buy or how to set it up? Join our Exclusive Audioholics E-Book Membership Program!