Best Powered Subwoofers Under $1,500 for 2021
Best Powered Subwoofers Under $1,500 for 2021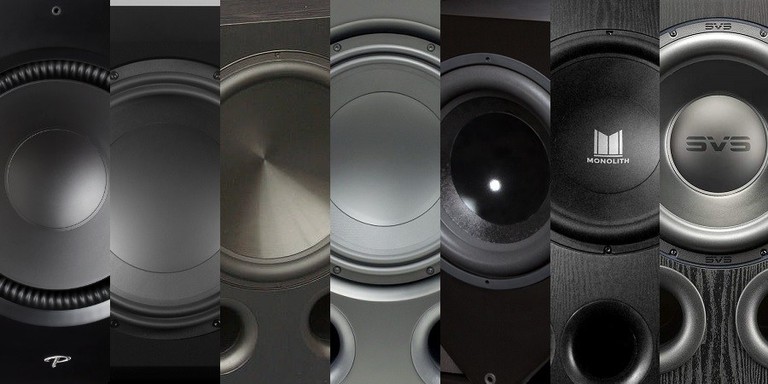 $1,300 - $1,500 subs
Most people who drop over a thousand dollars on a subwoofer tend not to be novices to the audio hobby. Some of the people who spend that kind of money on a sub do so because the sub $1k subwoofers have given them a taste of high-fidelity bass, and they want to see how much better it can at the next step. Some of these buyers know what to expect and aren't willing to accept the compromises that must be had at lower price points. But for most people, spending over $1,000 on a speaker that just produces rumbles and booms is insanity, and perhaps they are right, but this article is not for them. This article is for true bassaholics willing to spend extra to achieve or exceed our Extreme Bassaholic rating for the ultimate gut wrenching experience. It may seem crazy to an outsider, but for us who love the sound and feel of powerful deep bass, it is a small price to pay. There is no way to explain in a rational way this love of sound: you either get it or you don't. For those who 'get it,' let's take a look at what we at Audioholics have determined to be some of the top picks in the $1,300 to $1,500 price range for subwoofers.  
While the subs in this price range are by no means the highest-end subwoofers that can be had, you can get a pretty darn good sub for that kind of scratch. Features, performance, and appearance can all take a big step up from the sub-$1k subwoofers, and in some cases a huge step up depending on the particular sub. Our own picks are most heavily weighted on performance. We do factor in other criteria, but Audioholics is about audio first and foremost, so we have to follow our passion. However, performance-first subwoofers do come with a catch: they are necessarily large. Large size is the trade-off for powerful deep bass. The sealed subwoofer counterparts to these ported behemoths give up a lot of deep bass headroom in order to achieve their smaller size, but a lot of buyers just can not easily add an audio component the size of a minifridge into their living space. We understand that constraint and have added an 'honorable mention' category to each of our choices of a more reasonably sized alternative that we really like and would consider where floor space or interior design can not be so readily sacrificed.
Best Powered Subwoofers under $1500 for 2020/2021 YouTube Discussion

Listed below are the six subs that are currently available as of this writing that is what we would choose from. Each has its own strengths, and none of them have any real weaknesses. We will try to briefly explain what is so special about each sub to make this list. Let's now get on to the subs...
Outlaw Audio Ultra-X13

MSRP: $1,500
Ultra-X13 Product Page | Amazon Product Page | Review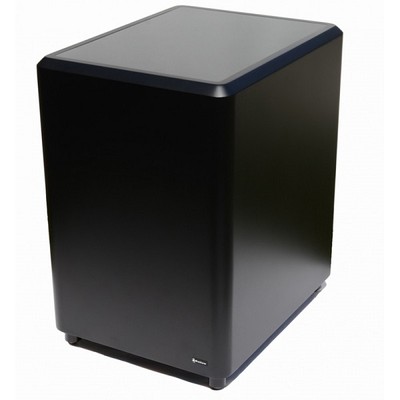 Outlaw Audio had long been known for their high-performance subs for years but more for their affordable LFM subwoofer series and later their Ultra-X12. Their subs were solid performers for the price, but they didn't offer anything over $700 and so they weren't really known for high-end subwoofers. That changed in 2017 with their launch of the Ultra-X13, a $1,500 beast that was, at that time, the world's only single subwoofer system that was THX-Ultra certified. It uses a long-throw 13" woofer with a very sophisticated suspension system as well as a powerful motor that can stay linear and distortion-free even at the extremes of its drive levels. It is driven by a 1,000-watt Class-D amplifier and housed in a large but nice-looking cabinet that gave it enough breathing room to perform optimally. It used variable port tuning that allowed the user to exchange lower-frequency output for low-frequency extension if they would rather have deeper bass than louder bass. One unique aspect of it is that both the ports and driver are mounted on the bottom of the cabinet, and this can be a major advantage for those who have rambunctious kids or pets; an exposed driver is a vulnerable driver. It has a very slick satin-black finish with a plexiglass top that makes it a bit nicer looking sub than most in its class. In our thorough review, we found its pristine sound quality to be audiophile-level fidelity even though its THX hype seemed to push it more toward being a home theater subwoofer. It does everything well and nothing poorly: it has good extension to below 20Hz, it can maintain loud levels at all frequencies with little compression, it can not be overdriven into distortion and has well-regulated behavior, and it looks nice. If you are looking for a well-rounded, rock-solid subwoofer, put the Outlaw Audio Ultra-X13 on your shortlist.
Honorable mention: Atlantic Technology 642eSB (Buy Now). The 642eSB is a significantly smaller ported sub than the Ultra-X13 but it does drop down a notch in THX certification with a 'THX Select' rating. However, it is quite nice looking as subwoofers go and has promise to be a solid performer with a 12" driver that features a massive motor and powered by a 350-watt amp. It might not be huge, but it should still be capable of strong deep bass.
Paradigm Defiance X15
MSRP:$1,500
Defiance X15 Product Page | X15 Review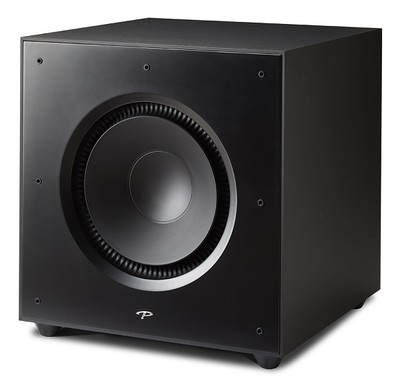 The realm of large, higher-performance, and high-value subwoofers almost entirely belongs to those businesses which specialize in factory direct sales, the so-called 'internet direct' manufacturers- almost. Among traditional loudspeaker manufacturers, there is one who makes an enormous, high-performance subwoofer that doesn't cost a king's ransom and is cost-competitive with the big boys from the internet direct manufacturers. Paradigm is one of the few traditional loudspeaker manufacturers that has always attempted to make truly good subwoofers as opposed to many of the long-standing loudspeaker businesses which treat subwoofers as an afterthought, an over-priced accessory that merely rounds out some product line. Paradigm has recently taken on the internet-direct sub makers directly with the launch of their Defiance X15, a $1,500 behemoth with a 15" driver and 900-watt Class-D amp. Of all the subwoofers in our round-up, the Defiance X15 had the highest mid-bass numbers of 40Hz and above, and here we use the term 'mid-bass' relative to this class of subs which often dig well into infrasonic bass regions. It also holds the lowest measured group delay for this region, so not only is it the loudest, but it is also the sharpest. You can read about all these attributes and more of the X15 in our full review. Almost all acoustic music resides above 40Hz, so if you like your tunes loud and crisp, the Defiance X15 is the sub for you. It is also a competent digger, with extension to 20Hz, so while it might not be the lowest tuned sub in our round-up, it will still bring out subterranean bass. Another advantage that the Defiance X15 holds over these other subs is app control that includes Anthem's ARC automated room correction. ARC is regarded as one of the better room correction programs out there, and it can even be run from the user's smartphone microphone. The Defiance X15 also has the distinction of being unabashedly boxy and adheres to its boxiness as a styling cue.
Honorable mention: Paradigm Defiance X12. The Defiance X12 uses the same design as the X15 but just implemented on a smaller scale yet it still packs a tremendous punch as we saw in our review. While the driver uses a 12" cone instead of a 15" cone, it does use the same motor, so the X12 is not far behind in mid-bass output from the X15. It isn't tuned to as deep of a frequency as the X15 owing to the smaller enclosure but still has a lot of output to below 30Hz. The Defiance X12 is not gigantic but is still a stellar performer with major mid-bass performance and competent deep bass.
Emotiva Airmotiv RS13
MSRP $1,500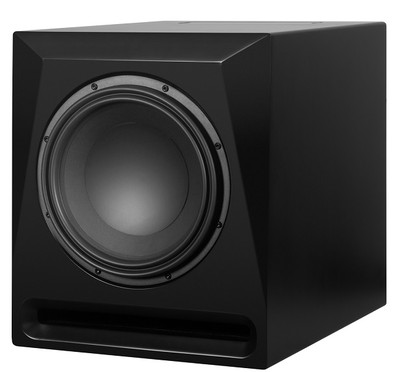 While Emotiva has produced some $1k+ subwoofers before, they have recently pushed their own envelope in the subwoofer department with the launch of the Airmotiv RS13. The RS13 is not much like their previous subwoofer efforts and uses a very different amplifier and driver than anything Emotiva has used before. The RS13 uses a very long-throw 13" driver coupled with a 1,000-watt RMS Class-D amplifier set into a very nice and heavy-duty cabinet. The driver looks very similar to the one used in Outlaw Audio's Ultra-X13, and that is good news since the Ultra-X13 was proven to be a top-notch performer. The cabinet is made from HDF which is quite a bit stronger than the industry standard of MDF. It uses 1" thick sidewalls and internal bracing and a 2" thick front baffle which will make it a solid, brick-like enclosure. One interesting feature of the RS13 is a backlit control panel mounted on the top of the cabinet that is covered by a magnetically detached smoked glass panel. Another neat styling cue is the beveled edges of the front baffle; while Emotiva does this with many of their speakers and subs, the way it is handled in the RS13 looks very nice and more elegant than how Emotiva usually does this.  The Airmotiv RS13 is a bit different from the other subs in our round-up in that it uses a slot port instead of a round port. It is specified with a +/-3dB window of 16Hz to 240Hz, so it should have real power down to the lower limits of human hearing. The matte black finish looks nice, but for a couple hundred more it can be had in gloss black which makes it look very slick and possibly the most stylish sub in our round-up. What is more, it is the smallest sub in our main round-up, so if you are looking for a beast that stands the highest chance of passing an aesthetics test for significant others, the RS13 may be your ticket to bass nirvana. 
Honorable mention: MartinLogan Dynamo 1100X (Amazon Page). While Audioholics didn't run a full review on the Dynamo 1100X as we did with its larger and smaller siblings in its product series, we do have extensive experience with this subwoofer and found it to be a very adept performer for its modest size. It uses a sensitive 12" driver powered by a 650-watt amplifier and comes with a slew of the latest technology in app control and app room correction. If you need high-fidelity bass but can't accommodate a large subwoofer, the Dynamo 1100X is a great choice.
SVS PB-3000
MSRP: $1,400
PB-3000 Product Page | Buy Now | Review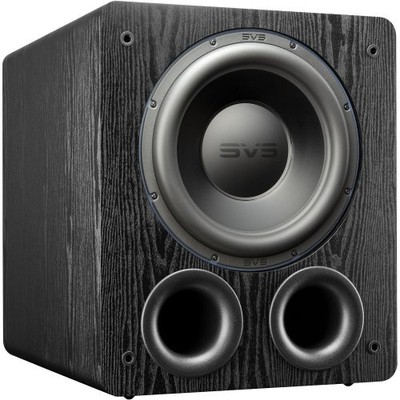 SVS has a highly competitive subwoofer in nearly every price bracket, and in this price range, our favorite from them is the PB-3000. In fact, this may be our favorite subwoofer that SVS has yet produced, and we said so in our extensive PB-3000 review. The reason why is that it comes close in performance to their higher-end models- actually exceeding their flagship PB16-Ultra in mid-bass output- yet is not gigantic or back-breakingly heavy like their higher-end subs. The PB-3000 carries with it much of the high technology from SVS's higher-end subs, like the advanced analog devices DSP chip, the heavy-duty amp topology with 25-amp MOSFETs, and their app control, a highlight of which is the three-band parametric equalizer. The PB-3000 uses a beefy 13" driver powered by an 800-watt Class D amplifier set in a healthy-sized but not gigantic (by our standards) enclosure. There is native support for both sealed and ported operating modes. Being an SVS sub, it is not surprising that it is a competent deep bass digger with strong output to below 20Hz, but what is surprising is the powerful mid-bass output which managed to hit 118dB at 2 meters in our ground plane testing. That makes the PB-3000 the most powerful sub for music range frequencies among SVS's offerings. The PB-3000 was such a successful design that SVS used it as a template for their recent PB-2000 Pro sub which has much of the same design but merely deployed on a smaller scale. The PB-3000 is another great well-rounded design from SVS and definitely deserves consideration from those who are sub shopping in its price range. They offer a risk-free 45-day trial period in case you decide not to keep this monster subwoofer, you don't need to pay any shipping expenses!
Honorable mention: SVS SB-4000. While the PB-3000 is complimented by the SB-3000 within its product line, a subwoofer that is closer in price and may be a better small alternative if you can swing the extra cost is the SB-4000. It has a much more robust driver that is geared more for deep bass output which is where sealed subwoofers normally struggle. It also has a snazzy cabinet design with a slick front-mounted control display with an angled inset. The enclosure is basically an 18" cube, so it's not huge, but with a 100-lbs weight, it is actually substantially heavier than the much larger PB-3000 thanks to its monster driver.
Rythmik Audio FV15HP
MSRP: $1,429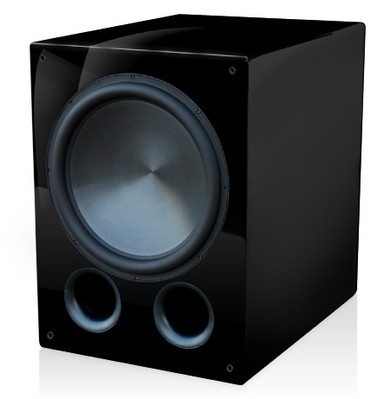 It is a testament to good engineering when a product remains one of the best in class for years, and that is the case with Rythmik Audio's FV15HP. Audioholics gave it an overwhelmingly positive review back in 2011, and it has been a consistently top recommendation in its price point by audio enthusiasts for a decade now. In the world of consumer electronics, a decade is a very long time, yet the FV15HP is still difficult to top in terms of price versus performance to this day. The FV15HP uses a fairly heavy-duty 15" driver paired with a 600-watt Class-H Hypex amplifier that uses Rythmik's vaunted servo-feedback system. Their servo technology uses feedback sensors to correct the voice coil position at all times which helps to lower distortion, especially at higher excursions. The FV15HP has variable tuning and can be tuned to as deep as 12Hz with one port sealed which is well below the frequency threshold of human hearing. It trades low-frequency output in order to accomplish this, and for maximum output, users can tune it to 18Hz which is still extremely low and skirting on the edges of what is humanly audible. It's a big sub but it has big bass and was shown to average 119dB in mid-bass burst testing, and 107.5dB at 20Hz. Those are huge numbers, and it took years for competing subwoofer manufacturers to start to catch up with that level of performance. We may have the FV15HP to thank for forcing other sub makers to up their game to the present level of fierce competition. One interesting aspect of the FV15HP is that it is the only sub in this round-up to use an analog amplifier; all of the other subs use DSP to some extent. One advantage to that is a zero latency which can be a real plus when used with older or simpler systems that have no way to delay the main speakers to match subwoofer DSP delay.
Honorable mention: Rythmik Audio E15. The Rythmik Audio E15 is basically just the FV15HP but in a sealed form factor. Of course, that will incur a penalty in deep bass headroom but confers a major advantage in size. The E15 can be had with a range of options including a more powerful amp, a parametric equalizer, XLR inputs and outputs, different color cones, spiked feet, and different finishes. If you want Rythmik's killer DS1510 15" driver but can't handle the mammoth size of the FV15HP, this is the sub for you.  
Monoprice Monolith 15" THX Ultra
MSRP $1,340
15" THX Ultra Product Page | Buy Now | Review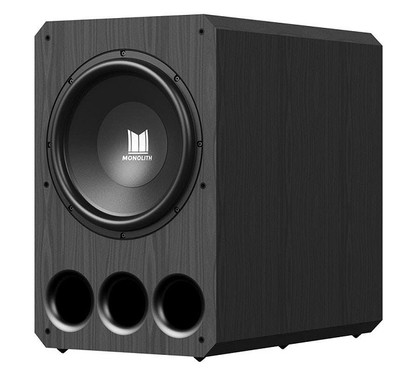 The Monolith 15" THX Ultra from Monoprice is certainly not the most sophisticated looking subwoofer in its price range. It looks like a bruiser fit only for the booms and rumbles of a darkened home theater. The truth is, while it can bring on booms and rumbles, it also happens to be one of the highest fidelity subwoofers that we have ever reviewed. It maintains extremely flat linearity all the way to the highest drive levels and can not be pushed into significant nonlinear distortion at any point. While that is partly mandated by its THX Ultra certification, it looks like the 15" THX Ultra goes beyond that spec and insists on total control no matter what. It just will not allow itself to make any sound that wasn't in the input signal. It is not the most beautiful subwoofer, and that is because the manufacturing costs were spent on performance-related components rather than aesthetic considerations. It is the least expensive subwoofer in our round-up but it is also one of the most powerful. It uses a beefy 15" driver with tremendous linear excursion ability along with a 1,000-watt Class-D amplifier, all inside of a monster HDF enclosure with three ports with variable tuning ability. I remember this 130 lbs behemoth well since I had to carry it up and down a flight of stairs multiple times for use in different outdoor testing sessions. I wasn't a fan of its sheer weight, but I was a huge fan of its sound; normal users are much luckier since they will be done moving it once they get it into place in their room. The 15" THX Ultra is very much a function-over-form device, so if you are interested in the way your subwoofer sounds more than the way it looks, you would do well to take a close look at this one.
Honorable mention: Monoprice Monolith M15-S (Buy Now). The M15-S is simply a sealed version of the 15" THX Ultra. That will invariably reduce deep bass headroom, but the 15" driver that Monoprice uses has such a colossal motor that it does look like it would make a good choice for a sealed cabinet since the higher internal pressure against the back of the cone in a sealed enclosure is not as much of inhibition against the force of a stronger motor. There is no doubt that the M15-S is a terrific sealed subwoofer and should be strongly considered for anyone shopping for sealed subwoofers in its price range.
Hsu Research VTF-15H mk2
MSRP: $1,072 to $1,292

VTF-15h MK2 Product Page | Review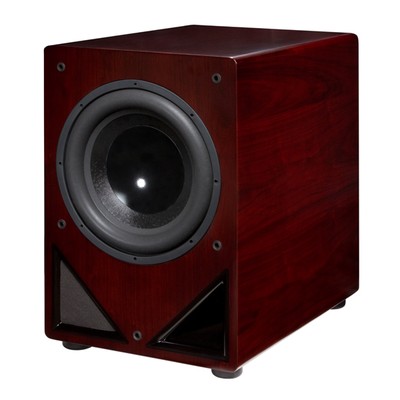 Hsu's venerable VTF-15H MK2 comes as a later addition to this list after our Youtube discussion of these subs prompted many questions of "why isn't the VTF-15H MK2 on this list?" We initially chose not to add it since the base model doesn't really come close to a $1,500 price point. However, after some debate, we are including it for the fact that it is highly competitive in performance to any of the other subs in this list, and the real wood Rosenut veneer upcharge plus shipping plus the extended warranty brings the cost to $1,292 which is close enough to $1,500 that we will allow it. We get the affinity that many owners have for the VTF-15H MK2 since it is such a strong and high-value subwoofer. It has excellent deep bass extension with a response that is flat to 16Hz as well as very powerful mid-bass output that can exceed 118dB in 2-meter RMS burst testing. Some subwoofers can give you a body massage, but the VTF-15H MK2 will use you as a punching bag if you let it. Hsu does display their own burst-test measurements of the VTF-15H MK2 on its product page, and our own testing of the unit have shown their numbers to be conservative, so we know that it is every bit the performer that they claim. Its patented flared triangular ports have the equivalent cross-sectional area as a 4.5" round port which goes a long way toward preventing port turbulence, and the structure of the ports also act as reinforcing braces for the enclosure which gives a more inert cabinet as well. As with some other subs on this list, the VTF-15H MK2 supports variable tuning and can exchange extension to infrasonic bass regions for more headroom in deep bass from 25Hz and above. Like the Rythmik FV15HP, the VTF-15H MK2 uses an analog amplifier that instantly translates input into output whereas subwoofers using digital signal processing do have a delay which must be accounted for in calibration. It says a lot about the value of the VTF-15H MK2 that we are adding it to our list due to popular demand based on reasons that we found it hard to argue with.

Honorable mention: Hsu's ULS-15 MK2 is the sealed version of the VTF-15H MK2 but was already used as an honorable mention for the VTF-3 MK5 in our recent 6 Best Powered Subwoofers Under $1,000 for 2020 article, so we can't use it again for this article - or can we? A ULS-15 MK2 dual drive is a discounted package that goes for $1,499 thereby making our price range (not including shipping), and two of those beasts would have absolutely stunning output as well as the multi-sub advantages of smoothing out the frequency response for a more even bass sound over the entire room. Furthermore, two moderately-sized subs might be an easier sell to the spouse rather than one gigantic sub like the VTF-15H MK2. Decisions, decisions...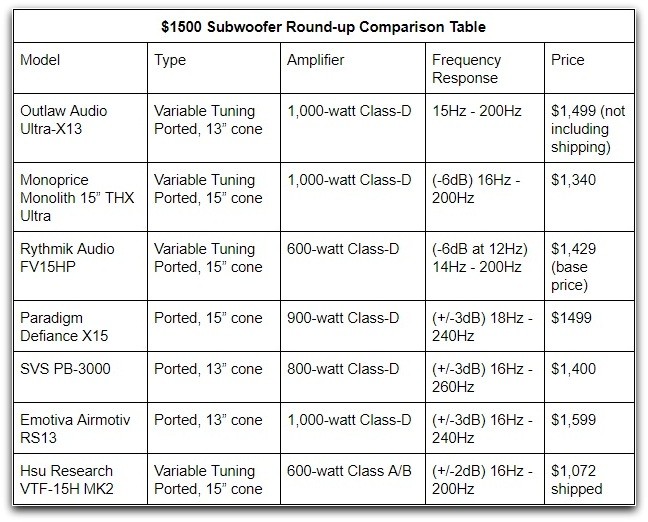 Conclusion
There is a lot of competition in the subwoofer market in this price range, and there are many good choices. If your subwoofer budget lies in this range and you are having trouble choosing which one to buy, another alternative, and in many ways, a superior alternative, is to buy multiple less expensive subs. With optimal placement spaced out in the room, multiple subs will smooth out the frequency response much more than a single subwoofer, and the most important parameter of sound quality in bass frequencies is a smooth response. Something else to consider is to pick a sub among these and plan to add another later. However, if you only have room for one subwoofer, and you only have $1,300 to $1,500 for a sub, we do hope that we have narrowed down the list of choices for you in this article. 
See also:
Confused about what AV Gear to buy or how to set it up? Join our Exclusive Audioholics E-Book Membership Program!
Recent Forum Posts:
Truthslayer posts on January 01, 2021 21:17
ryanosaur, post: 1444566, member: 86393
-k2mJjz6XUE

Edit: FWIW, this dude had this built with a custom finish and is sliding it across his floor. SMDH #enema_nozzle

That's not the worst part of it. If you've seen any of his later videos, he didn't get to keep it very long. He makes up a few excuses for this or that reason of why he was switching to smaller subs, then one of his kids jump in and says " unh uh mom made you get rid of it " LMAO.
Then the dad says "well we kind of both agreed it was just to big" etc.
It was funny as hell.
Kingnoob posts on January 01, 2021 20:16
lovinthehd, post: 1444580, member: 61636
Can't slide a custom finish on a carpet?
I could not imagine carrying anything this heavy up steps ….
This one is heavy too but all the top svs ones are super heavy af…
https://www.monoprice.com/product?p_id=38543
With a bicep injury not sure how I'll ever move my 15" diy sub or my 70 pound plasma tv in my bedroom ….
the sub is light for a 15 but box is awkwardly large .. cannot build another diy it's too hard and my one friend is never free . I'd rather get multiple small subs now .
Sent from my iPhone using Tapatalk
3db posts on December 23, 2020 22:57
It's nice to see that the 10 year old Rythmik is still keeping its ground in the performance arena. They did it right. That design doesn't owe them much any more.
vader540is posts on December 22, 2020 03:21
mazersteven, post: 1444533, member: 8990
No PSA subs
Wonder why…
Tom V is awesome IMO.
ryanosaur posts on December 21, 2020 18:07
lovinthehd, post: 1444580, member: 61636
Can't slide a custom finish on a carpet?

Ha! He paid for it… can do what he wants!
Post Reply