5 Best Powered Subwoofers Under $500 for 2020
5 Best Powered Subwoofers Under $500 for 2020
Best $500 Powered Subwoofers for 2020
$500 has to be one of the most common budget ranges for shoppers looking for subwoofers. For most middle-class consumers, a $500 item is not cheap, but it isn't really expensive either. It isn't a sum that can't be thrown away on a whim, but it isn't likely to break the bank. That must be why that price range is so popular for subwoofer shoppers: they want something formidable but without putting a big dent in the bank account. Very tangible quality differences set in as subwoofers near the $500 range. The enclosures start to get a lot more solid and the drivers start to get serious motors. The amplifiers start getting DSPs onboard along with 300-watt or higher amplification. These are generalizations, of course, and there are exceptions, but these are the tendencies that we see when we survey the subwoofer market in this price range.
With so many subwoofer shoppers in this price range, we have decided to upgrade our $500 subwoofer buying guide since it was getting a bit long in the tooth, having been published seven years ago. Many of those products are no longer available. Why did we choose these particular models for our present line-up? All loudspeaker design, including subwoofer design, carries trade-offs, and we try to determine which models make the best compromises for their targeted use. Different situations call for different subwoofers, and we look at what we think might be the best choices for those applications. We will try to briefly explain why we think our selections can do well for their intended use. So let's now take a look at what seems to be the better options out there in this price range.
SVS PB-1000
MSRP: $500
PB-1000 Product Page | Buy Now
The one holdover from our older $500 buying guide is the SVS's PB-1000. In our view, it still remains one of the best well-rounded choices at its price point, even after all these years. It is a great balance of size, aesthetics, performance, and reliability. It is one of two subs in our list that can be expected to dig down to a solid 20Hz as an in-room response. That is reaching near the lower limits of human hearing for low-frequency extension. The PB-1000 should be able to catch much of the very deep bass in modern action and science-fiction movies that other subs in this list would miss. Its continued popularity is due in part to its well-rounded and optimized design. You might find some same-priced subs that can exceed it in one part or another of its performance, and you can find subs that might be a bit smaller or better-looking, but in order to do any of that, sacrifices must be made somewhere else. SVS has weighed all of these factors and come up with a design that does everything reasonably well and nothing poorly, and that design has endured to this day, nearly 14 years after its first launch. And all of this comes on top of SVS's famously good customer service, 45 day risk-free trial period, and above-average 5-year warranty. We should also mention its smaller sibling, the SB-1000, for those who need a smaller sub and are willing to give up some low-end performance for a small size. 
Polk Audio HTS-12
MSRP: $450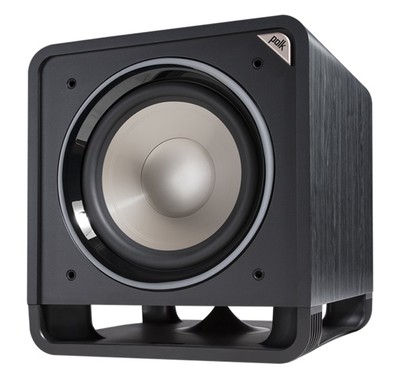 In 2017, Polk Audio launched their HTS subwoofer series consisting of the HTS-10 and HTS-12. Polk had enormous success with their low-cost PSW sub line and introduced the HTS for those looking for a step up from the PSWs. The HTS-12 is the subject of our focus here, with its combination of slick industrial design and performance. While Polk subs are very widespread and can be seen in many systems using affordable subs, audio connoisseurs haven't ever really considered them high performers, but Polk tries to change that image with the HTS subs. The HTS-12 doesn't dig the deepest in our round-up, but it should provide solid output down to 30Hz which is deep enough to catch most of the bass in modern movies and almost all bass in music except for certain niche music genres. While Audioholics didn't end up reviewing the HTS-12, other professional reviews have given it quite a positive reception. Given its critical evaluation and our own brushes with the HTS-12, we see it as a competent performer, and it can often be had for less than its $449 MSRP. It is one of the nicest looking subs in our round-up not to mention one of the least expensive, and we expect it to have decent performance as well. It should add a hefty dose of thump to your sound system without being an aesthetic nuisance or blowing away your entire $500 subwoofer budget.
RSL Speedwoofer 10S
MSRP: $400
Speedwoofer 10S Product Page | Buy Now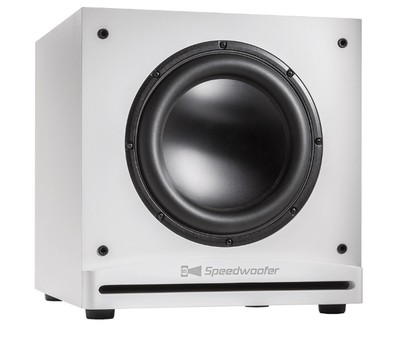 At $400 shipped, RSL's Speedwoofer 10S falls significantly below our $500 pricing for this roundup, but the inclusion of the wireless adapter brings the package cost up to $450, so we let it in. Indeed, we would still consider it a good value even if it were $500 as is reflected in our enthusiasm for it in review. The Speedwoofer 10S is a small subwoofer that brings a big sound. It holds a flat response down to 30Hz with very usable output below that point since the rolloff below its -3dB point is gradual. In fact, in CEA-2010 burst testing, it was nearly able to hit 100dB at a 2-meter distance which is very impressive when its size and cost are considered. It can throw quite a jab given its size. In addition to its performance, it can accommodate a speaker level connection as well as a wireless adapter, and it has RCA outputs as well, so it can be used in a wide range of setups. RSL has had enormous success with the Speedwoofer 10S, and they have considerably upped its aesthetics quotient by making a white version available. Its size and connectivity make it flexible, its availability in white makes it stylish, and its recorded measurements prove it to be a performer. In addition to all of this is RSL's renowned customer service and generous return policy that pays for return shipping within a 30-day window if you don't want to keep it for any reason. We think that RSL can afford to have such a generous return policy because they know that the vast majority of buyers will want to keep their Speedwoofer 10S subs. It's that good.
Monoprice Monolith 10" THX Select
MSRP: $500
Monolith 10" THX Select Product Page | Buy Now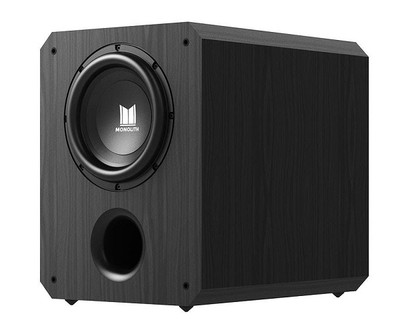 Monoprice has gradually been changing their brand image from a destination for mere consumer electronics accessories to a manufacturer of serious consumer electronics, and the Monolith line of high-end audio products is one of the pushes they implemented to make this happen. They knew they had to make a splash to effect this change in image, and so they did, by launching a string of THX-certified subwoofers. We were mightily impressed by the Monolith subs in our reviews of the 10" THX Select and 12" THX Ultra, not to mention the massive 15" THX Ultra, and so, at $500, the Monolith 10" THX easily earns a place in this round-up. The Monolith subs are built like tanks, and the 10" THX Select is much heavier and larger than any other sub in our round-up in spite of "only" using a 10" driver. The 10" driver in question is a massive unit with a motor section that is nearly as large as the cone itself. It is powered by a 500-watt Class-D amp which is the most powerful among the home audio subwoofers in our round-up. This is a sub where aesthetics takes a distant backseat to performance, so it might not look the prettiest, but, with the ultra-low distortion output mandated by THX certification, it could well sound the prettiest. Aside from the SVS PB-1000, the Monolith 10" THX Select is the only other sub in our round-up that can dig down to an honest 20Hz. The 10" THX Select gives you a lot of sub for your money. We should also mention the M-10S as its same-priced sealed counterpart for those who want Monolith build quality but need a smaller sub.           
REL HT/1003
MSRP: $500
HT/1003 Product Page | Buy Now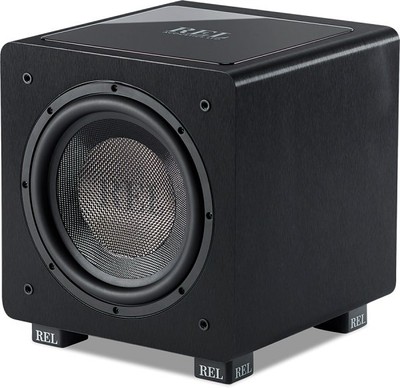 REL Acoustics has long been known as a manufacturer of higher-end audiophile subwoofers that emphasized music reproduction, but they have recently released a line of subwoofers that were made to tackle the requirements of home theater as we discuss in our preview article of the Serie HT line. The HT/1003 from this line uses a 10" long-throw driver in a sealed enclosure and powers it with a 300-watt Class-D amplifier. The driver has a very swank-looking carbon-fiber cone, and the enclosure has gently rounded edges with a polished top-plate, so the HT/1003 is fairly stylish for an affordable sub. What furthers its acceptance factor for other household members is its petite size: it is essentially a 13" cube. Further increasing spouse acceptance factor is the compatibility with REL's HT-Air wireless signal transmission which negates the need for a signal wire which is one less wire in the cabling situation. While we haven't had a chance to experience the HT/1003 in person, we can see all the right ingredients are there for some good bass, and REL has left some positive impressions with us in the past. If you need a smaller subwoofer, the HT/1003 looks like a great solution in this price bracket.
Behringer Eurolive VQ1800D
MSRP: $500
Eurolive VQ1800D Product Page | Buy Now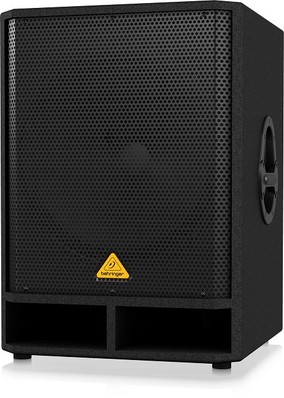 And now for something a little crazy. Up to now, the subwoofers we have been discussing hone audio subwoofers which should have a decent amount of output for their size and price, but they are forced to make design choices that limit output to find a place in an average household. That is fine since the applications that they are intended for are not ones that demand high output. But, what if you want blazing loud bass but are only working with a $500 budget? Enter the Behringer Eurolive VQ1800D. This is a $500 subwoofer that uses an 18" driver and a 500-watt Class-D amplifier. Behringer claims that it can hit 124dB at 1m which is very plausible given the design. If you combined all the other subwoofers listed in this round-up, they likely would not be able to hit that level of output. However, while you can use the VQ1800D as a sub for your home audio system, there are some pretty significant caveats to that since that is not its intended purpose. It's intended for sound systems in large rooms like clubs or performance halls or even outdoor venues. The obvious catch is that it is big and industrial looking, so it gives absolutely zero concessions to aesthetics; it's a big, ugly, black box.
Another caveat is that in order to have that kind of tremendous output, extension is sacrificed. Indeed, the -10dB point is 40Hz. That means it is going to miss much of the deep bass in movie soundtracks. This is a sub made for live music systems, and most acoustic instruments don't really produce much bass below 50Hz. Another catch is that with such a high port tuning frequency, the transient response may not be the sharpest. On top of all that, users will need to feed the VQ1800D with XLR inputs, and the voltage difference between consumer and professional signal standards can sometimes give rise to noise floor issues, although signal amplifiers are a reliable and inexpensive solution for that problem. If you can deal with these issues, and you like your music loud, like really loud, the Eurolive VQ1800D just might be the sub for you. This seems like a particularly cost-effective solution for headbangers who like their metal loud or lovers of percussion who want realistic reproductions of a drum kit. 
Subwoofer Set Up & Optimization YouTube Discussion

Conclusion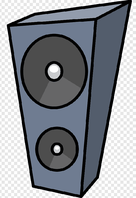 In this article, we have listed the subwoofers that we would be looking at were we shopping for subs in the $500 price range. $500 can get a decent sub, but that price point will still involve design trade-offs, so the buyer will have to decide what trade-off makes for the best fit for their situation. Most of these subs will not produce output at 'chest-thumping' levels (except the Eurolive VQ1800D, of course), but they should give music and movies a decent low-frequency foundation. They should be good for shared domestic spaces where the system isn't pushed to really loud levels. However, for dedicated spaces like home theaters, we would be looking at a more substantial caliber of subs, but that necessitates a budget increase, naturally. Stay tuned to Audioholics where we will be putting together round-ups of higher cost subs for when you want the most for your money and the budget is a bit more relaxed.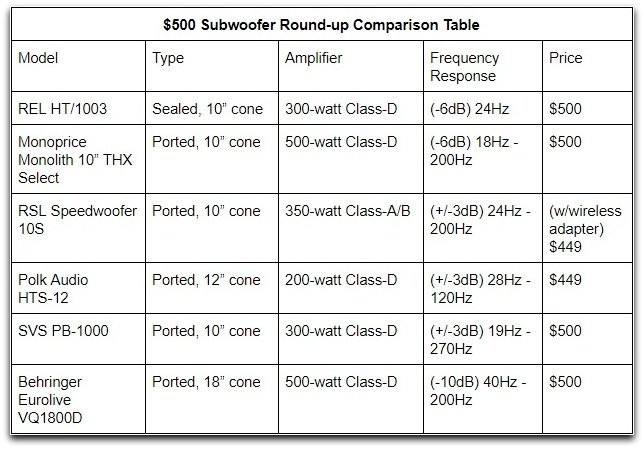 Confused about what AV Gear to buy or how to set it up? Join our Exclusive Audioholics E-Book Membership Program!
Recent Forum Posts:
William Lemmerhirt posts on October 22, 2020 00:00
XenoChron, post: 1427244, member: 93098
Anyone see any downside to SVS outlet items or tried their outlet? Seems like most only $50 off but $50 is $50.
Our friend @Pogre has had great luck with the outlet as well as others. Most of the time you can't even tell anything is wrong. It's all cosmetic. Nothing to worry about.
mazersteven posts on October 21, 2020 23:47
XenoChron, post: 1427244, member: 93098
Anyone see any downside to SVS outlet items or tried their outlet? Seems like most only $50 off but $50 is $50.

Our outlet specials offer huge savings on gently-used speakers and subwoofers. All outlet special products are guaranteed to look and perform like-new (unless otherwise specified below) and carry our full 5 year Unconditional Warranty and complete Bill of Rights coverage.
They describe condition and have pictures to view. And still have the 45 day return policy. I don't see a Downside
XenoChron posts on October 21, 2020 23:32
Anyone see any downside to SVS outlet items or tried their outlet? Seems like most only $50 off but $50 is $50.
XenoChron posts on October 21, 2020 23:25
Benni777 posts on October 21, 2020 08:38
I'm curious as to the Emotiva SE12 @ $400. Perhaps not the best of the bunch but wonder how it performs? Below are the website specs:
Driver Complement


Active driver: 12" downward firing heavy duty, long throw subwoofer with a vented steel frame, 2" voice coil, NBR surround, and treated paper cone.

Passive radiator: 12" front firing passive radiator with a steel frame, rubber surround, and treated paper cone.
Electrical Specifications



Amplifier: 200 Watt RMS, 400 watts peak. Cool running, audiophile quality, high efficiency Class D amplifier.

Protection: Acoustically transparent limiter.

Frequency response: 28 Hz - 200 Hz (+/- 3 dB).


Inputs:



Stereo left and right unbalanced RCA inputs.

LFE unbalanced RCA input.

Speaker level left and right inputs.


Outputs:



Stereo left and right unbalanced RCA stereo inputs with user-configurable 60/80/100 Hz high-pass, 12 dB/octave bass high pass RCA output.

High Pass THD >.005%


Controls:



Volume

X-Over Frequency (low-pass)

High-pass Crossover Frequency

Phase


Power mode



AC power: User selectable line voltage; 115 VAC/60 Hz (6.3A Fuse); 230 VAC/50 Hz (3A Fuse).


Cabinet:



Heavy, acoustically inert MDF cabinet, covered on all sides with tough attractive textured vinyl. Includes a removable sculpted fabric grill with heavy vibration resistant MDF support frame.

Feet: Permanently attached feet with anti-slip rubber pads.

Enclosure Loading: Tuned passive radiator.


Mechanical


Dimensions:



15-3/4" high x 15-3/4" wide x 15-3/4" deep unboxed.

17" x 17" x 17" boxed.

Feet: Permanently attached feet with anti-slip rubber pads.

Weight: 46 lbs unboxed. 50 lbs boxed.


EXTRA


The Airmotiv SE12 Flex Sub can be configured in a variety of different ways, making it the perfect solution for adding a subwoofer to virtually any surround sound system, or for adding a subwoofer and bass management to almost any two-channel system.



System Configuration #1: A surround sound preamp/processor, A/V receiver, or stereo preamp, with built-in bass management and a subwoofer output.

System Configuration #2: A surround sound preamp/processor, A/V receiver, or stereo preamp, with a subwoofer output, but with no built-in bass management.

System Configuration #3: A stereo preamp or processor that has line-level connections to a separate power amp but lacks a separate subwoofer output.

System Configuration #4: An AVR or integrated amplifier that has no line level outputs or internal bass management.

System Configuration #5: You have a stereo receiver or integrated amplifier, which has no subwoofer output or bass management, and that you wish to use with a subwoofer and a separate power amplifier.

Post Reply