Monoprice Monolith 10" THX Select and 12" THX Ultra Subwoofers Review
Monoprice Monolith 10" THX Select and 12" THX Ultra Subwoofers Review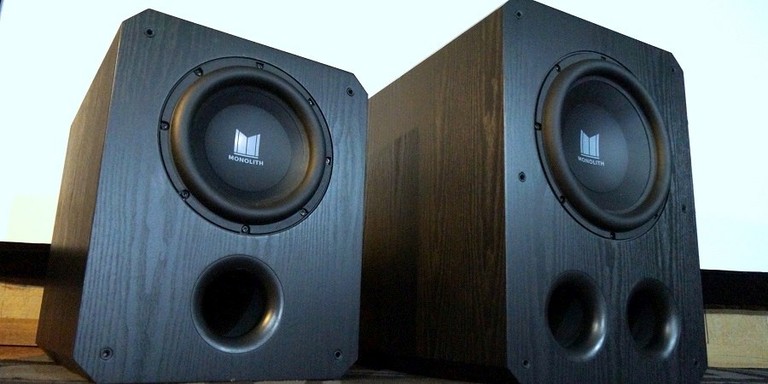 Product Name: Monolith 10" THX Select Subwoofer and 12" THX Ultra Subwoofer
Manufacturer: Monoprice
Performance Rating:
Value Rating:
Review Date: May 17, 2018 00:00
MSRP: $ 500 Monolith 10" THX Select Subwoofer, $800 12" THX Ultra Subwoofer
10" THX Select:
Woofer: 10" cone
Cone Material: 2-layer long fiber pulp/glass fiber cone
Voice Coil: 60mm with high temperature aluminum wire and black anodized aluminum bobbin
Surround: FEA optimized NBR (nitrile budadiene rubber)
Motor: FEA optimized, undercut T-pole focused field
Magnet: Ceramic Y35, 2 pcs total 144 oz.
Xmax: 18mm (one-way)
Xmech: 78mm (peak-to-peak)
Enclosure: Sealed or vented HDF cabinet with horizontal and vertical bracing
Finish: Black Ash
Amplifier: Class D 500W rms
Frequency Response (-6dB) Extended EQ Sealed: 28-200Hz
Frequency Response (-6dB) Extended EQ Vented: 18-200Hz
Frequency Response (-6dB) THX EQ Sealed: 31-200Hz
Frequency Response (-6dB) THX EQ Vented: 20-200Hz
Harmonic Distortion: <1% 20-100Hz (90dB @ 1m)
Variable Level Control: +15/-20dB
Crossover: Inline/Bypass variable 40-160Hz
Inputs: RCA (2), XLR
Outputs: XLR
Signal Turn On: Selectable always on/auto
Auto Turn Off: 30 minutes
Dimensions (H x W x D): 18.9" x 15" x 19.7" (480 x 380 x 500mm)
Net Weight: 72.5 lbs. (32.9 kg)
Gross Weight: 93.9 lbs. (42.6 kg)
12" THX Ultra:
Woofer: 12" cone
Cone Material: 2-layer long fiber pulp/glass fiber cone
Voice Coil: 60mm with high temperature aluminum wire and black anodized aluminum bobbin
Surround: FEA optimized NBR (nitrile budadiene rubber)
Motor: FEA optimized, 2 aluminium shorting rings, undercut T-pole focused field
Magnet: Ceramic Y35, 2 pcs total 144 oz.
Xmax: 18mm (one-way)
Xmech: 80mm (peak-to-peak)
Enclosure: Sealed or vented HDF cabinet with horizontal and vertical bracing
Finish: Black Ash
Amplifier: Class D 500W rms
Frequency Response (-6dB) Extended EQ Sealed: 26-200Hz
Frequency Response (-6dB) Extended EQ Vented (1 port): 19-200Hz
Frequency Response (-6dB) Extended EQ Vented (2 ports): 18-200Hz
Frequency Response (-6dB) THX EQ Sealed: 29-200Hz
Frequency Response (-6dB) THX EQ Vented (1 port): 23-200Hz
Frequency Response (-6dB) THX EQ Vented (2 ports): 20-200Hz
Harmonic Distortion: <1% 20-100Hz (90dB @ 1m)
Variable Level Control: +15/-20dB
Crossover: Inline/Bypass variable 40-160Hz
Inputs: RCA (2), XLR
Outputs: XLR
Signal Turn On: Selectable always on/auto
Auto Turn Off: 30 minutes
Dimensions (H x W x D): 22.8" x 16.7" x 23.6" (580 x 425 x 600mm)
Net Weight: 98.5 lbs. (32.9 kg)
Pros
Beautifully linear responses
Outstanding build quality
Very low distortion
5-year warranty
Bulletproof against over-driving abuse
Relatively inexpensive considering parts quality and performance
Cons
12" THX Ultra subwoofer is arduously heavy
10" THX Select subwoofer isn't quite able to produce chest-punching mid-bass alone
In the audio world, Monoprice has long been known for being an electronics accessories supplier. Recently, however, they have been pushing that image aside with their Monolith product line, where they have brought some heavy-duty audio products to the marketplace. We reviewed their Monolith Air Motion speakers and Monolith 7-channel amplifier last year and can attest to the seriousness with which Monoprice is pursuing the higher-end of the audio world. Monolith continues this trend here where we will be looking at a couple of their new THX subwoofers, the Monolith 10" THX Select and the Monolith 12" THX Ultra. As their name suggests, they are THX-certified with different levels of certification. Monoprice also has a larger 15" subwoofer in their line-up, the 15" Ultra, and we may be looking at that unit in a future review.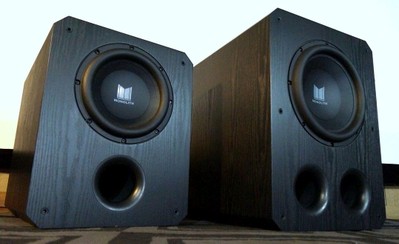 Monoprice Monolith 10" THX Select  and 12" THX Ultra Subwoofers

These subwoofers enter a competitive marketplace for their respective sizes and price-points, but, as we have seen with other products from the Monolith line, Monoprice does not intend to be lost in the shuffle. For the specs and build of these units, they are very aggressively priced. Monoprice means business, and the Monolith subwoofers are looking to be mentioned alongside other heavyweights of home audio subs from such companies as Outlaw Audio, Hsu Research, SVS, and Rythmik Audio. So, with the $500 entry in the Monolith line-up and the $800 middle-child, let's take a close look at what Monoprice has delivered.  
Packing and First Appearance
The 10" THX Select and 12" THX Ultra both arrived in large and hefty boxes. Each subwoofer was double boxed with thick polyethylene packing foam blocks protecting the top and bottom of the subs. The subwoofers themselves were covered in a black cotton sack that opened by a drawstring. The cotton sack looks like it would do well in protecting the subwoofers from scuffs and moisture. Enclosed with the subs were white cotton gloves for handling the subwoofers without getting fingerprints on the finish. The gloves are a neat touch, but the fact is that the finish isn't a glossy kind that fingerprints would be very visible, so I regard the gloves as an unnecessary addition (but not unwelcome). The drawstring bag and gloves do impart the aura that this product is a high-end purchase, and I think their inclusion is as much about presentation as they are about safely protecting the products during shipment. Overall the packing is excellent considering the price, but it also needed to be very good, since these subs are quite heavy for their size.
The unpacking process revealed a pair of very robust looking subwoofers. The no-nonsense black ash finish, sharply beveled edges, and beefy woofers give these subs a muscular look, almost reminiscent of a muscle car from the late 60's. The black-ash vinyl finish is not fancy, but it does the trick and makes the sub look more like piece of furniture than a plain box. The beveled edges assist in this regard and lend the subs more personality. The large, front-firing port and woofer make no apologies for the function of these particular units: they produce bass. These elements of the subwoofer can be hidden with the included grille, but, to me, grilles always rob speakers of their personality. With grille, the subwoofer becomes just a drab black box aside from a small Monolith insignia on the bottom of the grille. Without grille, the beefy-looking woofer is exposed. The woofer has a reassuringly large surround, and the cone has a simple concave shape with a smooth matte black texture and a Monolith logo printed in the center. Beneath the woofer is a large port (or dual ports on the 12" THX Ultra) that looks like it means business. Overall, the Monolith THX subs are not without style, but that style is essentially praising the function of the unit rather than trying to hide it as with so many subwoofer designs.
Design Overview
The first phras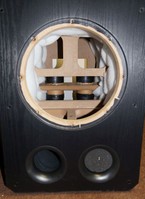 e that comes to mind when trying to explain the design of the Monolith THX subs is "sheer mass." As mentioned before, these are heavy subwoofers relative to their size. For their cone size, these are easily the heaviest 10" and 12" subwoofers I have had to deal with, at nearly 73 lbs. and 99 lbs. respectively. The 10" THX Select has the weight one would normally expect from a heavy-duty 12" and the 12" THX Ultra has the weight one would normally expect from a stout 15" subwoofer. The weight is mostly a consequence of their enclosure construction, so let's begin our design overview discussion by describing their cabinets. 
Both Monolith subwoofer cabinets are made from high-density fiberboard (HDF) as opposed to the usual medium-density fiberboard (MDF) that most subwoofer cabinets are made from. This is a tougher, heavier, and more durable material, and Monoprice claims it is more sonically inert than medium-density fiberboard (however, some argue that HDF is less absorptive so therefore acoustically inferior to MDF). All paneling on the Monolith THX subs use 1" thick high-density fiberboard except for the front baffle which is 1.5" thick. There are two pieces of 1" thick HDF bracing inside both subwoofers: a vertical window brace and a horizontal piece that holds the ports in place. The grille uses a beefy 1" thick MDF frame for a soft fabric covering and is held on the front baffle by some sturdy pegs. The feet are some small cones with a rubbery covering. The rubbery texture should protect hard floors against scratching from the pointed end of the broadly spiked feet. As heavy as these subwoofers are, you don't want to drag them across the floor, since the rubber will leave a streak.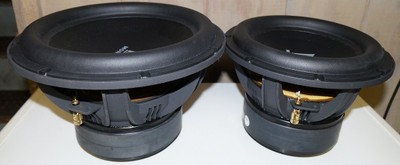 The drivers for both subwoofers share many similarities despite the different cone sizes. Both use a similar motor: two stacked 7" diameter, ¾" thick magnets, 2.5" diameter voice coil, 6.5" spider. That makes for a very brawny motor, especially for a 10" woofer of this price point. The baskets use a sturdy-looking cast aluminum design. Venting is strategically located
on the basket beneath the spider for optimal cooling to the voice coil and also to thwart air compression under the spider so that its linear motion is less inhibited. The back plates are bumped out to allow for a generous amount of throw without bottoming. The drivers for both subwoofers use dual aluminum shorting rings for reduced even-order harmonic distortion. The cone is composed of fiberglass and long fiber pulp, which combined, takes advantage of, "the pulp's superior stiffness with the additional rigidity and lightweight properties of fiberglass, to deliver a driver of massive durability and excursion," to quote from the monolith product pages. The suspension is composed of the aforementioned 6.5" Nomex spider and a large 1" nitrile rubber surround and looks like it would permit a substantially long excursion.
Monoprice claims 18mm of Xmax for both drivers (Xmax is essentially how far the cone can move in one direction from its rest position in a controlled manner). 18mm is a lot of linear excursion for a 12" or especially a 10" woofer. Monoprice also claims that they both have nearly 80mm or peak-to-peak Xmech, or, to put that in other words, about three inches of excursion that these drivers have in both directions. That is a tremendous amount of throw, and the drivers will have a lot of room to safely play in before they could reach their mechanical limits.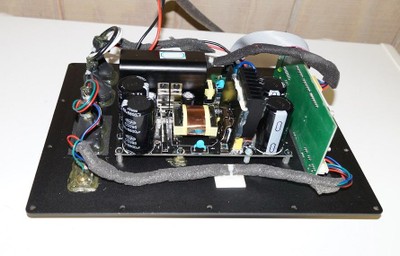 Both the 10" THX Select and 1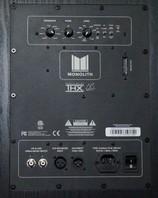 2" THX Ultra use the same 500-watt RMS Class D amplifier. The only difference between them are the internal DSP settings. The amps have dual RCA inputs, and an XLR input and output. Aside from the standard gain knob, crossover switch, and crossover frequency knob, the controls feature a variable phase knob and an EQ switch. The EQ switch can change the mode from either a THX-certified setting or an 'extended' mode that permits deeper frequency extension. Examining the inside of the amplifier, we see four hefty capacitors and a DC transformer, along with a heatsink and what looks to be a heatshield that could possibly function also as an EMI shield. To my untrained eye, the build quality looks good: clean, heavy-duty components, with a logical layout. An amplifier with this build quality and feature set strikes me as very good for this price point, especially for the $500 10" THX Select.
Let's talk about THX certification for just a bit. Among home theater buffs, it hasn't gone unnoticed that THX has gone out of vogue in the last decade, at least in North America (Asia is a different story). In recent years, fewer devices have been sporting the THX logo and fewer theaters have sought THX certification. There are multiple reasons for this decline, and I believe that one of the reasons is most people were never really clear on what THX was supposed to stand for exactly. For those who don't know, THX's primary mission is to create a performance standard. This means that devices or media content that hold THX certification meet a certain degree of performance as measured by THX that assures a good listening and viewing experience. Commercial theaters that have achieved THX certification promise to have excellent sound and picture quality. Recording studios that have THX certification are mixing and mastering content in a consistent manner to a specified high standard. Audio equipment that bears THX certification has met a certain degree of performance and fidelity, such that it should sound good under the conditions specified by THX. The standards needed to meet THX certification are fairly rigorous and take advantage of much of the modern science in psychoacoustics.
What About THX?
So, THX certification basically means this p
roduct or service has attained a certain level of high performance. What does this mean in relation to the subjects of this review, the 10" THX Select subwoofer and 12" THX Ultra subwoofer? The answer is that these subwoofers are named after the level of performance certification that they have achieved. The 10" THX Select subwoofer is named after the 'THX Select' certification, which means it should hit 115 dB peak pressure levels in a 2,000 cubic foot room with a 10' to 12' viewing distance from the screen. The 12" THX Ultra subwoofer is named after the 'THX Ultra' certification where it should be able to hit 115 dB peak sound pressure levels in a 3,000 cubic foot room with a viewing distance of 12' or more from the screen (the four different performance classes can be read about on this page at the THX website). This is all done with a very low level of distortion, down to 20 Hz. But for THX, raw output ability is just one parameter of performance. There are other parameters that must be considered for a subwoofer to be up to THX's standard of fidelity, such as distortion quantities, compression behavior, linearity in frequency response, conformity to THX's bass management requirements, and time-related behaviors such as group delay. In fact, THX conducts over 400 tests on subwoofers to ensure that they meet certification standards. Therefore, the stamp of THX certification is not some trivial 'seal of approval' handed out like candy. It signifies a high bar of measured performance, and that is probably one of the reasons why it is not common. The design and build of a THX certified component is not an inconsiderable task.
Listening Sessions 
The best placement for a single sub in my room gives me a relatively flat response for an un-EQ'd single subwoofer, with a window of +/- 4 dB from 25 Hz to 100 Hz with no broad dips in important ranges. This location trades low-end room gain for a relatively flat response, a worthwhile trade for my tastes. I had both subwoofers placed side by side in this location and switched between them at regular intervals during listening. Receiver used was a Pioneer Elite SC-55 with a variety of different speakers, and the crossover was used mostly at 80 Hz and also 100 Hz at times. Since room acoustics have a huge effect on low frequencies, the way this sub sounds in my room at my listening position is not necessarily going to be the way it sounds anywhere else for anyone else, so readers would do well to keep that in mind, and not just for this subwoofer in this review, but for any subwoofer in any review.
Music Listening 
One bass-heavy orches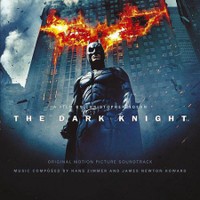 tral recording I listened to was the 'Dark Knight' soundtrack by Hans Zimmer and James Newton Howard. This is an orchestral film score that hits hard and frequently digs deep in bass, and my suspicion is Hans Zimmer was the one at the helm during those passages, since his scores often have bass-heavy percussion and throbbing stringed bass accompaniment. It is a technique that is undeniably good for setting up tension, and subwoofers can be heavily used in Zimmer's film scores. Switching between the subs didn't seem to make a qualitative difference except when I cranked the volume. Then the 12" THX Ultra clearly had an output advantage, as one would expect. Both subs proved to be adept at capturing the strike and decay of the timpany and other bass-heavy percussion. Bass violin and electronic bass instrumentation were capably reproduced with a sense of weight and potency. While the 10" THX Select was clearly pushed a bit harder to achieve the same effect (the greater excursion needed was visually evident), it was surprising at how capable it was considering its cone size. The large cabinet, port, and long-throw design of the driver really compensated for the relatively small cone size in producing palpable deep bass sound. 'The Dark Knight' soundtrack proved to be a great demonstration of the abilities of these Monolith THX subwoofers.
For something on the classic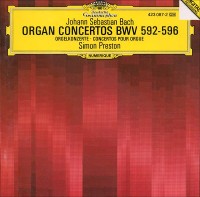 al side of music, I used the album "Organ Concertos BWV 592 - 596," which is a recording of organ concertos by Johann Sebastian Bach played by Simon Preston. This is a relatively popular pipe organ album that shows off Preston's lively playing style on the massive Marcussen pipe organ in the 800-year-old Lubeck Cathedral. The original musical compositions are not really by Bach himself but are Bach's transcriptions for organ of instrumental pieces by Antonio Vivaldi and Johann Ernst von Sachsen-Weimar. Not every song on this recording uses the deeper notes of the organ's capability, but some do take advantage of the bass power of this 'king of instruments.' An album like this doesn't really blast subwoofers a whole lot, but it does use them frequently and is good for demonstrating a subwoofer's usefulness when the sub is properly integrated with the main speakers. When the blend between sub and main speakers is seamless, the pipe organ and the acoustic environment that it is situated in become a singular experience. Of course, the subwoofer has to be up to this task. It has to be convincingly powerful but not overbearing. It therefore must have adequate dynamic range and also a linear response. I am happy to report that the Monolith THX subs were up to the task. The deeper notes of these organ concertos were given a solid foundation by the THX subs without an artificial rumble or boom. I switched from the 10" THX Select to the 12" THX Ultra midway through the album and couldn't really tell any difference between them for this music. Either one would be fine for pipe organ music, but of course the 12" THX Ultra is inevitably going to be a bit more powerful for those who like to listen at louder volumes.
An album that I listened to with only the 10" THX S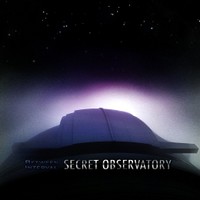 elect was a 2005 release of atmospheric music called "Secret Observatory" by the Swedish artist Between Interval. "Secret Observatory" is heavily-ambient music that sounds like the soundtrack to a tour of deep space phenomena. It is percussionless and has a cavernous, cosmic sound that would suit a particularly intense show at a planetarium. Different low-frequency drones accompanied this flight to the far reaches of the galaxy, so the subwoofer was constantly engaged throughout with varying levels of intensity, from a fierce rumbling to a distant hum. Most of the time, the bass was a subtle undercurrent, but its seamless marriage to higher-frequency sound is critical in "Secret Observatory," since the lush, synthesized sounds blend together and form almost a single, massive soundscape which wouldn't work as well if some part of this sound was a distinct event. The 10" THX Select gave this album a profound depth while never sounding apart from the main body of music. The transition from main speakers to subwoofer was invisible, yet this album would sound hollow without the Monolith subwoofer's contribution. While much of this inconspicuous mix between subwoofer and main speakers is the result of careful setup, the subwoofer itself has to behave appropriately and stay true to the input signal for good results, and on this count the 10" THX Select did an impeccable job.
The opening track of Speedy J's album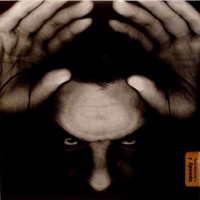 "A Shocking Hobby" sounds like it could fit right into "Secret Observatory," since it is an ambient piece that seems to almost lull the listener into letting their guard down- and then track #2 hits. I don't really know how to classify "A Shocking Hobby"; it is electronic music that is a bit too heavy and abstract for the dancefloor but is too rhythmic and concussive to merely be an intellectual exercise. Speedy J had previously been known for fun techno hits that could pop up in an haute couture fashion show as easily as they could be spotted deep in a music mix of a LSD-fueled rave in an abandoned warehouse. That was in the 90's. The new millennium awoke something dark in Speedy J, because in April of 2000, "A Shocking Hobby" was released, and it hit techno fans like a sledgehammer to the skull. This is electronic music that is brutal and challenging, and as such, low-frequency sounds are used abundantly. The beats are massive and the bass line is guttural and powerful; subwoofers get to stretch out their legs on an album like this. I switched between the 10" THX Select and 12" THX Ultra during the course of this album; they both performed admirably with the edge going to the 12" THX Ultra, but I eventually just used them both simultaneously which is essentially running the bass hot. "A Shocking Hobby" at a loud volume with both subs employed in a near-field placement was an utterly bludgeoning experience; I can cheerfully recommend it to anyone with a strong constitution. Either sub is up to the task of reproducing "A Shocking Hobby," but, for a truly bracing experience, use two! 
Movie Listening
One movie that I watched with the 10" THX Sele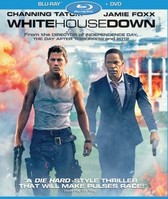 ct was the 2013 actioner "White House Down." For those who missed it, "White House Down" is essentially "Die-Hard" set in the White House and is directed by the disaster film maestro Roland Emmerich, so it has plenty of epic setpieces and therefore opportunities for low-frequency mayhem. Scenes such as the Capitol Building blowing up, attack helicopter firefights, ground-to-air missile attacks, and car chases with Gatling guns are strewn throughout "White House Down," and they keep the subwoofers busy for the duration of the movie.
Thomas Wander and Harald Closer's orchestral score also pays regular visits to the subwoofer frequency domain with its pounding accompaniment to the on-screen action. I had the 10" THX Select placed relatively close to my listening position and set to the 'THX' mode, and it gave "White House Down" a convincing underpinning of bass. It was impressive how forceful this 10" subwoofer could be, especially in the deeper registers of bass. I can say that I did not miss the four powerful 12" subwoofers that I normally use; this single 10" in this close proximity supplied "White House Down" with all the low-frequency output that the movie asked for. Gunfire had punch, explosions had rumble, and the music had a visceral weight that propelled the movie forward. A movie such as "White House Down" that relies on spectacle for entertainment is consequently reliant on the audio and video system for adequately reproducing that spectacle, and, under these terms, the 10" THX Select was a great match for this kind of film.
A film that I watched using the 12" THX Ultra was the 2006 disaster epic "Pose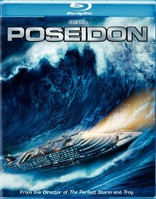 idon." This movie is about a freak tsunami that capsizes a massive ocean liner and the struggle for survival of a group of passengers in the aftermath. Naturally, a movie filled with so much calamity is going to give subwoofers a lot to deal with. Some notable LFE moments are when the gigantic wave crashes over the top deck of the ship and also when a generator engine crashes through an elevator lobby in the overturned ship.
Assisting the on-screen mayhem is Klaus Badelt's propulsive orchestral score. "Poseidon" might not be an insightful drama of the human condition, but it is a fun and well-paced matinee adventure. The 12" THX Ultra recreated all the catastrophe with total composure. Nothing could make it elicit a false noise no matter how hard I pushed it. It gave a visceral force to many key moments in the movie, whether it was the wave crashing against the ship, bursting bulkheads, exploding fuel tanks, or rooms full of people and furniture colliding against the walls and ceiling as the ship rotates. This type of subwoofer behavior is what I would have expected given the THX performance targets I have seen in the past: the subwoofer is not permitted to be driven into significant distortion. It will simply stop getting louder rather than produce distorted sound.