Monoprice Monolith Air Motion Cinema 5 Bookshelf and Center Channel Speaker Review
Monoprice Monolith Air Motion Cinema 5 Bookshelf and Center Channel Speaker Review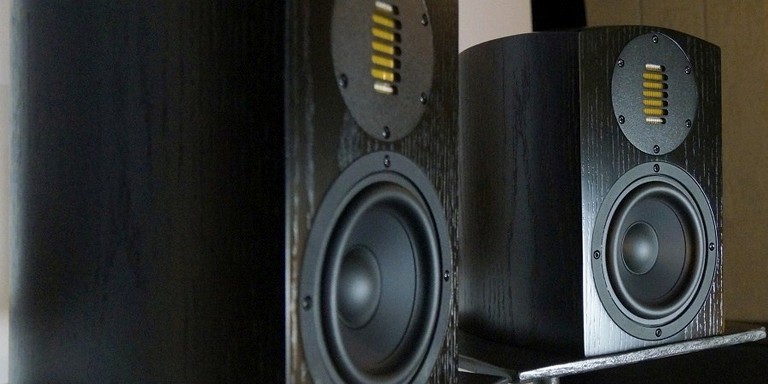 Cinema 5 Bookshelf Speakers / Center Channel Speakers:
Speaker Type: 2-way Bookshelf/ 3-way Center
Enclosure Type: Bass Reflex
Frequency Response: 65 Hz 25 kHz ±3.2dB / 60 Hz - 25 kHz ±3.2kHz
Crossover Frequency: 2.8 kHz / 100 Hz and 3.5 kHz
AMT Crossover Type: 1rst order / 2nd order Linkwitz-Riley
Woofer Crossover Type: 3rd order / 3rd order Butterworth
Mid-range Crossover Type (Center Speaker only): 2nd order bandpass
Sensitivity: 87 dB
Maximum Input Power (RMS): 100 watts
Maximum Input Power (Peak): 200 watts
Tweeter Type: Pleated polyimide diaphragm (AMT)
Woofer Type: 5.25" New Zealand pulp paper cone
Mid-Range Type: 3" New Zealand pulp paper cone
Nominal Impedance: 8 ohms
Cabinet Material: Reinforced high-density fiberboard
Cabinet Finish: Real wood Black Oak veneer
Dimensions (HxWxD): 11.2: x 7.4" x 9.8" / 9.1" x 18.0" x 9.8"
Weight: 14.3 lbs. / 26.5 lbs
Pros
Handsome and tasteful appearance
Neutral bass response
Excellent build quality
Good near-field sound
Reasonably good dispersion
Easy amplifier load - very receiver friendly
Cons
Cone breakup causes spike in treble response
Limited bass extension, requires a subwoofer for fullrange sound
Monolith Air Motion Cinema Speakers Introduction
After being impressed with the Monolith K-BAS bookshelf speaker in our review of them earlier this year, we inquired Monoprice about reviewing a pair of the Air Motion Cinema speakers that were launched at roughly the same time as the K-BAS. Monoprice enthusiastically accepted our offer and threw in an Air Motion Cinema Center Channel speaker for good measure. On the availability of these bookshelf speakers, Monoprice would seem to have made an imprudent decision to release two bookshelf speakers at the same time and roughly the same price bracket. However, that would be a facile analysis; these are two very different speakers that serve different needs. The chief attribute and selling point of the K-BAS speakers is the low and powerful bass extension for the size and price, whereas the main selling points of the Air Motion Cinema speakers is their AMT tweeters, discreet size, and nicely curved cabinet. The Air Motion speakers give up bass extension in favor of a smaller size and more pleasing appearance. With a stated frequency response window of 65 Hz to 25 kHz +/- 3.2 dB, the Air Motion speakers benefit from the addition of a subwoofer far more than the K-BAS. Indeed, the K-BAS bookshelf speakers are an excellent choice when bookshelf speakers are needed for a system where the use of a subwoofer is not possible. However, the Air Motion speaker's lack of bass extension pretty much necessitates the use of a subwoofer in order to achieve a full-range sound system. This of course is no consequence in a home theater environment where a subwoofer is a must anyways.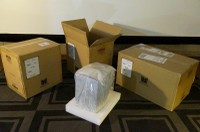 Another important difference is that the Air Motion speakers come with a center channel speaker, whereas the K-BAS does not. Obviously, that means unless the user can fit another K-BAS bookshelf speaker in their setup as a center speaker, the Air Motion speaker set should be used for systems with center channels (and no, it is not advisable to use the K-BAS on its side, due to off-axis lobing inherent in all 2-way speaker designs when placed horizontally). But now, setting apart comparisons between the K-BAS and the Air Motion speakers, let's see what Monoprice has achieved in these modestly sized and inexpensive bookshelf speakers and center channel speaker. The Air Motion speakers arrived at my doorstep with good packing that is sure to protect the speakers from rambunctious shipping with a large foam piece in the top and bottom of a thick cardboard box. Inside the box, the speakers were wrapped in a soft cotton cover underneath a thick plastic bag, in order to protect the speakers from scuffs and moisture. These speakers should be safe from all but the most abusive shipping. 
Appearance 
The most distinguishing visual trait of the Air Motion speakers is the curved cabinets, particularly the top. This isn't something commonly seen at this low price point. That is a classy touch that sets these apart. The use of a real wood Black Oak veneer definitely adds to the aesthetic- a dignified look that would allow the Air Motion speakers to fit in a wide range of decors. With the grille on, they look innocuous- not offensive but nothing that would strike a tremendous amount of interest either. Without the grilles, they have more personality and look more interesting. One nice touch is the use of magnetic grilles so there are no grille guides to mar the appearance of the front baffle of the speaker when used without grilles. The golden yellow of the AMT tweeter also aids in their stately presence. Overall, I think these are some of the best looking bookshelf and center speakers available in their price class.

Design Overview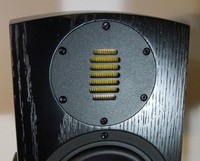 The Air Motion Cinema 5 bookshelf speakers are a 2-way design using a 5.25" woofer and an AMT tweeter. It should be said here that this speaker does not use the inverse horn enclosure that the K-BAS does; it is a simple bass reflex design. The AMT tweeter is the Air Motion's most distinguishing trait from a design perspective, and it is where the Air Motion speakers derive their name, as AMT stands for "Air Motion Transformer". As opposed to conventional dome tweeters that pistonically oscillates a little dome, AMT tweeters contract and expand the folds of a pleated membrane to produce sound. To explain using an example, imagine the folded surface of a half-closed curtain- then line the interior folds of the curtain with conductive rods on adjacent sides of the folds, and set two powerful magnets on the sides of the curtain. Run some alternating current through the conducting rods and their newfound electromagnetic field will rapidly collapse and expand the folds of the curtain, and, in doing so, squeeze air in and out of the folds thereby creating pressure waves that we experience as sound. See the below illustrations taken from Oskar Heil's 1976 patent of the AMT transducer, which are cross sections of the 'folds' of the tweeter diaphragm, first at rest and then in motion.
The low mass and large surface area of the AMT tweeter allows for extended frequency response and dynamic range.
AMT tweeters were initially used to great acclaim by the speaker company ESS back in the early 70's. AMT tweeters have had a comeback in popularity in recent years after having spent decades dormant since ESS' demise. A major advantage in this design is that since it is the folds of the diaphragm are much deeper than they are wide, air is ejected out much faster speed than the vibration of the diaphragm itself- as much as five times faster. Another advantage is the very light mass of the diaphragm that makes it very easy to move and to change direction since it does not have the momentum of the weight of typical dome tweeters. These elements give AMT tweeters an extended response well into ultrasonic frequency ranges. Also, since AMT tweeters can have a relatively large surface coupled with the air, they can have a very wide dynamic range.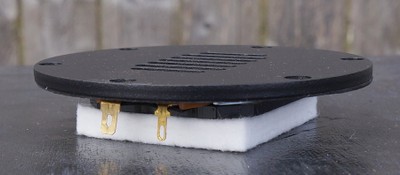 Removing the tweeter, we can see a felt pad on the back that serves the purpose of minimizing backwave pressure from woofers that share the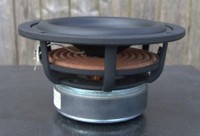 same enclosure. Happily for the Air Motion speakers, that is not needed, since the tweeter is in its own sealed compartment within the cabinet. We are told by Monoprice's Senior Product Manager that this tweeter can be found on much more expensive speakers.
The 5.25" woofer uses a cone made from New Zealand pulp paper that has longer fibers than ordinary wood pulp. This makes for a lighter and more rigid cone that Monoprice claims will produce clearer mids and tighter bass. Removing the bass driver and examining it closely, we see a cast frame that Monoprice says is made from super low carbon steel. We also see a healthy-sized motor with a vented pole piece and a large spider for a driver of its diameter. We are also told that the motor uses a shorting ring to control inductance, which reduces even-order THD. Altogether, this woofer looks up to the task. This is certainly more than a cheap 'barely adequate' woofer, and it shows that Monoprice is serious about making a good speaker.
The Air Motion Cinema 5 speakers are crossed over at 2.8 kHz using a first-order crossover for the tweeter and a third-order crossover for the woofer. Monoprice must have a lot of confidence in their tweeter to use a first order filter on it. First-order filters allow the tweeter to playback quite a bit of content under its crossover point, since high-pass slope is a gradual 6 dB per octave.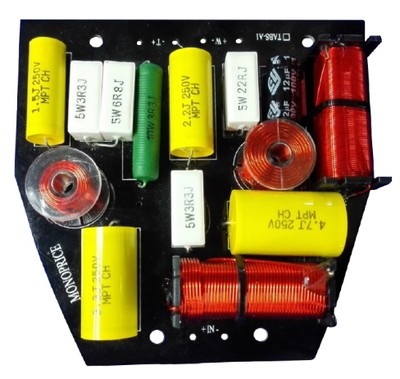 The board itself looks reasonably well built, with a handful of inductors, a few decently large capacitors and a slew of resistors. Curiously, the Air Motion Center Channel speaker looks to have a simpler crossover pictured on its product page, even though it is a more complex 3-way design using a second-order Linkwitz-Riley crossover for the tweeter, a second-order bandpass crossover for the mid-range, and a first-order butterworth crossover for the woofers.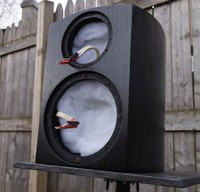 Cabinet construction on the Air Motion speakers looks quite good. The Air Motion speakers are hefty little bookshelf and center speakers, weighing 14.3 and 26.5 lbs respectively. The knock test produces a dulled sound that bodes well for quiet paneling during the speaker's operation. The cabinet panels are made from high-density fiberboard of a 21 mm thickness (or just over ⅘ inches), however, MDF has greater self-damping and is said to be a superior acoustic material. There is a window brace midway in the speaker between the woofer and tweeter that is also 21 mm HDF. As mentioned before, the tweeter has its own sealed compartment to completely block off backwave pressure from the woofer from interfering with the tweeter's lateral travel during playback. Furthermore, the curved cabinet of the Air Motion speakers isn't just for looks; by eschewing flat sidewalls, resonances caused by standing waves inside the cabinets can be reduced, thereby reducing coloration of the sound by lively enclosure panels. On the rear panel of the speaker, we see a 1.5" port and a couple of heavy-duty binding posts attached to a metal plate. With the drivers removed, we can see the cabinet is generously stuffed with Dacron. This abundance of filling is good for reducing mid and high frequency reflections from the back of the box, and it also helps to make the cabinet behave as though it is larger than it really is; this is called isothermal conversion. Isothermal conversion is beneficial to speakers, because a larger cabinet is usually more efficient.
Monolith Air Motion Cinema 5 Bookshelf & Center Channel Speaker Conclusion
As I wrap up this review, I am listening to the Air Motion Bookshelf Speakers, and, even though they didn't measure perfectly, they still sound pretty darn good. Some readers may be tempted to dismiss them out of hand due to the spikiness in the response above 5 kHz, but before they do, they ought to consider that our measurements are very unsparing of any nonlinearities in the responses. Their dream speaker with a perfectly flat response is going to cost considerably more than $200/ea, at least by our rigid measurement methodology. That being said, the high frequencies certainly exhibit some room for improvement.  After discussing our findings with Monoprice, the product manager for the Monolith speaker lines have told us that a modification to smooth out the response is likely to be forthcoming in further production runs of the Air Motion speakers. Even so, as I mentioned, in listening to the speakers I didn't detect anything badly out of sorts. From listening to a recording here and there which I had familiarity with, the only thing that may have been different that I could tell was the higher pitched percussion such as cymbals and hi-hats might have been a bit more pronounced than on the speakers I was used to. Some recordings using bell sounds were also a bit more pronounced than I was accustomed to.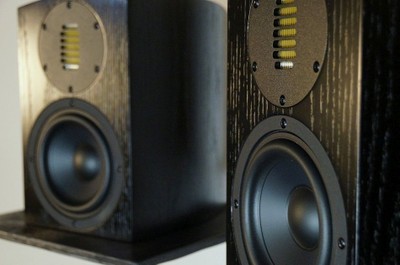 For under  $1k, you can assemble a hard to beat 5.0 Air Motion speaker system.

Notwithstanding the higher frequency rockiness in the response, there is a lot to like about the Air Motion speakers. Horizontal dispersion is relatively wide, and since it lines up well with the direct axis response, the higher frequency jaggedness is something that can be partially tamed by automated room equalizers like Audyssey. As was seen in the polar maps, these speakers have good coverage out to 40 degrees off direct axis, so they give you an 80-degree angle of reasonably good sound coverage. They also have very good dynamic range for modestly sized bookshelf speakers. One aspect in which the Air Motion speakers have a big advantage over the K-BAS speakers is the Air Motions sound very good in near-field use. The K-BAS needed some distance to sound good and just did not work well for a desktop speaker, but I am happy to report the Air Motions sound fine as desktop speakers, so long as they can be elevated or angled back so the tweeters are at ear level.
They may not be the most neutral speaker, but the Air Motion speakers sounded pretty good with some optimal placement and toe-in, and I think most people who give them a chance would be quite happy them. Also in the plus column, they also look very nice and are not very large. The build quality is exceptional for a bookshelf speaker at its price point. Furthermore, they have an electrically friendly load that can run easily on any amplifier. They come with a 5-year warranty and a 30 day window of return for a full refund if you do not wish to keep them for any reason. I think four Air Motion Cinema 5 Bookshelf Speakers and an Air Motion Center Channel Speaker would be a sweet little 5.0 system for under $1k- just add a good sub and you are set for movie night. If Monoprice can get the cone breakup issues in check in further production runs of the Air Motion Bookshelf speakers, they will have some real gems in that price range.
Monoprice Monolith Air Motion Cinema 5 Bookshelf Speakers and Air Motion Center Channel Speaker Review
MSRP for Air Motion Cinema 5 Bookshelf Speakers: $199.99 / each
MSRP for Air Motion Center Channel Speaker: $299.99 
Monoprice, Inc.
11701 6th Street
Rancho Cucamonga, CA 91730
www.monoprice.com
877-271-2592
Monolith Air Motion Cinema 5 Bookshelf & Center Channel Speaker Listening Tests
So How Do They Sound?
In my approximately 24' by 13' listening room, I set up the speakers with equal stand-off distances between the backwall and sidewall, and equal distance between speakers and listening position, with tweeter at ear level and the speakers facing the listening position directly. A Pioneer SC-55 receiver was used in 'Direct' mode, so no tonal processing would interfere with the speakers' natural sound. Subwoofers were used when listening to these speakers, since, after hearing them attempt full-range playback, their low-frequency extension was found to be insufficient for content with material below 70 Hz. I used 80 Hz and 100 hz crossover frequencies, alternating between different content. These speakers are intended to be used with subwoofers. Speaker distance from listening position is about 10 feet.
Music Listening
The easiest way to hear when something is 'off' with a speaker is to listen closely to some sparse vocals that are not drenched in instruments or processing effects like reverb. The sound of the human voice falls into the frequency range that our ears are most sensitive to, and it is also one of the sounds we are most familiar with. You could say our ears are 'tuned' to the sound of the human voice, so if anything is amiss with a speaker's reproduction of sound, it is here where we will hear it more readily than any other instruments. Towards this end, I used Norah Jones' classic album 'Come Away With Me', an album highly regarded for its superb recording of Mrs. Jones' vocals as well as her musical artistry. Through the Air Motion speakers, Mrs. Jones sounded good, and I could no fault of their rendition of her singing. Imaging was also good, with stable, fixed positions of Norah and the accompanying instruments. Piano, acoustic guitar, bass, percussion, and the occasional accordion all had distinct locations in the soundstage presented by the Air Motion speakers. While I used this album merely as a tool to critically listen to the speakers rather than the performance itself, I was still drawn into the music, and it was not long before I forgot that I was supposed to be scrutinizing the speakers rather than enjoying the music. I suppose that is due not only to the power of the performance but also the speaker's ability to render that performance, and this should serve as a compliment of the Air Motion speakers.
For music on a larger scale, I turned to J.S. Bach's St. Matthew Passion as conducted by John Eliot Gardiner and performed by the Monteverdi Choir. The reason I chose this famous oratorio was to hear how the Air Motion speakers could handle the separation of instruments and performers amidst such an expansive and full soundstage as is on this classic recording. As with 'Come Away With Me,' imaging was quite good, and the instruments were vividly and clearly reproduced. The many outstanding vocals in this piece were convincingly effected by the Air Motion speakers. On this gorgeous recording of this celebrated work, the Air Motion speakers proved to be a pleasure to listen to, even at higher volume levels. I must remind readers here that subwoofers were employed for this recording. The Air Motion speakers themselves would not have had the bass capability to do this recording justice.
the Air Motion speakers proved to be a pleasure to listen to, even at higher volume levels.
In evaluating the Air Motion speakers, I decided to switch gears to something radically different after St. Matthew Passion; dubstep. I turned to an album called Kinetik by Phutureprimitive. It that is not the hardest music of this genre but still demands loud playback. I purchased this album a few years ago mostly for its wicked cover, but was pleasantly surprised by some inventive compositions and some interesting new electronic sounds, at least by the standards of dubstep which had by then become stale from too many tunes that were indistinguishable from each other. With subwoofers taking care of the heavy bass lines, the Air Motion speakers ably took care of the rest of the musical spectrum. I find it difficult to describe the wholly synthetic sounds that constitute this album: bleeps, bloops, and other invented tones, but they all sounded pretty good on the Air Motion speakers, even when cranked to roaring sound pressure levels. By the end of the album, I could attest that the Air Motion speakers can deliver the goods on rowdy electronic music.
Movie Listening
One of the films I watched with the Air Motion speakers was the recent Blu-ray release of the 2016 science fiction epic 'Arrival', which, for those who do not know, is about an unusual first contact scenario with an intelligent alien race. What has to be the most standout element of the 'Arrival' sound mix is the eccentric and arresting music score by Johan Johansson that arranges strings and vocals in strange new ways combined with more traditional orchestral scoring. Along with the music, the sound effects within the alien ship deliver a sense of apprehension that accompany the visuals perfectly. Even though I played this movie loud, the Air Motion speakers did not break a sweat. Music was rendered cleanly, and effects sounds were visceral and dynamic. Dialogue intelligibility was not a problem through the Air Motion Center Channel speaker. The Air Motion speakers helped to make my viewing of 'Arrival' an engaging and enjoyable experience.
After 'Arrival', I decided to go for something with a bit more bombast. One movie I had been itching to rewatch was the unusual biblical epic 'Noah' released in 2014. This film adaptation of the bible story is nothing like the wooden biblical epics of DeMille. It uses its ancient source material as a canvas to create some of the strangest imagery ever conceived for a big budget motion picture. With lots of divine, large-scale mayhem, Noah's sound mix is not short on dynamic range. Clint Mansell's music score is grandiose but restrained in the mix so as not to be blaring. The quality of the overall mix is very good, as one would expect from a big-budget Hollywood film these days. The Air Motion speakers had no trouble tackling the dynamic peaks of 'Noah'. The oncoming waves had a satisfying crash and roar on the Air Motion speakers with assistance from the subwoofers. The big rock creatures also had an imposing aural presence with their voices mixed for a 'wall of sound' effect. Throughout 'Noah', as with 'Arrival', dialogue was clear and intelligible on the Air Motion Center speaker. While opinions are certainly divided about the quality of Noah's drama, I do think most people would agree it would sound fine on the Air Motion speakers.
Monolith Air Motion Cinema 5 Bookshelf & Center Channel Speaker Measurements
The Monolith Air Motion speakers were measured in free air at a height of approximately 9 feet and gated at 14 ms. At this window gate, some resolution is lost below 140 Hz, and accuracy is completely lost below 70 Hz and so that range should be ignored. The microphone was placed 1 meter away from the speaker at a height level with the tweeter. All measurements are unsmoothed.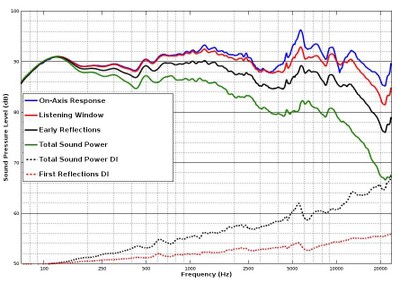 Monoprice Air Motion Cinema 5 bookshelf speaker response curves 
The Air Motion speakers measure well up to 2.5 kHz, but the tweeter shows some spikiness above that point, especially on axis. Off-axis, the tweeter calms down significantly. The spike at 6 kHz suggests that the speaker would have a sibilant character, but in my listening sessions I didn't hear anything that I would consider to be notably sibilant. It may be that the peak is so narrow that sibilance wouldn't come out except in particular cases. The dip centered around 3.5 kHz would be more concerning, although that is something an automated room correction equalization routine like Audyssey can help out with, since it occurs all around the speaker's axis and so is not a diffraction problem. The directivity indexes show that at high treble frequencies, the Air Motion speakers become a very directional speaker, meaning the acoustic energy becomes more focused in front of the speaker instead of widely dispersing. The tweeters higher directivity may be another reason why I didn't hear it to be especially sibilant, since much of the treble energy was confined to a tighter beam instead of reflecting all over the room. For more information on what all the difference curves mean in this graph, we refer the reader to this Audioholics article: Objective Loudspeaker Measurements to Predict Subjective Preferences.
One feature the Air Motion bookshelf speakers has in common with the K-BAS speaker is that the bass response is relatively flat. Most bookshelf speakers in this range seem to have a mid bass boost, but the Air Motion speakers keep the bass relatively neutral. A flat bass response and a slightly elevated range from 500 Hz to 2.5 kHz would suggest a somewhat more 'forward' sounding speaker rather than a laid-back or 'warm' speaker. This sound character can bring out a detailed sound but at the risk of being fatiguing over long listening sessions, although I did not find them to be fatiguing myself. All told, I would wish for a flatter response over the entire range, but the flaws that this graph suggest didn't seem pronounced when I was listening to the speakers themselves.
In investigating the cause of the jagged treble response, we swapped tweeters from the center channel speaker, which measured to have a much tamer response in the 6 kHz to 10 kHz region. The response in the bookshelf speakers remained the same, so it seems that the tweeter itself is not the cause of the problem, or at least is not the sole cause. When we took a measurement with the tweeter disconnected, the problem became apparent; the woofer was clearly running into breakup modes, and the low-pass filter was not sufficiently suppressing the woofer's misbehavior. We would have thought that since the crossover uses a third-order low-pass slope on the woofer at 2.8 kHz, cone breakup should be significantly reduced in this region. In A/B comparisons with speakers we had on hand that had a more neutral response in this frequency range, the Air Motion speakers were notably 'edgier' in character, surely a byproduct of the cone breakup. 
It should be noted here that the measurements seen here for both the Air Motion bookshelf speakers and center speaker were performed with the grille off. The grille did not improve matters above 5 kHz, because the grille frame caused some diffraction that led to more jaggedness in the upper frequencies. The Air Motion speakers perform best without the grille on.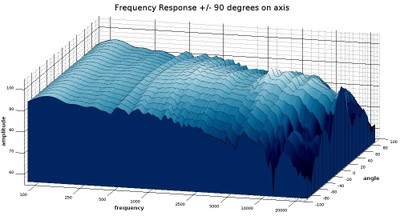 Monoprice Air Motion Cinema 5 Bookshelf Speakers horizontal frequency response +/-90 degrees from axis: 3D view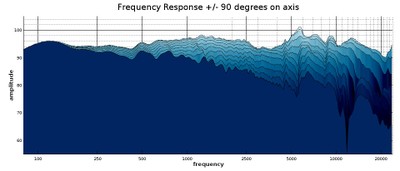 Monoprice Air Motion Cinema 5 Bookshelf Speakers horizontal frequency response +/-90 degrees from axis: 2D view 
Looking at the Air Motion's dispersion graphs in 10-degree increments, we can more explicitly see some off-axis behaviors. We can more clearly see the beaming of the response after 10 kHz. There looks to be a cancellation effect from the tweeter itself off-axis at about 12 kHz, but that is not likely to be audible, so that shouldn't be a cause for concern. Looking closely, we can see the 20 degree and 30 degree angles lose most of that higher frequency on-axis irregularity. For those who want a less forward sound, they might try aiming the speakers off the listening position outside of a 20-degree angle, whether toed in or toed out. That would go a long way toward reducing any 'brightness' of the speaker. The 30-degree response angle looks to be the most linear, at least out to 15 kHz. Dispersion is fairly wide and mostly uniform up to 12 kHz. The Air Motion speakers would offer relatively good coverage over a wide area. This is a speaker that might work well when facing straight ahead as well as toe-in angles aiming at the listening position.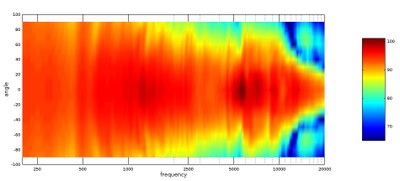 Monoprice Air Motion Cinema 5 Bookshelf Speakers Polar Map 
The above polar map of the horizontal dispersion of the Air Motion speakers depict the same information as the two graphs above it, but tells the story in a different way that can offer further insight regarding its behavior. We can see fairly reasonable dispersion out to 40 degrees, and outside of that the response becomes quite a bit more uneven. As seen on the other horizontal dispersion graphs, 20 degrees to 30 degrees maintains the smoothest response from these angles. As we move up the frequencies, we see a tightening of dispersion until we hit 6 kHz where we encounter a flare up of acoustic energy, which rapidly recedes again after 10 kHz. The 6 kHz irregularity is more evidence of the cone breakup to be certain, but it isn't so severe as to make the speaker extraordinarily bright. Those who want a bit more high frequency detail would be advised to listen on the direct axis of the Air Motion speakers, but, as mentioned above, those who want a less forward sound would be better off at a 20 to 30 degree angle off direct axis.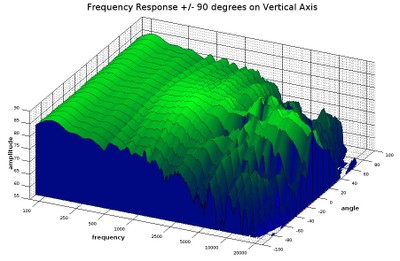 Monoprice Air Motion Cinema 5 Bookshelf Speakers vertical frequency response +/-90 degrees from axis: 3D view 
The above graph exhibits the Air Motion's vertical response. This might look rough, but it isn't nearly as important as the horizontal response. In this graph, we see things are going fine until 3 kHz where lobing nulls are created by the woofer and tweeter cancelling each other out off of the direct axis. Very few speakers with separately placed drivers on a vertical plane (ie. most speakers) have a pretty vertical response off of the direct axis. If we look closely off axis above 6 kHz, we see some comb filtering develop about 60 degrees off axis above 6 kHz. This would be a product of the tweeter itself, perhaps an inherent quality of AMT designs- but this is simply an interesting little artifact in the data, and it will not adversely affect the sound unless the listener is strangely positioned more than 60 degrees above or below the tweeter. The overall message of this graph is that, as with every other conventional speaker, the Air Motion speakers are best listened to at an ear height level with the tweeters.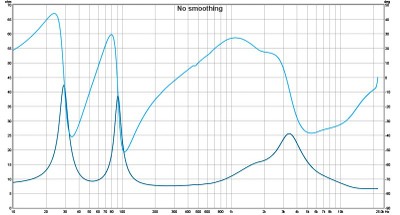 Monoprice Air Motion Cinema 5 Bookshelf Speakers Electrical Impedance and Phase 
The Air Motion Cinema 5 speakers impedance profile shows it to be a very friendly speaker to any amplifier. At no point does the impedance dip below 7 ohms, and all the steep phase angles happen at high impedance points. These speakers do not need a heavy-duty amplifier at all, and even an entry-level AVR could run them easily. The Air Motions easily qualify for the 8-ohm rating they are specified at by the manufacturer. With regards to their sensitivity, I measured them to be 84.9 dB sensitive for 2.83v at 1 meter. They are specified by Monoprice to be 87 dB sensitive, but Monoprice does not say if that is 1 watt or 2.83v or the conditions that sensitivity spec was measured at (ie. in-room or anechoic). 84.9 dB is very typical for this type of design and is not abnormally low. Any conventional AVR or amplifier should be able to drive them to very loud volumes without much problem. By their maximum rated amplification load of 100 watts RMS, they should be able to hit 105 dB, which will be more than loud enough for most people in moderately sized rooms.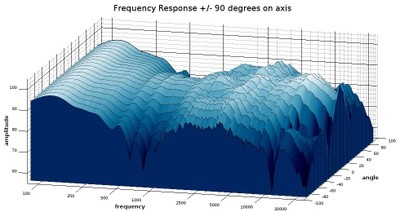 Monoprice Air Motion Center Channel Speaker horizontal frequency response +/-90 degrees from axis: 3D view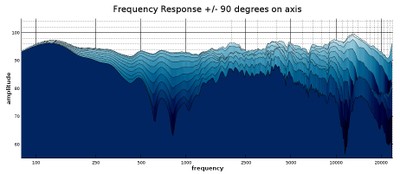 Monoprice Air Motion Center Channel Speaker horizontal frequency response +/-90 degrees from axis: 2D view
The above graphs depict the Air Motion Center Channel Speaker's horizontal response. One thing to note is, while the 5 kHz to 10 kHz range on axis is not perfectly smooth, it is much smoother than the Cinema 5 bookshelf speakers. Overall, this bears a flatter response on axis then the Air Motion bookshelf speakers. As with their bookshelf counterparts, the dispersion diminishes rapidly after 12 kHz. One significant difference is the 500 Hz to 2 kHz dip off axis that occurs past 40 degrees. In an acoustically lively room, that may give this speaker a more forward character, since the 2 kHz to 5 kHz region has a wider dispersion. This off-axis dip may be due to the woofers interfering with each other. A more accurate design may simply been to have only used one woofer, but Monoprice has followed convention, since a center speaker with only one woofer might have raised some eyebrows simply for defying the norm, and sales would have suffered as a result. Imperfect though the horizontal dispersion might be, I didn't hear any serious problems with the Air Motion Center Speaker in my time with them, although I only listened to them on the direct axis. The additional woofer does provide more output so we feel it's a good trade off anyways.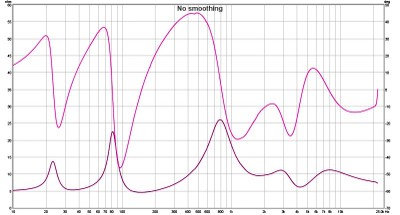 Monoprice Air Motion Center Channel Speaker Electrical Impedance and Phase
Our own impedance measurement curve looks to be slightly more benign than the impedance graph on the product page for the Air Motion center. This speaker is listed as an 8-ohm nominal speaker in Monoprice's product specs, which seems to be fair, although there is a dip that nearly touches 4 ohms from 130 Hz to 200 Hz, clearly due to the two woofers being wired in parallel circuit. The phase angle in that region isn't the friendliest either, however, it occurs in such a narrow band that no amplifier should have problems with that, unless the user blasted test tone in that region specifically. The dips below 80 Hz shouldn't be of concern since this speaker is unlikely to be run much below that point in most systems employing bass management. Sensitivity was tested at 89.3 dB for 2.83v at 1 meter, in a rare instance of sensitivity measuring higher than manufacturer's specs.

The Score Card
The scoring below is based on each piece of equipment doing the duty it is designed for. The numbers are weighed heavily with respect to the individual cost of each unit, thus giving a rating roughly equal to:
Performance × Price Factor/Value = Rating
Audioholics.com note: The ratings indicated below are based on subjective listening and objective testing of the product in question. The rating scale is based on performance/value ratio. If you notice better performing products in future reviews that have lower numbers in certain areas, be aware that the value factor is most likely the culprit. Other Audioholics reviewers may rate products solely based on performance, and each reviewer has his/her own system for ratings.
Audioholics Rating Scale
— Excellent
— Very Good
— Good
— Fair
— Poor
| Metric | Rating |
| --- | --- |
| Build Quality | |
| Appearance | |
| Treble Extension | |
| Treble Smoothness | |
| Midrange Accuracy | |
| Bass Extension | |
| Bass Accuracy | |
| Imaging | |
| Dynamic Range | |
| Fit and Finish | |
| Performance | |
| Value | |