SVS PB-2000 and SB-2000 Subwoofers Review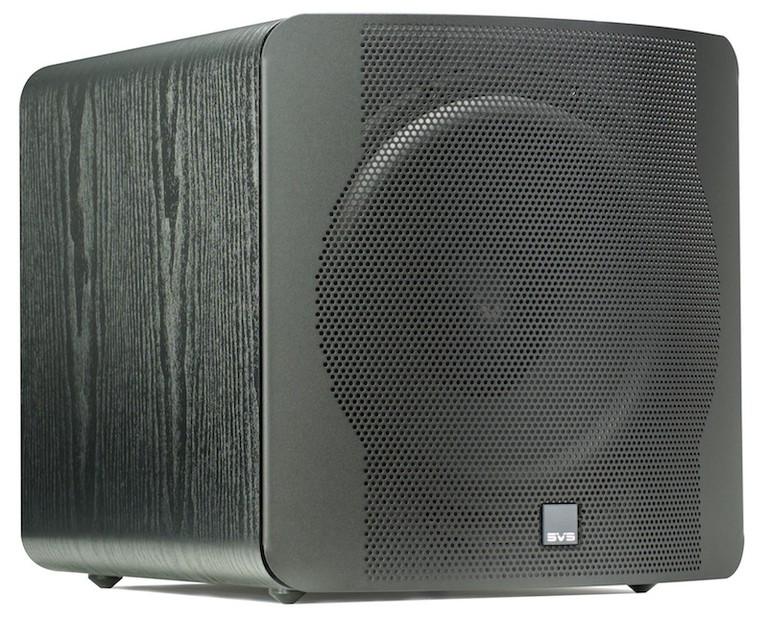 SVS SB-2000 Subwoofer
Summary
SB-2000
12" custom driver
Sledge STA-500D amplifier with DSP controls
500 watts RMS continuous and 1100 watts peak dynamic
Array of filters and volume, gain, and phase controls for fine-tuning performance
Frequency-dependent limiter/compressor algorithm with adjustable attack/release and compression parameters
Compact, sealed enclosure
35 lbs.
14.2" all-around (without feet and grille)
Frequency response: 19-240Hz
PB-2000
12" custom driver
Sledge STA-500D amplifier with DSP controls
500 watts RMS continuous and 1100 watts peak dynamic
Array of filters and volume, gain, and phase controls for fine-tuning performance
Frequency-dependent limiter/compressor algorithm with adjustable attack/release and compression parameters

Front-firing 4" high-flow port with inner/outer port flares
66 lbs.
20.9" x 17.3" x 22"
frequency response: 17-240Hz
Executive Overview
How do you write about SVS subwoofers and not sound like a fanboy? Seriously, I'd like to know. Because unless you are some sort of audio elitist with deep pockets that believes that no value priced product can be good, you've got to love SVS. While they have high dollar products in their line-up, their bread and butter is helping the common man realize his (or her) dream of bass that will make your neighbors call the police.
And they've done it again.
The new 2000 series subwoofers both sport 12" drivers, a brand new Sledge STA-500D amplifier, sub 20Hz performance, and price tags under $800,. You could know nothing else and still think they were a good deal. But that's not all. The new drivers are custom designed by SVS. They developed nearly 20 different prototypes before they got the performance they wanted. This included 100-hours of full power testing! The driver features dual high-grade ferrite magnets and an FEA-optimized motor to reduce distortion. It has a reinforced Nomex spider for increased linearity and a durable low-creep rubber long-throw surround and high-quality insulated tinsel leads with 3-point-contact precision alignment.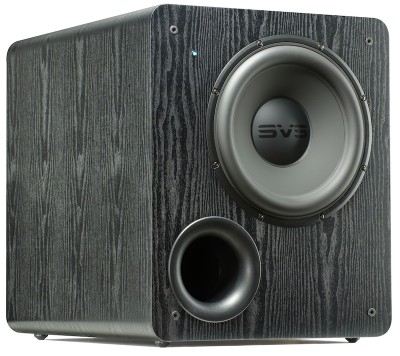 SVS PB-2000

The reason for all these driver improvements is not just to increase performance and to improve longevity. The new Sledge STA-500D amplifier is conservatively rated 500 watts RMS continuous and 1100 watts peak dynamic and is described by SVS as delivering "crushing power". SVS felt that no normal driver would be able to stand up to their new amp. But power isn't the only thing in the STA-500D arsenal. This amp has integrated DSP controls for fine-tuning your bass experience for your particular environment. While specifics are unavaliable, SVS says the STA-500D has, "an array of filters," as well as volume, gain, and phase controls. There is a frequency-dependent limiter/compressor algorithm with adjustable attack/release and compression parameters to protect your subwoofer performance from accidental volume increases.
The SVS 2000 series subs come in two flavors - sealed and ported. The SB-2000 (pic at the top of this article) is sealed and is just large enough to enclose the driver and amp (14.2" cube). It weighs in at an impressive 35lbs and brags a usable frequency response down to 19Hz! It looks to have a fairly standard black ash vinyl wrap which is to be expected at this price point. This is the perfect sub for those on a budget that want performance but don't have the room for a larger sub. While other manufacturers charge more for their smaller subs (usually because of the larger amp requirements), the SB-2000 is the less expensive of the pair at $699.
The PB-2000 has a front-firing port for easier placement but has all the same components as the SB-2000. With the ported enclosure, SVS was able to tune the PB-2000 to a staggering 17Hz low point. The PB-2000 is much larger than the sealed 2000 series sub at 20.9" x 17.3" x 22". The PB-2000 is also much heavier at 66 pounds so you'll probably want to get some of those carpet sliders until you get the PB-2000 into the perfect position. The extra materials in constructing the enclosure bump up the price of the PB-2000 $100 to $799.
Measurements & Analysis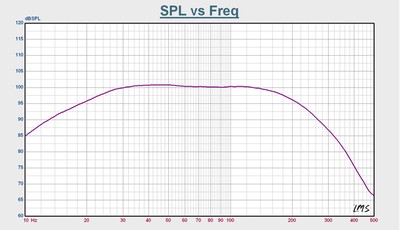 SVS SB-2000 Published Frequency Response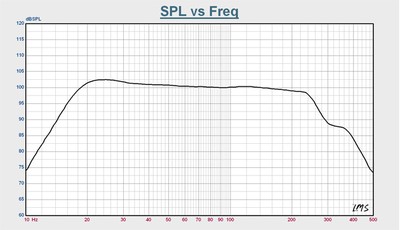 SVS PB-2000 Published Frequency Response
PB-2000 CEA 2010 Results (2 meter RMS)
20Hz      103.8 dB
25Hz      107.6 dB
31.5Hz   109.6 dB
40Hz      110.1 dB
50Hz      110.5 dB
63Hz      111.5 dB
Bassaholic Roomsize Rating: Large
Source: About.com Stereos from Brent Butterworth Testing
SB-2000 CEA 2010 Results (2 meter RMS)
20Hz      92.1 dB
25Hz      97.1 dB
31.5Hz   102.8 dB
40Hz      108.3 dB
50Hz      108.9 dB
63Hz      109.2 dB
Bassaholic Roomsize Rating: Medium
Source:  About.com Stereos from Brent Butterworth Testing
Which One Should You Get - the SB-2000 or PB-2000?

The question you need to ask yourself when you're looking at the Series 2000 subs is: "What is the size of my room?" If you have a large room and need a lot of output, the ported PB-2000 is your sub. If you have a smaller room, then save yourself the $100 and choose the smaller SB-2000.  The smaller sub will certainly please your significant other by blending into the room decor more easily.
SVS PB-2000 & SB-2000 Subwoofers Review


The PB-2000 earns our Bassaholic Large room rating - which is appropriate for a room over 3000 cubic feet. The SB-2000 received our Bassaholic Medium room rating - meaning it can slam a room that's less than 3,000 cubic feet in volume at reference level.

Of course, the amount of output isn't the only difference between these two subs. The larger PB-2000 has a bit more low extension, dropping down to a bone-rattling 17 Hz. But lest you think the SB-2000 is a slouch, its sealed enclosure will provide a more than respectable 19 Hz. The output differences, however, are pretty significant. Expect the ported PB-2000 to play about 10 dB louder below 30Hz.

The SVS subs really are all about performance. The vinyl wrap on the enclosures is acceptable, but nothing too impressive for your significant other. I've never really been a fan of SVS's new curved grilles, but they certainly are unique. The subs also come with small, conical rubber feet on the bottom. The size difference between the two is pretty striking. The smaller SB-2000 is essentially a 14-inch cube while the PB-2000 is...well...it's massive. We highly recommend you build yourself a cardboard model of the PB-2000 if you think you might want it in your living room.

Of course, SVS has provided a hassle-free in-home trial for some time. Currently, they'll let you test out your new sub for 45 days and even pay shipping both ways if you aren't happy. But, other than a heart attack over the size (if you get the ported model), you should be very happy with your purchase. The new driver/amp combination in the 2000 Series subs is just amazing. We tested them with everything from music to movies and they never failed to impress. The mark of a good sub is not just extension and output, but also the ability to disappear into the performance. The SVS 2000 Series did just that.

But when bass was needed, the PB-2000 and SB-2000 subwoofers were more than up to the task. Clean and clear, these subs were able to shake my pant legs in a medium-sized home theater. They can provide bass that will hit you in the chest one moment, and disappear into the musical score the next. The fact that these subs only cost $700 for the SB-2000 and $800 for the PB-2000 is just amazing. For the best bass, we always recommend running two subs. SVS believes the same, offering discounts right on their website—no haggling needed.
Conclusion

Regardless, of which sub you chose, our experience with SVS suggests that either will probably knock your socks off. At less than $800 each and sporting a DSP-enabled amplifier, SVS is offering technology normally reserved for subwoofers two or three times the asking price of 2000 series. So, again, I ask, how can you report on SVS without sounding like a fanboy? Because I can't seem to do it.  The SB-2000 and PB-2000 set a new bar in the performance/price category that just may be bringing the competition back to the drawing board.
If you want to find out more about SVS and the 2000 Series subs, our friends over at AV Rant did an interview with Gary Yacoubian, the President of SVS. Head over there to check that out.
For more information on the 2000 Series subs, check out http://www.svsound.com/subwoofers.

Confused about what AV Gear to buy or how to set it up? Join our Exclusive Audioholics E-Book Membership Program!
Recent Forum Posts:
RXP posts on April 11, 2018 02:04
I use a UMIK-1 which is the recommended mic for REW and I'di got the calibration file with sensitivity data loaded.
My room is 3 tons of concrete on the floor and surrounded by sound proofing with resilient channels and behind that brick . So I guess I just get good room enforcement
haraldo, post: 1242377, member: 32412
f3 at 6hz !!!!!!!!!!
What's the verdict from your neighbors?
Well it actually becomes a problem! My main theatre room isn't surrounded by anyone so I can play reference with no complaints. But the secondary room has neighbours hence the sound insulation. That works fine at really high levels but it's not going to do anything for all this sub 20hz bass that'll piss them off with rattling. So I'll use a mini DSP to neuter the sub to 20. Sucks but when they're on holiday I'll enjoy some ULF goodness!
shadyJ posts on April 10, 2018 17:50
Keep in mind that a lot of mics aren't reliable under 20 Hz. You would need a pricey measurement mic to get reliable results below 20 Hz.
RXP posts on April 10, 2018 15:43
I did think the graph looked unusual and wasn't quite believing it. Not sure what I've done wrong because I've been taking hundreds of measurements in the main theatre room and EQ'd an SVS PB13 and pc2000 to pretty flat until 16hz (see attached REW). Nothing has changed in the measuring setup. A umik 1 with 90 degree calibration using latest rew beta

The subs in the main room never get this low it's a much bigger space and they are ported.

Any ideas? I've re run lots and got the same measurements

Should say I've also moved the mic around from less than a meter to 2.5m away and the sub 20hz response is still similar
everettT posts on April 10, 2018 15:34
RXP, post: 1242338, member: 80012
Had my SB-2000 just delivered. I've not done any calibration or experimentation with room position. It's for a secondary cinema project, the room is my gym/office and it's a small bedroom (4mx2.5mx2.6m) (London home!)

Shockingly the in room performance is f3 at 6hz and that's >105db! I couldn't believe it from such a tiny thing.

As a purchaser I've always gone for the big ported subs because of the response graphs but now I now a little more thanks to places like Audioholics and AVSForums I understand the difference between roll off slopes on sealed vs ported. I think SVS should make a much bigger deal of that!

Well done Ed and SVS!
F3 6hz? Your methodology is off somewhere
haraldo posts on April 10, 2018 13:42
RXP, post: 1242338, member: 80012
Shockingly the in room performance is f3 at 6hz and that's >105db! I couldn't believe it from such a tiny thing.

f3 at 6hz !!!!!!!!!!
What's the verdict from your neighbors?
Post Reply