Outlaw Audio Ultra-X13 Ported Subwoofer Review
Outlaw Audio Ultra-X13 Ported Subwoofer Review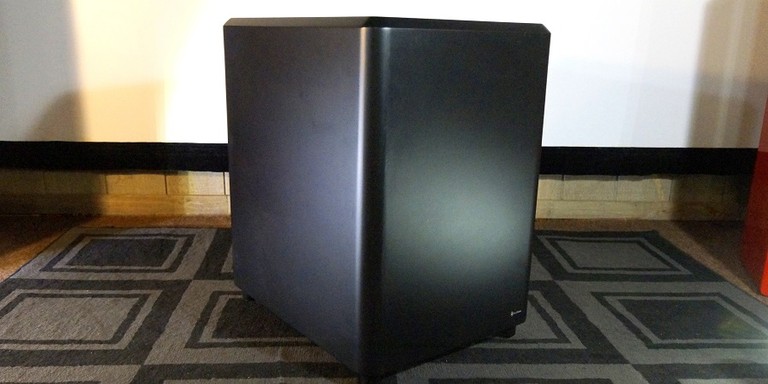 CONFIGURATION: Down-Firing, Ported Powered Subwoofer with Integrated Amplifier
DRIVER: 13 Inch long-throw driver,
CONE MATERIAL: Long-Fiber Pulp Laminated to a Partial Glass Fiber Body
AMPLIFIER POWER (RMS): 1,000W
EXCURSION: Linear 39mm p-p Max mechanical 80mm p-p
LOW-PASS CROSSOVER: 40Hz – 160Hz
INPUT: XLR Input, Left and Right RCA Inputs
OUTPUT: XLR Direct Pass-Thru
PHASE ADJUSTMENT: variable 0-180
FREQUENCY RESPONSE (-6dB): 15 Hz - 200 Hz
DIMENSIONS (H x W x D): 25" x 18" x 23"
SPEAKER WEIGHT: 105 lbs.
Pros
Extremely low distortion
Nice finish and cabinetry
Ruler flat frequency response
Impervious to over-driving
Ultra-X13 Subwoofer Introduction
It has been some time since the North Amer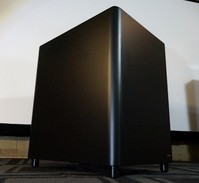 ican subwoofer market has seen  a THX certified sub, but the omission of the THX logo certainly hasn't slowed down interest in ever larger and louder subs. In the face of this race to produce the loudest subwoofer, Outlaw Audio thought it would be a good idea to revisit the principles of THX in presenting the sound as the artists intended rather than only getting as loud as possible. This is Outlaw Audio's rationale for their newest subwoofer, the Ultra-X13; a subwoofer that can get loud but never at the expense of fidelity to the source content. For THX, raw output ability is just one parameter of performance. There are other parameters that must be considered for a subwoofer to be up to THX's standard of fidelity such as distortion quantities, linearity in frequency response, conformity to THX's bass management requirements, compression behavior, and time-related functions like group delay. In fact, THX conducts over 400 tests on subwoofers to insure that they meet certification standards.
THX tested the Ultra-X13 and awarded it their Ultra certification as a single unit. Most subwoofer systems that qualified for the equivalent of the Ultra certification did so as two separate units within one system, so they were basically two subwoofer setups (the Ultra certification used to be named 'Ultra2' before THX recently simplified their certification classes). At the time of this writing, there is only one other single subwoofer in the world that is Ultra certified, but that product is only available in Europe. We can see that THX does not hand out their certification easily, and Ultra is a difficult standard of performance to meet.
So the THX Ultra certification is an assurance that the product has cleared a high bar of performance, but what does that mean more specifically? According to THX, a subwoofer with 'Ultra' certification should be able to reach 115 dB with low distortion at the listening position of 12 feet or further from the screen in room sizes up to 3,000 cubic feet. It has to be able to do all of this down to the very low frequency of 20 Hz. THX will not release more specific performance criteria than that in order to protect their brand. The THX Ultra2 output requirements do seem to be in pretty close alignment with our Extreme Bassaholic room size rating.
Out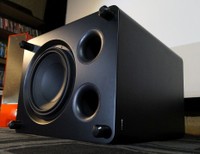 side of a desire for a THX Ultra certified subwoofer, Outlaw Audio wanted a new flagship subwoofer that offers a major performance increase over their existing subs, and a single subwoofer that could satisfy a major craving for uncompromised bass so listeners did not have to resort to using multiple subs to hit their performance targets. They wanted to achieve this in a subwoofer that wasn't tremendously larger than their existing top-of-the-line sub, the Ultra-X12; what is the point in producing a high-performance subwoofer if few people would tolerate having it in their living rooms? It had to be acceptable to other inhabitants of the home. A large performance gain without a large size gain necessitates much more powerful components, and this is exactly what the Ultra-X13 brings to the game. Of course, much higher quality components mean a much higher price, and at $1,499, the Ultra-X13 is more than twice as expensive as the Ultra-X12. The question that faces us now is what kind of subwoofer is Outlaw Audio offering us for $1.5k?
Unpacking and Setup
The Outlaw Audio Ultra-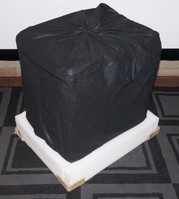 X13 arrived on my doorstep in a large box. I would have thought something as large as its packaging would have required freight shipping via a pallet, but it seems that it falls just under the limit for that shipping method. However, it is robustly packed, so it should be protected from harm under normal shipment conditions. It comes double boxed with heavy-duty cardboard edge protectors, and the subwoofer comes sandwiched between two very large, thick polyethylene foam pieces. The subwoofer was wrapped in a large, black cotton sack with a drawstring, which suggested a high-end item. Another classy touch is the white cotton gloves that come with it, to prevent fingerprints from marring the satin black finish during placement. The packing was quite good, and users would be advised to hold onto it in case the Ultra-X13 ever needed to be shipped again or relocated to another home.
The Ultra-X13 is a large sub, and, at 105 lbs., fairly heavy, so it takes a two-person team to safely move it, unless you are using furniture sliders. It has spiked feet with rubber tips, so it needs to be lifted to be moved, otherwise it will leave streaks if dragged. For those who will be interested in experimenting with the different operating modes it has available, I wouldn't pack it away too far into a corner, because you will want to have access the bottom of it to adjust operating modes. The included manual has a fair amount of depth but is still accessible to those who are new to subwoofers. The different operating modes and their effects in the response is detailed well-explained. All-in-all, the Ultra-X13 is not tremendously complicated to set up and get going, but it might take a little bit of a workout to get it into place, and that is typical for subwoofers of its size.
Appearance
Compared to many other subwoofe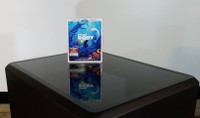 rs, the Ultra-X13 looks positively 'stately.' The driver and ports are hidden on the bottom. It doesn't have many visible features and relies on negative space for the overall thrust of its aesthetic. 'Clean' is the operative word, with its satin black finish, curved side edges and beveled top edges. There is a smoked plexiglass inset panel on the top that can serve as a tasteful tabletop. The overall look reminds me of the monolith from '2001: A Space Odyssey' but with different dimensions. Despite its large size, it should be able to disappear in a living room or family room due to its clean, uncluttered appearance and satin black finish acts as a light sink in low light conditions. It can be used as an end table and can be further hidden by end table covers if so desired. For a large subwoofer, it does have an understated and handsome appearance that shouldn't draw too much attention to itself, so long as it is given an out-of-the-way placement. Its a good style for people who do not mind the appearance of nice-looking speaker equipment and also for those who would rather their audio equipment not be the centerpiece of the room.
Design Overview
The most basic design description o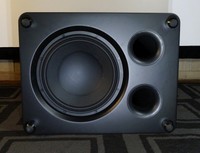 f the Ultra-X13 is that it is a variable-tuned ported subwoofer. What that means is the user can adjust how low in frequency they want the subwoofer to play, but in exchange, they give up low-frequency output, so it can be made to play either very low frequencies or not-as-low frequencies at louder levels. This is done by sealing or opening one of the Ultra-X13's two down-firing ports, and also selecting the mode on the 'EQ Switch.' Outlaw Audio specifies the low-end responses to be 15 Hz when the Ultra-X13 is set with one port open and the EQ switch is set to 'EQ1', and 20 Hz when both ports are open with EQ switch is set to 'EQ2'. It is reasonable to assume, from these specs, that the user can choose between low-frequency extension down to 15 Hz, or louder deep bass at 20 Hz and above. The higher output advantage of having all ports open usually only makes a significant difference in port-generated frequencies, meaning it will affect the lower end of the sub's playback range the most and not so much mid-bass and upper-bass frequencies. In the case of a very deeply tuned subwoofer like the Ultra-X13, I wouldn't expect the different operating modes to affect performance very much above 60 Hz or so, but we will see a detailed comparison of the performance differences when we reach the measurements and analysis section of this review.
The Ultra-X13 also supports a sealed mode for those users who would prefer that the ports not generate any output at all, and this greatly diminishes its low-frequency abilities, although it should improve some time-related performance aspects, even if only slightly.
The Ultra-X13 is only THX Ultra certified when configured with both ports open and EQ switch set to 'EQ2'. This mode should grant the user the most output with the least distortion. Setting the Ultra-X13 to lower tuning points reduces the port-generated output and also forces the driver into greater excursions that more easily push it into distortion, thereby disqualifying it from THX's Ultra certification. This is not to say it sounds bad or performs poorly in these lower tuning points. It is only saying that it doesn't quite meet the high bar of Ultra certification.
In order to get low distortion and high output in anything but a gigantic cabinet, a very long-throw yet highly-linear driver is needed. The 13" Ultra-X13 driver would seem to foot that bill. The cone body is a long-fiber pulp laminated to a partial glass fiber body. The cone is connected to the cast aluminum basket by a Nitrile Rubber surround. The surround uses a double roll shape in order to allow for more cone surface area without hindering excursion or reducing the linearity of its throw. Supposedly, this geometry is better behaved at the extremes of excursion as well. The spider is made from two layers of woven Nomex that are heat-pressed together. The second layer is a thinner material used in the innermost corrugations where the stresses are the most severe. Reportedly it took six iterations of suspension design before the Ultra-X13's driver engineer, Dan Roemer, was satisfied with its linearity.
The motor is an overhung design using an aluminum voice coil. Two 6" diameter magnets with a 1" thickness make the bulk of the motor. That should provide plenty of flux for a strong motor force.  A bumped backplate allows a much greater throw without danger of bottoming out the voice coil former. Outlaw claims the driver has 80 mm of peak-to-peak excursion, so it will need as much room for throw as it can get. Three aluminum shorting rings are used to reduce induction, thereby giving the driver a wider band of operation and less even-order harmonic distortion. FEA analysis and Klippel testing was heavily involved in many stages of design for optimizing both the motor and the suspension. The driver was produced specifically for this subwoofer and is one of the first in THX's "approved by THX" component certification program, where individual components can get THX certification. While this certification looks to be an assurance of quality, one can see by merely examining the driver and learning about its design that it is certain to be a high-performance part.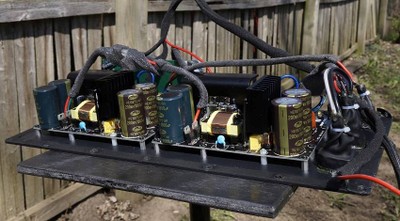 The Ultra-X13 uses a 1,000-watt digitally-controlled amplifier which is composed of two independent class-D 500 watt modules, each with its own power supply. The two amps are bridged across the X13 woofer with the added benefit of two power supplies working in unison with the differential amplifier outputs to yield twice the power that would ordinarily require a much larger power supply in a single amp configuration. Other than the obvious power doubling, the amplifier now has more energy storage and improved low frequency stability. In addition to a pair of RCA inputs, for LFE or for a stereo input pair, there is also an XLR input and output (XLR balanced inputs are much quieter for long runs than traditional RCA inputs). This makes it easier to incorporate into pro-audio equipment and also allows the user to easily daisy-chain multiple subs for cleaner wirin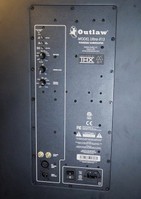 g. There is a variable low-pass filter running from 40 Hz to 160 Hz, and also a variable phase control instead of a simple phase switch.
The THX Ultra certified operation requires the settings to be at certain values in order to let the controlling software aboard the THX processor have precise control over the subwoofer. It must be remembered that only one component of a THX system does not grant you a THX level reference system. In order to have a full THX setup, the entire system must be THX certified: subwoofer, speakers, amplifier, processor, etc. Everything must be setup correctly as well, and the room acoustics must be addressed too. A full-scale THX setup is a comprehensive system, and addresses nearly every technical aspect that affects the experience. That being said, even having only one or two components with the THX badge would be improved over those components not being able to meet THX certification, so THX certified products can still be helpful even if incorporated into a non-THX system. The principles of THX still apply to any part of a sound or video system and can be a marked improvement over lesser performing component, and this is especially true of the subwoofer, hence the raison d'etre of the Ultra-X13.
The cabinet is a sturdy construction. The side-panels are made from 1" MDF with the lower panel holding the driver and ports having a 2" thickness. There are two window braces that bisect the cabinet at perpendicular angles, with the horizontal brace being 1" thick and the vertical brace using ¾" thickness. The woofer is slightly recessed in the cabinet to allow room for its high excursion without touching the floor. That, in combination with the 2" height of the feet, should give the driver plenty of clearance for its throw. The internal enclosure walls are lined with polyurethane foam to reduce panel resonances. The two ports have an approximate 4" diameter and 20" length including the flared opening. Such large ports are needed for a vented sub to produce lots of deep bass cleanly. Overall the build quality is very good. It is sensibly solid without being overbuilt to impractical ends. 

Confused about what AV Gear to buy or how to set it up? Join our Exclusive Audioholics E-Book Membership Program!
See also:
Recent Forum Posts:
ryanosaur posts on January 05, 2020 23:01
Id put a third in my room if I could… but something would have to give.

Might be the relationship. :oops:

But in a 8000'3 room, I think a third would be ideal, along with two full range towers tickling 20Hz. Alas, I digress.

Still happy with my Outlaw gear after 1 year!
KEW posts on January 05, 2020 16:25
MrKaffee, post: 1360528, member: 90469
I now have two of these. Bought one last year and another this year. Took advantage of their Christmas specials at $999 free shipping. All I can say is wow! One was really good but two is simply outstanding. I have both situated behind the sectional. Deep deep bass and can shake the entire room - not just the sitting area! I had one set at eq2 but found with two set at eq1 to be sonically superior. Have the pre/pro set to large fronts and to mirror low bass below 40 Hz to the subs. It's amazing how seamless it sounds. Right now I'm in OMG mode but like many of you am in endless pursuit of nirvana.

Yeah, once you get to a pair of these (in any normal room) it becomes a real question if more would really add anything (that you want added). It is like riding a 1100cc motorcycle - there are bigger bikes, but how much more acceleration do you need when you can twist the grip and flip the bike on top of you!
MrKaffee posts on January 05, 2020 15:29
I now have two of these. Bought one last year and another this year. Took advantage of their Christmas specials at $999 free shipping. All I can say is wow! One was really good but two is simply outstanding. I have both situated behind the sectional. Deep deep bass and can shake the entire room - not just the sitting area! I had one set at eq2 but found with two set at eq1 to be sonically superior. Have the pre/pro set to large fronts and to mirror low bass below 40 Hz to the subs. It's amazing how seamless it sounds. Right now I'm in OMG mode but like many of you am in endless pursuit of nirvana.
andyblackcat posts on August 11, 2018 20:41
Yeah cheaper ones possibly. Always liked to have one of those older M&K subs before the company changed its name? As they show up cheaply now and was around cost of above Outlaw THX sub.
shadyJ posts on August 11, 2018 17:40
andyblackcat, post: 1262768, member: 70814
Well least you know about that as I was thinking what NASA does when pressurizing the shuttles cabin then they check for leaks to see if its okay to launch. So same for speakers/subs I guess as I had to check over older speakers that had drill holes and had to seal the holes then run a loop frequency sweep checking for air leaks and resonate noises.

Still maybe a little silicon going around the plate amp as you may never know there could be one spot where its venting air?
A lot of these amps are already sealed in with glue, along side the screws, so I wouldn't worry about leaks too much with this build class of subwoofer. However, very inexpensive subs may be a different story.
Post Reply