SVS PB16-Ultra Ported Subwoofer Review
SVS PB16-Ultra Ported Subwoofer Review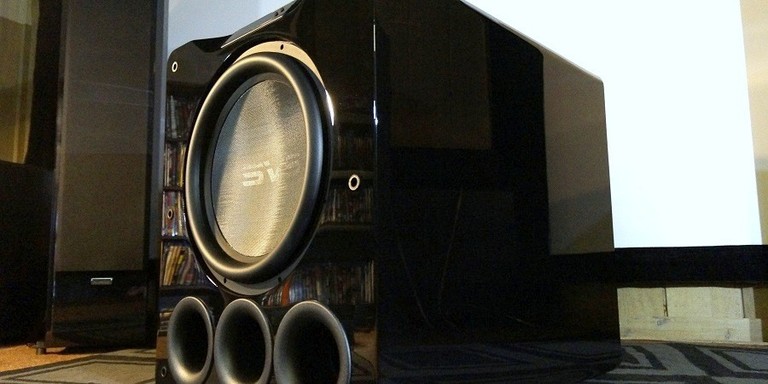 Driver:
16" diameter cone
Cast aluminum basket
Four high-grade ferrite magnets
Dual shorting rings
Extended pole piece
8" diameter edge-wound voice coil
Nomex spider
Dual 24 strand copper and Nomex composite leads
Fiberglass composite resin cone
Rubber surround
Amplifier
Sledge STA-1500D DSP amplifier
1,500 watts RMS continuous (5,000+ watts peak dynamic)
Class D topology
50Mhz Analog Devices Audio DSP with double precision 56bit filtering
Active PFC (Power Factor Correction)
XLR and RCA stereo input/output with ultra-wide input voltage for consumer and professional audio applications
Front-mounted display with subwoofer controls and 8 digit LED display
Subwoofer Control and Bass Management Smartphone App for Apple and Android Devices
IR Remote Control
Three user adjustable parametric EQs
Continuously variable volume/gain control
Continuously variable (0-180 degrees) phase control
Continuously variable (30-200 Hz) 6, 12, 18, or 24 dB/octave low pass filter frequency with disable/LFE setting
Main power rocker switch
Main power rocker switch
Auto-On / On / Trigger Controls
3-12V trigger with 1/8" (3.5 mm) TRS mini-jack input
Green standby mode with > 0.5 watts consumption
Input impedance 22kohm (RCA)/ 22kohm (XLR).
RoHS compliant, lead-free construction and world-wide safety certifications
Enclosure
Black Oak and Piano Gloss Black finish options
Protective non-resonant steel mesh grille
Front-firing 16" driver
Rear-mounted amplifier
Triple front-firing flared high-flow ports
Screw-in rubber feet
Robust Medium Density Fiberboard (MDF) cabinet construction
Cabinet Dimensions (w/ grill): PB16-Ultra: 25" H X 21.7" W X 30.9" D
Weight (unboxed): 174.5 lbs.
Pros
Massive deep bass output
Extremely low distortion
Very nice finish and cabinet
Highly adjustable frequency response
Impervious to over-driving
Very good customer service
Cons
Very heavy
Enormous footprint
Mid bass dynamic range not as powerful as deep bass
PB16-Ultra Introduction
The PB13-Ultra has long been SVS's flagship subwoofer, and over the years, has often been mentioned as one of the 'top dogs' of subwoofers. i.e., one of the best commercial subwoofers available. While it still remains a superb choice in its price range, there have been many developments over the years, and competing subwoofer manufacturers now offer some powerful and appealing alternatives.
SVS has not been known to rest on their laurels, but it had been so long since the launch of their last top-end subwoofer that the announcement of the new 16-Ultra series took many of us in the audio community by surprise. SVS has touted their new 16-Ultra series as the most advanced subwoofers in the world, so we were very excited to have SVS send us their new ported super-sub for review, the PB16-Ultra. So without further ado, let's dig into the PB16-Ultra and see how much of a subwoofer SVS can bring to you for a cool $2,500.
Unpacking and Setup
SVS has not been known to rest on their laurels, hence the birth of the new 16-Ultra series.

The PB16-Ultra ships via freight and the box arrived strapped to a pallet. The shipping weight is a staggering 207 lbs., so multiple people will be needed to move it inside the residence if there are steps or stairs leading into the residence. The box has built-in handles that make moving it manageable for two people once off the pallet. The boxed subwoofer should be placed near where the unpacked subwoofer's final destination is intended to be, and the reason for this is because it is easy to scoot the sub there in the internal packaging, and once the subwoofer is placed there, the user will not want to move it around much afterward due to the weight. Unpacking instructions are contained inside the inner flap of the box, but all the user has to do is open the forward and rear box ends and slide the sub out of one end by pushing it from the other side. The PB16-Ultra is well packed, and a lot of thought was put into how to easily unpack such a heavy and large subwoofer. I was worried about how I was going to handle unpacking such a bruiser, so SVS's efforts are well-appreciated here.
Setting up the PB16-Ultra is not especially complicated even though there is a lot going on with it. There is a quick start guide, but I would encourage users, especially novice subwoofer owners, to go through the owner's manual. It covers the operation of the subwoofer thoroughly, provides good placement advice, and it even helpfully reminds users not to eat the battery to the remote control (it is toxic!).
Appearance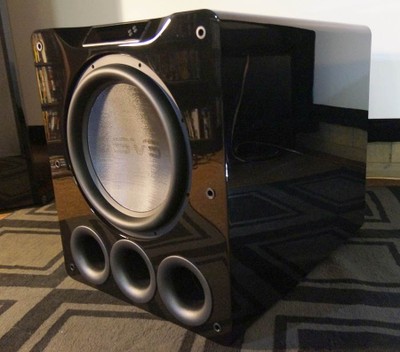 While the sheer size will doubtlessly be a turn-off for some people, the fit and finish are impeccable. This is about as nice as a large ported subwoofer can look. The piano gloss finish and rounded edges go a long way towards making it aesthetically acceptable for those who might normally balk at such a bulky object. A slanted, top-mounted display that is sunk into the top front edge adds a nice, almost automotively-styled touch. The glass fiber laminated cone has a hypnotic sheen with 'SVS' imprinted in the center. SVS has provided a rounded metal grille, but it is a drab grey texture, and the PB16-Ultra looks much better without it. One slight nitpick: I would have preferred a magnetic grille so that there would be no visible sockets for the grille guides, but that would not have been possible for the heavy-duty grille that SVS provides. SVS has tried to make a large ported enclosure as palatable as possible, and they have done a stellar job.
Design Overview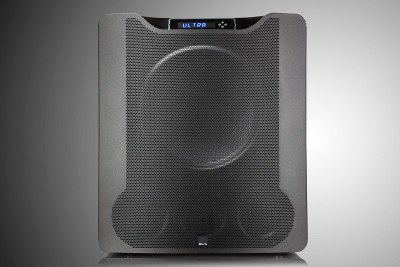 The PB16-Ultra design shares many design similarities with the PB13-Ultra, and, at a glance, one might make the mistake of thinking it is merely a larger version of the PB13-ultra. However, under the hood, there are some radical departures from the PB13-Ultra, which we will discuss in a bit. First, let's discuss the obvious similarity, the enclosure design. The PB16-Ultra is a front-firing, triple-ported, variable tuned subwoofer. It has three modes of operation: three ports open, two ports open, or sealed, which according to SVS, have respective -3 dB points of 17 Hz, 14 Hz, and 21 Hz. For those who are new to subwoofers, what this means is that when one of the ports are sealed with an included port plug, the subwoofer can play back deeper bass frequencies, although it comes at the expense of louder deep bass. Sealing all the ports, however, eliminates a lot of the deep bass output altogether. A single port open mode was not supported by the PB16-Ultra, perhaps because port turbulence would occur too easily with that much air displacement versus so little port volume.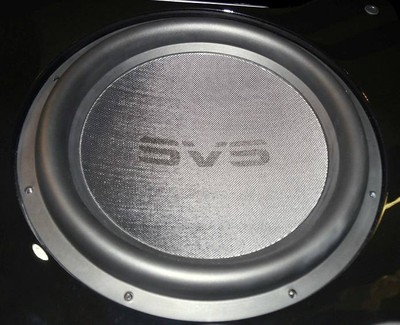 While the PB16-Ultra enclosure design doesn't break any new ground for SVS, the driver design is a major change, and not just for SVS but for most commercially manufactured subwoofers. Putting aside the slightly unconventional woofer diameter of 16", it uses a very unusual motor structure. We described this in our preview article for the 16-Ultra series:
...what really stands out in the specs is the use of a 8" diameter voice coil. For those who are not intimately familiar with subwoofer driver specs, we will briefly try to explain why this is so striking. The voice coil is what handles the electrical current sent from the amplifier. It is a coil of copper wire that produces an alternating magnetic field when electrically charged. That magnetic field interacts with the magnetic field of a powerful permanent magnet in the motor of the driver, and this is what causes the woofer to move back and forth. Typically the voice coil is wound on a cylindrical piece called the former which is set inside the permanent magnet, so the diameter of the former and thus the voice coil is usually not very big; 2.5" to 4" are common coil diameters for drivers in the 15" to 18" cone range. The SVS 16-Ultra drivers flip this around and sets the coil outside the permanent magnet. Since the magnet for a monster driver like in the 16-Ultras has to be very big, this means the voice coil must be large, and an 8" voice coil is unheard of, especially for driver with a 16" cone. The potential advantages are many: superior heat dissipation which lessens thermal compression and increases power handling, better centering of the former for a more restricted plane of motion for less distortion and less chance of tilting at high excursions, increased stiffness of the cone since there is more contact and more widely spaced contact between the former and cone, more efficient use of the permanent magnet's field, and more room for excursion by the former since it trades height for width.
Another notable characteristic of the PB16-Ultra driver is the use of an underhung voice coil, although this is not quite as radical since it was also used in the PB13-Ultra. A voice coil being underhung means the height of the coil winding is not larger than the magnetic gap that the coil travels in (a more thorough explanation can be found in this article). The advantage of this approach in the PB16-Ultra is an underhung coil can grant more linear excursion, and this seems to be the case with SVS's claimed linear excursion of 82 mm peak-to-peak, giving it a tremendous 41 mm of xmax, which is the largest xmax I have ever heard of for a commercial subwoofer using a cone of 18" or less.
The cone is made from a very pretty glass fiber laminate with a reinforced composite cone sub-structure, and is connected to the cast aluminum basket by a large rubber surround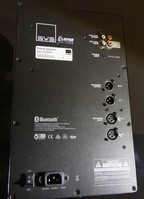 and a very large nomex spider. Two shorting rings are used to reduce inductance and therefore even-order harmonic distortion. The motor uses four stacked ferrite magnets, giving the motor section itself a 56 lbs. weight, which makes up the majority of the driver's tremendous 63 lbs. Normally in this section of the review I would remove the driver to take some pictures, but, due to the weight, the driver is mounted in a special manner that makes removing it a very cumbersome process, so we will use driver pictures that SVS has provided us.  
Along with major advances in the driver department, SVS has added innovations in the amplification as well. To power such a beastly driver, the PB16-Ultra uses a 1,500-watt, class-D Sledge amplifier. The amplifier is so jam-packed with features that instead of trying to list them all, I will touch on a few of the highlights. The amplifier can be controlled by either the front LED display, remote control, or by SVS's smartphone app. One neat thing about the smartphone app is the ability to manipulate the frequency response with a parametric equalizer. In fact, nearly every aspect of performance can be controlled by SVS's app, which is nice for those who like to endlessly tweak their sub, since now they can do so from their sofas. The amplification uses a fully discrete MOSFET output stage instead of an integrated circuit output stage. MOSFETS offer better bandwidth and lower distortion than the op-amps typically used in class D amplifiers, especially for the enormous current that the 16-Ultra drivers can pull in. Processing is done by a 50Mhz Analog Devices Audio DSP with double precision 56bit filtering, which sounds like more processing power than is needed for low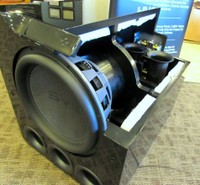 frequency sound waves. However, since processing power is so cheap nowadays, why not? The PB16-Ultra has both XLR and RCA inputs and outputs, so connectivity with any modern device poses no problem. High-level inputs and outputs might have been nice for older or simpler setups using integrated amps, but those types of setups are becoming increasingly rare, so I cannot fault SVS for omitting those connections. 
When people describe their subwoofer cabinets, the cliche 'built like a tank' is often used. With respect to the PB16-Ultra, 'built like a tank' doesn't even quite describe it. Imagine the biggest heaviest tank ever made, and then maybe we have an apt comparison for the PB16-Ultra. (Minor digression: a Google search says the heaviest tank ever made is the WW2 German prototype Panzer VIII Maus, weighing 188 tons!) The PB16-Ultra is constructed with 1" MDF sides and internal bracing and 2" thick in the front baffle. Two window braces are set near the center of the sub with one of the braces wisely supporting the motor section of the driver and the other supporting the ports. A generous layer of stuffing lines the cabinet all around to help damp resonances. The grille is very heavy and tough; it really will help protect the woofer and ports from children and pets. It is like a plate of armor for the front of the sub, making the tank analogy even more appropriate. To support the full weight of the PB16-Ultra, SVS used six rubber feet instead of four, with two feet supporting the midsection.    

Confused about what AV Gear to buy or how to set it up? Join our Exclusive Audioholics E-Book Membership Program!
Recent Forum Posts:
shadyJ posts on April 18, 2017 13:53
Interesting idea that port compression will make the driver behave as though it were in a sealed enclosure. It makes some sense though. Also an interesting idea that port compression will reduce port distortion relative to cone excursion at high output levels. A good way to investigate that would be to take a variable tuned sub out for a day and do much finer sweeps that what is in those charts, and then compare the 2nd HD vs 3rd HD for various port settings. I probably won't have time to do that myself, but maybe on a slow day during testing its worth a look.
Andron posts on April 18, 2017 06:23
:oops: I'd like to propose my answer for the phenomenon, James Larson noticed in the review, saying:
James Larson
One slight oddity is that the second harmonic actually decreases as a percentage at the highest sweeps, and I don't know why that would be, except if maybe the limiter became more active above a certain output level.
I think it's because of the 'natural limiter' of the reflex alignment = port compression.
I read, the port produces 2nd order distortion.
When the port compresses, the Subwoofer becomes yet a bit more like a closed box around the tuning frequency.
Cone excursion increases which leads to increased 3rd order distortion BUT the air in this, now semi-closed box, actually decreases harmonic distortion relative to the cone excursion due to linearization of Kms(X) of the driver's suspension, due to the now more prominent air spring coming into play again.
So, while the fundamental output decreases compared to the driver's excursion, it's more than compensated by the reduced, port generted harmonic with further reduction of the said 2nd harmonic by the now prevalent air spring. I can be wrong. Just a curious thing.
shadyJ posts on January 11, 2017 20:17
It looks like a SB16-Ultra review will be happening but not until the spring, perhaps an April/May time frame. Sorry for the delay, but groundplane measurements are not possible in this neck of the woods until then.
Auditor55 posts on January 11, 2017 20:08
Still no update on SB16 review?
Auditor55 posts on January 01, 2017 15:39
shadyJ, post: 1163127, member: 20472
Hello David,

It would be great to review the SB16, but for myself, I will not be able to review subwoofers until the spring, sadly, so if that does happen, it won't be for awhile.

As for the group delay, I am guessing that the higher levels of delay in the PB16 are probably mostly due to the subsonic filters used to protect the driver. The nonstandard driver designs and somewhat larger enclosure might also be contributors. But, like is stated in the article, this delay should not concern you, it is far too low in frequency to be offensive or even audible.
I really would like to get a review of the SB16.
Post Reply